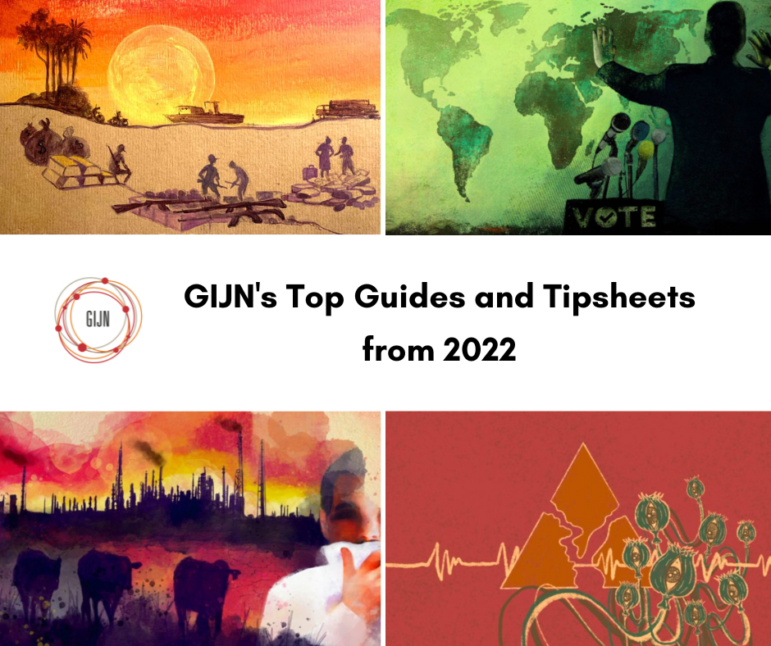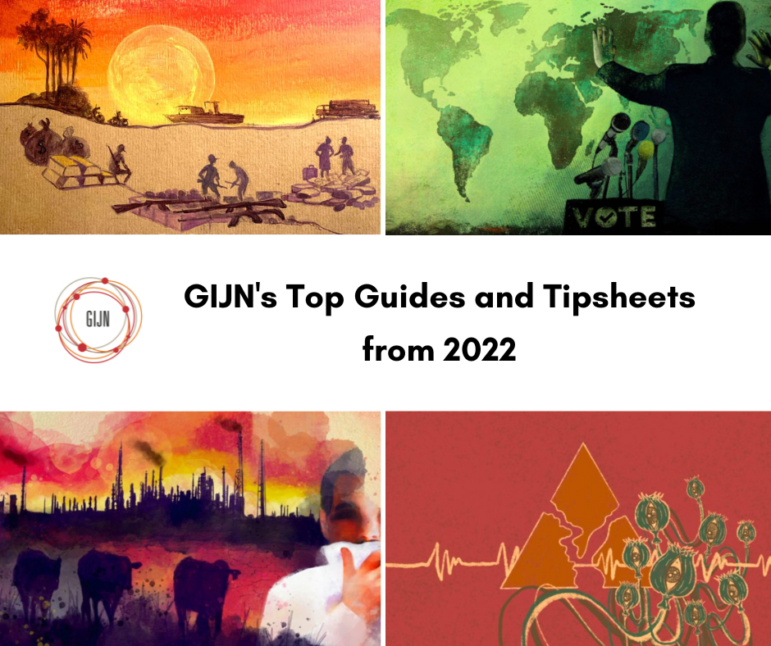 Top 10 Guides and Tipsheets from GIJN's Resource Center in 2022
GIJN's Resource Center is a leading source of tipsheets, videos, and guides on investigative and data journalism, media fundraising, freelancing, security, and more. It's used by journalists in 140 countries per day in English and a dozen other languages.
The Center's digital library catalogs more than 1,500 items on subjects as diverse as climate change, satellite imagery, organized crime, elections, and property records.
Here's a selection of our top guides and tipsheets from 2022, followed by the languages in which they're available. If you've used GIJN's resources for a story, please email us, as we'd love to learn more.
GIJN's most popular tipsheet from this year comes from Manisha Ganguly, investigations correspondent at the Guardian. Sparked by concern over Russia's brutal invasion of Ukraine, we asked Ganguly, who has reported on multiple conflicts, to put together 15 tips for covering war crimes. She briefly explains what's considered a war crime, how to identify sources and witnesses, how to find and verify images and videos of atrocities online, and how to identify military units and weapons. She also offers advice to reporters covering these kinds of traumatic events on how to take care of your mental health.
Also available in: Indonesia | Português | Русский | Español | Türkçe | اردو | বাংলা | 中文| Français | Deutsch | हिंदी | العربية
Reducing the world's methane emissions is the single fastest way to fight climate change. Methane, which is accumulating in record amounts, is the second-most abundant greenhouse gas, behind only carbon dioxide. Journalists can identify specific sources of methane and hold companies and governments accountable for their pledges to reduce methane emissions.
This guide by Toby McIntosh, the GIJN Resource Center's senior advisor, walks journalists through the steps to find methane emitters both on the ground and from the sky. He also shows how to locate emissions data, digs into why methane measurement systems are flawed and need to be investigated, and gives tips on how reporters can question methane disclosures and commitments by companies and countries.
Some chapters also available in: Français
Sea levels are rising because of global warming. The scientific evidence at this point is indisputable, and the consequences are likely severe. Much of humanity lives along coastlines, where even small changes in sea levels can result in record flooding, loss of communities, forced human migration, and damage to fishing and agriculture. How far and high seas may rise will depend on human activity, but serious negative consequences are evident already. This guide, also written by GIJN's McIntosh, helps journalists who want to understand predictable future impacts, and find the reports, the tools, and the data on rising sea levels.
Elections around the world face increasingly common threats, including disinformation campaigns, foreign interference, voter suppression, rising authoritarianism, campaign corruption, minority disenfranchisement, violence, and intimidation.
This guide, written by GIJN Senior Reporter Rowan Philp, offers a broad array of tools, techniques, and resources to help watchdog reporters dig into almost any aspect of an election. You'll find surprisingly simple online techniques for identifying and connecting people behind fear-mongering campaign sites; tools that can capture all social media posts from election events; search political ads on Facebook; track police radio chatter; dig into extremist and anti-democratic social media channels; track illicit campaign financing; and automatically filter mountains of data. The guide also includes tips for investigating candidates as well as political messaging and disinformation.
Also available in: Português | العربية| हिंदी. Some chapters also translated into: Русский | Türkçe | Français
Around the world, undercover investigations have produced extraordinary, impactful journalism. In countries without public record transparency rules or strong source protection laws, clandestine reporting can be one of the few tools watchdog journalists have to reveal public interest stories.
This guide, co-written by GIJN's Philp and Resource Center Director Nikolia Apostolou, provides advice from seasoned investigative journalists and showcases case studies from around the world. But it also highlights mistakes reporters have made and the many ethical considerations that must be weighed before undertaking an undercover reporting operation.
Also available in: বাংলা | हिंदी | Türkçe
Martha Mendoza, a two-time Pulitzer Prize-winner from the Associated Press, offers a detailed resource list of US federal websites and public databases that will show you how Washington is spending its money and spreading its foreign influence. With these tools, you'll be able to identify US government contracts around the world, who in your country is trying to influence US politics and on what issues, as well as who is lobbying in the US on behalf of your country's government or companies. Most of the resources are free and easy to access.
Available also in: বাংলা| Français | Italiano | Русский | Español | Türkçe | اردو| العربية
Less than a month after Russia's invasion of Ukraine began, GIJN published a compendium of external stories, resources, and tipsheets for journalists covering the war. This handy tipsheet covers a wide range of topics, from tracking Russian assets around the world, to lessons learned from Syrian journalists investigating Russian war crimes, to tips for archiving Telegram messages. Our team also assembled this toolkit to investigate Russia's activity around the world.
Available also in: Русский
Within just a few months of Russia's war on Ukraine, six million people from that country had already sought refuge abroad. This tipsheet, by The New Humanitarian's Eric Reidy, highlights what investigative journalists should look for when digging into refugee issues, including where to locate reliable data and how to critically analyze it, how to follow money donated to help refugees, as well as how to follow trauma-informed reporting best practices when dealing with this vulnerable community.
Available also in: العربية | বাংলা| Français | Русский | اردو
Female-identifying journalists often encounter obstacles, whether they're out reporting or when they're back in their newsrooms. In 2022, GIJN updated this guide with expanded resources for female-identifying journalists who are looking to network and connect, handle harassment, address discrimination issues, and find mentors and female experts. The guide also provides advice and tips from female leaders in investigative journalism that may serve as inspiration. Finally, there's a separate chapter with listings for grants, fellowships, and awards for women journalists.
Also available in: हिंदी | Indonesia | 日本語| Português | Español | தமிழ் | Türkçe | اردو
Some chapters are also available in: 中文| Français
This detailed guide offered reporters invaluable insights to one of the most lawless — and difficult to cover — regions of the world. Through expert advice, hard-won tips, and numerous case studies, this guide walks journalists through how to cover organized crime's role in everything from drug trafficking and money laundering to corrupting government officials and arms trading.
Bonus: Various GIJN guides remain popular with journalists, year in and year out. So, here's a handy list of our most widely read guides from years past:
Tracking Aircraft Around the World
Researching Corporations and Their Owners
Resources for Finding and Using Satellite Images
A Journalist's Guide to Avoiding Lawsuits and Other Legal Dangers
Additional Resources
Top 12 Guides & Tipsheets from GIJN's Resource Center in 2021
---

Nikolia Apostolou is GIJN's resource center director. For the last 15 years, she has produced documentaries from Greece, Cyprus, and Turkey for over 100 media outlets, including the BBC, Associated Press, The New York Times, Deutsche Welle, and al-Jazeera. Her documentaries have won multiple awards and been screened in festivals across the world. She's also a Dart and a Fulbright fellow.