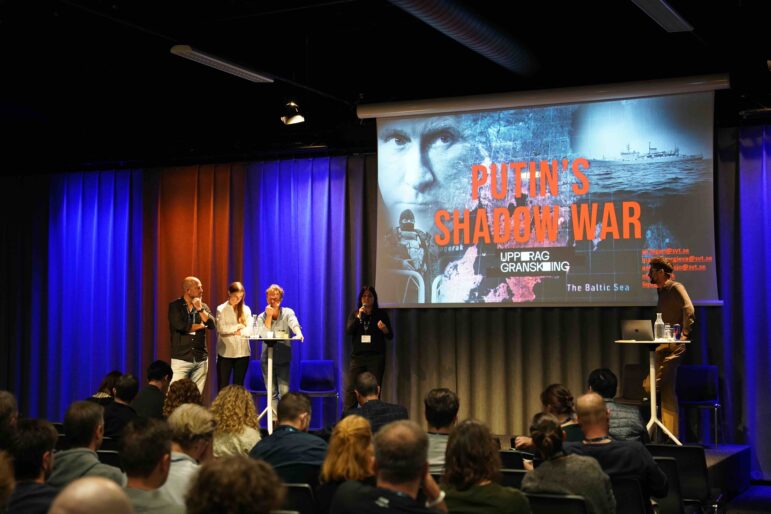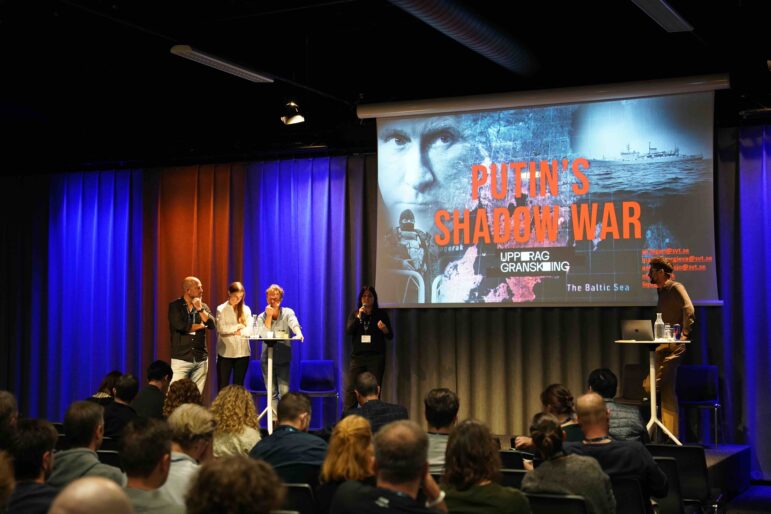 At GIJC23, members of several different Scandinavian news agencies discussed their cross-border collaboration investigating Russian government spying in the region. Image: Edvin Lundqvist for GIJN
Collaborating to Uncover 'Putin's Shadow War' in Scandinavia
Read this article in
In a sweeping cross-border investigation, a team of journalists sought to uncover the scale of what they described as Russia's "shadow war" and covert operations in Nordic countries.
Their reporting identified dozens of current and former Russian intelligence officers employed, or formerly employed, as diplomats at embassies in Denmark, Norway, and Sweden. For over a year, investigative journalists and documentary filmmakers met with sources, pored over leaked databases, spent hours filming and vetting employees and visitors of Russian embassies, and researched and verified countless pieces of information, including addresses. With satellite imagery and a decade of ship data, they also investigated the routes and activities of Russian vessels operating in Nordic waters.
The collaboration by four public television and radio broadcasters — Sweden's SVT, Denmark's DR, Norway's NRK, and Finland's YLE — culminated in a three-part documentary series (Putin's Shadow War) and a seven-episode podcast series (Cold Front) released in April and May 2023. At the 13th Global Investigative Journalism Conference (#GIJC23), project contributors — from SVT, Axel Gordh Humlesjö (who also moderated the session), Maria Georgieva, and Ali Fegan; and from DR, Lisbeth Quass and Niels Fastrup — shared presentations detailing their key findings, how they did it, and the challenges of doing cross-border investigations at this scale.
The reporters explained that this collaboration was unique because, while journalists in Nordic countries often work on stories with their Baltic or German counterparts, they don't tend to do so with their immediate neighbors. Operating amid heightened tensions following Russia's invasion of Ukraine, this cooperation enabled the team to expand the scope — and impact — of the investigation, creating a fuller view of Russia's operations and strategy across the region instead of telling a single story in one country.
SVT's Axel Gordh Humlesjö pointed out that journalists on such cross-border projects usually work together and then each publish their own stories, or focus on certain angles or episodes. This investigation was different — all outlets published the same stories and episodes at the same time. Their reporting, particularly on the activities of Russian ships in Nordic waters, sparked media coverage around the world.
Verifying Information
Investigating the identity of intelligence operatives linked to Russian embassies required a painstaking process of verification and corroboration with multiple sources.
The SVT team obtained, from a source, a list of suspected Russian intelligence operatives connected to the embassy in Stockholm. Then, from the official list of accredited Russian diplomats in Stockholm, they mined each person's background for any and all information that could demonstrate links to Russian intelligence services. For this task, they worked with the Dossier Center, an investigative nonprofit focused on exposing corruption among Kremlin-linked individuals that has access to a trove of leaked databases from inside Russia. With their help, the team was able to obtain background details about these individuals, such as registration at Moscow addresses associated with intelligence agencies or their activities in Sweden.
They also spent many hours filming employees and visitors of Russian embassies to connect names to faces of individuals currently active in Sweden. "We screened over 100 people, then vetted them, and whittled the list down to 21 people," explained SVT's Ali Fegan, referring to the number of suspected agents at the Stockholm embassy.
In all, the investigation claimed to have found 38 active and former diplomats with connections to Russia's SVR (foreign intelligence service), GRU (military intelligence), or FSB (security service) working in Russian embassies in Copenhagen, Oslo, and Stockholm. As diplomats posted to foreign embassies, they have diplomatic immunity under the Vienna Convention on Diplomatic Relations, including immunity from the civil and criminal jurisdiction of the host country.
To investigate the movements of Russian ships, the team analyzed satellite imagery and collected and assessed automatic identification system (AIS) data over the past 10 years. (AIS is a marine tracking system used to identify ships and their location.) They claimed to identify 50 Russian ships that had been operating in Nordic waters with their AIS systems disabled. Mapping these vessels' sailing patterns, they reported, showed that they often passed near or over critical infrastructure such as offshore wind farms, gas pipelines, and undersea cables. With open source information and intercepted radio communications, they said they were able to track the movements of three Russian vessels that, in June and September 2022, had been operating near the site of one of the Nord Stream pipeline explosions that occurred in late September.
Three months before publication, the team sent letters to the relevant embassies requesting an interview, but did not receive a response. One month before publication they sent a second letter, presenting all the facts and findings of their investigation in the hope that someone would talk to them. They still received no response. One journalist waited for one of the alleged Russian spies near the embassy, and recorded a short interview with him. Of course, he told her that he was not an agent of the Kremlin.
Cross-Border Challenges
An investigation of this scale comes with its own set of challenges. Lisbeth Quass, investigative reporter for DR, said that one of these is geographic distance — for instance when you need to share sensitive information or you suddenly need to be in the editing room. "Always have an understanding of what is a secret and what is not. Discuss sensitive information in a closed room, not on the internet. These are very important safety measures for projects like this," Quass emphasized.
The team also pointed out some of the biggest advantages and disadvantages of cross-border collaborations they found while working on this project:
Advantages:
When you join forces, you can pull off investigations on a larger scale and on a larger budget.
Joint broadcasting can maximize the impact of your investigation.
More sources means you have more stories to tell.
Disadvantages:
Distance when sharing or discussing sensitive information.
When four TV stations plan a joint broadcasting, there is a strict, nonflexible deadline.
Every party has a "final say," which can complicate or slow down the editing process.