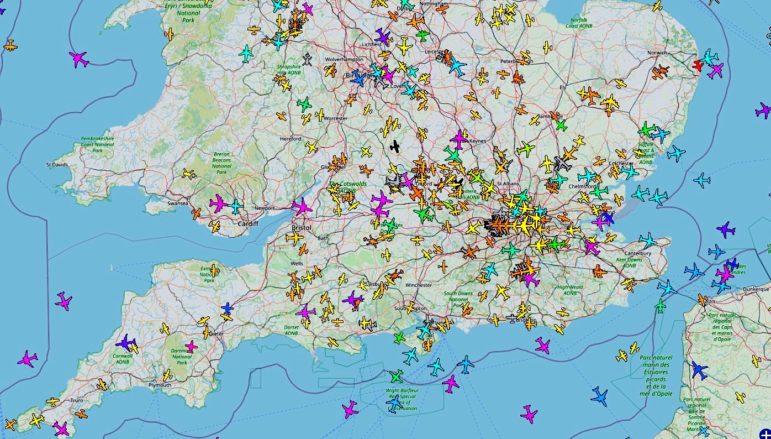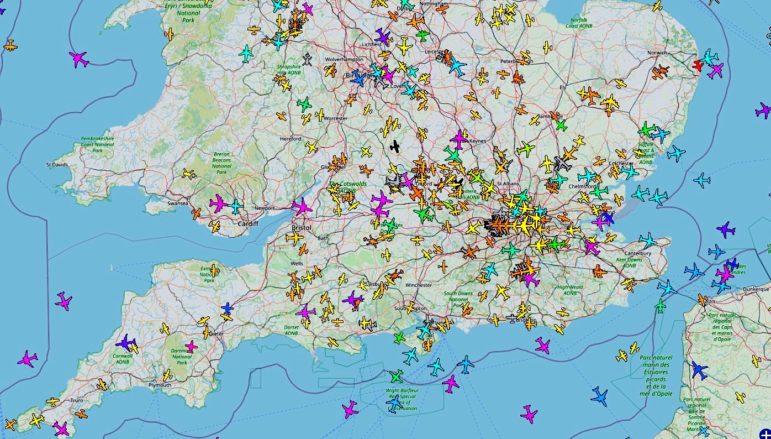 Image: Screenshot, ADS-B Exchange
GIJN's Updated Guide to Planespotting and Flight Tracking
In 2019, GIJN first launched its guide to planespotting and flight tracking around the world. In the wake of the 2022 invasion of Ukraine, which led to a great migration of Russian oligarchs and their assets, as well as Elon Musk's efforts to block bots from tracking planes in real time on Twitter, we've now updated the reporting guide to account for these recent developments.
Tracking airplanes is an invaluable investigative tool.
Investigative journalists have used information about airplanes to uncover corruption, follow wars, track government officials, and point out the levels of greenhouse gases emitted.
All aircraft have unique identifying numbers that can be used to track their flights and to identify their owners. Well, sometimes.
Flight information is available from commercial and nonprofit organizations who assemble and make available vast amounts of flight data. This makes it possible to follow particular planes, watch specific locations, identify patterns, and more.
Planespotting is feasible because of location identification systems that track flights. One primary technology is ADS-B, which stands for Automatic Dependent Surveillance-Broadcast. ADS-B signals are public and can be followed by amateurs with inexpensive ADS-B tracking stations ($10-$200). For reporters needing limited access or who are just searching for a few different aircraft, the ADS-B Exchange website allows free tracking of planes using this identification system data.
The flightpaths are posted on many websites. This makes basic tracking fairly straight-forward. However, much more sophisticated information can be obtained by analyzing the raw data with a computer to detect patterns and create alerts.
Multiple complications can impede plane-tracking. Pilots can switch off the tracking signals. Depending on national laws, some planes do not need to share their flight coordinates in some areas. Tracking military planes presents special challenges (but is not impossible). In the United States, regulations facilitate anonymous flights by private jets. And in many parts of the world, ADS-B coverage is limited because of a lack of receiving stations.
The fascination of tracking planes has attracted many amateurs (known as "planespotters" or "aviation geeks"), a dedicated community that is a potential resource for reporters. Some planespotters post themselves near airports to take photos and videos of unusual planes. There's even a website called Airport Spotting that includes information on where to stand at airports worldwide.
Other spotters rely on their computers. Keeping tabs on the movements of celebrities, business executives, and political figures is popular. Some spotters closely watch flights in war zones.
The work of one planespotter made headlines because he irritated billionaire Elon Musk.
Jack Sweeney, a University of Central Florida sophomore, created a Twitter bot to post about the whereabouts of Musk's main jet (N628TS). One of Musk's first moves as the new owner of Twitter was to shut down Sweeney's feed, as well as those of other spotters that supplied real-time flight tracking data. (One of the journalists who was temporarily banned from Twitter for posting tracking info on Musk's jet discusses why this rolling back of transparency is bad for the public.)
Sweeney moved to a subreddit account (r/ElonJetTracker) and then reappeared in a new incarnation on Twitter (@elonjetnextday). His Twitter feed now has a 24-hour delay to comply with a new Twitter rule banning posts with real-time location information.
Twitter in early February created another impediment, announcing it will charge for access to its application program interface (API). Many planespotters post information for fun, not profit and, in reaction to Twitter announcement, they predicted that the news costs would reduce or cease their activity and weaken a valuable accountability tool for tracking the rich and powerful.
GIJN is grateful for expert contributions from Emmanuel Freudenthal, a freelance journalist and director of Dictator Alert.
Additional Resources
Planespotting: An Updated Guide to Tracking Aircraft Around the World
Icarus Flights: The Powerful New Flight Tracking Tool