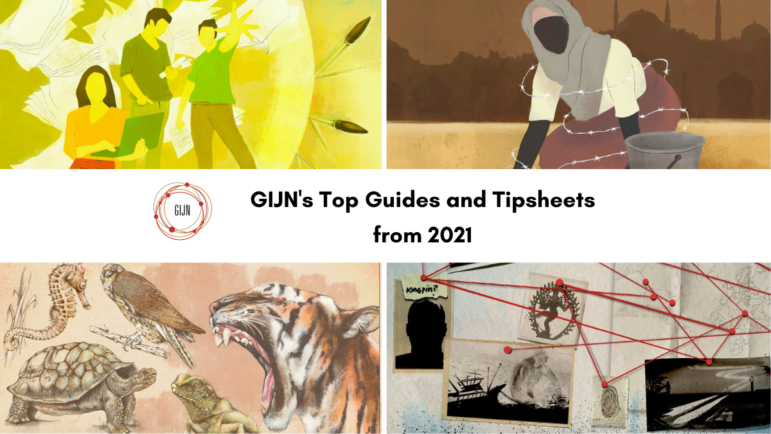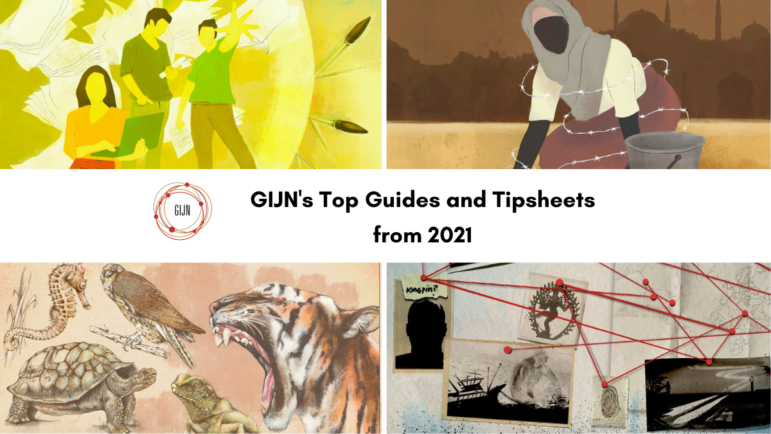 Top 12 Guides & Tipsheets from GIJN's Resource Center in 2021
Read this article in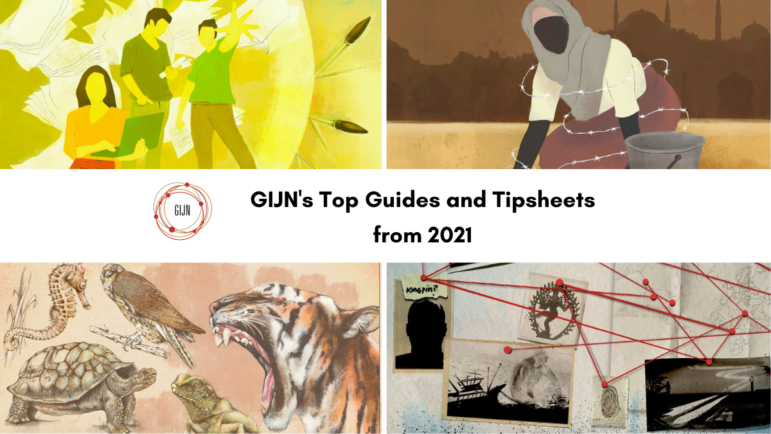 The GIJN Resource Center is a leading source of tipsheets, videos, and guides on investigative and data journalism, fundraising, freelancing, security, and more. It's used by journalists in 100 countries per day in 14 languages. 
The Center's digital library catalogs more than a thousand items, including 40 reporting guides on subjects as diverse as satellite imagery, human trafficking, Indigenous communities, and property records.
Here's a selection of our favorite guides and tipsheets from 2021, followed by the languages they're available in. If you don't see the language you want, give us a few months — we're working on lots more translations. (And if you'd like to contribute to GIJN's translation fund, please send your support here!)
Today's crime syndicates are multinational and enterprising. They exist worldwide, and they have taken advantage of globalization, modern technology, and weak enforcement. 
Organized crime is thought to be a trillion-dollar business. One UN study put its annual revenues at close to 7% of global merchandise exports.
This was GIJN's most popular guide this year. It was written by an all-star team of leading crime reporters (and one professor) who offered their hard-won advice about how to tackle nine critical areas: criminal finance, narcotics, the arms trade, environmental crime, forced disappearances, cybercrime, mafia states, human trafficking, and art and antiquities trafficking. The authors include Steven Dudley (InSight Crime), Kate Fazzini (CNBC), Toby McIntosh (GIJN), Martha Mendoza, (Associated Press), Paul Radu (OCCRP), Khadija Sharife (OCCRP), Drew Sullivan (OCCRP), Marcela Turati (Quinto Elemento Lab), Donna Yates, (Maastricht University).
The full guide is currently available in English and Bahasa Indonesia. It will soon be published in Portuguese, Russian, and Spanish.
Individual chapters are available in: العربية | বাংলা |  French | हिंदी | Русский | Español | Türkçe | Urdu.
GIJN's Illegal Wildlife Trafficking guide — which is available in either a short or long-form version — was written by Toby McIntosh, a senior advisor to GIJN's Resource Center, and fosters deeper reporting about the illegal hunting, sales, and marketing of wildlife. The issue is critically important because one million animal and plant species are now threatened with extinction, according to a 2019 United Nations report. The trafficking of animals is also contributing to the spread of "zoonotic disease," in which germs and infectious viruses spread between animals and people.
Investigations into this subject often focus on ivory and the big cats, but the trade in lesser-known species also deserves attention. From the trafficking of cacti in Chile to songbirds in Brazil, from chameleons in Madagascar to falcons in Pakistan and pet fish from Asia, there are many angles to this story. 
It's an international story, with opportunities for investigations in virtually every country. In the guide, we discuss who reporters should talk to, how to track trafficking on social media, what documents to use, and much more, with plenty of examples and story ideas.  
Available in: English | Français| Português | Español | العربية | Türkçe | Indonesia | Guaraní.
GIJN partnered with the awesome people at Media Defence — an international human rights group focused on the legal defense of journalists — to create A Journalist's Guide to Avoiding Lawsuits and Other Legal Dangers. This concise manual opens with an overview of international legal standards and the most common threats of litigation faced by journalists. It then offers journalists invaluable tips on how to prevent, mitigate, and protect themselves from legal threats due to their everyday work.
Available in: English| Français| Português | Español | العربية | বাংলা | Türkçe | हिंदी | Indonesia.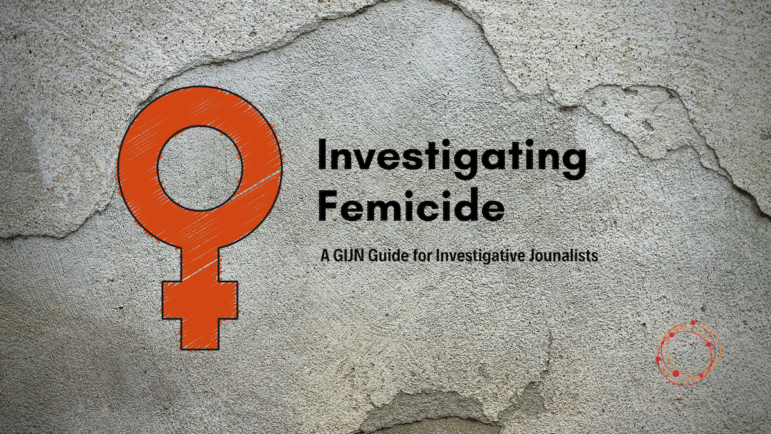 Femicide — the murder of women because they are women — is a global problem. From the UK to Namibia, the US to Turkey, protests against gender-based violence have increased in recent years. According to the UN's latest estimates, 50,000 women and girls are killed each year by intimate partners or other family members. This represents 137 lives lost every day, but experts say even this number is an underestimate, as many governments around the world don't track femicides. 
Despite the scale of this crisis, many of these stories go unreported. This guide, written by GIJN's Resource Center Director Nikolia Apostolou, aims to help journalists understand what femicide is, find and understand the data available, and access the best experts.
Available in: English | Português | Español | العربية | اردو | Türkçe. 
Bulletproofing your story before publication demands much more than getting the facts right. It requires a meticulous approach from the start in order to pass quality control.
In this guide by Nils Hanson, you'll find a rigorous system with three stages, developed since 2004 by the editorial staff of Uppdrag Granskning (Mission Investigate) at SVT, the national public broadcaster in Sweden. Over the years, Mission Investigate has produced international award-winning stories on topics ranging from transnational bribery and organized crime to the Catholic Church and the UN. Along the way, the team has learned how to avoid getting facts wrong, and making sure the stories are fully vetted prior to their release — not after.
Available in: English | Français| Português | Español | العربية | বাংলা.
More than 23 million migrant workers live in the six Middle Eastern countries that make up the political and economic alliance known as the Gulf Cooperation Council (GCC): Saudi Arabia, Kuwait, the United Arab Emirates, Qatar, Bahrain, and Oman. Abuse of these workers is widespread, mostly due to the kafala sponsorship system — the legal framework defining the relationship between migrant workers and their employers. This often results in contract violations and dangerous working conditions, benefits unscrupulous traffickers, and causes discord among brokers and employers. Despite this systemic abuse, media outlets, both local and international, have typically struggled to closely cover human trafficking and forced labor in the region, because of local restrictions on press freedom, security concerns, and threats of detention or deportation.
GIJN, in collaboration with watchdog NGO Migrant-Rights.org, has updated and expanded our multilingual guide to educate journalists on best practices, tools, and country-specific resources, all against the backdrop of the ongoing COVID-19 pandemic.
Available in English and Bangla. Coming soon: Arabic and more.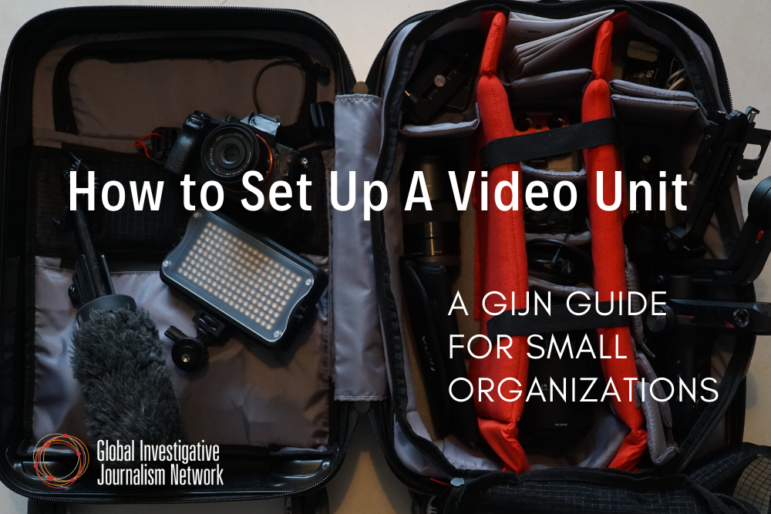 This guide is geared to help small watchdog journalism organizations — those with modest budgets and few staff members — start producing their first visual stories. 
For smaller news outlets like investigative nonprofits, having a video unit can open doors to work with broadcast networks, which often have bigger budgets than print media. This can be a valuable source of commercial income, whether it's being hired on day-rates and special projects, or selling and licensing archival footage.
This guide, written by GIJN's Resource Center Director, Nikolia Apostolou, is divided into three segments: 21 Steps to Start Doing Video, Tips to Make Your Shots Look Better, and Case Studies.
Available in: English, Português | বাংলা.
In this guide you'll find tools to help newsrooms and freelancers with all the work that isn't newsgathering: paying the bills; scheduling collaborative projects; maintaining shared communication channels for team members; editing and posting a podcast; designing a graphic for social media; and tracking how well the post performs. 
With myriad products on the market all claiming to be the best, or uniquely necessary, researching the best solutions and then paying for them can be overwhelming. We've selected a number of popular offerings in a few key categories, with affordability as one of the main criteria.
The majority of the products we selected offer free trials, and most have a "freemium" version — a free tier with limited features, alongside paid versions with a broader range of capabilities.
A selection of the tools offering encryption is also available in: English | Русский | हिंदी. 
GIJN's Grants & Fellowships page has been one of our most popular pages for years. If you're seeking a chance to improve your skills, expand your audience, or start a new project, this is the place for you: You'll find regional and international grants and fellowships, opportunities for both staff and freelancers, plus special consideration for minorities and women. Be sure to look at the requirements and deadlines. This list is constantly evolving, so be sure to check it frequently.
Available in: English  العربية | Русский |Français | 日本語.
Journalists around the world are under threat. Since 1992, more than a thousand journalists have been killed, and thousands more were victims of assault, intimidation, imprisonment, and persecution.
If you are in imminent danger, or need legal, financial, or psychological support, you can find organizations that support journalists from around the world in this important GIJN guide. Every year, dozens of journalists message the GIJN Help Desk, seeking assistance.
One recent example: after the Taliban took over Kabul, GIJN's Smaranda Tolosano put together this widely used list of resources for emergency evacuation and asylum processes for Afghan journalists trying to flee the country.
Available in: English | বাংলা | 中文 | Français | Português | Русский | Español| اردو |  العربية | Türkçe.
Few tools are as valuable as the Internet Archive's Wayback Machine. If you're looking for a webpage that's vanished online, or deleted text from a site you're researching, there's a good chance the Wayback Machine has it recorded. Every day, this extraordinary platform archives a billion URLs. Mark Graham, manager of the Wayback Machine, put together these tips for how reporters can use this powerful service in their reporting.
Available in: English | Français| Português | 中文 | Español | Русский | العربية | ارد | বাংলা | Türkçe | हिंदी | Indonesia | 日本語.
Looking for advanced techniques on how to search people, companies, and data on the web? Don't miss the BBC's online sleuth Paul Myers, a leading international expert in online investigation (and one of our most popular speakers at GIJN conferences). In this guide, Myers shares tips on the best tools and strategies for digging up hard-to-find information online. 
Available in: English | Русский | বাংলা | हिंदी | Indonesia.
---

Nikolia Apostolou is GIJN's Resource Center director. For the last 15 years, Nikolia has been writing and producing documentaries from Greece, Cyprus, and Turkey for more than 100 media outlets, including the BBC, Associated Press, AJ+, The New York Times, The New Humanitarian, PBS, Deutsche Welle, and Al Jazeera.