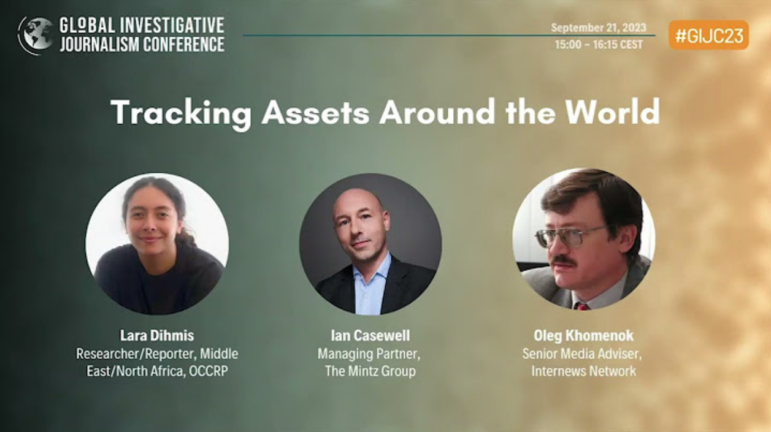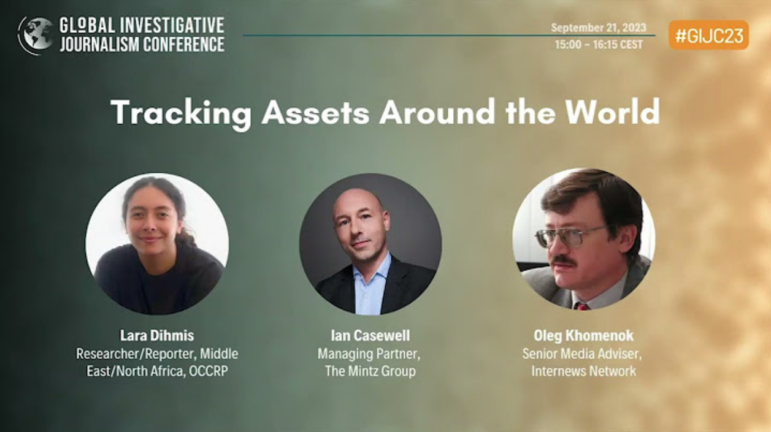 Image: Screenshot, GIJN, YouTube
From Real Estate to Racehorses: Tracking Hidden Assets Around the World
Read this article in
Tracking assets is an indispensable skill for investigative journalists, particularly when on the trail of high net-worth individuals. When reporters follow the money, hidden wealth can often be uncovered in real estate, planes, yachts, artwork, and even racehorses.
In a panel at the 13th Global Investigative Journalism Conference (#GIJC23), chaired by Internews senior news advisor Oleg Khomenok, OCCRP Middle East and North Africa reporter Lara Dihmis and managing partner of the Mintz Group, Ian Casewell, discussed best practices for tracking assets around the world.
Case Studies from the Russian Asset Tracker
Following the Russian invasion of Ukraine, OCCRP launched their Russian Asset Tracker. The project maps out the global financial interests of Vladimir Putin's friends and allies, who have often perfected the art of obscuring their wealth. It has documented more than $19.8 billion in assets owned by Russia's rich and powerful.
As part of the project, OCCRP established that a number of showjumping horses were owned by Roman Abramovich's close family members; in particular one of his daughters. "Our search for these horses actually all began with a tip, which we received after we published our first round of assets," Dihmis said. The tip read: "Sofia Abramovich has showjumpers, each worth over $500,000."
To verify the claim, Dihmis and her team started with basic open source Google sleuthing, which led them to an official equestrian website. The site, Fédération Equestre Internationale, contains a database of 272,000 horses and can be searched by the name of a horse or owner. A search of the Abramovich surname revealed ownership data for almost 30 showjumpers, which were then cross-referenced with the names of horses listed on his daughter's social media profiles.
In another investigation, OCCRP used public records to track down US property owned by a billionaire oil tycoon who is reportedly a close friend of Roman Abramovich. They began by searching for his surname in the New York City property database, ACRIS, which brought up a result for a different individual with the same family name.
Using an image of the man — found in an online press release about a donation from the billionaire — they verified his identity by searching it through PimEyes, a facial recognition search engine. "We took his face from this picture and we reverse image searched it in one of our paid tools… [and] we got some hits on him standing next to Abramovich."
To verify that the person on the property records was the billionaire's son, they used the paid database PropertyShark, which provides information on US real estate. This uncovered a third person with the same surname listed under one of the properties. An Aleph search revealed an invitation to that person's birthday party on the billionaire's yacht, confirming the link between the trio.
Starting Points for Tracking Assets
"I generally find myself starting from one of two points: looking for things that a certain individual or their associates own, or looking for who owns a certain asset," Dihmis says. At the beginning of an investigation, she also identifies an individual's network, and who may be holding assets on their behalf should they be trying to evade detection.
When searching for hidden wealth, sources of information can include:
Public records. This includes business registries, gazettes, court records, and property ownership registries. The usefulness of each will depend upon what jurisdiction you're looking at: Iran has a useful gazette, Dihmis says, the UK has detailed information about companies, and in the UAE, court records are searchable by key terms. Knowing how to navigate public records in countries outside of your own is essential. "If you're a reporter in Lebanon, and you're interested in finding where businessman X is storing his wealth, it's unlikely that your investigation is going to end in Lebanon," she says. "You're likely going to come across companies or addresses offshore, and you're going to want to know how to keep following the network elsewhere."
Open source sleuthing. Exhausting all avenues of research, such as analyzing social media accounts and trawling through Google, can sometimes be enough to find an interesting answer when searching for assets.
Paid databases. If public records and online sleuthing don't reveal any information, there are a number of paid databases that scrape and index company records, property registries, and people databases — such as Sayari.
Human sources. Cautiously approaching human sources can be fruitful. When tracking a yacht believed to be owned by Abramovich, Dihmis and her team spoke to a former crew member via LinkedIn who shared insider information, including an internal brochure of regular guests and their preferences.
OCCRP maintains a global index of public registries for company, land, and court records in their Investigative Database, and their Aleph data platform is a searchable archive of public records from around the world. Dihmis also recommends using ICIJ's Offshore Leaks database, which holds details of 810,000 offshore companies, foundations, and trusts.
Lessons from Corporate Asset Tracing
Ian Casewell is a partner and practice head of disputes at the Mintz Group, a corporate investigative firm. Prior to this, he worked at Europol, where he ran international investigations into organized crime. Knowing your target, he says, is the first step when tracking assets.
"Each one of these targets takes a different approach," he says. "With states, you're looking at state-owned enterprises and revenue streams; with corporations, you're often looking at stock as assets, or intellectual property, or trade receivables; and with individuals, we're often looking at what toys they buy, so yachts, planes, real estate, arts, and antiquities."
When tracking high-value art collections, for example, Casewell stresses the importance of identifying who sold the artwork, where it is stored, who the insurer is, and whether the piece has been loaned to galleries. "In some instances, art features on the walls of people that you're investigating," he says. "There may be online profiles in vanity magazines and so forth that you can identify."
How Corrupt Officials Hide Dirty Money
Take: Steering a government contract, taking a bribe, making a sweetheart deal, or gaining cash from a criminal enterprise are all ways of gaining dirty money, Casewell says. "Each one of these is an opportunity to steal," he continues, but "each one… presents an opportunity to investigate. If you've steered a contract, or you've oversold goods to your government, there's often a paper trail and there's people involved in those transactions that know something."
Hide: The next step is setting up offshore companies, and opening new bank accounts. "There are obviously still many jurisdictions in the world that have very low regulatory thresholds [for banking] which enable this," Casewell says.
Move: Individuals then move their money both inside and outside of the banking system — from suitcases of cash to automatic re-wires, where money hits an account and is immediately moved to a different account in another jurisdiction.
Network: Family, lawyers, and even travel agents can be involved in moving assets around the world. "The biggest mistake that we see is people involving their family, often their children, in holding assets," he says. "It doesn't matter how disciplined or sophisticated a fraudster, or a criminal, or a debtor is — often their family members and associates will give them away."
Enjoy: Eventually, people will spend their ill-gotten cash. This can be in the form of real estate, vehicles, and shopping.
Tips for Uncovering Hidden Wealth
Look for the classic mistakes. "People are arrogant, or they're not very good at asset hiding," Casewell says. This can lead to mistakes, which makes it possible to accumulate a paper trail on certain assets.
Make connections in different jurisdictions. Sources on the ground can help with gaining information from local ownership offices and speaking to a friendly native lawyer can reveal why assets are being moved in a particular way, and where the vulnerabilities lie.
Use online tools. Sites such as Panjiva and Datamyne can be used to track supply chains, and GreyList Trace, which shows where hidden bank accounts may be held, is useful for uncovering potential banking relationships. For digital asset investigations and following cryptocurrency as it moves around the world, Casewell recommends Chainalysis and TRM.
Speak to people in your target's network. "You don't want to go and speak to the corrupt lawyer at the offset, you want to work around the edges," Casewell says. "It's often the secretaries and the chauffeurs — that weren't paid very well, that weren't treated very well. They're exposed to conversations and agendas, and then often hold the keys to unlocking the asset hiding activity."
Watch the full video of the GIJC23 panel on "Tracking Assets Around the World."