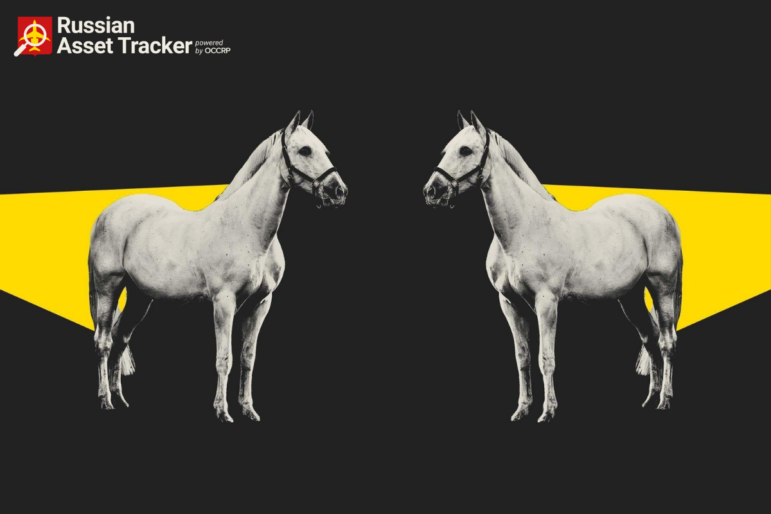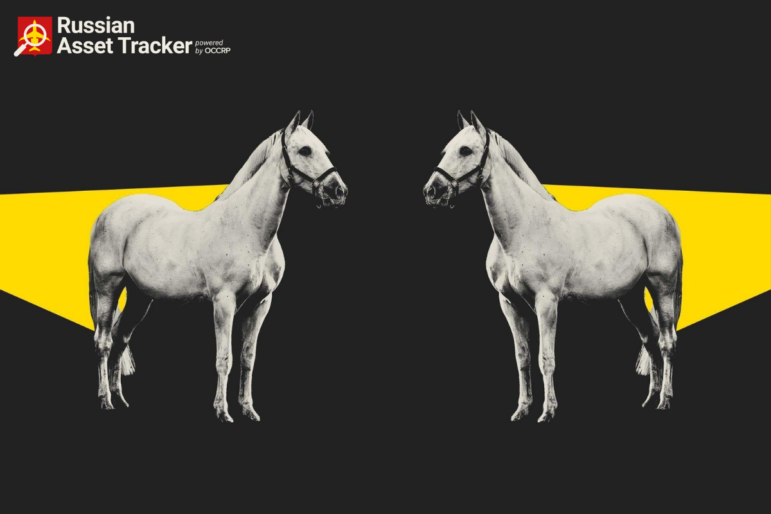 Tracking Down Horses Owned by Families of the Oligarchs
Read this article in
At the Organized Crime and Corruption Reporting Project (OCCRP), we're used to cataloging shell companies and trawling through bank records in search of assets — but these assets aren't usually named Khloe, Kylie, and Peach Belini.
That all changed after we launched the Russian Asset Tracker, a project published in the wake of Russia's invasion of Ukraine to catalog the wealth of oligarchs and key figures close to Russian President Vladimir Putin. We asked our readers to send us tips on any properties, aircrafts, companies, or other valuable assets we could add to our list.
A category we hadn't initially accounted for was "horses." But when the tip came in — "Sofia Abramovich (daughter of billionaire Roman Abramovich) has show-jumpers each worth $500,000" — we began the hunt.
We're no horse experts, but we didn't have to be. Relying solely on data from open sources, including horse ownership databases, social media, competition results, and press releases, we were eventually able to identify more than 30 horses owned by either Sofia Abramovich or her mother Irina.
So How Did We Find Them?
Once we received the tip, we started with, well, Google! "Google dorking," or using different research techniques to narrow down an overwhelming amount of search results, is a valuable and often overlooked open source intelligence technique, which refers to gathering and analyzing information from sources accessible online. Simply searching "Sofia Abramovich" in Google, for example, didn't get us very far, but further specifying the search with "Sofia Abramovich" AND "showjumpers" OR "horses" yielded results that began to point us in the right direction.
Trial and error, and exhausting as many search variations and operators as we could think of, took us and our research partner — Transparency International Secretariat  –down two paths. Our searches initially resulted in a variety of news articles, PDFs, and press releases that seemed to confirm the tip, listing Sofia's association with competitive show jumpers as both owner and rider. But we knew that our hyper-vigilant fact-checkers would need something more solid.
We found that many of the results were from the website for the International Federation for Equestrian Sports (FEI), the international governing body for equestrian sports based in Lausanne, Switzerland. While we're constantly working with and accessing company and property databases around the world, horse ownership was uncharted territory. But after exploring the FEI website we found its free and public database, which stores information on show jumpers from all over the world — including their ownership.
The database is searchable by horse or owner, and searching the Abramovich surname pulled up a handful of horses owned by Sofia and Irina, which would prove to be a useful start. In some cases, we could see that the horses' ownership had changed from Irina to Sofia in March 2022, the same month Abramovich was sanctioned by the UK. This made sense, since we had already noticed Abramovich taking other steps to protect his assets around this time. (For example, he deregistered a helicopter from the UK and re-registered it in Russia, and put one of his key companies into the hands of one of his closest associates.)
When faced with a new database, it's important to explore and really just play with it to see what type of searches retrieve what sorts of results. In this case, for example, some of the horses we suspected were owned by Sofia didn't appear on her profile. But when we searched for the horse's name, they were in the database and we were able to confirm her ownership.
From there, we turned to social media, one of the best resources for researchers and reporters to gain a glimpse into a person's life. When people are wealthy they often like to show off what they own, and social media is the perfect venue for preening and a favorite platform for wealthy people to show off their wealth. If a profile is public, it's always worth spending a few hours scanning through posts and trying to identify any visible assets or otherwise useful information. The former might be expensive jewelry worn by the person you're looking at, or pictures aboard a yacht you suspect they own. While the latter could include useful identifying information, such as a birthday post to confirm a birth date, or posts with a spouse or partner to confirm their relationship.
Sofia's Instagram account is filled with pictures and videos of many of the horses we found, and there were a variety of clues that, after a few hours of sleuthing, helped us determine which horse was which.
For example, one of the horses on the initial FEI list was named "Valkiry De Zance." Valkiry was owned by Abramovich's ex-wife Irina until March 3, 2022, when it was re-registered in Sofia's name. While none of Sofia's Instagram posts referred to a "Valkiry De Zance," there were several posts about "Percy," a pet name she uses for Valkiry, a clue in one post revealed.
Another horse that featured on Sofia's Instagram page was a newborn foal, Peach Belini. When we found that she wasn't registered with the FEI, we turned to a second database: the Anglo European Studbook, a registry for "quality-bred" horses in Europe and the United States. This led us to 27 more horses registered in Sofia's name.
Many of the horses registered in this database were newborns, which we were able to identify on Sofia's Instagram page by comparing their dates of birth in the studbook with the dates she posted on Instagram about their birth.
How Much Are the Horses Worth?
The Russian Asset Tracker aims to not only act as an index of the foreign assets of Putin's friends, allies, and enablers, but to also demonstrate the extent of their wealth having benefited from his regime — Abramovich included.
When we set out to value the horses, we weren't sure what to expect. Valuing a helicopter or real estate is fairly straightforward. A property's price when bought will often be listed on its title deed. Aircraft are publicly sold and often have list prices. But the value of a horse depends on many different factors, from its competitive history and how successful it has been, to its pedigree and age, a UK-based breeder told us. And it's not just the horse itself that can be valuable: The semen of some of the most successful show-jumpers is worth up to £2 million (US$2.5 million), the breeder added, and that price can change depending on whether the semen is frozen or fresh (the more expensive option).
While we couldn't ascertain an exact value for each of Abramovich's horses — and there wasn't any publicly available information about whether their semen had been sold — what we do know is that some of the world's most competitive show jumpers, including the parents of some of Sofia's horses, such as the award-winning Billy Congo, who fathered Sofia's Billy Fraulein, go for millions of pounds.
This story was originally published by the Organized Crime and Corruption Reporting Project and is republished here with permission. You can find the original article about tracking down the horses on Medium, and a story featuring OCCRP's work to identify the horses and other assets tied to the oligarchs here.
Additional Resources
Investigating Russia and the War in Ukraine
10 Tips for Tracking Russian-Owned Assets
Oligarch Lawsuits Aim to Silence Journalists in UK
---

Lara Dihmis works for OCCRP as a researcher, helping journalists track individuals and companies with a focus on the Middle East/North Africa region. She also reports for OCCRP's daily news team and works on investigations. Previously, she was an editor with Arab Reporters for Investigative Journalism (ARIJ) and The Jordan Times.