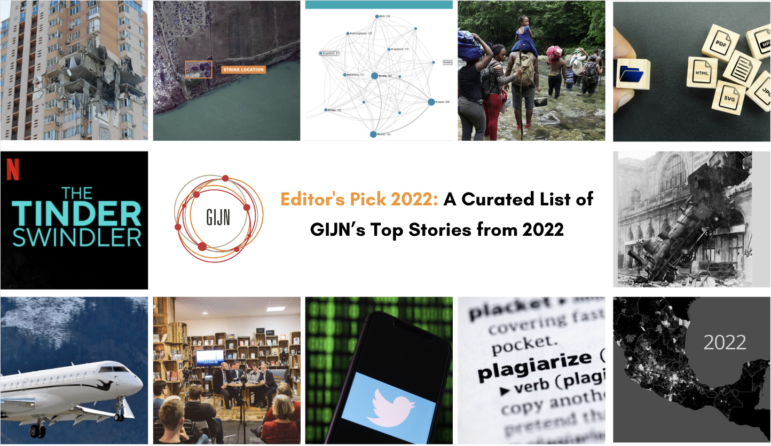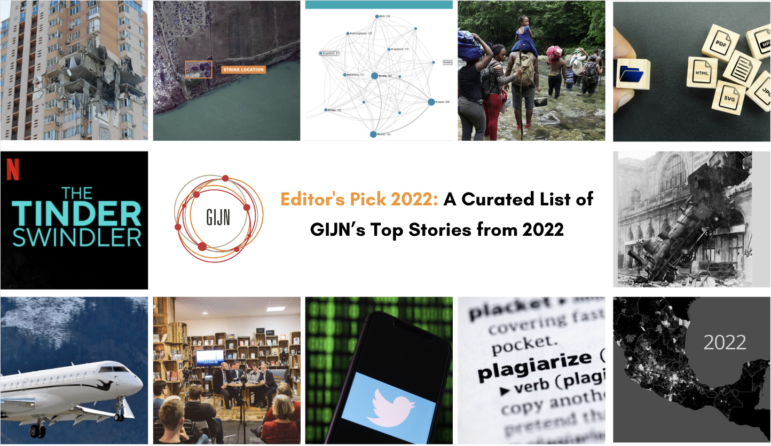 GIJN's original stories are designed to equip watchdog journalists with practical insights and tools to help them dig deeper into accountability issues in tough press environments. Produced by staff writers, regional editors, and guest contributors, most of these pieces involve picking the brains of investigative reporters and subject experts for innovative techniques and their real-world experience on projects, and applying these to pressing topics around the world. 
In 2022, many of GIJN's original stories focused on reporting techniques relevant to global threats that grew or emerged this year, including Russia's invasion of Ukraine, democratic decline and the growth of far-right populism, the challenge of accountability journalism in the Arabian Gulf, the abuse of migrants and minorities, and the exiling, assault, and legal harassment of independent media. (In our list of Top Stories from 2021, some of the dominant themes included COVID-19 vaccine corruption, journalism innovation in the Global South, digital surveillance, and the global recognition of investigative journalism with the awarding of the Nobel Peace Prize to two watchdog editors.) Many other notable 2022 articles detailed both the threats and data applications presented by emerging technologies and digital platforms. 
We encourage readers to search our site to find stories that set out practical tips, open source tools, and detailed databases that just might trigger new leads or approaches in tough investigative stories. But if you'd like a shortcut, we've curated below a list of 12 notable GIJN articles from this past year — a mix of our most popular stories, game-changing tipsheets, topical coverage, and important pieces you might have missed. Many are available in multiple languages (you'll see the links to available translations at the top of each piece).
Reporting errors and missteps made during journalistic investigations are especially interesting to other reporters because they often show the difference between techniques that make sense in theory, and their outcomes in real-world reporting. In this piece, GIJN interviewed a diverse group of nine watchdog reporters on mistakes they have made on accountability stories, and the lessons they learned from those experiences. The story quickly emerged as one of the most popular on GIJN in 2022. The most common lessons revolved around the need for extra preparation before interviews with uncooperative sources. 
Written by Manisha Ganguly — a filmmaker who works with the BBC World Service investigative team — this piece describes how evidence via social media channels, mobile phone cameras, satellite imagery, and open source techniques can empower reporters to cover war crimes in near real-time. Chillingly, the story, produced in the context of the war in Ukraine, also explains that even some uniformed perpetrators — believing there will be no consequences — often document their own human rights abuses, and that a search for their ID handles on channels with lower privacy settings can help identify them. It also discusses metadata tools for video verification, archiving evidence, and witness corroboration. 
This year, GIJN produced a five-part Elections Guide for Investigative Reporters, which provides practical tips on subjects like digging into the people behind election disinformation, backgrounding candidates, exposing campaign dirty tricks, and understanding the increasingly dangerous "autocrats election playbook." The guide was initially serialized as five individual stories. The first chapter — on new election digging tools — stood out for many readers, because it introduced two powerful new ways to expose bad actors beyond the context of elections. The story detailed the remarkable applications of the WeVerify Twitter SNA tool, which can not only track disinformation to both its sources and amplifiers, but can also reveal the companies that benefit most from false online claims. It also showcased a new way of identifying the hidden actors behind mysterious websites that incite hatred or violence, using nothing more complicated than the "Control-F" function.
Each year, thousands of migrants cross one of the world's most dangerous borders: the Darién Gap rainforest, which links Colombia with Panama. In this gripping piece by Latin American reporter Santiago Villa, several journalists described their experience of covering migrant and human trafficking jungle routes menaced by gangs and wild animals — harrowing field reporting that led to a Pulitzer Prize for The California Sunday Magazine and a Peabody Award for PBS NewsHour. The story also shared important tips for this kind of high-risk work, from the need for first aid kits and insurance for emergency evacuation to the importance of trusted guides, and, in some cases, gaining limited protection by alerting criminal gangs to the presence of journalists on the trails.
While Western governments scrambled to sanction Russia's economic influence in the wake of its invasion of Ukraine, GIJN asked Tom Stocks, a senior investigator at the Organized Crime and Corruption Reporting Project (OCCRP), to share 10 reporting techniques for digging into overseas assets owned by politically-connected Russians. His tipsheet laid out detailed advice on searching across different jurisdictions, using databases to track movable assets, and the need for multiple transliterations of Russian names to make sure you don't miss them in name searches. Stocks also recommended backgrounding oligarchs through siblings, wives, mistresses, children, and business partners, to track masked asset registrations. His piece joined a GIJN Toolkit story on "Investigating Russia Around the World," which compiled starting-point digital tools for exploring illicit Russian assets, and a broader resource page on Investigating Russia and the War in Ukraine.
Reporters around the world have noted that government agencies and corporations are increasingly, and sometimes deliberately, publishing potential embarrassing documents in unstructured or "dead" PDF formats. This places a particular burden on under-resourced newsrooms that lack the capacity for manual data entry or the programming skills to scrape that information for possible stories. This story reflects some of the best free, non-code data extraction solutions set out by experts at the 2022 Investigative Reporters & Editors Conference in the US. One speaker revealed how you can import and format hundreds of lines of tabulated data — spread across dozens of an agency's web pages — into an ordinary Google Sheet in less than 15 seconds. In some cases, this technique requires nothing more than a simple cut-and-paste formula, with the relevant URL inserted — and it can be set to automatically update your spreadsheet when the agency updates their online site. The piece also describes a free, AI-driven document-parsing tool that can transcribe and search handwritten notes or audio files and even highlight words across huge files that are related to your search. 
This year, a team at The New York Times won a Pulitzer Prize for its investigative series on the vast civilian death toll from US airstrikes in Middle East conflict zones, and the systemic military errors that contributed to this tragedy. In this GIJN special report, the series' lead reporter, Azmat Khan, revealed the challenges and techniques behind the investigation. She also shared useful databases that other reporters can consult for similar investigations, as well as tools for gathering airstrike evidence and a methodology for verification.
Checking for disinformation on Twitter became especially important in 2022 after fake screenshots of tweets became prominent sources of misinformation following Russia's invasion of Ukraine. This worrisome trend was further amplified after a billionaire's chaotic, private takeover of the platform late in the year. In this practical, easy-to-use tips story, Shayan Sardarizadeh — a journalist who specializes in monitoring disinformation for the BBC — shared a half-dozen techniques for verifying images of tweets. The story describes how fake screenshots are created, and its verification tips include checking the timeline on the claimed account, using the Wayback Machine to see whether the tweet was deleted, and using reverse image searches and the Politwoops tool.
Profiles that feature the innovative nonprofits admitted to membership in GIJN can offer useful, real-world insights on sustainability, investigative impact, and the unique press challenges facing the press around the world. GIJN also publishes regional profiles, such as a piece in April 2022 on "Overcoming the Challenges to Investigative Reporting in Southern Africa," by media researcher Carolyne Lunga. 
In this story, freelancer Olivier Holmey detailed how Germany's first nonprofit newsroom, CORRECTIV, consciously immersed itself in working class communities, including the location of its headquarters; built a network of over 1,000 local reporters; included a for-profit publishing subsidiary to help sustainability; and drew inspiration from investigative nonprofit groups in the US for its structure. CORRECTIV's editors also explained how its team uses crowdsourcing to bridge data gaps, and actively collaborates with other newsrooms for large or cross-border projects.
When investigative reporters find an accountability topic that is relatable for ordinary people, it's important to capitalize on the subject's popular potential — to deepen impact, to strengthen sustainability, and to reach more diverse audiences. Norway's largest newspaper, Verdens Gang (VG), found just such a story, when it investigated a diabolical international "love scam" in which an Israeli man exploited a dating site to con millions of dollars from several Scandinavian women. In addition to viral sharing of the many revelations, VG expanded the investigation's audience by designing the story presentation for smartphone formats — and then by turning it into a hit documentary on Netflix. In this revealing Q & A, GIJN Associate Editor Laura Dixon spoke with two of the VG journalists about the experience of having their reporting transformed into a documentary and how it demonstrated the long-term value of archiving video, images, and other evidence in almost any investigation.
Dishonest government officials have several hiding places for evidence of their malfeasance, from offshore shell companies to new laws for muzzling whistleblowers. But in this piece, Romanian investigative journalist Emilia Șercan told Laura Dixon about one kind of dishonesty by officials that is difficult to hide, and relatively easy for journalists to detect: academic plagiarism. Sercan has exposed academic fraud in dissertations and theses among some 50 members of the Romanian elite, including cabinet ministers, judges, army generals, and a prime minister. She explains that public libraries represent a rich source of accessible evidence — and details several techniques reporters can use to spot illicit copying, from suspicious font changes and footnote inconsistencies to the use of tools like Turn It In and Google search.
Launching and growing an investigative nonprofit is an enormous challenge — not least because the passion and skill set among watchdog reporters tend to revolve around evidence-gathering, rather than fundraising or management. Yet dozens of successful startups around the world have shown that the effort is often both viable and critical for accountability. In this piece, Pulitzer Prize-winning Mexican journalist Alejandra Xanic – co-founder of Mexico's Quinto Elemento Lab (Fifth Element Lab) — described the journey her team took in creating a sustainable, award-winning newsroom. She also shared tips for other potential founders to consider, including hiring an administrator, matching staff growth with an organizational chart, and planning strategies for funding and distribution.
One last note: We here at GIJN need your help. If any of these stories were useful in your own work, please let us know. Being able to demonstrate our own impact on the investigative journalism community means GIJN can continue providing you with the latest tools and techniques. Thanks!
Additional Resources
A Curated List of GIJN's Top Stories from 2021
Making Your Mark: Tips for Up-and-Coming Investigative Journalists
Best Practices for Journalists Covering Conflict-Related Sexual Violence
---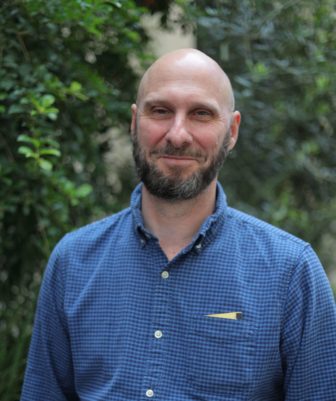 Rowan Philp is GIJN's senior reporter. He was formerly chief reporter for South Africa's Sunday Times. As a foreign correspondent, he has reported on news, politics, corruption, and conflict from more than two dozen countries around the world.