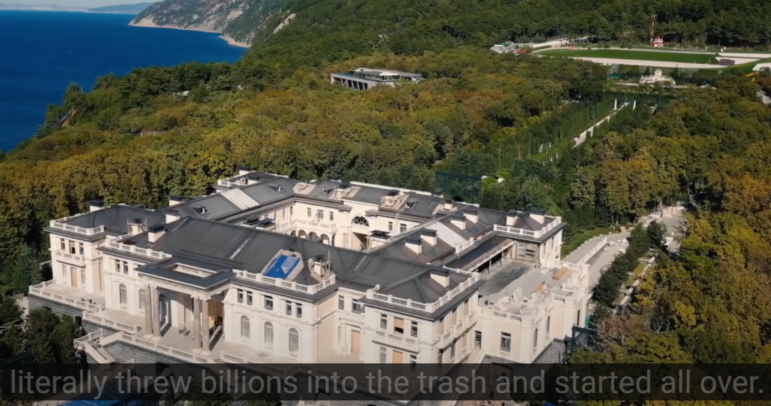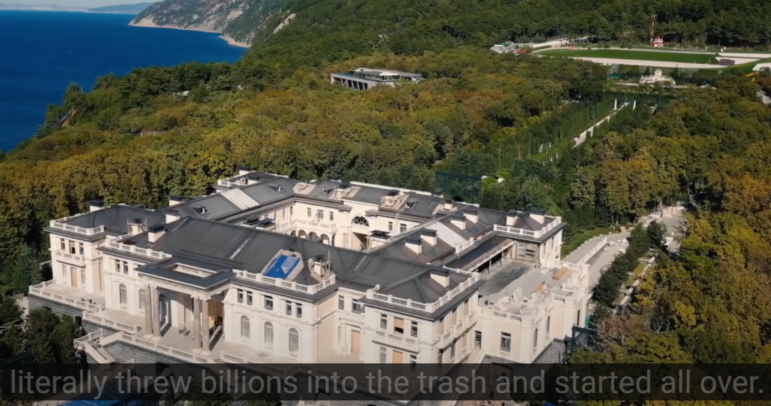 What Journalists Can Learn from Navalny's Investigative Team in Russia
In October last year, an attorney representing Alexey Navalny, Russia's leading opposition figure, strolled around the Russian resort city of Sochi with at least four cell phones in his pockets.
Meanwhile, the owners of those cell phones were aboard inflatable boats along the same Black Sea coast, 250 kilometers (155 miles) to the north — preparing to launch a camera drone toward one of the most secret buildings in Russia. Employees of Navalny's nonprofit Anti-Corruption Foundation (FBK), they needed the cell phone signal tracking ruse — and tricks like switching trains en route to the coast  — to throw off the constant surveillance they face from state security agencies. And they had previously been assaulted while investigating corruption in this secretive region. These details emerged from a GIJN interview with Maria Pevchikh, head of investigations at FBK.
Georgy Alburov, a member of FBK's investigations team, directed the drone over a forested peninsula near the town of Gelendzhik — a peninsula which they had found to be protected, uniquely, by a no-fly zone, state security guards, and a mysterious 2 kilometer (1.2 mile) marine keep-out zone.
The aerial footage provided clues that led to FBK's "A Palace for Putin" investigative documentary, released in January 2021, which exposed massive corruption behind the vast $1.35 billion palace complex on that peninsula, staggering abuses of public funds, and Russian President Vladimir Putin's personal control over the site. The two-hour film revealed what The New Yorker's Masha Gessen called "a gigantic Lego project of a deranged, obsessive mind."
Within a week, the video received more than 108 million views. In the same week, Navalny — who contested the presidency of Russia, and who was poisoned in a nerve agent attack in August — was jailed for two years on charges widely described as political persecution by the Kremlin. Pevchikh said five of Navalny's employees at FBK are also in prison, and that Alburov also faces charges.
Staffed mostly with lawyers, the nonprofit has an explicit political objective — to stop state corruption and remove Putin from power — and it is not a journalism outlet. Its investigations could be characterized as opposition research, and it is often viral video content which occasionally includes mocking commentary that no professional newsroom would consider. FBK's website lists individual donors who the group says funds its overtly political work.
The group remains controversial among Russia's gutsy community of investigative journalists. In an interview with the Organized Crime and Corruption Reporting Project last year, Roman Anin, editor of Russia's IStories reporting platform, warned that FBK's investigators "don't follow journalistic standards and never try to listen to the other side."
But Anin acknowledged that FBK was "probably the most effective investigative media outlet in the country," and that investigative reporters should learn from their methods.
The creativity and courage of its investigative methods in dozens of cases over the past decade indeed offer useful insights for professional journalists in other autocratic and press-restricted countries.
"It would be stupid for me to deny our political angle — we are using investigative reporting as a tool to achieve our political aims," said Pevchikh.
Navalny chose to return to Russia from Germany on January 17, where he was arrested on a parole violation charge and was later sentenced to a two-year jail term. "Alexey shows us all an example of what it really is to represent this country," said Pevchikh. "Of course, he understood that it was almost 100% that the second he returned to Russia he'd be [arrested]. We will do everything possible and impossible to get him out."
Veteran investigative journalist Roman Shleynov, now Russia regional editor for the Organized Crime and Corruption Reporting Project (OCCRP), agreed that FBK produced high quality investigations that were then packaged for political messages.
He described "A Palace for Putin" as "amazing."
"FBK and Navalny did a great job," said Shleynov. "They got new documents about the building and found out the details about money transactions from Putin's friends, relative to the companies supporting that palace. Those friends made billions mostly because of the contracts with state companies. The video vividly explains why Vladimir Putin does not need to put his own signature on the documents about huge money transfers and extraordinary assets."
FBK has just two full-time investigative researchers and two camera operators — one of whom was also recently jailed — while Navalny himself often directs and narrates video documentaries.
Pevchikh — a former finance professional who studied political science — said no one on her team had formal training in investigative work. FBK investigators identify new tools or skills needed for each project, and learn them on the fly; Alburov, she said, was a coding hobbyist who gave Navalny lessons in writing Python code.
For their scoop last year on ten of millions of dollars in romantic gifts made by the chairman of a Russian state bank, the team used Python code to integrate data from Instagram and tools like MarineTraffic and FlightRadar. They were searching for the name and cost of a yacht they believed the banker had given to his secret mistress, using public funds. Pevchikh said they used the program to search maritime departures from ports coinciding with arrival dates for a private jet also gifted to that woman. The program found that just one yacht had been present at all four port cities on the dates when her jet had arrived — a $62 million "super-yacht," whose features perfectly matched the woman's vacation images on Instagram.
This video attracted almost 12 million views, and features a memorable moment in which Navalny — seated on a bench in New York's Central Park — casually moves aside to reveal a donated brass plaque, inscribed with a love note between the secret lovers, complete with the banker's full name.
"Now that was a fun story!" Pevchikh remarked. "Honestly, the palace investigation was boring. We have done very technically advanced investigations before, but it so happens that Putin's palace was the most old-fashioned story we've done — mostly endless land registry records, and just stamina. But it worked."
Above all, the FBK team's approach is centered around persistence and common-sense thinking, and its impact is based on the video format. "Investigative journalism is often a written format — even with advanced outlets like Bellingcat," says Pevchikh. "But I would encourage anyone who reads this in GIJN to make your story a video."
"The world has changed, people consume information differently, and if you want your work to be noticed and acted upon, get your iPhone out and film," she adds. "Go on YouTube, and you could get 20, 30, 100 times the views you're getting in print. The same applies for reporters in Botswana or Uganda — if you can write a story, then you can make a script, and make a video."
How They Exposed Corruption and Waste at the Palace
Originally designated as a children's campground, Putin's palace complex now includes a 17,700 square meter (190,000 square foot), palazzo-style main building, several adjacent luxury buildings, a vast greenhouse, a monuments garden, and a network of underground tunnels and facilities in an inner 68 hectare (168 acre) property.
FBK obtained leaked images and detailed floor plans to show astonishing extravagance within the palace: painted frescoes on ceilings; a two-level cinema; a casino; a hookah bar with exotic dance pole; a model trains room; a cliff-front wine tasting chamber; a video dance room; a giant jacuzzi surrounded by marble columns.
The documentary reports that the money for the palace was diverted from public funds officially intended for hospitals and medical equipment.
And Pevchikh said the evidence presented shows "beyond a reasonable doubt" that the entire site is owned by the person reflected in documents as "Mikhail Ivanovich" — a cover name she said was used by Vladimir Putin.
Asked what methods were used for the investigation, Pevchikh said the team:
Collected and archived more than a decade's worth of land registry documents for the palace site, carefully noting any changes over time, and made dozens of additional land record requests. "We compared and asked: Have they changed the description of the house? The square meters? The lawyers? The company behind the application?"
Hired a 3D-modeling company to create a virtual tour of the palace, both to show the layout and scale of the extravagance — and also to raise morale for FBK investigators. Pevchikh said integrating data into a 3D-model was a first for the team.  The team consciously seeks to try a new technique for every investigation just to "keep it fun."
Deployed a drone on a hunch that something was happening at the palace site, based on an increased volume of minor leaks in 2020. The footage revealed that an expensive renovation was underway. The team realized this meant that hundreds of workers would have witnessed the extravagance, and that some might cooperate as sources.  A hallmark of FBK investigations, aerial video is used to gain new insights and engage audiences. Before drones were available, FBK occasionally hired a paraglider pilot to film the homes of corrupt politicians.
Used Telegram chat bots. Although the investigation was largely low-tech, the team occasionally used Telegram bots, like getContact, to acquire contact information for sources and targets from data items such as car registration numbers and traffic fine records. "There are a number of Telegram bots that allow you to find information that is not readily accessible through Google," Pevchikh said. "In Russia, it's super relevant."
Calibrated a satellite photo of the helipad area for precise distance to understand why the property's third helipad had been transformed into a vast mound with three subterranean entrances. Its area of 56 meters by 26 meters (185 by 85 feet) revealed that a full scale ice hockey rink had been constructed beneath; a fact later confirmed by contractors.
Mapped social media connections. The team focused on every name mentioned in every power-of-attorney document associated with the project, and researched the professional and social networks of each person.
Covered their tracks. Conscious of persistent surveillance of their movements, the team used basic counter-surveillance tactics such as switching SIM cards and using burner phones.
Went offline to price hard-to-find furnishings. To gauge the cost of the furnishings, the team posed as potential customers to obtain a paper catalogue from an exclusive Italian designer that they identified from a logo found on floor plans. They compared items to workers' photos posted on social media. From this, they priced a leather sofa, for instance, at $27,000, and a drinks table at $54,000.
Pulling it all together took months. Aside from the 3D-modeling, all the video production happens in-house. Staff experts edit the videos and graphics. Pevchikh picks the music.
In the end, the key for Pevchikh's team was tying the palace to Putin, whose spokesman has denounced the film as "pure nonsense." But with the video already logging 110 million views, the Kremlin seems to be losing the argument.
"We had a board and some sheets of paper and over two months we made a list of about 100 bullet points showing why this palace belongs to Putin," Pevchikh explained. "From that list, we chose 25 main arguments and connections that ended up in the movie. We were seeking to prove it beyond a reasonable doubt."
ADDITIONAL READING
My Favorite Tools with Russia's Roman Anin
Resources for Finding and Using Satellite Images
The Forensic Methods Reporters Are Using to Reveal Attacks by Security Forces
Please join a GIJN Webinar on Thursday March 25 at 9:00 EST on the investigation into Alexey Navalny's poisoning. Speakers will include Christo Grozev from Bellingcat and Roman Dobrokhotov from Insider, Russia. Watch our website for further details. 
---

Rowan Philp is a reporter for GIJN. Rowan was formerly chief reporter for South Africa's Sunday Times. As a foreign correspondent, he has reported on news, politics, corruption, and conflict from more than two dozen countries around the world.