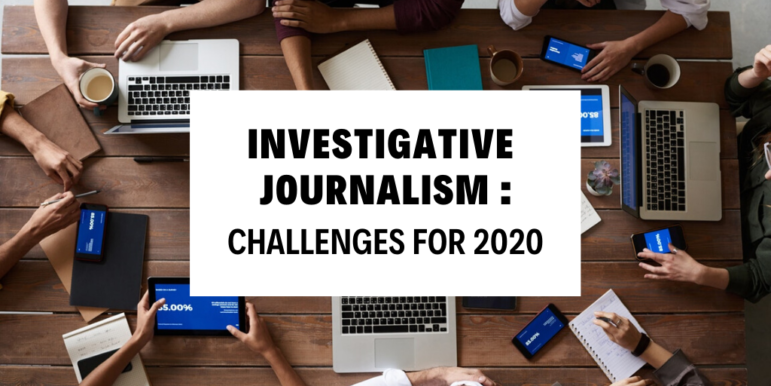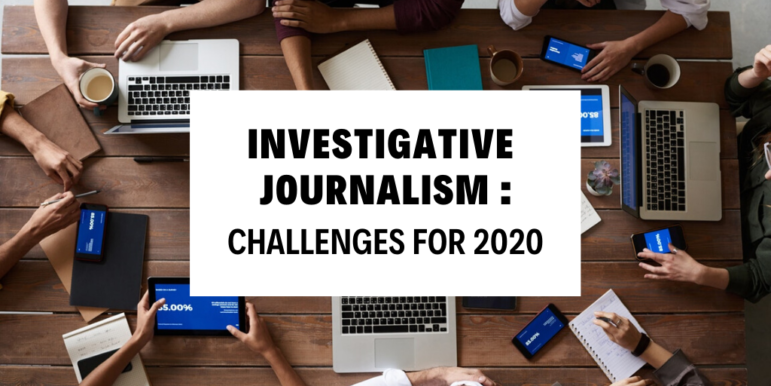 The global investigative journalism community may be facing its toughest challenges yet, with the rise of authoritarianism around the world and leaders manipulating social media to shape political narratives and control society. Add to that the ever present struggle for sustainability and the continued impunity of crimes against journalists. We've got our work cut out for us.
GIJN asked prominent journalists around the globe to look ahead at what's in store for 2020. Following are the trends, key forces, and challenges they expect will affect investigative and data journalism in the coming year, as well as the new skills and approaches we should be thinking about.

Observing the local and global trends while working out of Pakistan,  one major trend we'll see a lot more of is the sharing/leaking of data by sources that are online-only and, even when not anonymous, hard to trace and confirm claimed identity.
This presents a serious challenge. On the one hand, the motivations of such leaks are suspect and it would be hard to decide when to look further into a story and to what degree one can trust the information. On the other, if mainstream journalists ignore it others will pick it up anyway given the nature of the online space, which threatens to make journalists following old codes of ethics irrelevant. There is need for a new code of ethics that keeps pace with technological and cultural changes.
The other, of course, is the growing influence of the authoritarian mindset, not just in the developing countries or evolving democracies, but also in some of the developed countries. The right-wing ultra-nationalists already view free thinking and critical journalism as a major impediment to their policies, and in my opinion this will further grow to harm freedom of expression, unless it is collectively and forcibly challenged.

From Hong Kong to India, Lebanon and Chile, to name a few countries, people have been taking to the streets to demand democracy and better living conditions.
In 2020, investigative reporters around the world will keep doing their part too, working together to expose human rights violations and those systems that increase inequality and foment polarization. We've already seen examples of that in 2019, in Mexico, the Philippines, and Malta. Their reporting will continue to provide facts and nuances to expose injustice.
One challenge: As investigative journalists keep facing personal threats, costly lawsuits, oppressive laws, and sophisticated disinformation campaigns, they'll need to find better ways to communicate their reporting and findings to the public.
Investigative teams around the world can't stop thinking about audience engagement in a much-needed effort to bridge a gap between media and citizens that unscrupulous power players are trying to manipulate to their advantage.
Media consultant and strategist

In 2019, investigative journalism in China expanded globally with many news outlets outside China taking deep dives into stories on topics such as Xinjiang, Chinese state corporations, and attempts by the Chinese Communist Party (CPC) to influence politics in countries such as Australia and the Czech Republic. These investigations have benefited from technological advances such as satellite imaging, digital forensics, and big data analysis. In 2019, we also saw the emergence of whistleblowers who leaked internal party documents to the news media. These trends will pick up speed in the 2020: more leaks, more tech-enabled investigations, and more diverse investigation topics.
While the CPC under Xi Jinping will continue to tighten control of domestic media, media outlets outside China will step up reporting on China from outside the country, as China flexes its political and economic influence overseas. We'll also see the growth of a new generation of Chinese storytellers and "China watchers" who are mostly young and savvy in Chinese culture and language, They have not been shy in speaking up against the biases and the xenophobic tendencies of international mainstream media coverage of China. These young experts will grow in their role serving as the watchdog of watchdogs.
Inside China, investigative journalism in its traditional form has been silenced, but many dedicated journalists will continue to expose wrongdoing through new forms of expression such as non-fiction writing, podcasts and niche topics.
Chief Operating Officer, Reuters Editorial

As artificial intelligence/machine learning becomes more a part of data journalism, we're going to have to work harder at explaining to audiences how we came to the conclusions we did and why they should trust the inner workings of an algorithm they may not fully understand.
As an analogy, most readers don't have a deep grasp of statistics, but they generally accept stories that explain if a statistical analysis is robust and significant. We haven't yet developed a language or broad understanding of machine learning with audiences so that they have that same confidence in the analysis we do; that's something that will be important as data journalism gets increasingly sophisticated.
Executive Director, Arab Reporters for Investigative Journalism (ARIJ)

The biggest challenges investigative journalists will continue to face and will surface more and more in 2020 are digital threats and deep-fake videos. Viruses, malware, and phishing will be daily threats. Also, it will be very important to detect manipulated videos.
Regarding the most important skills of 2020 for journalists, there is not one or two or three skills, it is the set of skills of continuous learning. Online learning and experimenting should be the daily norm if you are investigative journalist. We used to think that only medical doctors needed to be learners their whole life. This is no longer true. It applies to journalists, too. When I started as a journalist 20 years ago, TV was king. Nowadays if you do not know how to work with a developer and a designer on your media team you cannot survive. In a few years time if you do not develop and design yourself you will be outdated.
Co-founder, InfoTimes and Arab Data Journalists Network

In 2020, journalists will create data-driven stories not only using traditional, structured numeric data, but also by extracting data from tweets, documents, and images. As reporters are increasingly being exposed to data, they are capable of extracting it from sources beyond the conventional public and private data sources and institutions.
This will allow reporters to contribute to increasing the scale of open datasets by creating their own, ultimately increasing accessibility to data in regions where there is limited access to data and information overall.
Trainer, Open Source Intelligence

Now that open-source intelligence (OSINT) has won an Emmy, as Bellingcat did in 2019, journalism has woken up.
I think 2020 will be the year where media embraces OSINT. NGOs, law firms, police, and companies already use it as a daily part of information gathering. They successfully discover stories in data by filtering information that's out there for free.
This year, The Wall Street Journal and NBC News will invest in OSINT, as will Buzzfeed and ProPublica. The International Fact-Checking Network embraced it, as does GIJN with its tracks at worldwide conferences. And The New York Times will continue visual research based on open sources.
If you are able to filter social media and the web in a smart and cheap way, your efficiency goes up. In 2020, no manager is insensitive to that.
Founder and Director, IDL-Reporteros

In thinking on Latin America (global enough, I think), there will be more investigations on corruption interfacing corporate crooks with kleptocrats. The lessons learned from the still ongoing Lava Jato case will be highly useful for journalists with experience and training on that investigation. There has also been tremendous popular support for the journalists making inroads on the case, which will certainly be a factor when considering relevance. Because of its nature, networks (loose or otherwise) will certainly be predominant. Quality, though, will be uneven.
Organized violent crime in the most violent region in the world cruelly affects the life and fate of millions in Latin America while remaining largely unknown except in broad, often inaccurate, terms. It will probably remain a major challenge for investigative journalism.
The threat of criminal theocracies, including religious sects — mostly but not solely evangelical fundamentalists — will grow at a fast pace all over Latin America, gaining political ground with crude, ultra-right messages, not just erasing the separation between church and state but also acting in many cases as criminal organizations, energized by the discipline and mind control of church members. It is a continental threat that will demand the best efforts of networked, top investigative journalists.
Job-related problems that will remain include: security, sustainability, disinformation, and quality. Plus the periodic answer to a relevant question: Is journalism worth risking your life for? In most cases, we answer it with a new exposé.

We've seen some inspiring progress in the application of technology to investigative journalism in recent years. ICIJ's China Cables project revealed Chinese internment camps. Reuters combined drone imagery with maps and data to show how vulnerable to monsoons the Rohingya refugee camps are.
Collaboration is a key to many of the most powerful investigations we've seen in recent years, but we're seeing more tools to foster those collaborations. Collaboration was key to investigations such as the Panama Papers, but as Marina Walker of ICIJ, wrote recently, technology also might help reporters spot money laundering.
While we are seeing exciting developments for using technology, we also will need to be covering how others employ it. Researchers, legislators, and entire newsrooms are focusing on algorithmic accountability to study how tech companies are using data in ways that can be biased or harm people in other ways. More of us will need to understand "algorithmic accountability" as everyone from our local police departments to social media companies use data to do business.
Dozens of countries will be holding key elections in 2020 and technology will play a key role. In the US some smart folks are thinking up ways to apply machine learning to help US reporters cover elections. Some of those techniques could be employed in other countries.
Building data when no data is available will continue to be key for covering climate change, wildfires, and other important environmental stories. Creative newsrooms are doing their own testing or tapping into satellite data. The Society of Environmental Journalists has a list of tip sheets for covering climate-related issues in 2020.
As much as all these tools will help us do better investigations, we have to remember to get out of the newsroom and talk to scientists, other experts, and the people directly affected by these stories.
Co-founder, Africa Uncensored

East Africa is likely going to feel the effects of changing weather systems, affecting agriculture, precipitating natural disasters and unrest. In my view, this will be a very important mega-trend to watch. The impact of climate change on health, specifically, will be key in re-orienting media reporting resources. I expect that in 2020, some of the biggest investigative stories will use geo-mapping and time-series data visualizations to establish impact in scale and impact over time.
We are going into two years of elections, which already are starting to affect a key pillar for effective reporting: safety. Direct threats to journalists are already increasing in countries like Tanzania, and intolerance for free speech and access to information will continue to impact the work of journalists. I also expect that more resources will be dedicated to the weaponizing of political messaging — we haven't seen the last of organizations like Cambridge Analytica. If anything, East Africa has become a proving ground for data mining for political campaigns.
The skills we should be thinking about aren't new or innovative; we should be thinking about how to keep focused on how to tell the story of the public's experience more effectively.

Artifacts of the 2020 future in journalism are all around us and the future seems bright, with one big shadow looming over it.
I believe 2020 will bring more ad-hoc style, cross-border cooperation with journalists teaming up more often on small and big investigative collaborations. The examples set in the past years, mostly by ICIJ and OCCRP, are now replicated at local, regional, and continental scales, and this is serving the public just right. These works will be enabled by newer tools currently in development both on the data processing and secure collaboration fronts.
The success that comes with these collaborations will also bring increased risk as journalists will unfortunately be targeted more often by law firms hired by bad actors, "black PR" companies, and state and organized crime surveillance.
My hope is that investigative teams across the world will provision a bit more for both cyber and physical attacks, and my belief is that these threats will only augment solidarity among journalists across countries.
Director, Centro Latinoamericano de Investigación Periodística (CLIP)

The biggest challenge for journalists this year will be to make truthful stories shine. Over-informed and confused audiences need clarity! This involves three things:
1. Collaboration among journalists of different media and countries and with experts of different kinds. Only such collaboration will allow us to make complex issues with global connections more understandable to people.
2. Rebuilding digital maps of disinformation at critical moments (elections, massive social protests, big public decisions) and expose those pushing confusion into public opinion.
3. Use available technology to call upon good citizens to help us expose wrongdoing, either safely by sharing their documents and stories, or by helping us disseminate information with no hidden agendas.
These three things involve improving our capacity to collect, extract and organize data, so that hidden stories emerge; and combine it with good old shoe-leather journalism of cultivating sources and on-the-ground-reporting.
---
Experts' comments were compiled by GIJN Program Coordinator Eunice Au.