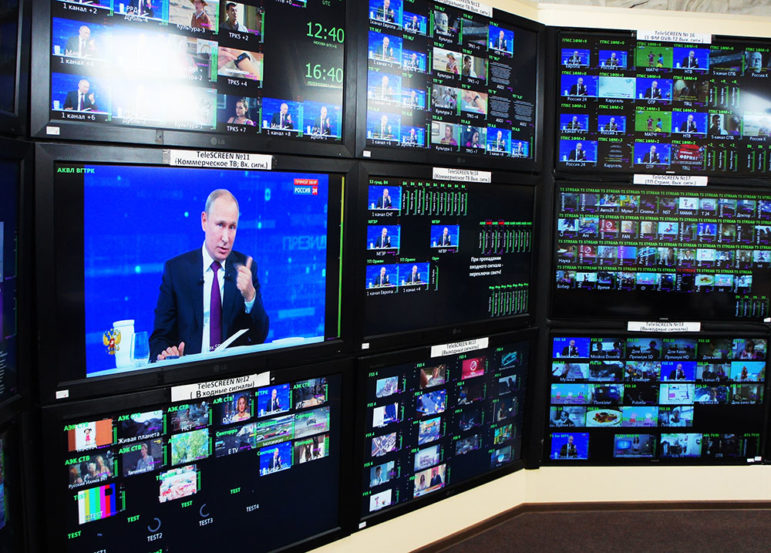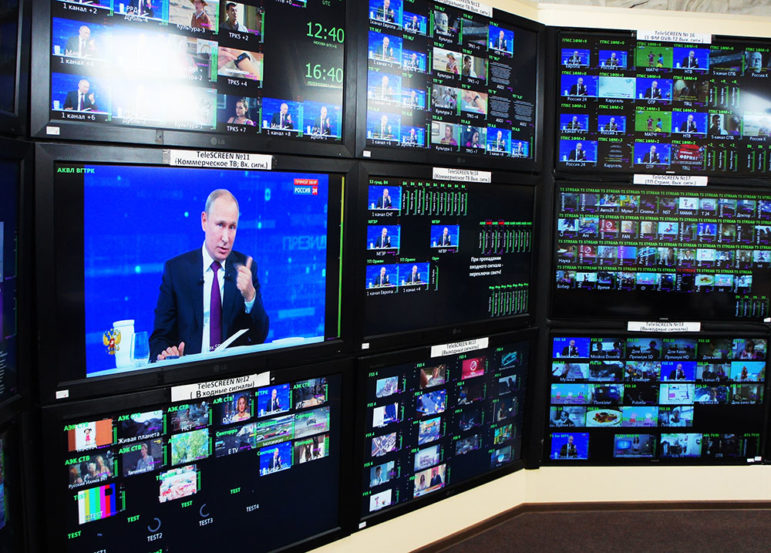 MOSCOW, RUSSIA - JUNE 20, 2019: The President of the Russian Federation Vladimir Vladimirovich Putin at the annual talk / press conferen with Russian people as seen in live broadcast on many screens.
Soon after Russia invaded Ukraine, a newly-launched fact-checking service called War on Fakes published a piece claiming to debunk the notion that Ukrainians were not waging an information war against Russians.
Not only were Ukrainians spreading "fakes, productions, and misinformation" to depict Russian forces in "an unpleasant way," the story said, but they were also using professional actors and video editing software to stage images of dead Russian soldiers and destroyed Ukrainian cities.
The information war would intensify, the purported fact-check predicted. Hollywood producers were gathering in Poland and would cross into Ukraine to create more misleading footage. Even American actor Sean Penn was participating in making the fakes, the story claimed, using the filming of a documentary about Ukraine as his cover.
War on Fakes claims to be a fact-checking service. "We dissect fakes and give links to rebuttals," says its description on Telegram. Its website says that it aims to "provide unbiased information" to counter "an information war launched against Russia."
But a review by PolitiFact shows that its "fact-checks" are actually pieces of disinformation that use well-known techniques of Russian propaganda — incoherence, a high volume of claims, repetition, and the statement of obvious falsehoods — to confuse readers trying to understand what is happening in Ukraine.
War on Fakes employs a common strategy of Russian propaganda: It uses misleading information to produce noise that overwhelms readers, making them suspicious of official sources of information, and unable to believe — amid a multitude of false, deceiving, and surreal claims about the war — in the very possibility of objective truth.
The project does that through the hijacking of the fact-checking format. Readers who go to fact-checks expecting the ultimate truth are actually met with deception.
Little is known about who is behind the website. Its creators identify themselves only as "administrators of several Russian non-political Telegram channels," and none of its writers are named.
Source code shows that it is maintained with nine user accounts: one belongs to an administrator, two include the word "editor," and six are named with random letters.
PolitiFact reviewed more than 380 fact-checks published by War on Fakes in English from March until July and found that they are rife with falsehoods. They include:
Lukas Andriukaitis, an expert in Russian disinformation and the Ukraine conflict at the Atlantic Council's Digital Forensic Research Lab, said that War on Fakes fits into an overarching strategy of Kremlin propaganda: to convince its audience "that the truth is relative" and "that you can construct your own truth."
He also said that the website seeks to show that "Russia is not the sole perpetrator" in the conflict in Ukraine, adding some relativism to a war that has been widely condemned by the international community as unprovoked and unjustified.
Many of the fact-checks published by War on Fakes do attempt to shift blame from Russia to Ukraine, and those accusations are often filled with false or misleading statements.
This is far from the first time that Russians have relied on a fact-checking format to spread misinformation.
In 2017, Russia's foreign ministry launched a project called Unreliable Publications, a section of its website where it would publish fact-checks. A review by Ben Nimmo, at the time a senior fellow at the Atlantic Council's Digital Forensic Research Lab, showed that none of the 11 stories published in Unreliable Publications' first month were credible.
"Its standards of evidence are non-existent, it misrepresents key facts, and it appears to make no distinction between falsehood, potential inaccuracy, and simple criticism," Nimmo wrote of Unreliable Publications at the time.
Also in 2017, the state-controlled RT television network launched a project on its news website called FakeCheck. It also said it aimed to "debunk fakes," but often broadcast falsehoods. According to another review by Nimmo, out of nine articles published in its first two weeks of existence, four contained "inaccuracies and possible bias with irrelevant or insufficient evidence."
Russian-Controlled Media Amplifies War on Fakes Content
Russian ministries, embassies, propagandists, and news agencies often amplify content produced by War on Fakes. A review by PolitiFact showed that the official Telegram channels of the Ministry of Defense and the Ministry of Foreign Affairs together shared 29 stories by War on Fakes between March and July.
Margarita Simonyan, the editor-in-chief of RT, and Vladimir Solovyov, the presenter of a popular Sunday show on state-controlled Russian television, have both shared War on Fakes stories on Telegram, as did state-owned news agency RIAN.
Russian embassies in Germany, Tunisia, Indonesia, and North Macedonia have also used their verified Facebook accounts to promote War on Fakes and share its stories.
The War on Fakes operation has traits that experts have previously attributed to Kremlin propaganda. Researchers at the RAND Corporation think tank have found that Russian propaganda seeks to overwhelm its readers with quantity and repetition, and has no commitment to accuracy or consistency — all characteristics that can be found in the stories produced by War on Fakes.
Quantity: War on Fakes publishes an excessive number of fact-checks about the same topic, often with little variation. It released 21 articles about Bucha, five of them on the same day. It also makes multiple and conflicting statements within its stories. Claims in four articles about the Mariupol maternity hospital included that it was a military site, that it had no medical equipment, and that it was an ophthalmology ward.
Repetition: Instead of producing original content, War on Fakes often copies fragments of previous fact-checks. A piece about Bucha published on April 4 was split into shorter pieces and published over the following days, while another article, from April 7, gathered previously published articles.
Inaccuracy: War on Fakes publishes so many false claims that the fact-checks often contradict each other. A March 10 story about the Mariupol maternity hospital said that there were no pregnant women inside the building and that it was not being used as a maternity ward, but an April 2 story mentioned "pregnant women" in the "maternity ward."
Inconsistency: The stories give inconsistent explanations for the same event. The reason Ukrainian soldiers allegedly bombed the Kramatorsk train station changes from one day to the next. On April 8, War on Fakes said Ukrainian forces wanted "to hit a position of our troops, but there had been a mistake in aiming." On April 9, it reported that Ukrainians attacked Kramatorsk "to disrupt the mass exodus of residents from the city in order to use them as a human shield."
Andriukaitis said that projects like War on Fakes serve as a source of "alternative facts" for people who support Russia and want to build their opinions about the war. These readers tend to fall on both ends of the political spectrum, share a common distrust of traditional media, and fall prey to conspiracy theories, Andriukaitis said.
War on Fakes makes any credible reporting on the war more difficult, he added. But the best way for Ukrainians to respond to this information war is by producing legitimate information and carry on "reporting on what is actually happening on the ground," according to Andriukaitis.
Since they have "the truth on their side," honest reporting "is an effective strategy that allows Ukrainians [to] have an upper hand in this information war" — and "is significantly easier than trying to convince others of lies."
PolitiFact researcher Caryn Baird contributed to this report.
This article was originally published by PolitiFact, part of the Poynter Institute. It is republished here with permission.
Additional Resources
Tips for Archiving Telegram Messages on Russia-Ukraine War
Q & A: Investigating TikTok Content Across the Russia-Ukraine Border
Investigating Russia and the War in Ukraine
---

Luiz Romero is a contributing writer for PolitiFact. He is a freelance reporter with stories published by CNN, Wired, and Al Jazeera, and a volunteer researcher at Bellingcat. He has worked for Quartz and for magazines in Brazil and Italy. Luiz studied journalism at Faculdade Cásper Líbero in São Paulo and international relations at Central European University in Budapest.