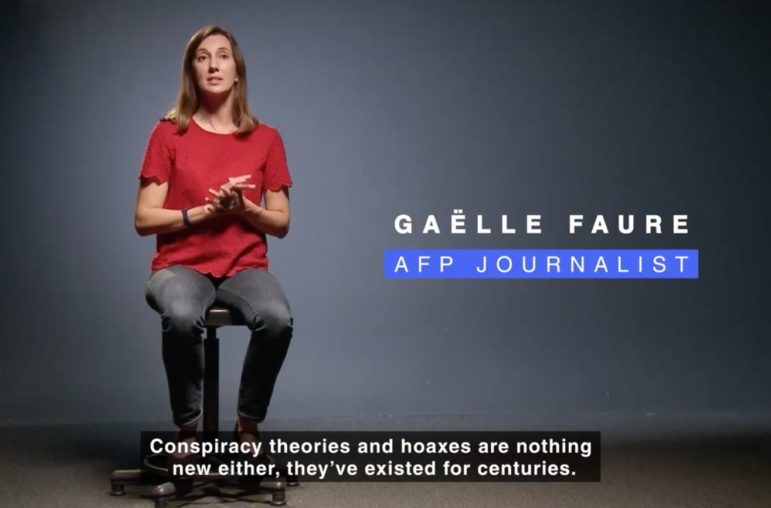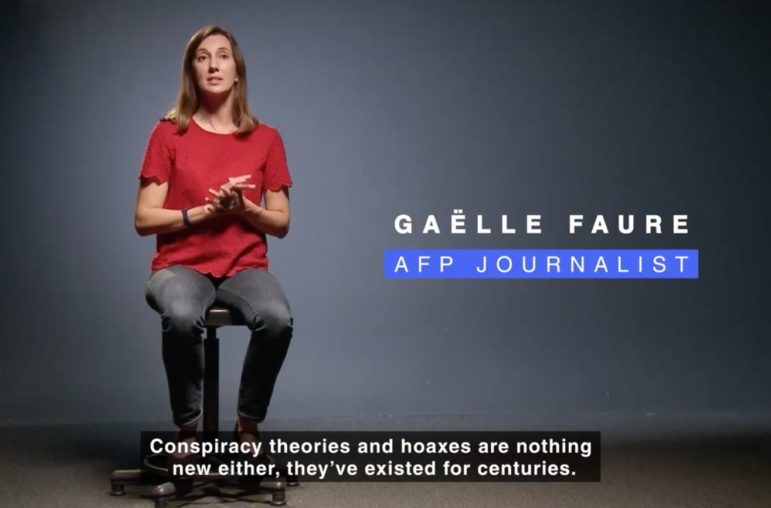 Lessons Learned from Investigating Misinformation Around the World
Read this article in
As a digital verification editor, Gaëlle Faure is a part of Agence France-Presse's digital verification team, which is made up of more than 100 journalists around the world. They publish articles about misinformation circulating online in many languages. Faure edits stories about misinformation written by digital verification reporters based in AFP's bureaus in Africa, and also works on verification training for journalists around the world. Along with several colleagues, she developed this video course last year, which teaches journalists the basics of fact-checking and digital verification. In this interview, she speaks about her job at AFP and about the challenges misinformation poses to journalists around the world.
Raksha Kumar: Fact-checkers are still a rarity in most newsrooms. How does your course help a journalist to fact-check her own story?  
Gaëlle Faure: This course does not teach journalists to fact-check their own stories. It teaches them fact-checking in the newer sense of the term, meaning verifying content circulating online and writing debunks about the misinformation they find. At AFP we also call this digital verification, but terms differ among different newsrooms.
RK: How does your course help journalists tackle misinformation/write about misinformation? 
GF: We wanted this course to be useful to all journalists in every type of role, and not just to journalists who specialize in misinformation. Online misinformation affects everyone, in every country, and can cause real-world harm ranging from discrimination to physical violence. Health misinformation can also lead to negative health outcomes. So we wanted to share tools that could help reporters debunk any harmful false claims circulating in their communities.
The course starts by addressing some common types of misinformation to look out for, ranging from old images shared out of context to digitally altered tweets to dubious health claims. Then, through examples and exercises, the course shows you how to use basic tools and techniques to verify claims, starting with running advanced searches on the web and on different social media networks.
It then teaches you how to find the source of photos and videos by carrying out reverse image searches and through geolocation. This involves looking for clues in an image and then using open source information to track down where and when it was taken through the use of online maps and satellite imagery. It explains how to extract an image file's metadata and how that can help you corroborate where and when it was taken. We also talk about online archives, like the Wayback Machine, which allows you to see past versions of a web page or a post that's been deleted or modified.
There's a section that delves into the basics of verifying health claims, which includes understanding how scientific studies work and identifying reliable sources. Finally, we share some tips on how to take all the proof that you've gathered and lay it out for your audience in a strong, transparent fact-check article.
RK: What are some of the unique fact-checking problems you face while working on stories from Africa? 
GF: We see many false claims that are global in scale. For example, we've seen certain claims about COVID-19 cures circulate on every continent. But there are of course many that are specific to particular countries or regions. Due to past scandals involving abuse by white doctors in Africa, there is historical mistrust of Western medical research, which has in part fueled misinformation about vaccines.
There are also many false claims tied to specific conflicts and wars. It is crucial to understand each country's history and culture in order not just to spot the false claims that circulate there, but also to explain their import and impact. The digital verification reporters who work at AFP's many bureaus in Africa understand the local context and speak a wide array of local languages. Still, languages remain a challenge due to their sheer number, which makes it difficult to spot some false claims.
RK: With massive amounts of misinformation online, how should newsrooms scale up their fact-checking mechanisms?  
GF: I think there are many ways to go about this: For bigger newsrooms, it might mean training all journalists in digital verification skills, but also creating dedicated roles for journalists who focus on writing about misinformation or even whole teams. For smaller newsrooms, it might involve giving all reporters some training in these skills so that they are able to find and pitch stories about misinformation, just like they would pitch any other story that affects their community.
I would say the more the merrier. Even at global newsrooms like AFP with a large team dedicated to fact-checking, we can only cover a fraction of what's circulating in every country and every language. This is a relatively new field. So there's a lot left to invent as it grows. I'm not sure whether that's reaching audiences using better formats, inventing more sophisticated verification tools, building stronger collaborations between media outlets, creating more effective partnerships with social media networks, or all that and more. But we've certainly got our work cut out for us.
RK: What are the differences between countering misinformation vs disinformation?  
GF: Misinformation refers to claims that are false but not necessarily created with an intent to mislead, so countering it is somewhat more simple: It requires explaining why it is wrong and showing your proof.
Disinformation, which is created expressly to mislead, requires all that, plus investigating who is behind it and why. This is not always possible, of course, because disinformation campaigns can be very sophisticated. But with some digging, you may very well, for example, be able to show that a false claim is being shared online in a coordinated manner by a number of social media accounts who share similar traits or behaviour, perhaps all linked to a certain political campaign. There are some tools like CrowdTangle that can help you investigate patterns in the behavior of accounts.
RK: Journalists are supposed to work on things that are true. But many are now working to prove the falsehood of some stories. Does this require a complete re-skilling for journalists?  
GF: It does require learning a few new skills, but I wouldn't call it a complete re-skilling. Many core journalism skills still very much apply here, notably investigation skills.
What it does require, however, is a change in outlook. First, it means accepting that what happens online is not anecdotal or somehow less real than what happens offline, and that in fact, a lot of what happens online directly affects what happens offline. That means that you can't just ignore misinformation in the hopes that it will go away on its own – if only!
In the writing process, it also requires showing a lot more of your proof than you might be used to with traditional reporting. This can be humbling. You have to remember that your audience may have believed the false claim, and it is your responsibility to not just point out that it is wrong, but to thoroughly disprove it. Ideally, you want to lay out your process in a way that is so transparent that your readers could reproduce it themselves.
RK: As many of our readers know, confirmation bias is the tendency to interpret any new information in a way that confirms or supports one's prior beliefs. As a journalist, how do you battle confirmation bias in your audience? 
GF: Confirmation bias is a tough opponent. When it comes to conspiracy theories, for example, fact-checking can only go so far. Some people can get trapped in echo chambers that are difficult to pierce through, where all proof is dismissed out of hand. But a number of studies have shown that fact-checking works, and that it works particularly well if a false claim is corrected quickly before it gains too much traction.
Confirmation bias is especially strong for emotionally charged issues. We try to keep emotion out of our articles and certainly never use a tone that might seem condescending to anyone who may have believed the false claim. For example, we wouldn't write that a claim "fooled" anyone. Everybody's fallen for a false claim at some point, especially if it confirms their strongest beliefs.
As far as battling it upstream, I hope that by sharing some of our tools and techniques in our articles, especially simple ones like reverse images searches, we can help readers develop the reflex to run a quick check before they share something that confirms their biases.
This story was originally published by the Reuters Institute for the Study of Journalism. It is reprinted here with permission.
Additional Resources
Expert Tips for Digging Out the Roots of Disinformation
My Favorite Tools for Investigating Online Misinformation and "Fake News"
Tips on Investigating Disinformation Networks from BuzzFeed's Craig Silverman
---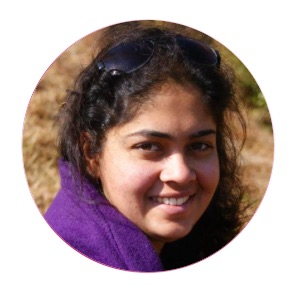 Raksha Kumar is a freelance journalist, with a focus on human rights. Since 2011, she has reported from 12 countries across the world for outlets such as The New York Times, the BBC, The Guardian, TIME, the South China Morning Post, and The Hindu.