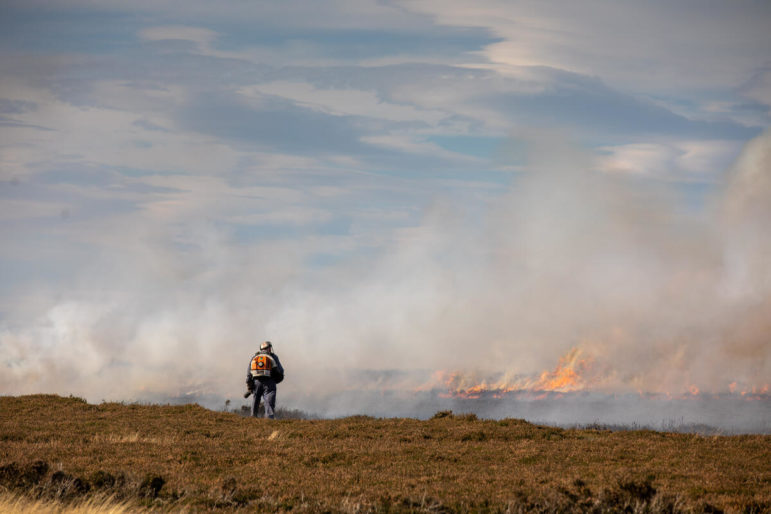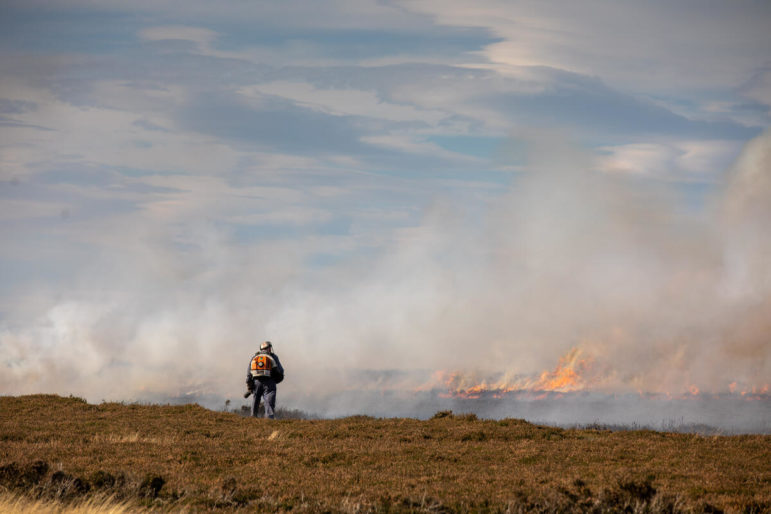 A gamekeeper surveys a fire on the North York Moors in October 2021. Image: Steve Morgan, courtesy of Greenpeace
Using Satellites to Reveal the Burning of the UK's Protected Moorlands
Read this article in
Above Grimwith reservoir's sparkling blue waters in the Yorkshire Dales lies a habitat that the government describes as one of England's "national rainforests." It is a boggy moor, land packed full of peat, with soil so wet and rich with plant material that it may store more carbon, acre for acre, than tropical rainforest.
But today the land is scorched dry and crunchy underfoot. Blackened spikes of dead foliage protrude upwards, embers from a recent fire. It was burned to encourage growth of the fresh young shoots of heather on which grouse like to feed – birds which will later be killed by shooting parties.
The fire here was set in spite of – and in apparent contravention of – a partial ban on peatland burning introduced by the UK government last year, in the run-up to the Glasgow climate summit.
We came here to test the peat depth, as part of a major investigation into the impact of this new ban. The government says its new rules are intended both to protect England's blanket bogs – a delicate habitat of international importance – and to help the UK hit net zero carbon emissions by 2050.
These peatlands are the biggest natural carbon store on UK land. Rotational burning dries the peat and erodes its ability to keep carbon locked out of the atmosphere and to provide protection against floods. But scientists and campaigners say the ban does not go far enough, is riddled with arbitrary loopholes, and will be too hard to police.
So, when the burning season kicked off last October – the first since the introduction of the new ban – Greenpeace UK's journalism project Unearthed set out to find what effect the new rules were having on England's grouse moors.
https://vimeo.com/714894502?embedded=true&source=vimeo_logo&owner=71518336
Satellite Data
It is notoriously hard to track burning on grouse moors: it happens in remote locations, there is little concrete government data available, and enforcement often seems to depend on the honesty of landowners and the eyes of the public.
In recent years, a growing movement of volunteers has been working to document the fires. Hikers, fell (hill) runners, and activists report details of the burns they spot to campaign groups like Wild Moors, a campaign group in Northern England, or to the Royal Society for the Protection of Birds. But these reports don't always come with precise coordinates, making them hard to attribute to particular landowners.
It is harder still to identify which burns might be in breach of the new regulations – the ban only prohibits burning on peat if it's unlicensed, and if the peat is more than 40 centimeters (15 inches) deep, is in a Site of Special Scientific Interest (SSSI), is protected by one of two other formal conservation regimes, and is on ground that is not too steep and rocky to mow.
So to investigate the past burning season, Unearthed developed a methodology that uses data from three satellite services – including satellites run by NASA and the European Space Agency – to find evidence of grouse moor fires. We worked with Greenpeace's Global Mapping Hub to create a platform that overlays this evidence with government maps of England's peat depth, conservation zones, habitats, and land ownership. This was then cross-referenced against hundreds of eyewitness reports obtained by Wild Moors.
The investigation revealed that widespread legal burning has continued on ecologically important English peatland since the new rules took effect, most of it on designated SSSIs and other conservation areas. It also identified numerous burns in protected areas which the government's own maps identify as deep peat, indicating potentially illegal burning in breach of the ban.
The investigation identified 251 peatland burning incidents, with one in five on land protected by multiple conservation designations. More than 40 of the incidents were on land mapped as blanket bog by data from Natural England, a public body that advises the government on England's natural environment. Blanket bogs are the habitat the government says the legislation is most designed to protect.
How We Did It
Over the past eight months, Unearthed has been tracking fires over the course of the first burning season since the introduction of the ban. To do this, we worked with Greenpeace's Global Mapping Hub to create a mapping platform. The map uploads daily data and imagery from three satellite providers. Satellites run by NASA use heat spot technology to identify "thermal anomalies" on the ground. We then used these hotspots to look for additional evidence of fires using satellite imagery provided by the European Space Agency's Sentinel-2 satellite and by private provider Planet. This imagery provided two types of evidence: pictures of flames and smoke from fires and before and after images of likely burn scars on the ground.
To work out if fires might be in contravention of the ban, this satellite evidence was mapped against various spatial datasets published by Natural England: for peat depth we used the UK's peaty soils database, for blanket bog habitat we used the government's priority habitats inventory, and for conservation zones we used databases on England's Sites of Special Scientific Interest, Special Areas of Conservation, and Special Protection Areas. We also added the World Slope GMTED map, published by ESRI, to check land gradient.
Finally, to verify land ownership we used the Land Registry's INSPIRE Index polygons dataset, cross-referenced against a map of grouse moor ownership published by the campaigner Guy Shrubsole. We also obtained drone footage of fires and burn scars, as well as testing peat depth on a few estates, and worked with campaign group Wild Moors, who cross-referenced the 51 sites identified against their database of reports from volunteers.
Dr. Ben Clutterbuck, a peat specialist and senior lecturer in geographic information systems and remote sensing at Nottingham Trent University, told Unearthed: "The methodology you have developed here demonstrates that combining a range of remote sensing techniques enables the occurrence of controlled burns to be identified remotely. Land management, not just burning, can clearly be mapped and precisely dated from space."
This post was excerpted from a story originally published by Unearthed, an award-winning journalism unit established by Greenpeace UK that specializes in environmental investigations. The article is republished here under a Creative Commons license. Additional reporting for this story was done by Edikan Umoh and Olufadeke Banjo.
Additional Resources
Remote Sensing and Data Tools for Environmental Investigations
How to Expose Lies from the Skies Using Satellites and Drones
How Environmental Journalists Can Use NASA's New Landsat 9 Satellite
---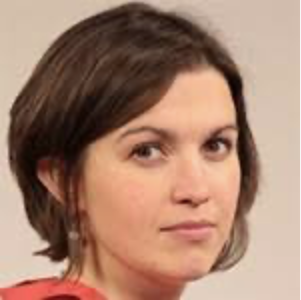 Emma Howard is a journalist at Greenpeace's investigative site, Unearthed. Previously, she worked as a reporter for the Guardian.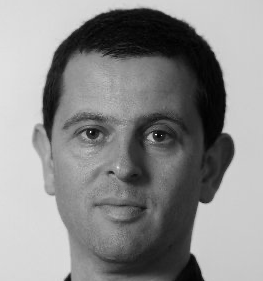 Crispin Dowler is a senior investigative reporter at Greenpeace's Unearthed site. Previously, he worked for Health Service Journal.