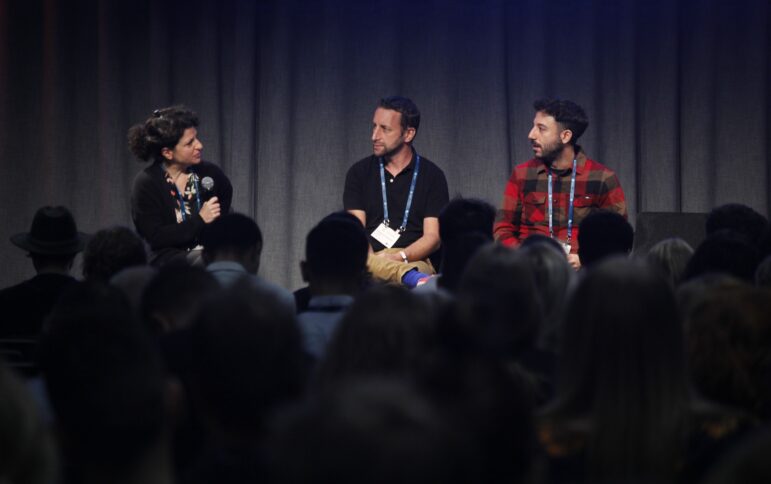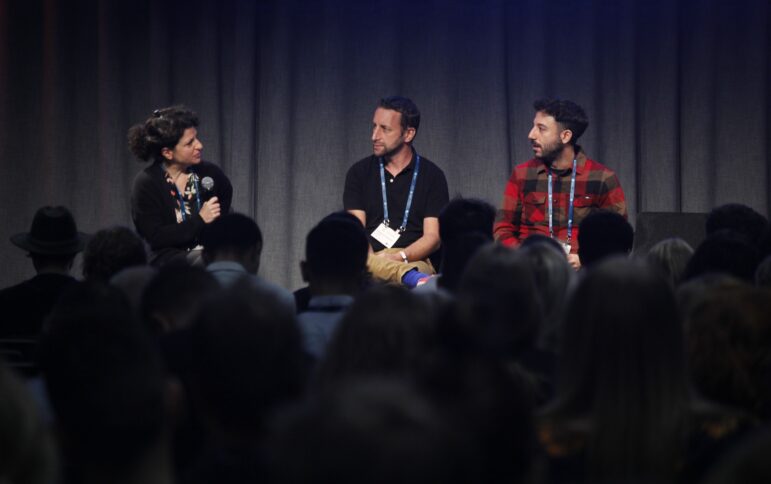 Jelena Cosic with Emmanuel Freudenthal and Bashar Deeb. Image: Heino Ollin for GIJN
Tracking Planes and Ships: Tips from Experts
Read this article in
From sanctions-busting companies to cocaine routes, from migrant boat pushbacks to high-profile kidnappings, tracking ships and planes is essential for investigative journalists covering a wide range of stories around the world.
At a 13th Global Investigative Journalism Conference (#GIJC23) session on plane and ship tracking, journalist Emmanuel Freudenthal — a Sigma Award and European Press Prize recipient — presented his latest tips on investigating planes, while Lighthouse Reports journalist Bashar Deeb shared insights on what to do when a ship digitally disappears. The panel was moderated by ICIJ training manager and European partnership coordinator Jelena Cosic.
Finding a Story
"The hardest part is always finding the story idea," said Freudenthal, who advises journalists to start with their own beat, because following random planes won't get you far. "Most planes are boring, filled with vacationers going to sunny places," he said. A more rewarding approach is to find a story that resonates with you that involves airplanes.
In 2020, Freudenthal read a news story about Paul Rusesabagina — the hotel manager who inspired Don Cheadle's leading role in the film "Hotel Rwanda"  — being arrested when he returned to the country. Rusesabagina had been living in the US for many years and had become an outspoken critic of Rwanda's government. Freudenthal wondered why Rusesabagina would willingly board a private jet headed to the country — and so he started digging.
He knew from the news article that the plane left Dubai airport on a certain date Using raw data from FlightAware, he looked at all the flights on that day from Dubai to Kigali, Rwanda's capital. Although one plane seemed to have been on course to Rwanda, the plane's data was no longer available. Freudenthal then turned to other databases to check.
"If a plane is not in one database, it doesn't mean it doesn't exist," he explained. "Check other databases, because some do not collect information on certain aircraft, or they do not have enough data receivers in certain places, like many parts of Africa."
Having effectively proven that the plane had indeed gone to Kigali, the next step was to prove who owned the jet. To do this, he used AirFrames, the website with "the most comprehensive aircraft registration database."
Through Google and social media searches, he was able to find who else used that private jet company — and eventually to conclude that it had been an abduction. "We were able to prove this later, because Rusesabagina himself said he boarded the plane thinking he was going to Burundi for a meeting," Freudenthal said, adding, "for these types of stories, including private jet companies, you can also find many pictures to enrich your articles."
In addition to using online databases such as the ADS-B Exchange, Icarus Flights, or The OpenSky Network to access data on aircraft, journalists who are serious about tracking planes should make friends with pilots and airport employees. "They can be very open and become very useful sources for your investigations," explained Freudenthal.
What to Do If a Ship Goes Offline
Bashar Deeb has produced many groundbreaking reports, all by meticulously tracking marine traffic.
"Tracking ships can help journalists expose illegal and unethical behavior by authorities and private companies," Deeb said. Journalists can track ships to report on human rights abuses, environmental crimes, monitor companies that violate sanctions, and track coast guard agencies involved in illegal pushbacks of migrant boats.
One of the most important projects Deeb worked on in 2022 was Syria's "Bloody" Phosphates, an investigation revealing that since 2018, millions of dollars worth of phosphates exported by a sanctioned Russian company in Syria have found their way into European fertilizer markets.
Surprisingly for a ship-tracking investigation, this story relied in many instances on social media. The search began at the port of Tartous, Syria's main gateway for phosphate exports. The port's Facebook page published information about which ships had docked, as well as their inbound and outbound cargoes. But in 2020, the port suddenly stopped sharing updates and deleted its previous posts.
Creative social media searches came in handy: Deeb and hist team found profiles of dockworkers, some of whom shared pictures of ships docked at the port's phosphate loading berths, providing visual bread crumbs for the investigation, as well as dates when the ships were in port.
Ship trackers' usual best resources, an extensive list of marine databases, were not very useful in this case, because these ships turned off their transponders and went offline near Cyprus and reappeared somewhere in the same zone many weeks later — now loaded with illicit phosphates and bound for new ports.
Power of Collaboration
At this point, Deeb and his colleagues turned to the Organized Crime and Corruption Reporting Project (OCCRP) and their member organizations to send FOI (freedom of information) requests to obtain customs records.
Responses to the FOI requests, along with company records, corporate sources, national databases, and EU and UN trade data, helped uncover the complex supply chain designed to hide the sanctions violations. When some pieces of the puzzle didn't fit, they turned to satellite imagery from Google Earth and Sentinel. They meticulously measured the ships seen in satellite imagery, comparing their sizes and shapes with those seen in social media posts to confirm identities and locations.
Deeb's voyage through this maritime labyrinth culminated in a gripping narrative and proved that ships can be tracked even when conventional methods fall short.
Quick Tips for Tracking Ships:
Try to locate either the dockworkers or the crew of the ships. These seafarers, miles from home, often share glimpses of their maritime lives, inadvertently illuminating hidden corners of the investigation.
Try your luck with creative Google searches such as filetype: .pdf "name of ship." This would turn up any pdf file indexed by google containing the name of the ship. Maybe you can find the crew list somewhere. You might be surprised.
Try #hashtag searches on various social media platforms; you can start by trying ports and ship names.
Try Equasis, which provides safety-related information on ships and companies, to locate ship owners, and don't be afraid to contact them. Of course, be careful not to reveal your investigation prematurely.
Check maritime radio communications using Nautoshark, where you can view transcripts of messages from various ships. Messages can be filtered by date or priority.
Pro tip: Be aware of location spoofing — a technology that allows users to manipulate location data shared by their device. This happens in extremely rare cases.