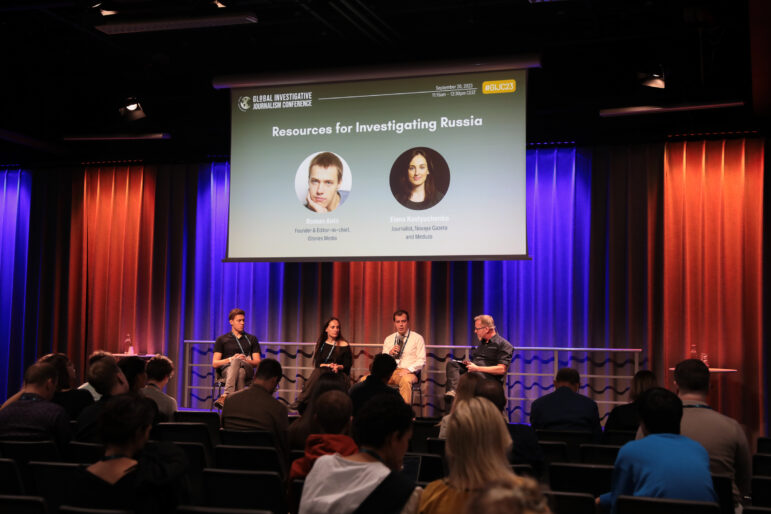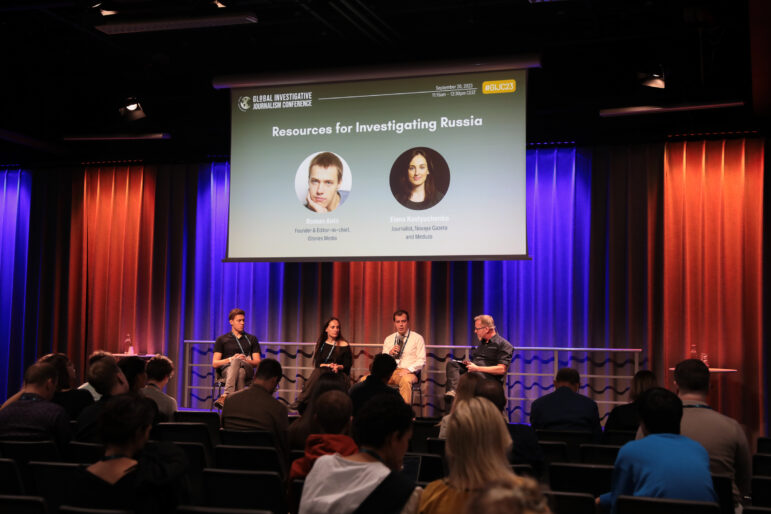 Image: Leonardo Peralta for GIJN
Investigating Russia from outside of the country might be one of the toughest jobs an investigative journalist working today could have. From cultivating sources and managing contributors still in Russia to verifying information shared to the outside, the challenges for security, safety, and veracity are numerous.
Yet, these obstacles have spurred innovative approaches to digital investigative techniques and storytelling — critical when so few independent Russian newsrooms are able to operate from within Russia.
Speaking at the 13th Global Investigative Journalism Conference, three journalists from independent Russian news sites — Elena Kostyuchenko, journalist for Novaya Gazeta and Meduza; Roman Anin, founder and editor-in-chief of iStories; and Roman Dobrokhotov, editor-in-chief of The Insider — shared tips on how to find stories, work with sources inside Russia, and use open source tools and techniques to keep reporting from the outside.
Finding Stories
Kostyuchenko explained that she rarely uses open source tools, instead cultivating sources in Ukraine and Russia to find stories. She left Russia on the first day of the full-scale invasion of Ukraine and reported from places including Kherson, where she found witnesses and sources to support an investigation into the torturing and killing of civilians.
If Putin continues to commit global crimes, added Dobrokhotov, the interest in sources outside the country but with information linked to Russia will continue to grow. Equally, "old school" open source techniques, such as reverse image searches on social networks, continue to serve The Insider team well, for example for identifying Russian soldiers accused of torturing Ukrainian soldiers.
To investigate who is selling components for arms to Russia despite sanctions, iStories founder Roman Anin will use Python to trawl through thousands of lines in contracts, for example, between Russian companies and foreign traders. "You used to have to go through line by line. Now it takes me two hours and I have a list of the top importers," he said. 
Working with Sources Inside Russia
Sources and contributors inside Russia are still vital, of course, for obtaining information about the government and military's actions. Protecting those sources in a regime where helping journalists could result in threats, violence, or significant jail time is paramount.
Meduza and Novaya Gazeta journalist Kostyuchenko is herself recovering from a suspected poisoning: "My mistake was not following the basic security rules that I would have followed in Russia. Outside I felt like I was safe. It was a mistake, so please don't do the same."
Sources in Russia are in more danger, she added. Encouraging new digital habits, such as shifting from communication via Signal to Element, an end-to-end encrypted messenger and secure collaboration app, is one of the best ways to protect them. Dobrokhotov still uses Signal, and Kostyuchenko said she will use it when the information being shared is less sensitive.
Kostyuchenko recommended consulting sources, even putting them in touch with NGOs or legal support, before any communication relating to an investigation takes place. It creates more hoops for sources to jump through and they may pull out, but the process often results in a more trusting, informative relationship. "My reality is so different from the reality of my sources in Russia. I can't always evaluate their risks and they may not have the competencies to either," she said. "I have to think about how our communication will affect their lives."
Anin and The Insider founder Dobrokhotov have a similar approach when working with freelance journalists and contributors inside Russia who could be imprisoned for cooperating with independent newsrooms, from discussing what to do if they get arrested to how to share data securely. Dobrokhotov said being "unpredictable" is the best defense: "If you don't have routines it's extremely difficult to plan an attack or a poisoning."
Open Source Information and AI Tools
Despite these efforts, the full-scale invasion of Ukraine has resulted in the loss of many official sources, increasing the need for more open source information for investigations.
"I have lost the majority of my sources in Russia, not for security reasons but because military [sources] support the invasion… and I don't want to deal with them anymore," said Anin.
The Insider is increasing its use of AI, both to analyze open source data and to verify information. When investigating a Russian general, Dobrokhotov conducted an interview with him just to collect a sample of his voice so that an AI voice analysis application could detect whether it matched the voice in a piece of evidence about his involvement in Ukraine.
Facial recognition AI too, such as PimEyes, FindClone, and Clearview (though the latter is designed for law enforcement and is therefore not always available to journalists) can allow investigators to search for faces from photos and videos across social networks and open sources.
The Insider uses Telegram "bots" on a daily basis — apps that enable you to request searches of Telegram and Telegram databases — to retrieve everything from car registrations to passport numbers. Searching for public and private chat groups on the messaging app can also suggest potential contacts and sources, added Kostyuchenko, who has used Telegram to contact wives of Wagner soldiers.
Dark Market Data
Both Anin and Dobrokhotov said they have bought data from the dark web as part of their investigations into Russia, including cell phone metadata relating to Russian military officials.
Dobrokhotov said "friendly hacktivists" have been more motivated to help journalists since the full-scale invasion of Ukraine in 2022, and that The Insider had used information from hacked email accounts in its reporting. "We don't think we have a moral right to hack someone just to check, but after the full-scale invasion we see innocent citizens killed by the dozen," he said, when asked about the ethics of procuring data on the dark web.
Anin — who has not used hacked emails but has bought information from the dark web — added: "Before the full-scale invasion I wasn't the biggest fan because I thought it was too easy. Today I don't care about it… the lives of people in Ukraine are more important than ethics."