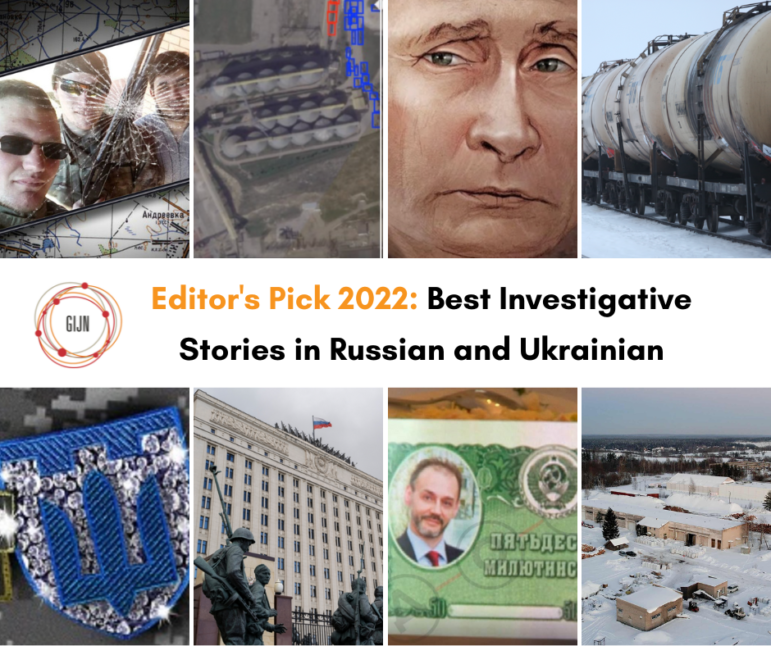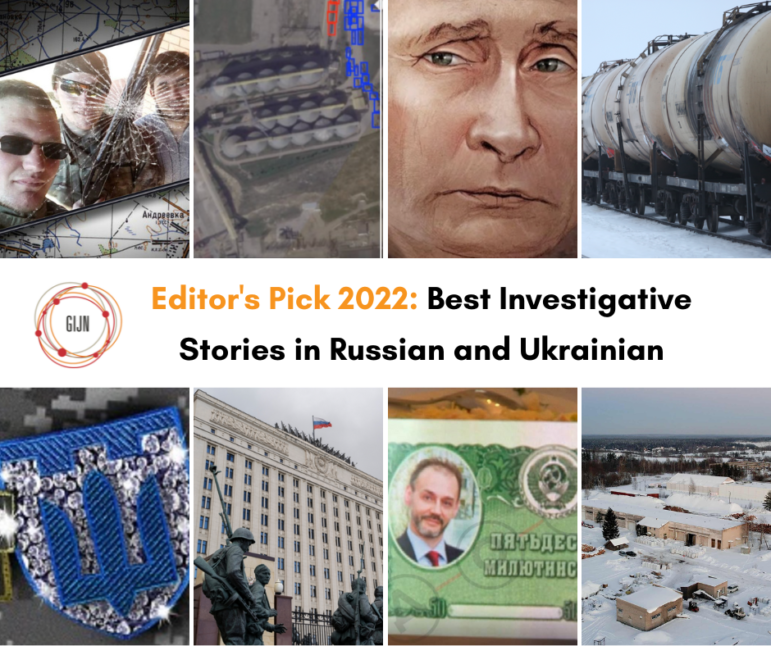 2022's Best Investigative Stories in Russian and Ukrainian
Read this article in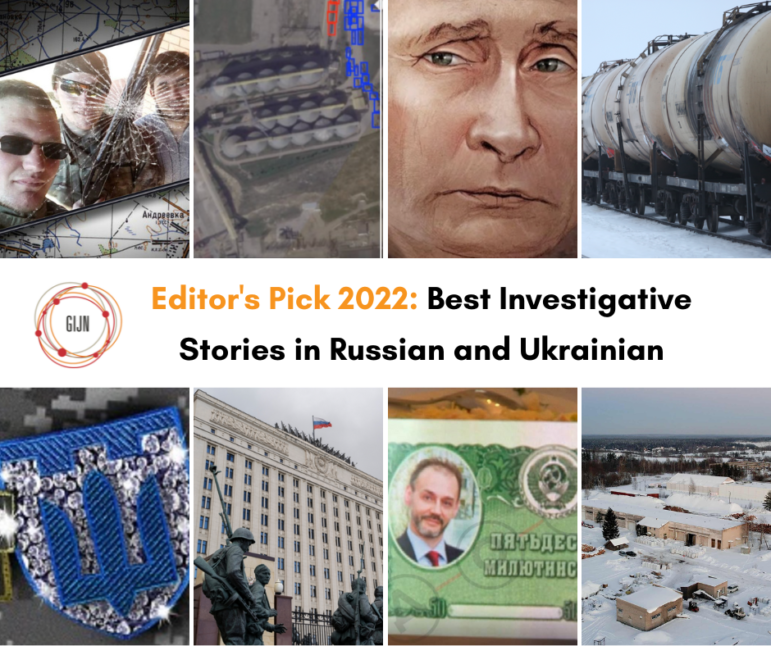 The full-scale Russian invasion of Ukraine on February 24, 2022 turned life in the region upside down. Many Ukrainian journalists have decided to defend their country with weapons while their colleagues support them on the information front, postponing other projects so they cover news on the front lines and in the rear. Using advanced online search techniques and working in the field, investigative journalists are identifying and finding war criminals and their commanders, tracking down sanctioned assets, and documenting war crimes for use in future court cases.
In Russia, the government increased its pressure against the few remaining independent media outlets. Where it previously labeled these sites as "foreign agents" and "undesirable organizations," the Putin regime has now moved on to raids, arrests, and reprisals, including a new law dictating prison terms for those who dared to call the war a war. Journalists in that country were forced into a difficult choice between their homeland and profession, censoring themselves or trying to reach their audience from abroad.
Despite all these difficulties, journalists in the region continued to undertake watchdog reporting, offering inspiration to their colleagues abroad as well as compelling case studies in how to use investigative methods and tools. In our review of 2022 investigative stories, we follow the chronology of publications without prioritizing importance.
Journalists from Belarus, Latvia, and Estonia collaborated to tell how the export of Belarusian oil products to Estonia tripled between 2020 and 2021, despite supposedly tough EU sanctions on the Lukashenko regime. The joint team tracked the deals through a network of companies linked to a sanctioned Belarusian oligarch, whose nickname is "President Lukashenko's energy wallet." The journalists reported finding a clever trick by changing customs codes, which they say allowed the banned trade to continue unhindered. 
Proekt, an independent Russian media outlet, relocated in exile after the Russian Prosecutor General's office declared it undesirable in July 2021. Less than a year later, its journalists released an investigation into one of the Kremlin's most closely guarded secrets: the state of President Vladimir Putin's health. An average of nine doctors accompany Putin on his travels, including a surgical oncologist specializing in thyroid cancer, according to Proekt. The team also reported that Putin relies on alternative medicine to prolong his life, including bathing in blood extracted from the antlers of Atlai Maral stags. Animal rights activists characterize the painful process of removing the severed antlers to torture, similar to pulling out a person's fingernails.
Comparing ship movements, satellite imagery, and trade information, a team from Ukrainian data newsroom Texty reported finding evidence that Russia steals Ukrainian grain and exports it through occupied Crimean ports. Despite widespread sanctions on Russian imports, Texty journalists reported that the total volume of grain sold by Russia in 2022 had not changed compared to 2021. In fact, the main importers of Russian grain — Turkey, Egypt, Iraq, and Saudi Arabia, among others — received more of these supplies. According to the report, the stolen grain is likely exported from Sevastopol on "gray ships" — vessels that leave port without indicating their destination and sail with their tracking beacons off. The BBC's Ukrainian service also tracked overland routes of stolen grain. Working undercover and pretending to be an owner of the grain carriers, journalists phoned the carrier companies, which admitted that Ukrainian grain went to the occupied ports of Sevastopol and Berdyansk with Russian military escort.
This investigation started when Slidstvo.info obtained a cell phone stolen from a resident in the Ukrainian village of Andriyivka. Employing social media search, facial recognition software, interviews with eyewitnesses, and official documents, the Slidstvo team used images left on the phone by a Russian soldier to identify military personnel possibly involved in the looting and shooting of civilians in the village. Journalists from the Russian site IStories conducted their own investigation of the events in Andriyivka as well and, in a telephone interview, got a suspect from the Russian military to confess to his role in the murder of a civilian and accuse his commander of issuing illegal orders. The methods and tools applied in these investigations were shared by the journalists from Slidstvo and IStories during this GIJN webinar.
Based on a tip, journalists from online newspaper Ukrainska Pravda went to the Cote d'Azur (the French Riviera) and discovered numerous wealthy Ukrainians, who had been prohibited by martial law from leaving the country during the war, living a luxurious life in exile. Searching via the MarineTraffic app and visiting the marina, the team also discovered luxury yachts of wealthy "refugees" waiting out the war. Shortly after release of the story and a companion documentary, the State Bureau of Investigation opened criminal cases to clarify the circumstances under which each of the figures in the story went abroad. One of them has already been sought for extradition. Since then, Ukrayinska Pravda has continued digging into VIP refugees with follow-up reports Monaco Battalion-2, Vienna Battalion, and Vienna Battalion-2 (on YouTube with English subtitles).
In this joint investigation, journalists from three outlets found a secret unit within the Main Computing Center of the Russian Armed Forces, and identified 30 military engineers who are responsible for targeting missiles at Ukrainian civilian infrastructure. This group was discovered through an open source analysis of thousands of graduates of Russian military universities, as well as phone call billing and other information obtained from the Russian data black market. The details behind this investigation are described on Bellingcat's website. And here you can read more about the methods, as well as the ethical and legal nuances of journalists using data acquired from the black markets.
In a joint investigation, journalists from RISE Moldova and the Dossier Center looked into the influence of Russian special services on Moldovan politicians. After studying document metadata, mobile phone bills, and flight information, the team reported finding that the election strategy of the Party of Socialists of Moldova, speeches by Moldovan ex-President Igor Dodon, and official domestic and foreign policies were all coordinated through Russian government officials. Going even further, the journalists named the identities of Russian FSB officers they said were meddling in Moldovan politics. In a follow-up, the team reported specific amounts of bribes that Moldovan politicians were alleged to receive for taking a pro-Russian stance.
An international team collaborated to find out how Central Asia, which has no forests of its own, suddenly became a major wood exporter to Europe. The journalists found several Kyrgyz and Belarusian companies that provided traders with false documents to export sanctioned lumber and other products to the European Union, in particular, to Lithuania, Poland, Germany, Denmark and Latvia. According to the Belarusian Investigative Center, schemes for the indirect re-export of Belarusian timber to the EU through Kyrgyzstan and Kazakhstan brought about 16 million euros to their organizers. After release of the story, one of the Lithuanian politicians was expelled from the party because of his role in a sanction evasion scheme.
Additional Resources
Lessons Learned from Syrian Journalists Investigating Russian War Crimes
Investigating Russia and the War in Ukraine
Editor's Pick: 2021's Best Investigative Journalism from Eastern Europe, Central Asia, and the Caucasus
---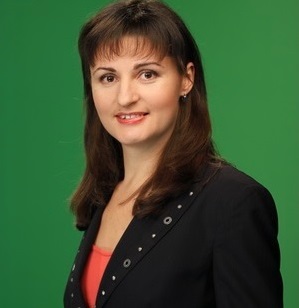 Olga Simanovych, a native of Ukraine, is GIJN's regional editor for Eastern Europe. She has more than 13 years of television experience as a journalist, screenwriter, and managing editor. Seven of those years were spent as a TV news reporter for the Vikna-Novyny program on STB, where she specialized in politics, environment, human rights, and medicine. She is bilingual in Ukrainian and Russian, and fluent in English and Greek.