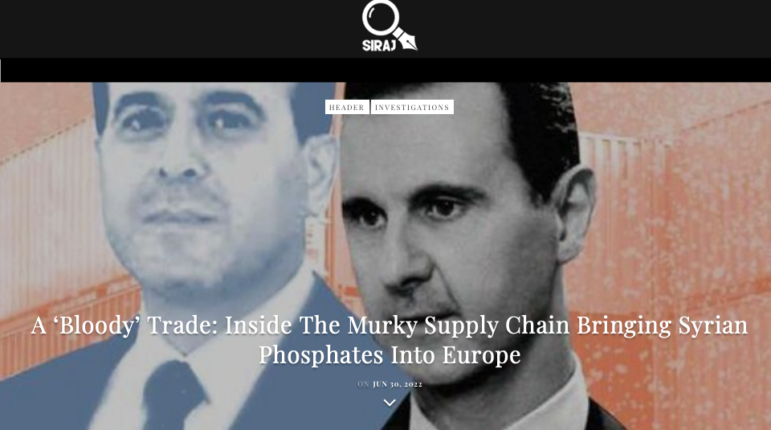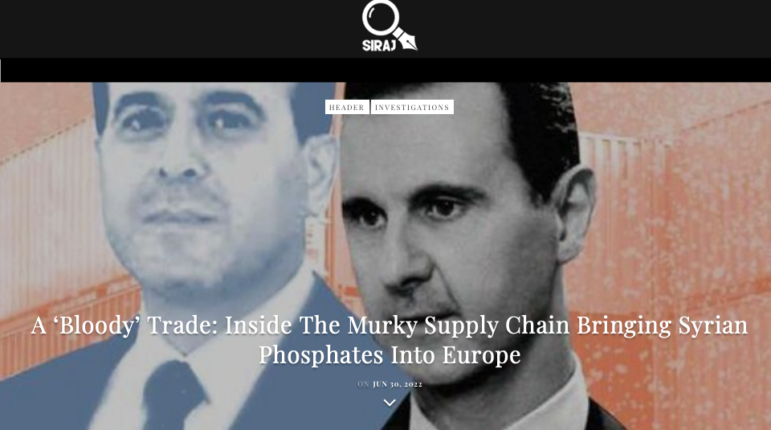 How They Did It: Tracking Phosphate Smuggling From Syria Into Europe
Read this article in
It was over a decade ago that mass protests swept through Syria, an uprising that would be violently repressed by the government of President Bashar Al Assad. As the war spread and evidence of human rights violations mounted, the international community implemented a strict sanctions regime against the president, his entourage, and companies linked to the government, army, and pro-government militias.
The sanctions, imposed by the European Union and the United States among others, heavily impacted trade with Syria and appeared effective in punishing certain parties responsible for human rights abuses.
However, as the years have passed, evading sanctions may have become easier. A case in point: The recent investigation by Syrian Investigative Reporting for Accountability Journalism (SIRAJ) and partners on how Syrian phosphate — a sedimentary rock and the natural source of phosphorous, an essential ingredient in fertilizers — is finding its way to European markets despite sanctions against individuals and companies involved in their export.
Discovery and Breakthrough
Mohammad Bassiki is a Syrian journalist who has lived in France for the past five years. He worked as a reporter and an editor in Syria before the 2011 protests, when he had to leave and focus his efforts on writing about the ensuing war. He founded SIRAJ with other Syrian journalists to train and encourage other Syrians in the field of investigative journalism.
Although in exile, Bassiki often kept an eye on the economic activity happening in war-torn Syria. In the past, he worked as an economics reporter, covering, among other topics, government policy.
"I've always had an eye on the decisions and decrees the Syrian regime releases during the war," said Bassiki. "The regime is good at issuing laws and decisions that might look good on the surface, but in reality, feature a lot of corruption, exploitation, and violations."
One story that caught Bassiki's attention was when Stroytransgaz Logistic, a company with a name remarkably similar to that of the Russian company Stroytransgaz (which is under US sanctions), was awarded a 50-year contract giving it the rights to 70% of sales revenues from Syria's largest phosphate mines, located near the central city of Palmyra. The contract, awarded in 2018, gives the remaining 30% to a Syrian state-owned company under the US-sanctioned Syrian oil ministry.
In 2019, as he was looking at manifests from Tartous port — one of Syria's two container terminals, and a strategic and geopolitical hub for Russia — he noticed a slight abnormality.
"I saw in the manifest some boats that were suspicious," he said. "The name of the ship was in the manifest, along with their [identification number], the nature of the goods it carried or will carry, but the rest of the information was unclear."
The destination of the ship was not disclosed, nor was the date on which the ship reached the port, along with a few other unclear pieces of information which raised red flags.
Bassiki decided to dig into this issue and pitched the story to the Organized Crime and Corruption Reporting Project (OCCRP), whom he partnered with for this piece.
The story had two initial leads, Ukraine and Romania, as they seemed to be the main destinations of phosphate-carrying ships. However, Bassiki and his team reached a dead end until SIRAJ contacted Lighthouse Reports, a Netherlands-based nonprofit and GIJN member that integrates emerging techniques into investigative journalism.
Lighthouse Reports saw the potential of the investigation. Charlotte Alfred, a senior editor, and Bashar Deeb, an open source investigator, collaborated on the story.
"We thought that it was extremely interesting that so many sanctioned bodies were involved," said Alfred, adding that the trade was taking place in plain sight. "Is it something that is Europe's dirty secret, or is this completely above board and everyone involved has kind of found a way to keep their hands clean?" she added.
Tracing and Tracking
Lighthouse Reports provided the team with data analysis and open source techniques. Specifically, Deeb searched images of the Tartous port through news stories and social media posts. Using multiple marine tracking sites, Deeb was able to prove that ships would leave Syria for Europe, then switch off their automatic identification systems (AIS) before heading back to Syria to pick up phosphate. The team then extracted and analyzed UN Comtrade and Eurostat databases to confirm which countries were importing phosphates. Throughout the investigation, the OCCRP gave the team secure platforms on which to share data.
As the research progressed, the team started finding new countries involved in the trade, and as new countries were found, journalists based there were contacted. The story ended up with partners in Ukraine, Romania, Serbia, and Italy. The team's partner in Ukraine, Oleg Oganov from the Mykolaiv Center for Investigative Reporting, kept working on the report while his city was under Russian bombardment in February 2022.
The investigation revealed that phosphate imported to Serbia — in recent years the top buyer in Europe of Syrian phosphate — arrived through ports in Romania, such as Constanta on the Black Sea, and that phosphate was shipped from Syria directly to Bulgaria, Italy, and Ukraine.
For sources and journalists in Syria, Bassiki had to contact local reporters and citizens only through secure networks such as Signal, to avoid repercussions on these people from the Syrian government. Numbers and emails were changed regularly, and call recordings were saved in several places.
The information on the phosphate's trail in Syria was followed with open source networks. Government supporters and soldiers would often share pictures on social media, bragging about transporting phosphates or working for Russian companies, that would reveal necessary information.
"This story shows the importance of open source networks," said Bassiki. "You do not have to always think of the most difficult place to get a document from, or to send a message to ministries in Russia and whatnot. There are methods that are a lot easier, just like this example."
Some people were believed to be linked to the trade, but their roles could not be established through official records or documents.
Additionally, most countries do not post detailed customs information. Ukraine is the only country involved in this investigation — one of 29 in the world — that publishes this level of information, and it continues to do so although import and export volumes have collapsed since Russia's invasion. As for access to information requests, the only country where this method was successful was Bulgaria.
"We really had to try every route to try and get a hold of that information," said Alfred. "When we got the customs data, you'd think we got the end of the story, you've got who exported the phosphate from Syria and who imported them to the country, but it wasn't the end at all. Those companies were front companies, so we still didn't know who was ultimately buying these phosphates."
To find the "ultimate customer," the team sometimes resorted to tips from insiders in the industry, which they would then confirm through further research or attempted interviews with the companies.
Avoiding Sanctions
Stroytransgaz, the Russian company owned by an oligarch close to Russian President Vladimir Putin, denied any involvement with the trade of phosphate from Syria. It also claimed that Stroytransgaz Engineering, the company in charge of operating three state-owned Syrian fertilizer factories, is a separate, unrelated legal entity, despite the similarity in names. Research conducted by the team found that Stroytransgaz, Stroytransgaz Engineering, and Stroytransgaz Logistics had several senior employees with the same name and all three companies also shared the same address in Damascus. However, the three companies, legally, are different entities and the sanctions targeting Stroytransgaz do not apply on the others.
Another surprising aspect to the journalists was the ease countries that have publicly condemned the Syrian government had with trading with it under the table.
"They are supporting people they have sanctioned," said Bassiki.
Alfred added that the world's need for phosphates can explain the reason behind this trade. Syrian phosphate is of high quality, and is much cheaper than other sources.
Why It Matters
The story was a finalist for the Daphne Caruana Galizia Prize for Journalism, and a few weeks after the investigation was released, the UK and the EU expanded their sanctions on Syrian companies, including those involved in the trade of phosphates.
To Bassiki, this investigation showed how digging into the impacts of war, and sanctions, can be a long game, but it still matters. "With this story, I was able to say that the Syrian story still deserves to be told, and that strong stories will keep coming from Syria."
Additional Resources
GIJN Tipsheet on Tracking Ships at Sea
How They Did It: Uncovering a Vast Network of Illegal Mining in Venezuela
Lessons Learned from Syrian Journalists Investigating Russian War Crimes
---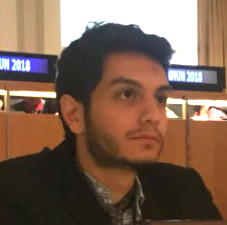 Nader Durgham is a journalist based in the UK. He worked with The Washington Post in Beirut for two years, covering Lebanon and Syria, including coverage of the Beirut Port explosion, the economic crisis, and political and humanitarian issues across Syria. A graduate of American University of Beirut, he is studying for a Masters in Democracy and Comparative Politics at University College, London.