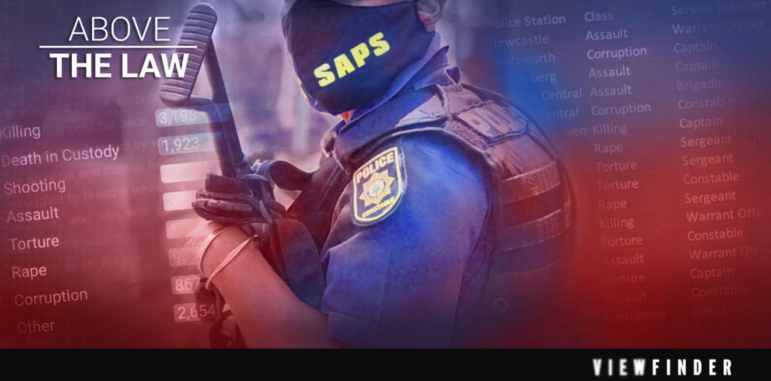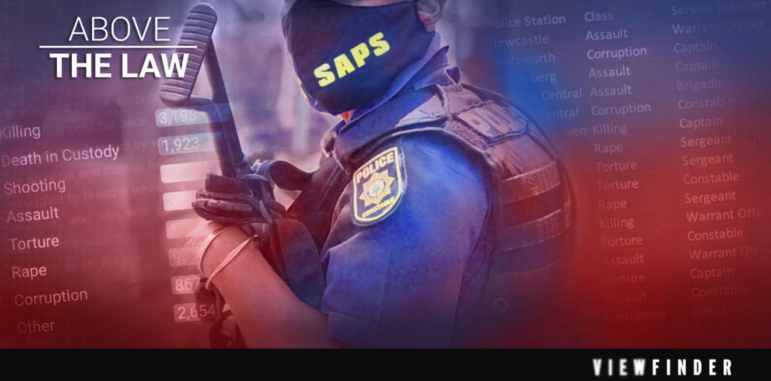 Viewfinder's policing accountability project has sparked calls for reform. Image: Courtesy Viewfinder
How Viewfinder Is Re-Imagining Investigative Journalism in South Africa to Expose Systemic Failures
There is a scene in the Academy Award-winning movie "Spotlight" in which reporters are stunned that their new editor won't publish sensational details they found about crimes by dozens of priests in the US city of Boston.
Their editor explains that similar stories in the past "got a lot of noise, but changed things not one bit." Instead — referring to the Catholic Church in the city — he tells them: "We need to focus on the institution — we're going after the system."
This same philosophy about impact drives GIJN member Viewfinder, a small South African nonprofit organization that is aimed squarely at institutional accountability, and the disproportionate effects of systemic failures on marginalized communities.
Since its founding in 2019, Viewfinder has achieved both recognition and results for its revelations, which are co-published with media partners, of brutality, cover-ups, and lack of accountability in policing in South Africa. For instance: rather than simply connect one rogue police officer to the death of a Cape Town man, Adam Isaacs, following his arrest in 2020, the team focused on inaction by his station commander — and the fact that the "South African Police Service (SAPS) appears to have no way to deal with commanders who continue to protect brutal cops." Viewfinder went further this year, with a series that exposed how SAPS management enables systemic brutality, and that even officers flagged for discipline "are given free rein to re-offend."
But Viewfinder founder Daneel Knoetze says the organization's ambitions go far beyond policing reforms, and even beyond success for the small unit.
He says Viewfinder is all about developing — and spreading — investigative methods that dig into broader failures, and applying these to any institutions that affect vulnerable and working class communities.
"The idea is to scale the method that was applied to the policing project into other areas," Knoetze says.
Rethinking South Africa's Watchdog Lens
Having previously worked on social justice issues in South Africa's NGO sector as a communications officer — and also as a news reporter — Knoetze was a fellow at a US State Department Hubert H. Humphrey program in 2017, and spent time at the Reveal newsroom, part of the Center of Investigative Reporting.
He adds: "That Spotlight investigation really is the lodestar for this kind of work. In fact, the Spotlight team editor, Walter Robinson — who was played by Michael Keaton in the movie — was my lecturer for six months, and I think their example was why I started the policing project with a database, rather than individual cases."
Through public document requests to the country's Independent Police Investigative Directorate, Viewfinder obtained records of 47,000 registered complaints, and packaged these into a public interface called the Police Accountability Tracker. These complaints include allegations of brutality, corruption, and torture, and the tracker, which includes visualizations and context, allows the public to dig into individual police stations, and find progress reports on individual cases. Even a glance at the Tracker's homepage illustrates Viewfinder's basic finding: "that police officers implicated in violent crimes routinely escape accountability."
Knoetze won't name the institutions — beyond the police — that Viewfinder will tackle next, but says failing, discriminatory housing policies and local government bylaws that "criminalize poverty" — via petty rules against informal trading, for instance — are among the issues they are looking at.
"While South Africa produces some excellent investigative reporting, much of it is focused on state and private sector corruption," says professor Anton Harber, executive director of the Henry Nxumalo Foundation, and an adjunct professor of journalism at the University of the Witwatersrand. "What is interesting about Viewfinder is that it is tackling a different, long-term, systemic trend: institutional failure, which lies at the heart of this country's faltering economy and democracy. They dig deep to expose data which can be used to hold these institutions accountable, and hopefully stem or reverse their failings."
Knoetze says he hopes to ultimately develop and popularize this approach in journalism in southern Africa. Both in terms of impact and reporting practice, he wants Viewfinder to do for institutional failure what the nonprofit AmaBhungane investigative unit has successfully done for the issues of high level corruption and state capture.
"In South Africa, what was seen as legitimate subject matter for investigative journalism was quite specific — it was a lens of graft and corruption, or a focus on individuals benefiting from government tenders; the stuff that AmaBhungane and Daily Maverick have done so well," he says. "In the US, there is such a plethora of issues that are subject to really sophisticated data analysis and investigative reporting. Yes, there are much more resources there, but I still felt an in-depth focus on institutional system failure was a shortcoming of South African investigative journalism."
He adds: "I think that this approach presents an opportunity for investigative journalism throughout the Global South as well. Especially where corrupt and inept governments harm the interests of their citizens, or where powerful multinational institutions such as corporations or nonprofit organizations operate without fair regulation."
The Other Challenge: Building Out a Sustainable Site
While individual investigations saw continued success in 2022, Knoetze concedes that building newsroom capacity for Viewfinder has been far more difficult than any watchdog project.
"While there is much potential in our vision, it will take time to recruit the journalists and to encourage a new way of thinking about the method," he says. "This has been a major limitation on the growth and success of Viewfinder in 2022. Whether it means we partner with an established newsroom or build it ourselves, we need to be able to create an enabling environment for scaling this model."
And any growth that happens, he says, must also include demographic diversity.
"In a national context where newsroom leadership in general and investigative journalism in particular has been dominated by older, white men, Viewfinder has adopted the need for greater diversity," he explains.
Viewfinder's core team remains small and includes Knoetze, an operations manager, and a reporter — Andiswa Matikinca, who was formerly a data journalist at GIJN member Oxpeckers Centre for Investigative Environmental Journalism. They publish and broadcast their findings via project partnerships with outlets like News24, Daily Maverick, and the long-running investigative TV program Carte Blanche. They have also partnered on reporting tasks with nonprofit new agency GroundUp.
The team occasionally works with external data analysts, but they do their own filming. For Knoetze, delivering projects in multimedia formats is a key aspect to Viewfinder's formula — especially given the potential for viral video sharing for small investigative outlets.
In addition, Viewfinder is now offering an Accountability Reporting Fellowship, to help investigative journalists dig into "inexcusable failures by large institutions that negatively affect marginalized people." The output of this fellowship will be a short documentary film and a longform investigative exposé.
"A large proportion of our funding is dedicated to encouraging journalists to think about accountability reporting according to this method, and this fellowship is our attempt to make it a more attractive proposition for freelance reporters, who rarely have the time and resources at their disposal to dedicate a couple of months to a single investigation," Knoetze explains.
Viewfinder's donors include Millennium Trust, the Luminate Group, and the South Africa Media Innovation Program, and its annual budget is currently just US$120,000.
"2022 saw Viewfinder secure larger grants from two donors — Luminate and Millennium Trust — with which to recruit more journalists and to pursue large-scale investigations in the same vein of its flagship project on police brutality," Knoetze says.
Adds Harber: "Viewfinder shows the values of philanthropically-supported public service journalism which allows for this brand of in-depth digging."
The team's failure-exposing methodology includes these major steps:
Search records for new questions. Viewfinder's approach begins with records requests and a patient, close reading of institutional oversight reports, followed by flagging questions and anomalies that emerge. "I started looking at public records on police accountability and use of force, and the annual reports of the watchdog, and identifying anomalies — flagging anomalies was a big thing," says Knoetze. "Questions about these then point you to the records and databases that nobody had thought to look at before. It's a trail of breadcrumbs."
Learn about the institutional machinery. Knoetze and his colleagues then read every report, audit, and memo about the institution and its accountability mechanisms, in order to know how procedures and disciplinary processes are supposed to work. He says this homework phase helps ensure that potential inside sources will take you seriously. "Once you ascertain pertinent questions that arise from records, you get a basis for an informed inquiry," he explains.
Engage sources with off-the-record discussions. Identifying sources, Knoetze says, often involves putting yourself in the shoes of institution officials and government regulators who are well aware of those failures, and who are privately outraged or frustrated. "I've been struck by the value of speaking off-record to people who work on the inside of these institutions, and of their oversight bodies," says Knoetze. "These are often sources who don't necessarily see themselves as whistleblowers, but who speak to you about the everyday challenges and frustrations associated with their work."
Ask the "why." "You need to do the research to contextualize the wrongdoing," Knoetze explains. "Why are there people who don't — or don't want to — perform their responsibilities? Are they overwhelmed? Corrupt?"
Show the harm. Their final major step is to demonstrate the human consequence of failures — both with individual cases, and at the community level.
Viewfinder's flagship investigation into police oversight failures was inspired by questions triggered by the Marikana massacre in 2012, when police shot and killed 34 striking miners. (Viewfinder recently produced a documentary segment for Carte Blanche to mark the 10-year anniversary of the massacre — and to highlight that the police's failure to account for it heralded a new decade of police impunity in South Africa following the killings).
Knoetze says broad public exasperation with South Africa's persistent high crime rate, which victimizes working class communities in particular, has had a chilling effect on rigorous police accountability, and even led to some acceptance of vigilantism and police brutality. For Knoetze, this apathy was yet another reason to actively focus on unchecked police use of force.
While he says direct impacts are difficult to measure, Knoetze says Viewfinder's findings have been cited by members of parliament in meetings with the police commissioner, and that "it is fair to surmise" that its investigations directly led to a SAPS internal memo last year that warned police commanders against using loopholes in the disciplinary system to cover for officers accused of brutality.
Asked to describe Viewfinder's future, Knoetze says: "In five years, the idea would be to have the Viewfinder method scaled, so many journalists — say a dozen or two dozen — understand it, and are able to execute impact-driven investigations into systemic issues that disproportionately affect marginalized people."
He adds: "The financial forensic methods that AmaBhungane and others have cut their teeth on to address corruption are now recognized for their public interest value. We want to create that for the systems that fail the people who need those systems the most."
Additional Resources
When Journalism Goes Bad: A Case Study from South Africa
From COVID Scandals to Chemical Explosions: South Africa's Leading Investigations from 2021
From South Africa to Turkmenistan: Eight New Journalism Groups Join GIJN
---


Rowan Philp is GIJN's senior reporter. He was formerly chief reporter for South Africa's Sunday Times. As a foreign correspondent, he has reported on news, politics, corruption, and conflict from more than two dozen countries around the world.