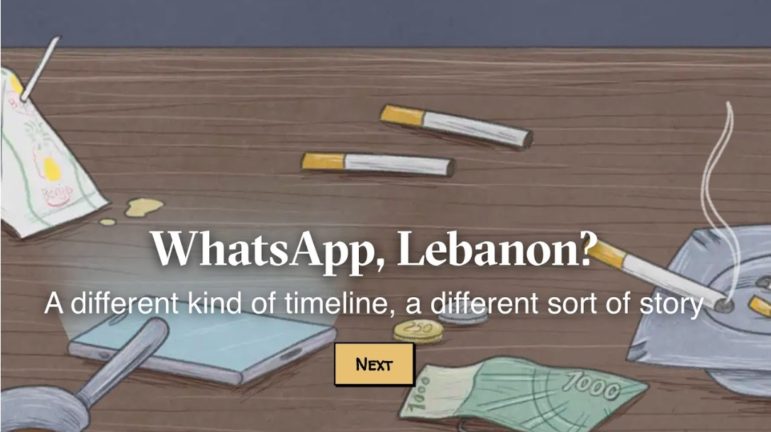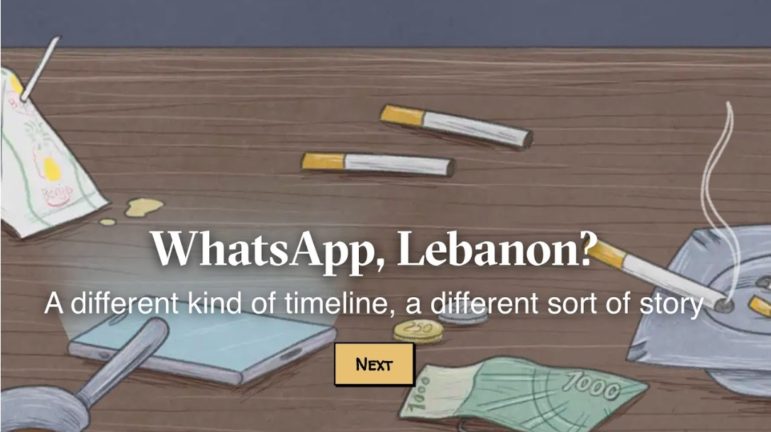 WhatsAppLebanon. Image: Screenshot The New Humanitarian, Rafik El Hariri
How The New Humanitarian Used WhatsApp to Cover Lebanon's Economic Collapse
Read this article in
GIJN member The New Humanitarian recently published an innovative storytelling project called WhatsApp, Lebanon? It is a story of five young people on the poverty line, told through their WhatsApp messages and woven into a timeline of events. This story on the project originally ran on Journalism.co.uk and is republished here with permission.
It is a story told through five real-world protagonists, and the reader explores an interactive timeline of events in Lebanon between 2019 and 2022, a period of economic collapse in the country during which the Lebanese lira lost 90% of its value. It is based on real-world text exchanges on WhatsApp, the encrypted messaging platform used by 84% of Lebanese adults.
"This is what life over the past three years looked like for five young people in Lebanon, as they WhatsApped it. This timeline is their story, and it's Lebanon's too," the authors tell us. It is a story about poverty lines, fuel shortages, mental health struggles, communities coming together, and the Beirut blast.
The central figures are a Syrian researcher, a Palestinian refugee activist, an Ethiopian migrant domestic worker, a Lebanese aid worker, and a Lebanese journalist.
Journalism.co.uk spoke to two of the journalists behind the project to understand how it came about: Annie Slemrod, the Middle East editor of The New Humanitarian, and Zainab Chamoun, a Lebanese freelance journalist and researcher, who worked as the project coordinator.
Q: Why did you want to document the story this way?
Annie Slemrod: The idea came in part out of a frustration with what I felt was a failure on the part of journalism to get at how widespread and all-encompassing Lebanon's crisis has become; how deep it cuts into every part of life. Journalists (myself included) often struggle to tell stories when there are no big headline moments. Lebanon has some of those, like the Beirut blast, but a lot of the incredibly tough things people are going through do not make for particularly catchy news.
After the Beirut blast, my first instinct was to use WhatsApp to try and reach friends and colleagues, and later on I heard about WhatsApp groups where people were asking for medications they could not get in pharmacies. It occurred to me that a lot of untold stories, the kind traditional journalism is not able to tell because we do not ever see them, are actually right there, in our phones.
I have been thinking a lot lately about how much value there is in just listening as a journalist. When on assignment or looking for a story, it is so easy to drive the direction of a conversation just by the nature of the questions we ask. I could not do that here because the WhatsApp conversations had already happened, and I see that as a good thing.
Q: What has the response to the project been?
AS: The response has been incredible. It has done really well in terms of hits — on The New Humanitarian's platforms and with our publication partners — but more important to me is that it seems to have resonated with a Lebanese audience, which was one of our goals from the outset, and the reason that we published WhatsApp, Lebanon? in both Arabic and English.
People have told me about their own emotional journeys while clicking through the messages, and that they have really appreciated the thought and care that was put into how The New Humanitarian told their story.
Q: WhatsApp is very popular in Lebanon. Did that make it easier to get contributions from sources, or was it quite hard to communicate what you wanted from sources because of how unusual the project was?
Zainab Chamoun: This project is unusual and very personal at the same time. When we first launched the open call — where interested people were supposed to fill a form and attach screenshots — it did not work. People needed to know more and that is why we changed our approach.
We decided to approach people, introduce ourselves and our motives, and answer any questions they might have before they shared personal and intimate data. Especially in our region, personal security is a big concern and people get selective about what they share. Establishing this personal connection was very helpful and enriching to the project itself.
WhatsApp made it much easier to get contributions from sources. It took a couple of voice notes between me and the contributors to establish trust and make everything clear. One added value of WhatsApp is its accessibility. I was always there to chat with them at any time. It was easy for them too to share screenshots and forward voice notes directly to me via WhatsApp.
However, for Roza (an Ethiopian migrant worker), given the sensitive situation of migrant workers in Lebanon, I had to visit her twice to meet her, meet her in person, and explain everything in detail. It made a huge difference to her when she saw me in person. She already loved the idea of the project and wanted her story to be heard, but when we met, she became more enthusiastic and responsive over WhatsApp afterwards.
Q: What other challenges did you run into trying to access different sources? Were there any particular sensitivities you had to think about?
ZC: One of the main challenges was having access to the migrant community in Lebanon. Due to the Kafala system in the country [a sponsorship system which gives significant powers to the employers of migrant workers], migrant workers (especially domestic) do not have agency to make their own decisions, as it is robbed away by their sponsors. I tried to get in touch with several domestic workers, and their sponsors raised suspicions about the project and refused to allow them to contribute despite their desire to share their stories.
Contributors were mainly concerned about the identity of the people they talk to over WhatsApp and asked us to use pseudonyms. Another challenge was to make sure that contributors actually had content from 2019. We approached many people who were interested in the idea, but unfortunately, had deleted all their WhatsApp chats.
One of the main things we kept in mind since the early start of the project is not causing any harm and emotional distress to contributors. It is not easy to go through chats about devastating events. Even what might be regarded as "smaller" inconveniences, like ranting about electricity cuts and shortage in fuel, can be very frustrating to live over and over again.
Trauma-informed reporting was crucial and contributors were not pushed to go through topics they did not want to. They were also told that they can stop reviewing their chats at any time. We also felt the responsibility to compensate for their emotional labor.
Q: How hard was it to storyboard all the events over the last three years and think about the right profiles? What workflows did you come up with to make this possible?
AS: It has been a long, collaborative process. Getting Zainab Chamoun on board as project coordinator was key, as she is Lebanese and has been living through the same crisis that the story is telling. She is also just a really sensitive person, which was important when asking people to share their personal conversations from a really traumatic time.
Rafik El Hariri's illustrations come from a similar place: He is also Lebanese and understands the context. He did not need to use graphic imagery to make the scenes incredibly emotionally resonant.
My colleagues and I at The New Humanitarian wanted to find contributors who were as representative as possible of all the different sorts of people who live in Lebanon — so you have Lebanese people from different parts of the country, different religions, a Palestine refugee, a Syrian, and a migrant domestic worker from Ethiopia.
In terms of workflow, we eventually found ourselves working with a massive spreadsheet created by The New Humanitarian's senior web developer, Marc Fehr. It includes all the messages in English and Arabic, plus a whole lot of data that Marc needed to program the timeline. Any of us could update it at any time, so we could work on our own schedules and time zones.
It became clear quite quickly which main events and themes we wanted to have illustrated. They were the things everyone was talking about: the protests, electricity, banks and the exchange rate, the Beirut blast, and October 2021 fighting in a part of Beirut called Tayouneh.
Q: What did you want readers — either The New Humanitarian readers, international readers, or readers within Lebanon — to get out of this project?
ZC: At times of crisis, people tend to isolate and experience an overwhelming sense of loneliness. I want readers within Lebanon to know that they are not alone.
We are experiencing similar emotions and sharing the weight of the burden on different levels. Knowing that others are going through the same hardship does not make it easier, but at least, less lonely. Social solidarity is what keeps us going in Lebanon and this project is an opportunity to relive different and intimate forms of social solidarity.
For international readers, I would mainly like them to be aware about what is happening on the different sides of the world and create networks for empathy. It is hard to imagine the impact of the crisis if you have not experienced it. And this project shows international readers the people behind the headlines they read about Lebanon, Syria, Palestine, and other countries.
These are people, who on top of everything going on around them, have to live normally — studying, working, making families, networking, taking care of themselves and their families. This is not easy and takes a lot of mental and emotional effort and they are making it happen.
For a more in-depth, behind-the-scenes discussion of the WhatsApp, Lebanon? project, check out the YouTube video below.
The team also created a WhatsApp, Lebanon? playlist, featuring songs chosen by the WhatsAppers, on Spotify or YouTube, dubbed "The soundtrack of Lebanon's collapse." There is more on how WhatsApp, Lebanon? came together here.
Additional Resources
Using WhatsApp to Deliver Content to Audiences in the Global South
Of, By, and For the Smartphone: The Tinder Swindler Investigation
Using Snapchat as an Investigative Tool: Q & A with Paul Bradshaw
---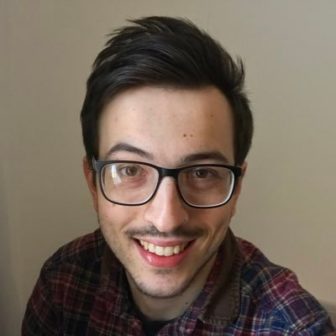 Jacob Granger is the senior multimedia reporter at Journalism.co.uk, a leading independent media company that has been providing news coverage of the media industry since 1999.