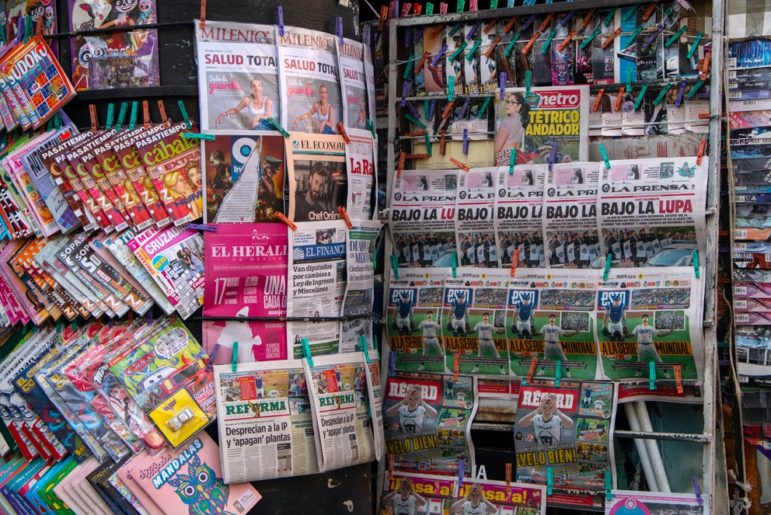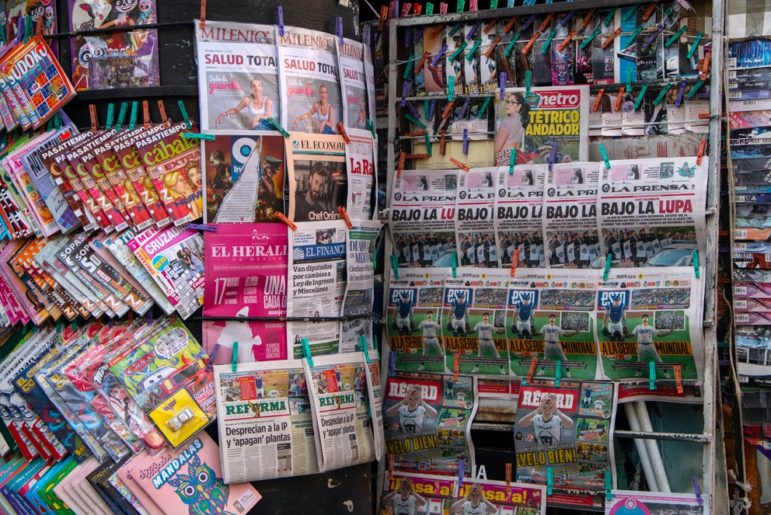 A newsstand in Mexico, where journalists are increasingly under threat. Image: Shutterstock
Forced Out: Latin America's Investigative Reporters Pushed into Exile
Read this article in
Newsrooms facing arbitrary shutdowns. Bodyguards accused of sabotaging the work of journalists they're supposed to protect. Judicial systems targeting watchdog reporters who reveal government wrongdoing. A press freedom crisis is rippling across Latin America and in some circumstances it is so severe it is forcing journalists to flee their home countries.
From Mexico to Brazil, El Salvador to Venezuela, attacks against journalists and assaults on press freedom are now widespread. In Reporters Without Borders' most recent World Press Freedom Index, it cautioned that Latin America was an increasingly "toxic environment" for the press, especially for investigative reporters focused on holding power to account. "Increasingly visible and virulent, these public attacks weaken the profession and encourage abusive legal action, smear and intimidation campaigns – especially against women – and online harassment of critical journalists," it noted.
According to data from the Voces del Sur network (VdS), a Latin American press freedom monitoring project, since 2017, dozens of reporters from the region have been killed or kidnapped, 150 have faced arbitrary detentions, and 11 were subjected to torture, among other abuses, As a result, VdS reports that 170 journalists from the region were forced into exile in 2020 and 2021 to escape arbitrary imprisonment or even assassination attempts.
Although some journalists learn to adjust to exile and even find ways to improve their watchdog reporting from abroad, this region-wide phenomenon is not only creating huge psychological and financial burdens on the press, but is also greatly weakening democracy and governance.
To understand this worrying exodus, GIJN spoke with exiled members of the press from Nicaragua, El Salvador, Cuba, and Colombia, who shared how they had been pushed into exile, and gave tips for other watchdog journalists who face similar threats.
Nicaragua: Oppression from the Top
Votes for opposition parties found in a garbage dump during Nicaragua's 2008 regional elections raised fears that the government of President Daniel Ortega was taking an autocratic turn. In 2009, Ortega changed the constitution to enshrine indefinite presidential re-elections, but the situation became even more troubling during the protests of 2018.
"The country had enough [of President Ortega] and people took to the streets. I documented how the government response was to kill 350 people," says Wilfredo Miranda Aburto, whose investigations have been mirrored in reports by the Inter-American Commission on Human Rights.
Miranda, who formerly wrote for the investigative magazine Confidencial and Spain's El País newspaper, and whose work has been recognized with the prestigious Ortega y Gassett and Rey de España journalism awards, has twice fled Nicaragua due to concerns about his physical safety.
The first time was after he published an exposé about police snipers shooting protesters. "In late 2018, the government began a campaign against me, publishing photographs on social networks that said I was a media terrorist and demanding I be reported to the police for capture," he explains. "I had to leave the country."
He returned in 2020, when the COVID-19 pandemic eased the pressure on persecuted reporters. Together with two other journalists, he created the investigative journalism site Divergentes. But a series of onerous laws approved by the Ortega government in late 2020 destroyed the political opposition and, he says, threatened any journalist holding the state accountable for its actions. In July 2021, a few months before the general election, Ortega began a new crackdown, imprisoning political opponents and activists, and targeting journalists.
"Hundreds of journalists were called to a public prosecutor's office. I was called in because of supposed money laundering," says Miranda, who describes these charges as false and part of a strategy to silence him. Prosecutors interrogated him for four hours about his articles, threatening to imprison him for breaching the new cybercrime law, but, he says, asked no questions about the supposed money laundering.
"The prosecutor told me they would give me at least eight years in prison… My lawyer called me in the afternoon and said, 'Listen, you should leave Nicaragua because what they said about cybercrimes is strange,' and I left," says Miranda, who secretly traveled to Costa Rica by boat, where he is now a political refugee. His parents also left Nicaragua after being harassed.
Miranda now leads the Divergentes team from abroad, but is ever-conscious of the risks the publication's reporters still face in Nicaragua. He says keeping his journalists safe is a constant balancing act: articles are often published anonymously, some beats have been canceled, and the cost of helping journalists who need to leave the country weighs on Divergentes' finances.
"This is our biggest problem at the moment. The newsroom is leaving Nicaragua," he says. "All of these hurdles the regime puts in the way are meant to make us throw in the towel, but at least in Divergentes we are convinced that not giving up is the purpose of doing journalism in a context such as this."
El Salvador: Targeting Journalism Amid a Wider Crackdown
After two months of requests, one of Salvadoran newspaper El Faro's exiled journalists agreed to an interview with GIJN. Mindful of the danger of speaking out against President Nayib Bukele's government, however, the reporter asked to speak on condition of anonymity. The reporter said they felt compelled to leave the country when the country's judicial branch took aim against investigative journalists, amid growing fears that prosecution was a real risk for those that call out alleged misconduct by Bukele's government.
"We have cases in the prosecutor's office and left because we could be imprisoned," the reporter tells GIJN. "We have Nicaragua as an example, but this man [Bukele] moves much faster."
In January 2022, El Faro revealed that digital security experts had found 22 members of its staff had their phones infected with Pegasus spyware. Then in March, the government-aligned Congress issued a nationwide "state of exception," suspending a number of fundamental rights in the name of combatting the country's powerful gangs. While the president boasted in August that the country had seen 83 days with no murders, more than 50,000 people have been detained and there have been 3,000 reports of human rights violations. A recent "gagging law" punishes with up to 15 years in prison any journalist that shares information about criminal groups, effectively closing the door to accountability reporting about gangs in El Salvador.
Threats sent through social networks add to the judicial harassment. Although journalists around the world have to deal with attacks, criticism, and even insults for doing their work, in El Salvador there are claims that government-backed trolls are using social networks to intimidate reporters, according to the Inter American Press Association. These trolls threaten to physically attack journalists and obtain embarrassing, private information that is later published on social networks.
The situation has affected relations with sources and makes investigative reporting particularly difficult, but being based outside the country has also brought an unexpected benefit, the El Faro reporter told us. "Sources were frightened and retreated [at first]. It was challenging because I had to change the way of communicating and build new sources. It has been a long process, but they are more trusting now that I'm abroad, because they no longer believe I may be followed."
Cuba: Reporting on an Established Dictatorship
Journalist Carlos Manuel Álvarez left Cuba in 2015 and has since lived in Mexico and the United States. He visits Cuba frequently, but usually cannot report from the island because of constant state surveillance, and says that over the years he has experienced multiple questioning sessions, surveillance, and detentions.
"They might say you are connected to Miami terrorists or that you work for the CIA… The [interrogations] are meant to destabilize the person being questioned," he says.
Álvarez has written about Cuba for outlets including The New York Times, The Washington Post, and Spain's El País, and co-founded the news magazine El Estornudo. The latter is published online and describes itself as "a Cuban journalism magazine that moves between journalistic chronicles, images, and essays." While the site is blocked inside Cuba, its servers are not located there, so the content cannot be censored.
"Since its beginnings, El Estornudo has crossed the line [of what the government allows]," says Álvarez. "All my colleagues that work in the magazine have, to a larger or lesser extent, suffered harassment, defamation, and character assassination, although not censorship, because the regime does not have direct access to what is published."
El Estornudo faces the challenge of watchdog reporting about Cuba with journalists that quickly fall under the government's surveillance. Álvarez says that although they initially work with reporters that are not targeted, and El Estornudo tries to expose them as little as possible, staff rotation is high and many eventually leave Cuba. Nonetheless, once abroad they can carry on their work, for example, by contacting sources through online tools.
Except for a handful of foreign-based media and journalism sites that the government oversees or restricts, there is no private or independent media in Cuba. All projects that don't follow the government line face oppression. "Censorship is commonplace and absolute," says Álvarez.
Colombia: The Costs and Risks of Exile
Not every journalist at risk reaches exile – the emotional and financial costs are not always sustainable – and even for those who manage to leave there is also always the question of how long it can last.
Julián Fernando Martínez – a Colombian investigative journalist who has spent years documenting corruption, police, and the links between officials and drug gangs – was forced to flee the country earlier this year after learning of a plan to kill him and surviving an apparent assassination attempt.
Prior to leaving he had been assigned a protection team, which Colombian authorities sometimes give to reporters deemed to be at risk based on their high-profile nature or investigative work. But Martinez learned that his government-assigned bodyguards were from a secret police force he himself had spent years investigating. His reporting contributed to the force – the DAS – being dismantled in 2011.
He left the country on June 9, 2022, after denouncing his bodyguards for spying on him, hindering his work, and alleging that they had revealed to the government who his sources were and where he met them.
Nonetheless, when no organization stepped up to support him, he realized his resources would soon run out, and was forced to return home two months later. "Leaving the country is very expensive. It involves huge uncertainties," explains Martínez, one of the owners of La Nueva Prensa, an investigative journalism site that is almost fully financed by donations and by the journalists who work on the project. "One of the hardest challenges about leaving Colombia are the complications that arise when you have average financial resources," he adds.
Back, for now, in the Colombian capital, Bogota, Martínez is still seeking support from international organizations to carry on his work and to secure his safety.
Tips for Journalists Who Need to Go Into Exile
Each exiled journalist's situation is different, and although there is no exact formula for what to do if you feel leaving your country is the only route to staying safe, the investigative reporters interviewed have the following tips for colleagues who might feel compelled to flee abroad:
Figure out how you can keep reporting: Authoritarian regimes want to keep journalists from publishing. Reporters need to find a way to reinvent themselves in exile without being silenced.
Seek mental health support: Almost all the journalists interviewed insisted on the importance of finding a mental health professional who could help them overcome the harassment that led to exile, and the experience of exile itself.
Reach out to journalism support networks: International journalism organizations support journalists that need to go into exile. GIJN has highlighted some that provide emergency aid.
Find a press-friendly landing spot: For watchdog reporters in the Latin American region, countries like Costa Rica are more open to exiled journalists than others.
If you perceive a threat, don't wait, leave the country: It's better to report from abroad than to be imprisoned. Don't worry about your reputation among your colleagues or that they might think less of you for not staying.
It isn't necessary to remain in the field to report: Those who are still in the country may help you. Try to expose your allies as little as possible and use virtual tools to conduct interviews. Use collaborative networks to report on a place where you cannot remain.
Be careful regarding your security and who provides it: Although it officially might be the state's responsibility to guarantee journalists' security and protect them, in practice bodyguards and security personnel may be used to spy on journalists and obstruct reporting.
Additional Resources
'Reporting from the Outside': Lessons from Investigative Journalists in Exile
How Exiled Journalists Are Investigating in the Arab Gulf States
How Exiled Russian Journalists Are Rebuilding Their Lives in Latvia
---

Santiago Villa is an award-winning journalist who has written for Latin American news outlets for over a decade. He is currently based in Colombia, and writes an opinion column for El Espectador. He has previously worked as a foreign correspondent in South Africa, China, Venezuela, and Ecuador.