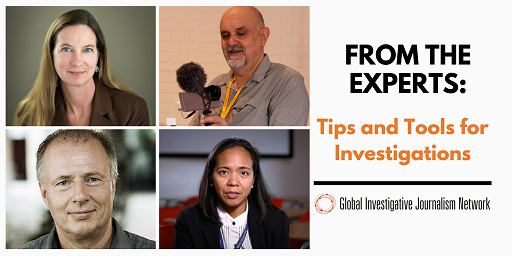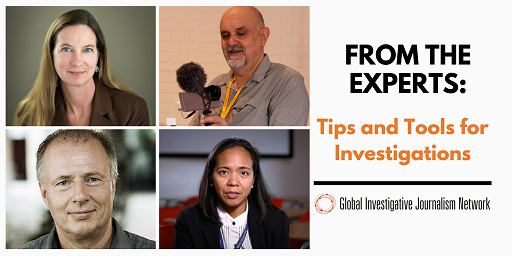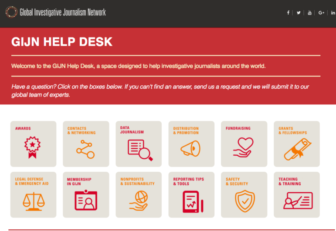 At GIJN we're building up a digital library of tips, tools and other resources for journalists worldwide who want to dig deeper and ask tougher questions. Our Resource Center contains a trove of tipsheets covering everything from unravelling financial records to plane spotting and wildlife smuggling.
The videos and presentations on our YouTube channel, already more than 250 strong, are growing, too, and we're pleased this week to add a new series on investigative tips and tools. This compact set of crash seminars features leading experts with insights on what investigative journalism is, as well as how to follow public records, investigate with data, understand financial records, the best online search strategies — and more.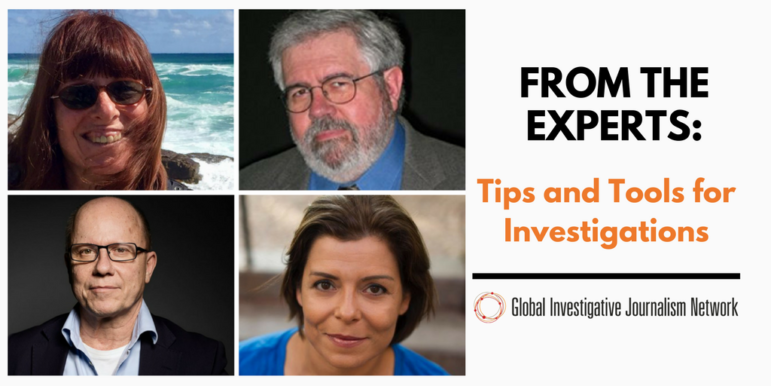 We know you're busy, so we've designed each video to be is less than eight minutes long, with shorter segments available on GIJN's social media channels.
To start this series, GIJN's executive director, David Kaplan, explains how investigative reporters define their craft. Let us know what you think – and what else you'd like to see covered.
What exactly is investigative journalism? Although definitions vary, professional journalists are in broad agreement about investigative reporting's main features, from systematic research to the use of public records and data. They point to a set of methods and techniques that can take years to master.
While it's impossible to interview millions of people for a story, you can interrogate millions of records to find leads from data – sometimes in just seconds. But although data is increasingly essential to investigative journalists, it needs to be accompanied by in-depth reporting to verify and complement one's findings.
Giannina Segnini is an investigative journalist with more than 25 years of experience and the director of the Master of Science in Data Journalism at Columbia University in New York.
For more information on data journalism, see GIJN's Resource Center.
Fact-checking is critical to ensure that all details of a story are true and that no one is named unjustifiably, and to establish trust in the journalist
Nils Hanson is Editor-in-Chief for the Swedish TV-program Mission Investigate, a weekly one-hour investigative journalism program. Hanson explains how to "bulletproof" one's story through fact-checking and talking to the subject of an investigation as early as possible.
For more information on fact checking, see GIJN's Resource Center.
Research and fact-checking are both crucial stages in investigative journalism projects. And both require skills in seeking the best verifiable sources, gathering documents and data, organizing and describing the information, and applying critical thinking to results. The tools of newsroom research have evolved from books and clippings to electronic databases and documents. Online database searches are key resources for these tasks. The challenge is being comprehensive as well as specific, to be efficient and thorough, within constraints of time, cost, and availability of online information.
Margot Williams is a research librarian and journalist who has worked at The Washington Post, The New York Times, National Public Radio in the US, the International Consortium of Investigative Journalism and The Intercept.
For more information on online searches and databases, see GIJN's Resource Center.
Holding power to account is at the heart of investigative journalism. This, of course, includes corporate power. Analyzing company reports can reveal how companies are performing and if there are suspected irregular transactions. Scrutinizing accounts and financial statements also is crucial to investigate and uncover corruption, money laundering and tracking flows of money.
David Cay Johnston is a Pulitzer Prize-winning investigative journalist who specializes in economics and tax issues, and the author of two books about Donald Trump.
For more information on analyzing corporate documents and investigating businesses, see GIJN's Resource Center.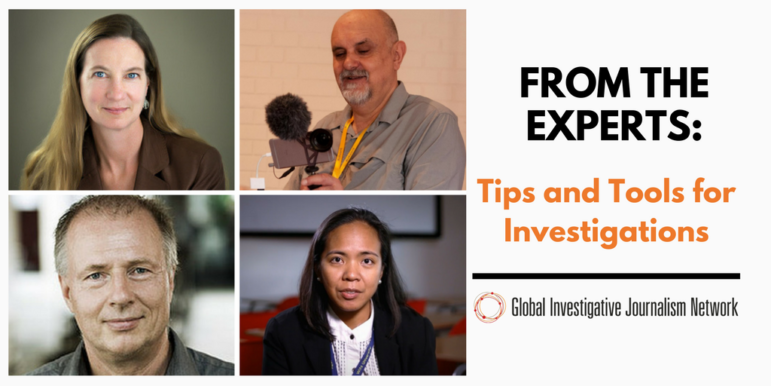 Investigating human trafficking takes specific skills. The crime of human trafficking, or the trade of humans for the purpose of forced labor, sexual slavery or commercial sexual exploitation, generates billions of dollars of illegal profit, is secretive and thought to be one of the most rapidly growing activities of transnational crime, although it also occurs within national borders.
Martha Mendoza is an investigative reporter for The Associated Press and a Pulitzer prize winner for an investigation into modern-day slavery.
For more information on human trafficking and slavery, see GIJN's Resource Center for global resources and also tips specific to the Gulf region.
For journalists to produce multimedia reports from the field used to require so much equipment it would fill the back end of a car. Today, digital technology enables reporters to produce state-of-the-art audio and video with little more than a smart phone and a bag of supporting gear. Dubbed mobile journalism, or mojo, these production techniques can moreover be used nearly anywhere on the planet. GIJN turned to Ivo Burum, a pioneering mobile journalism trainer and lecturer, for a look at the unique opportunities this offers the world's investigative journalists.
For more information on mobile journalism, see GIJN's Resource Center.
Public documents are widely seen as some of the most basic building blocks of good investigative journalism, although access to such documents varies from country to country. Understanding and scrutinizing public documents are essential to in-depth reporting and have been instrumental to the some of the biggest investigative stories done around the world.
Floreen Simon is the Training Director of the Philippine Center for Investigative Journalism. She explains what we mean by public records and how can these documents help investigative journalists do their job.
For more information on the use of public documents, see GIJN's Resource Center.
More than ever, investigative journalists need to understand electronic data to do their jobs.  To find, extract, analyse and tell stories, increasingly they need to deal with spreadsheets, databases, and visualizations.
Nils Mulvad is an Investigative journalist based in Denmark, who has worked with data journalism for more than 20 years.
For more information on data journalism, see GIJN's Resource Center.
Investigative journalism that has world-changing potential is almost impossible without resources. Funding specific stories and the organizations that produce investigative work is the essential first step. To raise funds, journalists will need to rely on their ability to research and write, but they'll also need a whole new set of skills.
For a crash course in fundraising, we turned to Bridget Gallagher, who runs the Gallagher Group LLC, a consulting firm that helps non-profit media build relationships with donors and raise money.
For more information on fundraising, see GIJN's Resource Center.