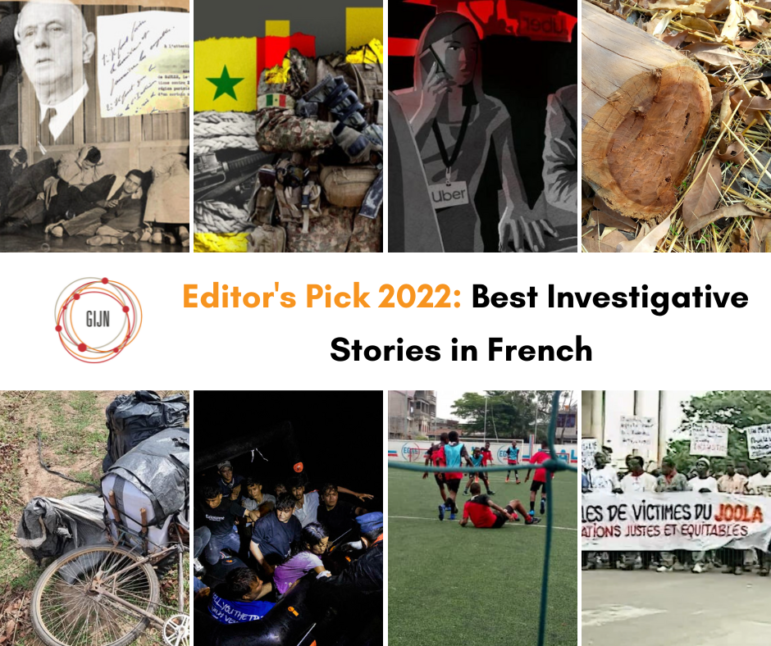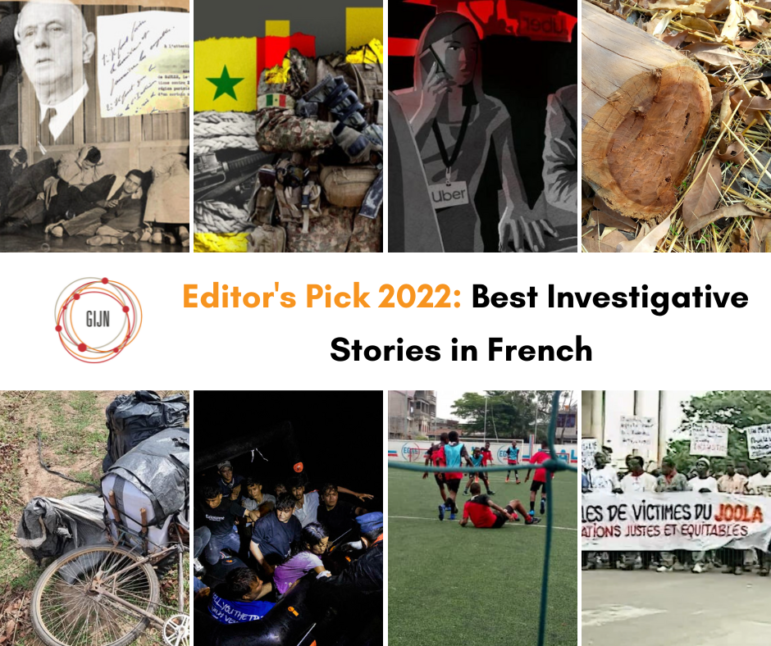 Editor's Pick: 2022's Best Investigative Stories in French
Read this article in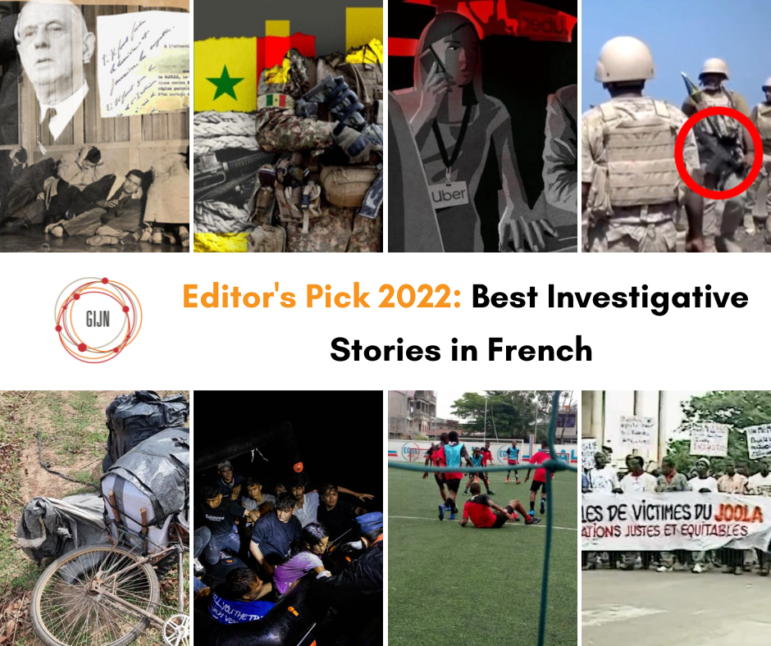 We are increasingly spoiled when, each month, we select the most outstanding investigations from French-language outlets for our regional newsletter. In France, Switzerland, Belgium, and Canada, and throughout Francophone Africa — including Senegal, the Democratic Republic of Congo (DRC), Cameroon, and Burkina Faso — investigative journalism, and therefore accountability, is advancing.
The increase of open source information and data enables more and more journalists in French-speaking regions to access the tools and techniques to make the most of their reporting. Collaboration among newsrooms — which can reduce costs while increasing the impact of investigations — has become a new normal.
Selecting only 12 investigations from the French-speaking investigative world after such an incredible year was certainly a challenge and, of course, our selection will appear subjective and arbitrary to some. Geographical diversity, the stories' impact and uniqueness, the risks taken, and the techniques used were some of our criteria. Read on to discover the strongest investigations of the year, selected by GIJN French Editor Alcyone Wemaëre, GIJN Francophone Africa Editor Maxime Domegni, GIJN French Assistant Editor Moran Kerinec, and Africa Assistant Editor Aïssatou Fofana.
Sometimes, it takes less than 24 hours to see the impact of an investigation. That's what happened when Le Monde, along with the nonprofit Lighthouse Reports, German magazine Der Spiegel, and Swiss outlets SRF and Republik revealed that the leadership of the European Border and Coast Guard Agency — also known as Frontex — had known about illegal pushbacks (state measures aimed at forcing migrants back to countries, or back over a border they have already crossed) of asylum seekers from Greece to Turkey. In the past, aid groups had repeatedly accused Frontex of human rights violations, but the agency had always denied or dismissed these claims.
This time, journalists had access to an internal database, JORA (Joint Operations Reporting Application), and investigated the incidents labeled "departure preventions." They were able to confront the agency with reports from associations and from the Turkish Coast Guard, and with pictures identified with open source techniques. At least 22 "departure preventions" involving almost 1,000 migrants were incidents in which migrants had accessed Greek waters but were illegally turned back and left to drift at sea. This investigation proved for the first time that instead of preventing these pushbacks, Frontex was covering them up — with taxpayers' money. Frontex Executive Director Fabrice Leggeri resigned the day after the investigation was published.
It's not every day a magazine can boast about getting a scoop 61 years after the fact. For decades, a mystery surrounded details of the events of October 17th, 1961 — when French police brutally cracked down on around 30,000 Algerians peacefully demonstrating against an overnight curfew in Paris. French authorities played down the scale of the massacre and prevented access to official archives relating to the incident until the late 1990s. Historians estimated the death toll at around 200: many of the protesters were pushed into the River Seine and drowned. Around 14,000 were arrested. Even as details about the night started to come to light, a big question remained: How much did then-President Charles de Gaulle and other senior government officials know, and how did they react?
The first president to officially acknowledge the "bloody repression" was Francois Hollande in 2012. At the end of 2021, a government decree opened partial access to records of the French presidential office. Fabrice Arfi, of Mediapart, was the first journalist to take a close look at these documents at the French national archives. Mediapart was able to reveal that de Gaulle had known about the extent of the massacre from its earliest moments and instructed, in a hand-written note, that the police who perpetrated the violence face justice. But ultimately, nobody was ever prosecuted.
Canadians are not all equally vulnerable to the effects of heat waves. Radio-Canada used satellite images to identify areas with the highest temperatures to determine which neighborhoods are most affected by heat waves caused by climate change. Journalists spotted several trends: The higher the residents' income, the cooler their neighborhood. Areas with lower average incomes or with a large immigrant population tend to get hotter. The configuration of streets, building materials, tree cover, and the proximity of water significantly influence how people experience the weather — and create a disparity in their ability to mitigate the effects of extreme heat.
"These numbers are proof that there is an injustice as to who will be most vulnerable to climate change," noted Carla Ziter, an associate professor at Concordia University.  "Some residents are fortunate to live in cool corners of our cities where it will be possible to mitigate the impact of heat waves in the future. And other residents do not have this privilege." More than just stating the issues with urban planning, the investigation, which also has sophisticated graphics, explores solutions to reduce them.
This set of revelations were made possible by analyzing a 2015 video posted on YouTube by Saudi Arabian naval forces, who were celebrating a successful military operation in Yemen. Journalists working together from various Swiss media organizations — RTS, SRF, RSI, and NZZ am Sonntag, along with the nonprofit Lighthouse Reports — noticed that at least three soldiers in the video carried Swiss-made Sig Sauer 551 assault rifles. The team used other open source techniques to identify where the video was shot — in the Hanish Islands in Yemen — a location where a devastating civil war broke out in 2014 between the Yemeni government, supported by Saudi Arabia, and the Houthi armed movement, supported by Iran.
In 2018, another Swiss newspaper, Blick, reported the use of Swiss weapons in the conflict, claiming they could be seen in a photo. But the Secretariat for the Economy (SECO), which is responsible for monitoring arms exports, dismissed the allegation, asserting that the "image provided did not show the location of the persons with the assault rifles." Four years later, the collaborative investigation managed to find the hardware elements that were lacking in the original report. When contacted, SECO confirmed the export to Saudi Arabia of 106 assault rifles, as well as 300 submachine guns, but claimed that transactions dated back to 2009, before the start of the conflict.
When a source leaked more than 124,000 documents — emails, text messages, and company records — to the Guardian to expose Uber's chaotic global rollout and its aggressive strategy, the British newspaper decided to share the records with ICIJ. It, in turn, organized a journalism collaboration of more than 40 media partners in 29 countries to sift through the records. One of these news groups was the Belgian newspaper Le Soir.
Uber started operating in Brussels in 2014. In addition to its dispute with taxis, the company's practices quickly alienated the government of the Brussels-Capital region, the police, the justice system, and the tax authorities. But thanks to a series of dubious maneuvers, it evaded attempts to scrutinize its business or hold it accountable for flouting local laws. For instance: during a search of its Brussels offices in 2015, Uber was unable to trigger a "kill switch," a kind of alarm button designed to make its data inaccessible and which it had employed dozens of times before. But, as Le Soir revealed, Uber had a plan B: locking its devices using Casper, software that blocks remote access. The goal was the same as the kill switch: to escape accountability by preventing authorities from accessing sensitive company documents.
The second-worst non-military disaster by number of casualties — more deadly than the Titanic — involved the Senegalese ferry MV Le Joola, which on September 26, 2002 capsized and sank within minutes off the coast of The Gambia. Almost all of its 2,000 passengers died. The Senegalese government conducted a rushed investigation and quickly closed the case: the captain of the ship, who also died, was declared solely responsible for the tragedy.
Twenty years later, Le Monde Afrique reopened the case — with a groundbreaking visual investigation based on 3D-modeling, state investigation reports, and survivors' testimonies, as well as technical data from the boat and images captured a few hours before the tragedy. All this information and research revealed that the vessel had not met basic safety standards and, contrary to what Senegal's Ministry of Justice hurriedly declared, that the captain was not the only one at fault.
One of the biggest scandals of the year in Senegal dates back to early 2022, when two government ministers signed a discreet contract worth US$70 million with a controversial arms trafficker. The trafficker was cited in a previous major embezzlement scandal in Niger, his country of birth, and is said to be wanted for corruption in Nigeria for another arms purchase worth US$400 million. The Senegal contract remained hidden to the public until OCCRP revealed it at the end of October, through an investigation published in French by local media outlet Impact.sn, sparking outrage and making headlines in local and international media.
OCCRP, in partnership with Israeli newspaper Haaretz, was able to obtain a copy of the contract. After some digging, they found that the company awarded the contract was created only two months before, and its real owner — the arms trafficker in the Senegal case — had another person sign the contract: a former employee of an Israeli arms dealer. By publishing the story in French, Impact.sn was able to increase the scope and impact of the investigation.
A two year-long investigation by French journalist Romain Molina in Sport News Africa exposed alleged systematic sexual abuse and blackmail of minors in the Congolese football system, spanning 20 years. Members of the Congolese Football Federation (FECOFA) are implicated, and federation staff and several clubs are accused of covering up the abuse. The investigation gathered victims' testimonies as well as WhatsApp audio recordings by coaches and officials. The investigation prompted FECOFA — which said it finally had evidence of allegations of which it was already aware — to set up a commission of inquiry and suspend several of the coaches named, a first in the Central African country. The sports ministry has also referred the matter for a judicial investigation. The publication of the first part of the investigation also prompted more people to break their silence, resulting in a follow-up article.
This investigation by The Museba Project revealed how rosewood — one of the world's most exploited tree species — is illegally cut in Cameroon and smuggled to neighboring Nigeria, where its origin is concealed, before being shipped to China. To carry out this investigation, which was supported by the Pulitzer Center's Rainforest Investigations Network, Museba's reporter had to find former traffickers and convince them to talk. Based on their testimonies, he followed the trail of the rosewood — by motorcycle — from Cameroon to Nigeria, including through unstable areas where terrorist group Boko Haram has been active.
Months after the exposé was published, the Convention on International Trade in Endangered Species of Wild Fauna and Flora (CITES) suspended trade in rosewood in Cameroon, stating that the country's government did not comply with guidelines to respond to a request to verify that it was acquiring rosewood legally.
The Sahel region of West Africa has been devastated by the actions of various terrorist groups over the past decade. But how do these groups finance themselves? A collaborative investigation by three journalists from Niger, Burkina Faso, and Mali, supported by the Norbert Zongo Cell for Investigative Journalism in West Africa (CENOZO), looked into drug trafficking and how it funds armed groups, who are often involved in smuggling them. The authors consulted public reports from institutions such as the United Nations Office on Drugs and Crime, but also spoke to exclusive sources, including experts and a former trafficker. They revealed that the kingpins, some of whom they publicly name for the first time, sometimes include senior officials in the region, and that the warehouses from which the products depart are based in neighboring and coastal countries.
This cross-border investigation also describes how the drug cartels exploit porous borders and insufficient policing of them to pass their products — including cannabis resin and cocaine — through Burkina Faso, Mali, and Niger, to the final destination, Europe — and how they fuel crime and terrorism.
In Francophone Africa, many investigations are conducted by international media or by a transnational consortium with local journalist partners and fueled by leaked databases. But there are also local initiatives led by courageous journalists, like Hayatte Abdou from the Comoros Islands, which  tackle subjects important for the local audience. That's the case with this investigation, told with excellent storytelling. Following racketeering, embezzlement, and bribe trails revealed by victims' testimonies, Abdou from the National Magazine investigative site began with testimonies of victims among businesses, then traced alleged corruption within the Comoros tax administration and spoke with external and internal sources. She reported alleged "mafia-like" operations, such as extortion, by some individuals in the tax office in their dealings with Comoros businesses.
Additional Resources
Editor's Pick: 2021's Best Investigative Stories in French
Investigative Masterclass: Tips from Mediapart's Fabrice Arfi
Data Journalism Top 10: Canada's Sweltering Cities, Climate & Sleep, COVID & Schools
---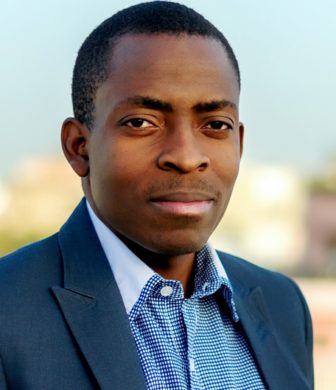 Maxime Koami Doegni is GIJN's Francophone Africa editor, based in Dakar, Senegal. He has worked as editor-in-chief of the Togolese newspaper L'Alternative, and for BBC Africa as a journalist and planning producer. He has also been West African Correspondent for the justiceinfo.net website; and collaborated with Dutch organization RNW Media on the French version of the "This is Africa" website.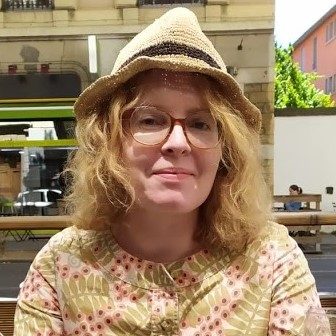 Alcyone Wemaëre is GIJN's French editor and a French freelance journalist based in Lyon since 2019. She is a former staff reporter of Europe1 and France24 in Paris. Along with being GIJN's French Associate Editor, she is an associate professor at Sciences Po Lyon, where she is co-responsible for the master's degree in journalism, "data and investigation" specialty, created with CFJ.