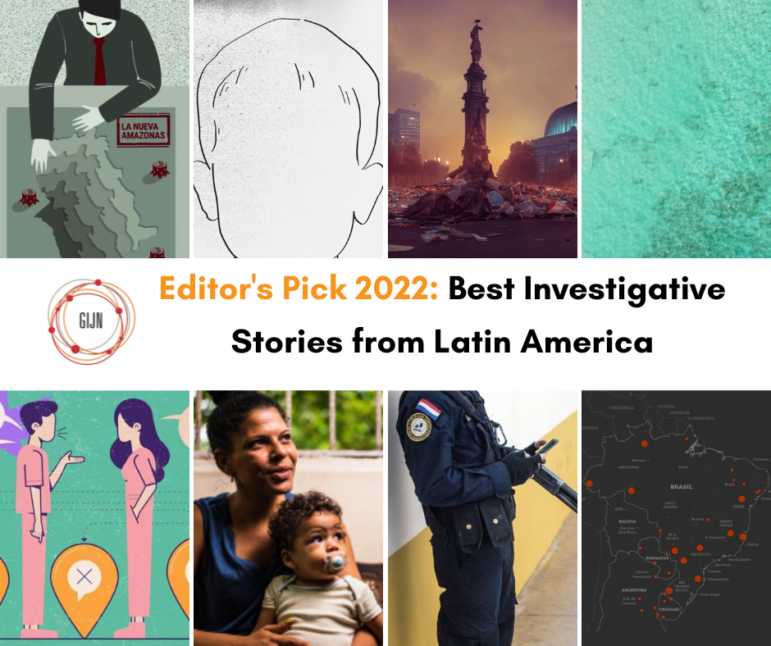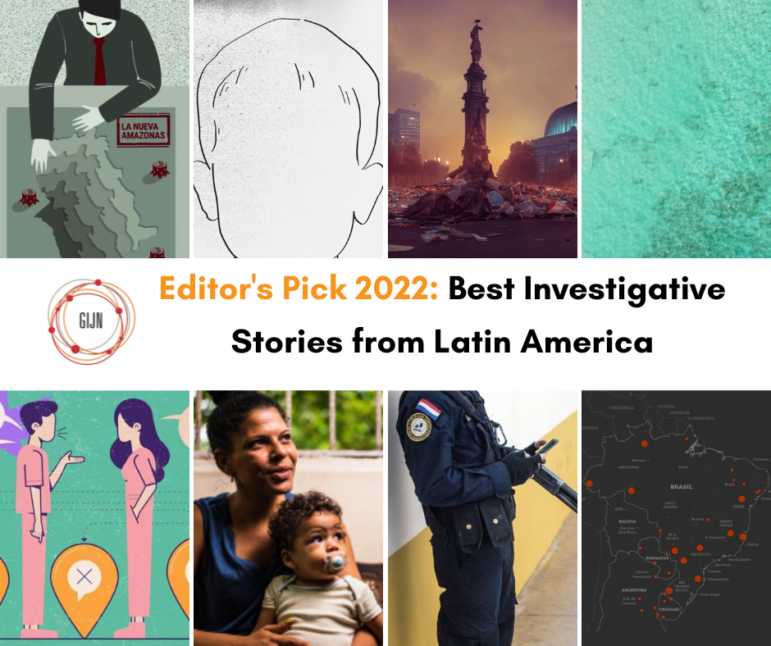 Editor's Pick: 2022's Best Investigative Stories from Latin America
Read this article in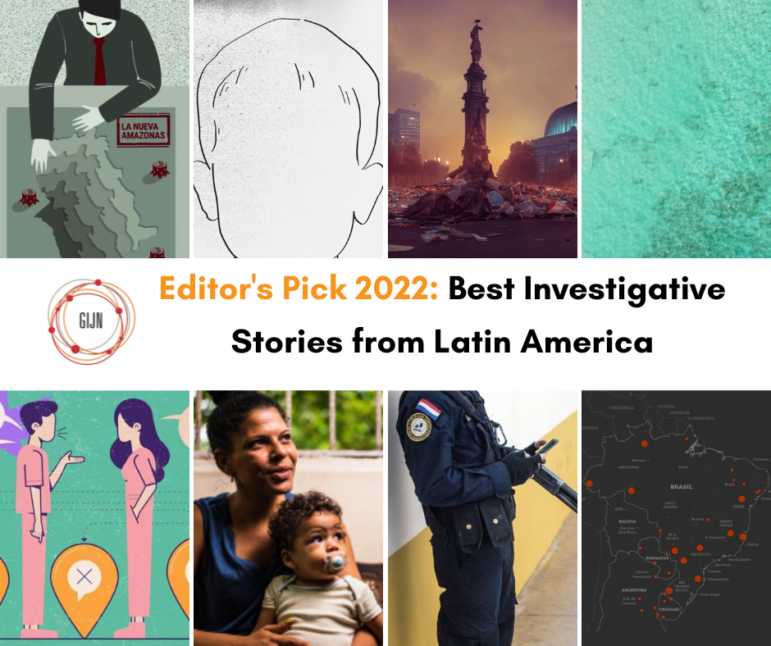 Censorship. Imprisonment. Threats and violence. Online harassment. Legal battles. Exile. The list of challenges facing investigative reporters in Latin America is extensive. Yet, despite the difficulties, journalists across the region are doing extraordinary work, holding those in power to account with world-class reporting.
"It is important that we say to our authorities that journalism will continue to exist despite the attacks," said the Brazilian journalist Rodrigo Rangel, who won the top prize at COLPIN, the Latin American Conference on Investigative Journalism, this year.
In El Salvador, too, where the press has come under a barrage of attacks, there is a determined resistance. "We will respond to the attacks with more journalism," said Salvadoran reporter Juan José Martinez. "Journalists are the last obstacle that dictators have not been able to crush."
Latin America is a continent rich in stories and with a diverse range of investigative media outlets. It was not easy to select just eight pieces to represent the hard work, commitment, and bravery of Spanish-speaking watchdog journalists. The stories below were chosen for their innovative use of tools and techniques, originality, and diversity.
Journalist Marcela Turati has spent years working on her country's crisis of missing people. In 2022, as Mexico passed the grim milestone of 100,000 people lost to the violence since 1964, a team at Quinto Elemento Lab, a small but high-impact newsroom in Mexico co-founded by Turati, created this investigative project to shed light on those who have been forcibly disappeared. Their investigation exposes trends of missing people based on their age, gender, and location, and reveals flaws in the official registry of those who have disappeared, a tool that has shown itself unable to help families find missing loved ones.
The investigation is comprehensive. The reporters dig deep into a pressing issue, exposing how organized crime, corruption, and other factors have created a situation in which the numbers of people missing grows year by year. But they also add compelling storytelling, data, and multimedia channels to explore what the team calls an "epidemic of violence." One particular innovation: the "socorrobot," a tool which uses Artificial Intelligence (AI), a robot, and WhatsApp messages to collect data that might help those trying to find loved ones. "These are not just numbers, they are stories of human lives whose absences generate pain that cannot be healed over time," the writers state. "That will affect not only this one, but also the following generations."
The Amazon rainforest — the 'lungs' of the Earth — is an enormous and protected area that spans eight countries. Parts of it are being devastated by criminal groups and illegal logging and mining, but the impenetrability of the terrain has made it a difficult place for investigative reporters to access.
For this project, a group of journalists tracked the destruction caused by illegal mining with satellite imagery in the Venezuelan Amazon. Reporters used machine learning and traditional reporting to bring light to the problem and to identify who is benefiting from it. They identified over 3,000 mining locations and deforested areas equivalent to 40,000 soccer fields, many close to clandestine runways. The team found that some of those airstrips were used by organized crime cells to move gold and narcotics.
The investigative series is a collaboration between Spanish newspaper El País and Venezuelan investigative outlet Armando.info. One of the biggest takeaways from the project was confirming the complaints of Indigenous peoples in these regions, who for years have warned about illegal mining and the devastating environmental impact it wreaks on the region. You can read more about the piece in GIJN's behind-the-scenes story.
For this story, journalists from online media outlets OjoPúblico (Peru) and Pop Lab (Mexico) take readers on a tour of some of the most emblematic places in Latin America. We stop at the Angel of Independence in Mexico City, at Machu Picchu in Peru, and on Chile's Easter Island. What makes this an investigation rather than a virtual tour? These iconic sites are full of garbage. Using AI, the reporting team creates images to illustrate how the region has become "a dumping ground for plastics from other countries."
A cross-border team spent six months gathering data on the global trade in garbage, using interactive data mapping to show how the United States and Europe send their waste to the continent. While ostensibly this is to be recycled, global recycling rates for plastic are as low as 6%, and the investigation raises questions on the long term impacts of this trade. Of the countries studied, it was Mexico that has imported the most waste: more than 897,000 tons of plastic waste in the period 2012-2022, according to the data. Mexico is followed by Peru, which accumulated 62,000 tons in the same period. The reporters suggest a bleak panorama, with an industry that prioritizes profits and governments neglecting to control these markets.
This investigative piece compiles data on more than 500 births in Cuba to suggest that many women have experienced forms of obstetric violence — or medical mistreatment while giving birth — under a health system that, reporters say, "ignores women's needs at a time in which they are vulnerable."
The project brings together powerful audio with maps and infographics. "The experience was frightening. I thought I was going to die," says the voice of one woman recorded for the investigation. Another says: "When I woke up, I felt how they had sewed me up… I had forty stitches. And they kept screaming at me: open your legs." A testimonial map gives extra context on each woman's experience. While some sources decided to remain anonymous — according to the reporters, they were afraid of retaliation by the government — the piece pulls together testimonials to paint a picture of how a healthcare system once internationally praised is failing those who use it.
The Caribbean region, and more specifically its beaches, are globally portrayed as a kind of paradise. However, large-scale tourism, accelerated coastal development, and the destruction of mangroves and wetlands on these islands make them more vulnerable to the effects of the climate crisis.
With the use of maps, infographics, and traditional reporting tools, the Puerto-Rican-based Center for Investigative Journalism (CPI, in Spanish) worked together with local partners to delve into the problem in an innovative cross-Caribbean collaboration. In the Cayman Islands, for example, with the Cayman Current, reporters found that real estate sales surpassed a record US$1.5 billion in 2021, with a third of those sales at the same beach. Meanwhile, many Caymanians are unable to find affordable places to live. Financial self-interest, the reporters conclude, is leaving these small islands and their inhabitants to fight the impacts of climate change while large sums of money change hands for the benefit of the few.
This piece from La Nación, an Argentine newspaper, investigates the diverse and complex problem of drug-dealing and gangs in Latin America's southern cone. Reporter Germán de los Santos explores the expanding power of the First Capital Command gang (Primer Comando Capital, or PCC), and specifically how its members have used prisons as a fertile recruiting ground to fuel their expansion in the region.
With traditional reporting, impactful interviews, and exclusive photographs of former gang members, the reporter shows how the group defines itself as a "brotherhood," or organized crime lodge, with strict codes and "blood baptism" initiation rites that force recruits to kill someone to be admitted. The reporter — who was longlisted for the Javier Valdez award for this investigation at this year's COLPIN awards — also uses maps and data to show the troubling expansion of a narcotrafficking gang across South America.
Rivers running black through the waters of the Amazon; animals covered in petroleum; children whose bodies ache from exposure to oil — this investigation led by Mongabay Latam reported finding over 1,200 oil spills in recent years in the Amazon, and that the world's largest rainforest is at risk from oil extraction projects and the spills that result.
Indigenous people, as well as the flora and fauna of the jungle, suffer direct consequences on a daily basis, according to the reporters. By building databases and with the use of geospatial tools, the team found failures of transparency on the part of the authorities to deal with perpetrators and prevent spills in Peru, Colombia, Bolivia, and Ecuador — four countries whose borders extend into the rainforest. You can read more about the investigation here.
It is not news that many of us saw — or even received — WhatsApp or Facebook messages from friends and family disseminating fake treatments to cure COVID-19. But in this regional investigation, reporters dug deeper to expose who was behind the misinformation campaigns during the pandemic.
This project was a collaboration between CLIP (the Centro Latinoamericano de Investigación Periodística) and Aos Fatos, and ten media partners from the region. The team revealed that public figures, including politicians and priests, and those selling supposed "miracle cures," used lies to confuse those desperately seeking protection from the virus. The investigation combines infographics, in-depth analysis of social media campaigns, and multimedia tools to demonstrate who benefited from fake news about bogus cures like chlorine dioxide. While this is a story about dis- and mis-information, it's also a piece about a tragedy in public health messaging: how fake news — contradicted by scientific evidence and health authorities — spread on social media, putting public health at risk.
Editor's note: Our 2022 Editor's Picks of the best investigative reporting from Brazil will be published early in 2023.
Additional Resources
Latin America's Leading Investigative Reporters Take Their Stories to Rio
Editor's Pick: 2021's Best Investigative Stories from Latin America
10 Tips for Founding a Successful Investigative Startup from Mexico's Alejandra Xanic
---

Andrea Arzaba is a journalist and GIJN's Spanish Editor. As a reporter and media professional, she has focused on documenting the stories of people in Latin America and Latinx communities in the US. She is an International Women's Media Foundation fellow and part of Transparency International's Young Journalists Program.