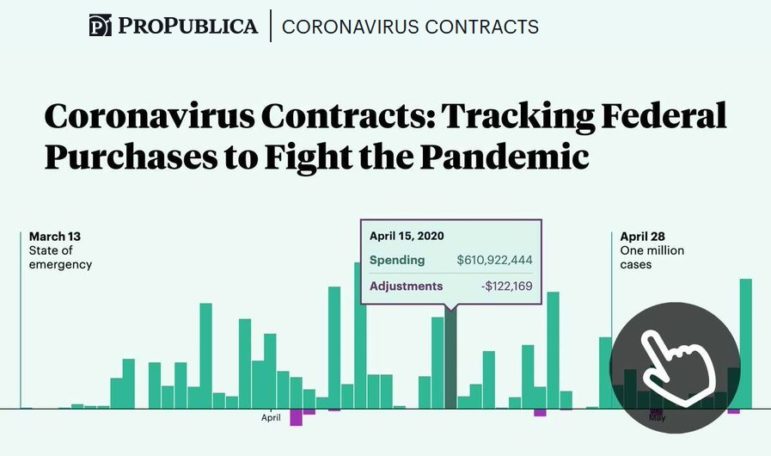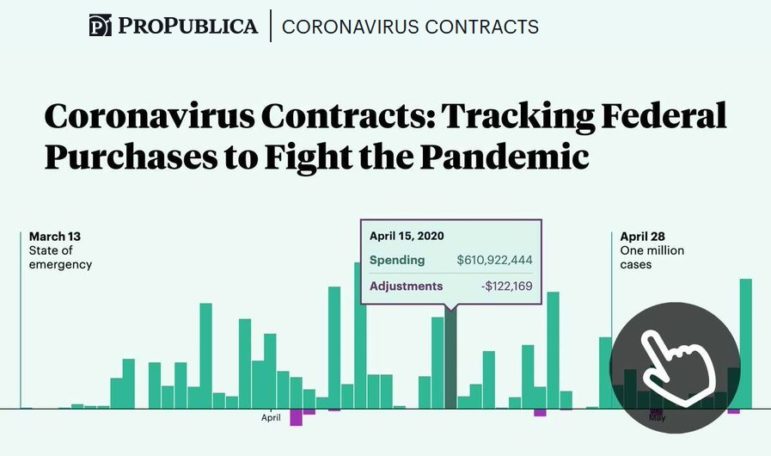 Data Journalism Top 10: Unequal Pandemic Impact, COVID Contracts, Tainted Water, Data Ethics
Which communities are most economically affected by the coronavirus pandemic? Our NodeXL #ddj mapping from May 25 to 31 finds the Toronto Star looking at the effects of Canada's lockdown on different communities in the country, ProPublica sharing a tool that lets you explore US government contracts tied to the coronavirus, the Financial Times analyzing excess mortality in 19 countries, and the Knight Center for Journalism in the Americas offering a free online course on ethics in data journalism.
Unequal Pandemic Impact
The Toronto Star, a Canadian broadsheet daily, took a look at which communities are financially hardest hit by the coronavirus pandemic, with depictions in six graphics. It found that low-wage hourly workers and women in non-unionized jobs have suffered the most negative impacts.
Coronavirus Contracts (US Database)
Nonprofit newsroom ProPublica published a tool that lets you explore contracts the US federal government is awarding. Find out who the feds are buying from, what they're buying, and how much they're paying. The data has already powered several of ProPublica's own stories, like this look at how the Trump Administration promised US$1.8 billion to 335 first-time contractors often without bidding or background vetting, and this former White House official winning a masks supply contract just days after registering his company.
https://twitter.com/paldhous/status/1265729478489067521
Highest COVID-19 Death Rates
The Financial Times analyzed excess mortality figures from 19 countries and discovered that the United Kingdom has the second-highest death rate from COVID-19 among these countries thus far, while Spain tops the list. Its analysis suggested that an earlier introduction of lockdown measures correlates to a reduced excess death toll. The FT also took a look at five indicators to assess the UK's economic recovery, including an increase in job vacancies, a rise in spending, and more vehicles on the road.
Tainted Water Series Wins Award
The Canadian Association of Journalists just awarded its annual Data Journalism Award to the Institute for Investigative Journalism and its media partners for their "Tainted Water" series. The nationwide investigation, involving 10 media organizations and nine universities, exposed the prevalence of lead contamination in drinking water in the country. Read the story here and here. The Toronto Star also produced a searchable database for lead levels in water at schools and daycare centers across Ontario (paywall).
Free Data Journalism Ethics Course
The Knight Center for the Journalism in the Americas is offering a new massive open online course, "Equity and Ethics in Data Journalism: Hands-On Approaches to Getting Your Data Right" from June 22 to July 19. Instructor Heather Krause will teach you how to identify inequity and hidden bias at seven key stages of the data journalism life cycle.
https://twitter.com/rorypecktrust/status/1267433248797458434
Mapping Solar Parks in Argentina
Brazilian journalist Mathias Felipe mapped 20 solar energy facilities in Argentina using machine learning in partnership with Dymaxion Labs. They created an algorithm to detect solar parks with satellite images throughout the country. In total, 7,000,000 images were processed and 2,780,400 square kilometers were analyzed.
German Undergrad Trends
In which university faculties are students most often married? Or most likely to live with their parents? Or to work part-time jobs? Süddeutsche Zeitung evaluated information provided by more than 60,000 university undergraduates to find trends among students who study different subjects.
Interview: Intersection of AI and DJ
JournalismAI, a project of the London School of Economics and Political Science's Polis think tank, is starting an interview series with women working at the intersection of  journalism and artificial intelligence. Polis intern Tharsa Sakthipakan interviews the Guardian's lead data scientist Anna Vissens, in which Vissens offers advice for the next generation working on advanced and emerging technologies.
https://twitter.com/CharlieBeckett/status/1254398760014274565
Online Data Journalism Conference (Russian)
The School of Data Kyrgyzstan is organizing a five day online data journalism conference for Russian speakers from June 6 to 10. Hurry if you're interested, registration will close tomorrow (June 5). Among the speakers is our own GIJN-in-Russian Editor Olga
Simanovich.
Data Journalism Digest
In case you missed it, Datajournalism.com has created a dedicated email digest of data journalism news. They also announced a partner offer for data journalists with Mailbrew, a tool to create automated newsletters.
Thanks again to Marc Smith of Connected Action for gathering the links and graphing them. The Top Ten #ddj list is curated weekly.


Eunice Au is GIJN's program coordinator. Previously, she was a Malaysia correspondent for Singapore's The Straits Times, and a journalist at the New Straits Times. She has also written for The Sun, Malaysian Today, and Madam Chair.
For a look at NodeXL's mapping on #ddj and data journalism on Twitter, check out this map.