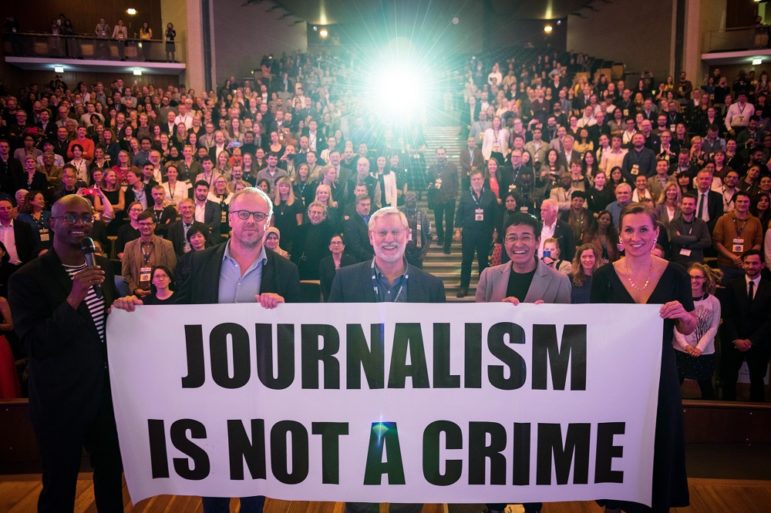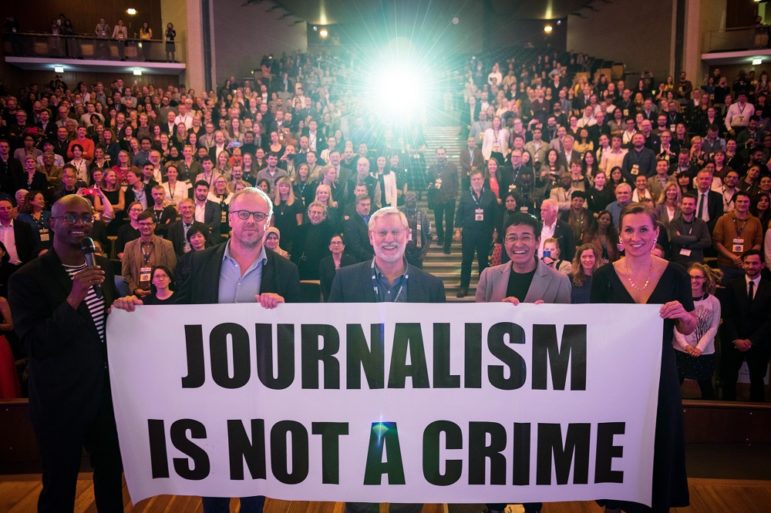 Pictured: Global Investigative Journalism Conference in Hamburg 25. - 29.09.2019 Copyright: Nick Jaussi / nickjaussi.com
Experiencing major withdrawal symptoms now that the 11th Global Investigative Journalism Conference is over? You're not alone. Over the past four days, over 1,700 journalists from 130 countries gathered in Hamburg, Germany, to share experiences, learn from expert speakers, network with kindred spirits, and find new partners for their next investigations. It was the most diverse and largest-ever international gathering of investigative journalists, and a perfect place to be inspired.
Since 2001, the global conferences have been a unique petri dish for collaboration. Instead of competing with each other, working together has never been more important for newsrooms than in this time when corruption transcends borders, illicit money flows freely through offshore channels and disinformation campaigns are replicated and adapted across countries.
In her speech, keynote speaker Maria Ressa, from Philippines' Rappler, hit the nail on the head by urging the crowd of investigative journalists at GIJC19 to "Collaborate, collaborate, collaborate!" There were so many highlights during this intensive conference that it's difficult to sum them all up but we'll hazard an attempt here.
Key: Collaborate Instead of Compete
Collaboration was the buzzword at GIJC19. With 130 nations represented at the conference, journalists digging into trans-border crime had ample opportunity to find reporting partners in the countries where their investigations extended to.
Women Muckrakers in Full Force
There was no shortage of courageous women muckrakers at GIJC19; 48% of speakers and 50% of attendees were women. We organized 13 topical networking sessions, ranging from environmental to women, and disinformation to exiled media. We also put together a powerful, all-female panel featuring Martha Mendoza, Patricia Evangelista, Minna Knus-Galan, Marcela Turati, Miranda Patrucic, Juliane Löffler, Shiori Ito, Oriana Zill, Asha Mwilu, Alejandra Xanic VB, and Sheila Coronel, that encouraged other women journalists with their personal stories and survival strategies.
Trauma Sharing
GIJC19 not only brought together investigative journalists who work in the most restrictive environments but also those from countries with relatively free press to share their reporting hurdles, harrowing experiences, and self-care tips. From investigating the murder of a colleague to uncovering mass killings, the topics covered were challenging, but necessary.
OSINT
With so much data publicly available on the web, advanced online research techniques are becoming an essential tool in an investigative journalist's toolbox. Expert online sleuths Paul Myers and Henk van Ess taught GIJC19 attendees tricks to find information on social media for investigations. We also had the Quiztime crew put journalists' geolocation skills to the test.
Mobile Journalism
These days, a smartphone is all a journalist needs to produce good video journalism. Our team of mobile journalism reporters, consisting of Konrad Adenauer Stiftung fellows, were roaming the conference venues — Hafencity University, Der Spiegel, MS Stubnitz, University of Hamburg and Designxport — to grab interviews and share interesting tidbits. Check out their work and videos on GIJN's Instagram. Want to know what apps they used? The answer is here.
https://twitter.com/gijn/status/1176730305132208128
Citizen, Indigenous, and Exiled Journalists
GIJC19 included special tracks, workshops, meet-ups, and guides for citizen journalists, indigenous journalists and exiled journalists thanks to the support of our sponsors and partners — DigLab Foundation, Native American Journalists Association, and Körber-Stiftung. See GIJN's Citizen Investigations Resource and Guide for Indigenous Investigative Journalists.
https://twitter.com/habib_b/status/1177584254454288386
Online Documentary Festival
We also partnered with DIG Awards to create an online documentary festival, allowing attendees exclusive access to watch award-winning videos from the DIG Awards, as well as one-on-one mentoring for documentary projects.
https://twitter.com/serenatinari/status/1178377017517072384
Digging Into Data
Journalists at the conference were hungry to learn about everything dealing with data, from scraping and creating databases to producing data visualizations. Over 60 out of more than 250 panels, workshops, meet-ups, and special events focused on various aspects of data journalism.
https://twitter.com/FionaEndres/status/1177234211293532161
Investigating Disinformation
How can journalists deal with or cover online disinformation campaigns affecting their country's democracy and elections? This was a topic of concern for many at GIJC19 and they were looking to each other for ideas on how to identify disinformation and its sources, and how to gather and analyze data to report on it.
https://twitter.com/jamesrbuk/status/1177869696487579648
GIJC19's International Newsroom
With a team of more than 50 journalists, photographers, videographers, and an illustrator from 30 countries, our newsroom was producing coverage of the conference in eight languages. We've got articles on the conference site, Instagram stories, and content on numerous social media platforms. Looking for speakers' tipsheets? Find them here.

https://twitter.com/WytseVellinga/status/1176771816930586625
#HoldTheLine
Before Maria Ressa, a 2018 TIME Person of the Year, had even begun her keynote, a prolonged standing ovation by a packed hall of investigative journalists brought her to tears. She addressed her similarly inspiring and courageous colleagues, saying: "Power — and bullies — will never stop if you give in to them. We need to seriously come together because an attack on one is an attack on all."
Global Shining Light Award Winners
This year's Global Shining Light Award were divided into two categories: small/medium outlets, and large outlets. The winners included IDL Reporteros' stories on Latin American corruption, Rappler's coverage of extrajudicial killings in the Philippines, and the #GuptaLeaks exposé by Daily Maverick, AmaBhungane, Open Up SA, News24, and Finance Uncovered. In addition, Africa Uncensored and the Organized Crime and Corruption Reporting project in collaboration with international media partners received citations of excellence.
https://twitter.com/gijn/status/1178040921960718337
Many thanks to our co-hosts Netzwerk Recherche and Interlink Academy, as well as our sponsors, partners, member organizations, speakers, moderators, and all GIJC19 attendees for making this conference such a success. Till we meet again at the next conference!
---

Eunice Au is program coordinator with the Global Investigative Journalism Network.  She was previously Malaysia correspondent for Singapore's The Straits Times and a general beat reporter for Malaysia's New Straits Times.