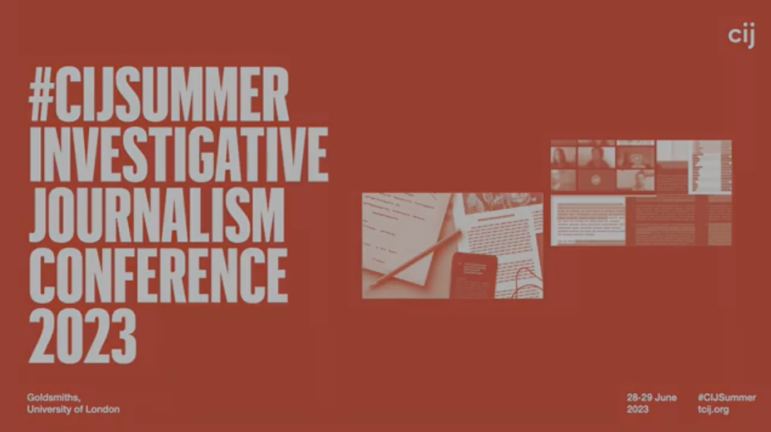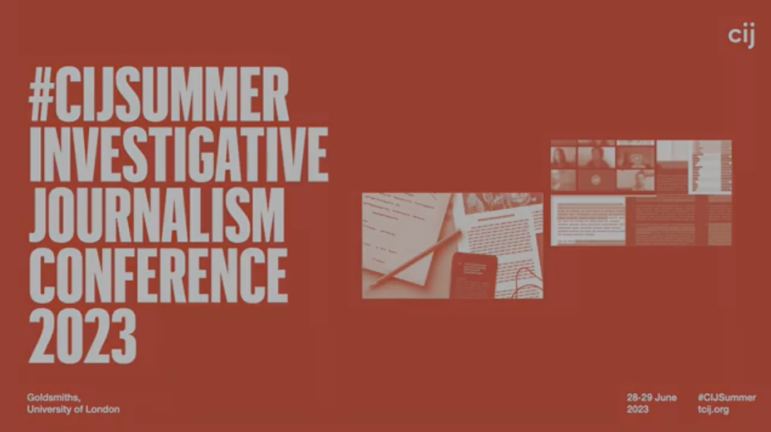 From protecting whistleblowers to going undercover in Nigeria, and from narrative strategies for investigative podcasts to the threats that drive reporters from their jobs, the Centre for Investigative Journalism at Goldsmiths, University of London, tackled the highs and lows of watchdog reporting during its summer 2023 conference.
Featuring stories about Ukraine, Afghanistan, Northern Ireland, and Nigeria, here are some of the key takeaways and advice from the speakers, including journalists at Tortoise Media, Lighthouse Reports, and the Organized Crime and Corruption Reporting Project (OCCRP).
1. Podcasts Need an Alternative Narrative Flow
Tortoise Media is a British outlet that has pivoted from long reads to investigative podcasts. Staff have been learning on the job how to craft thoughtful and compelling audio, which they feel captures the sense of slowness and openness they are prioritizing as a newsroom.
"One thing we talk about is the washing line: it's very helpful, especially when working on knotty, complicated investigations," said editor Basia Cummings. The washing line is the key narrative question a podcast seeks to answer, like how did one notable Russian-British businessman get a peerage. "Then on the washing line you can hang other things: questions about corruption in office, British democracy, Russian influence. You can deal with them along the way but they need to be threads to the story. It's making these things seem a seamless part of the narrative."
To help achieve this, she uses a big A3 piece of paper on which she draws different lines: the washing line, for the key narrative question the podcast seeks to answer, then other color-coded lines or threads for different themes and characters. That way she can see when certain themes and characters are introduced and reappear in a series. "I think doing it visually is really important. But sometimes they will only make sense to the person that is drawing them," she said.
2. Always Take Care of Your Sources
Josie Stewart was a senior civil servant deployed to the UK's rapid response team as Kabul fell to the Taliban. Unhappy with how politicians later handled questions about the withdrawal of key staff and allies from Afghanistan, and concerned the public was not being told the truth, she decided to blow the whistle.
"I obviously asked for source protection and confidentiality," she explained. "I gave that same day an anonymous interview… over WhatsApp, a voice call. Did not turn my camera on. Never gave my name. Asked them to use an actor's voiceover which they did. It was broadcast that night."
Later, however, a document she shared with the same outlet was published on social media, but was insufficiently redacted by a reporter, exposing her real identity. Stewart was suspended the same day, and later sacked. Her advice for journalists? "Just be really careful. And check."
Gill Phillips, until recently the editorial legal director at the Guardian, said it's important for journalists to take responsibility for protecting their sources. "There are very few serial whistleblowers," she said, meaning most will be unversed in how to protect themselves.
Whistleblowing, added British barrister Gavin Millar, "only works if journalists obey the principles of protecting journalists' sources." His tips include staying in close contact with a source so they know what is happening and to "beware social media [since] that's where mistakes happen."
3. On Going Undercover in Nigeria
Nigerian investigative reporter Fisayo Soyombo has gone undercover to report on Boko Haram, Nigerian corruption at the border, problems at mortuaries, abuses at prisons, and degrading conditions in mental health institutes. He's been imprisoned and institutionalized and even posed as a domestic aide to get into a military hospital.
"Trust me: a Nigerian prison is not where you want to spend a few hours. A Nigerian police cell is not where you want to spend 30 minutes. I was in prison for eight days," he said.
"I know that undercover reporting is controversial…[but] if you are reporting on a Nigerian hospital or a person with mental health issues? How do you know what it's like if you don't go in?" he asked. "When is it justified? When you know something is wrong and you need hard evidence. When you need visual evidence. You want to feel what they feel to put out the story that they deserve."
He added that despite the risks — which range from people denying the story, to harassment, bodily harm, psychological trauma, even death threats — it's been worth it. "Here's why: a story I wrote about a soldier [injured fighting Boko Haram] the army finally gave him a prosthesis. He could walk again. After my story, he got an artificial leg," Soyombo said. "For me as an investigative journalist, I don't get impact for nine investigations, but if I get it for my tenth, it's enough."
4. Know What to Ask for When Looking into AI Systems
When the city of Rotterdam started to use a machine learning algorithm as part of its welfare system, the pitch promised a system that was "more objective, more fair than a human, the premise was: no bias," said Lighthouse Reports' Gabriel Geiger. But an investigation into how the system operated found young people, parents, women, and those who do not speak Dutch all received higher risk scores.
"If you are feeding a machine learning system bias, it will reflect these same biases," said Geiger. "Rubbish goes in, rubbish goes out."
"We wanted to know: 'Can we get access to the system to understand how it actively arrives at its predictions?' 'Can we see the risk assessments?'" he said, advising reporters working on similar investigations to also ask for training data and dictionaries to help discern entries that can otherwise look like "total gibberish."
Stories about technology and algorithms are also stronger when they have a human face. So, Lighthouse Reports and Wired partnered with a local community news outlet, which spent three months networking in community centers, especially with mothers.
"It's not every day that Wired works with community papers. But it worked really well in this case. They had the ability to reach most people affected," Geiger said.
5. Creativity is Key in Storytelling, Even in Wartime
When the Ukrainian city of Bucha was liberated after the Russian occupation, the scene was bleak, and many outlets rushed to cover reports on the horrors of the occupation. But Elena Loginova, an investigative reporter for the OCCRP, wondered how they could cover it differently.
Then, she received a message log of a group chat from the residents of a building in the city. It covered everything from the horrifying to the banal — and offered a perfect insight into how those living in the city had felt, and what had happened to them.
Her team decided to use the text messages to create a scrollable story, using the chat log, CCTV videos, pictures of the building, and interviews with some of the 100 residents of the block. "I thought they would all be talking about murders. But they are talking about daily things too, it was very interesting," she said.
There were rumors featured in the messages too; about two women allegedly collaborating with the Russians. The reporters checked and found out the story was false. "It's so easy to accuse someone and endanger someone's life. In war, you want to be quick but you need to be even more careful to fact-check everything," said Loginova.
They also had to confirm that residents from the chat were happy with their reporting and with being named. "People were afraid that the Russians could come back. It's not just about the story, but the safety of these people," she noted.
While some local residents questioned why their Telegram chat log might be interesting enough for a story, mostly they wanted to get their story out. "It was always very important to have someone's view from the city," Loginova said. "These field stories can help to show atrocities."
6. Cost of Silencing Reporters
Covering the paramilitary organizations that still have a hold in certain communities in Northern Ireland, investigative reporter Patricia Devlin was used to threats. There were online "pile-ons" and moments of self-censorship, when she knew sharing a story on social media would lead to online abuse: the attacks that typically came with the beat.
In 2019, she opened her Twitter account to a message of support from a fellow investigative journalist, Lyra McKee. "I did not know Lyra, but she was loved by everyone," said Devlin. "The message was just to offer her support and that if I ever needed a friend she would always be there."
But soon after she received that message, McKee was shot dead while reporting on riots in the city of Derry. Devlin, too, would be increasingly targeted, particularly after one investigation in which she reported on paramilitary links with drug dealing.
"I had to leave my job due to the number of threats that I received" of an imminent attack, including some directed at her infant son, she said. "It really makes you think about what you do and why you do it."
As a result, she quit her job as a newspaper investigative reporter and started a podcast, No Edit, where she interviews people who have been involved in the conflict historically. Asked if she has any regrets about publishing the story that led to leaving her reporting job, she said: "Of course I've gone over that question time and time again in my head. I could have just not written that story. I could have not run it. That's not why I got into journalism so I don't regret it. I was doing it to help our people and I could not change that."
Her advice if you or a colleague is being targeted is to not ignore it, speak to somebody, a local news union or a journalism safety organization. "Most importantly, put your mental health first," she emphasized. "When you are investigating, that's tough enough, but if you are targeted you need to be strong enough to deal with the story."
7. Where to Look When Investigating Corporations
When reporting on major corporations, journalists can get lost in the figures, the documents, or chasing the wrong people. Raj Bairoliya, a former auditor with the international firm PricewaterhouseCoopers, spent 25 years investigating major companies and at the conference he shared techniques from his book, "The Investigative Journalist's Guide to Company Accounts."
Journalists should bear in mind that corporate accounting is a matter of "judgments" made by management and internal auditors, who are not truly independent, Bairoliya said. He added that the three roles in a company he considers worthy of extra scrutiny by journalists are the managing director, the chief accountant, and the auditors.
Also, he warned that companies, in their annual reports, can emphasize future "intentions" or "projections" to hide mismanagement, incompetence, or worse. "You will rarely find a subject for investigation" in these reports, he noted, but the most relevant information is typically found near the end.
Instead, Bairoliya said journalists should focus on the balance sheet, which offers a snapshot of the state of the company at any given moment. For example, if the balance sheet shows that, despite robust sales and other operations that a company is boasting about, it has no substantial cash, this should raise a red flag.
One other technique he offered for obtaining critical information about publicly-listed companies is to talk to short sellers, who often possess unfavorable information about a firm and are usually happy to pass it on to journalists. But this tactic has its own risks, as short-seller sources can bring with them strong conflicts of interest, since they have a clear financial incentive to drive down the value of a company's shares through unflattering media coverage.
Additional Resources
GIJN's Journalist Security Assessment Tool (JSAT)
Researching Corporations and Their Owners
---

Laura Dixon is an associate editor at GIJN and a freelance journalist from the UK. She has reported from Colombia, the US, and Mexico, and her work has been published by The Times, The Washington Post, and The Atlantic. She has received fellowships from the IWMF and the Pulitzer Center.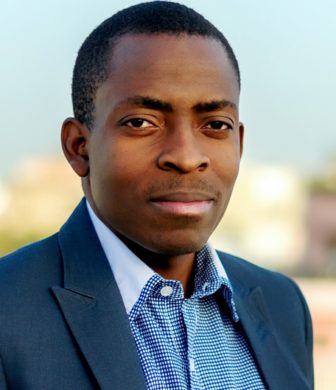 Maxime Koami Domegni is GIJN's Francophone Africa editor, based in Dakar, Senegal. He has worked as editor-in-chief of the Togolese newspaper L'Alternative, and for BBC Africa as a journalist and planning producer. He has also been West African Correspondent for the justiceinfo.net website; and collaborated with Dutch organization RNW Media on the French version of the "This is Africa" website.