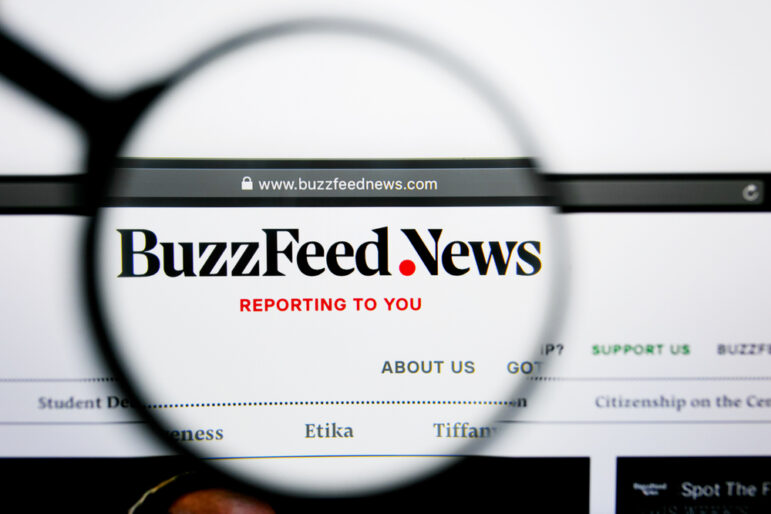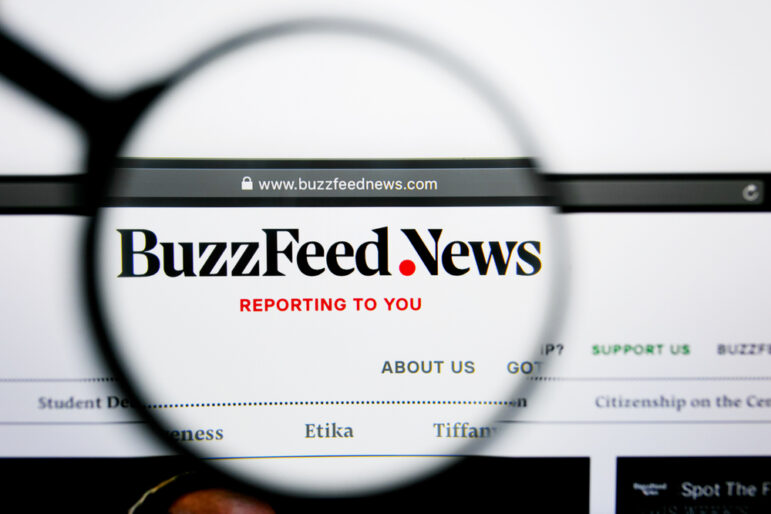 The 'Moonshot' Newsroom: An Insider's Account of the Meteoric Rise and Fall of BuzzFeed News Investigations
Read this article in
I never thought that money could look so big. One afternoon in October 2018, I'd gone to the bank to withdraw £10,000 and a handful of US dollars.
I was terrified of getting mugged on my return to BuzzFeed's UK headquarters, a cavernous modernist office in the heart of London where I worked as a reporter on the investigations team. But once I got back, we all gathered round to marvel at the bricks of lucre. Holding it, fanning it out for photos, watching the notes shimmer and fold over one another. It seemed unreal to us.
The thing is that there was a professional reason for us being given the money. My colleague Katie Baker and I were heading off on a reporting trip to Cameroon's remote rainforests to tell the story of human rights abuses against Indigenous communities.
The question that day was something that had occupied our minds for some time: how could a group of relatively young reporters, mostly in their 20s and 30s, be spending so much money on investigative journalism, and have so much fun doing it? Surely the music had to end one day?
BuzzFeed News was founded in 2011, and a couple of years later Pulitzer Prize-winner Mark Schoofs was hired to build out an investigations team. He set about creating something that bucked the trend.
Sure, it was serious work and the hours were long and relentless. But he put dreaming big and having fun at the heart of the job.
The thing is: you do your best journalism when you are having fun, and preferably with your friends. To the more serious investigative reporter, this may sound like fluff or flowery indulgence. But it's true. Being stuck in the reporting trenches can be arduous, and it's a lot easier if you're surrounded by people you trust and care about.
A Truly Collaborative Newsroom
In terms of operation, BuzzFeed's investigations unit had several ways of working that helped. Publishing was gloriously frictionless and unbureaucratic. None of the death of a thousand cuts that investigative reports face in many newspapers and magazines where every editor needs to stick their oar in.
And it wasn't a traditional top-down hierarchy. Everyone felt that they had a voice and were encouraged to bring something to the table. The act of kissing up and kicking down — tacitly condoned in so many newsrooms — was entirely verboten.
The way that Schoofs ran the investigations unit was something like half pirate ship and half family business, and it worked. People would go the extra mile for each other, sharing bylines and sources without rancor. The collaborative atmosphere was the catalyst for quality journalism.
We would have a summit each year, when the entire investigations team, all 20 or so of us, would fly to New York to plan the year ahead. It also helped to form us into a team, a unit in all senses of the word. Reporters shooting ideas around and gleaning knowledge and wisdom that they could apply to their own work, or find prospective reporting partners for special projects. That camaraderie, I believe, was a large part of what made us so successful.
Going for the 'Moonshot'
And the standards were set to match. Schoofs and the other editors on the team would always encourage reporters to shoot for impossible stories, more than ever seemed reasonable, and to get the evidence to back them up. We even had our own lingo around this: the moonshot. At the start of every project we would game out the most ambitious, "maximum" story we could reach for, and the things we should try to find. Who could have the smoking gun documents and how would we find them?
This ambition dictated the unit's approach to project length. In essence, deadlines were determined by when a story was finished. Any reporting had to be pushed to its logical conclusion with no stone left unturned. While there are downsides to this approach — namely that projects could get stuck in development hell — it liberated reporters to chase the most difficult stories because they knew that they didn't have to turn it in within a short timeframe.
Money Is (Almost) No Object
Key to this approach was resources, and we had plenty. Let me tell you what journalism with good resources looks like. We had brilliant security experts who could advise on travel around the world and also how to remain digitally secure; newsroom developers available at the drop of a hat; and fantastic newsroom lawyers who fought tooth and nail for stories.
Does that sound familiar to you? Me neither. Most journalists — especially those in jurisdictions unprotected by the US First Amendment's right to free speech — are frequently told that their stories are too risky. Even if they are absolutely true.
Another thing that differentiated the investigations team was its global outlook. When in 2014 BuzzFeed decided to hire a team of investigative reporters in the UK, I couldn't wait to join.
Setting up an investigations team in the UK was a smart move. At the time there was growing awareness of Russia as a threat, and that London acted as a clearing house for financial and legal issues of interest to US readers. It was a gateway to the world.
To my knowledge it was the first time that a US news organization had stationed an investigative team, together, outside of America. Now it has become a standard approach — The New York Times set up its international investigations team after BuzzFeed News' success.
Heidi Blake, a trailblazing reporter from the UK's Sunday Times, was hired as the editor of the British contingent. An astonishingly prodigious investigative reporter in her 20s, she hired in the same way that Schoofs had, focusing on young reporters keen to make their mark.
Starting with a Bang
The first story that our UK investigations team published was in keeping with our aspirations to blow the doors off. We got information that a phone card business whose owner was a major donor to the Conservative Party had a team of men dropping suspicious bags of cash off at post offices around East London.
And how do you do a story like this when you are full of the unbounded ambition of youth and near limitless reporting resources? Let me tell you: a weeks-long surveillance operation tailing their cash handlers around the city and filming them dropping off their money.
We weren't going undercover — we never interviewed anyone or entered private property under false pretenses. But we didn't want their bag men to notice that we were tailing them. Given our relative inexperience in the spooky arts, we had to get an ex-military espionage type to teach us how to follow people and not get caught. We also bought equipment for covert recording. And, yes, we wore wigs.
At first it was a bust. We just couldn't keep up with the cars we were following. But once we got the goods we did the on-the-ground reporting to learn more about what was going on. We chatted to postmasters, financial crime experts, and pored through company accounts for hours on end.
We couldn't have been prouder. But when the story launched, there was near radio silence. My colleagues who had only worked in legacy media institutions were dismayed. Still, the balance of power was shifting. Once upon a time, your story had to get picked up by the biggest publications to make waves. But in this brave new digital world, readers could find you directly.
We stayed on the story, and eventually it went mainstream, especially after we reported that the British tax authorities refused to help the French government investigate the firm citing "political donations." Several of the firm's staff are currently being tried in France for criminal money laundering.
Making a Global Impact
Over the years, our reputation as an investigative unit grew, both in the US and the UK, and our stories won major awards including two George Polk Awards, two British Journalism Awards, a National Magazine Award, and Pulitzer finalist honors three times. The team was also a resource for the wider newsroom, providing advice and assistance to other reporters. One of our managers edited the Xinjiang prison camps story that won BuzzFeed News its Pulitzer.
An investigative series on misconduct by a Chicago police officer, authored by Melissa Segura, helped exonerate or free 37 people from prison, seven of whom were cleared in the first mass dismissal of murder cases in US history.
Two of our team laid bare the full extent of former US President Donald Trump's effort to build a 100-story building in Moscow. We broke the Jerry Falwell, Jr pool boy scandal, profiled an extraordinarily prolific contract killer who lived and murdered in California's Central Valley, cracked open the NYPD's disciplinary records, spurred state legislators to change rape laws, and revealed that US Special Forces veterans were carrying out mercenary assassination raids in Yemen.
That story for which I withdrew £10,000? The World Wildlife Fund (WWF) acknowledged after our reporting that it had, for years, failed to exercise financial oversight and ended up funding alleged human rights abusers. That investigation also raised awareness of how conservation projects had the potential to harm Indigenous communities.
Some of our best stories — like the series on Russian-linked deaths in the UK that became the bestselling book "From Russia with Blood" — involved deep Transatlantic cooperation.
Another major project was the FinCEN Files, based on a leak of US Treasury documents, for which we partnered with the International Consortium of Investigative Journalists (ICIJ) and newsrooms around the world. While managing these kinds of collaborative projects is difficult, and takes energy to maintain, it harnesses the energy and ability of hundreds of reporters worldwide.
A Newsroom Falls Apart
Unfortunately, the FinCEN Files would be one of our last major projects. In March 2022, not long after we emerged from the COVID-19 pandemic, the company announced that the investigations unit and other parts of the newsroom would be closed down. Layoffs followed later that year. And then in April 2023, company management decided to shutter the entire BuzzFeed News division to save money. (For a deep dive into BuzzFeed News's full legacy, check out this incredibly detailed oral history of the site.)
Things had started to change before all that, however. The later years of BuzzFeed News, once cuts started coming in, were devastating. In retrospect, there had been too much spending and too much hiring in the newsroom: scale was the key to success in 2015, and the company invested at least partly on the belief that revenues would follow.
But as the internet changed and advertising monies were siphoned away to Google, Facebook, and other tech behemoths, the cost of supporting a vast retinue of reporters couldn't be sustained. The same story has played out in almost every digital newsroom.
A lot has been written about Jonah Peretti and BuzzFeed News and much of it misses one fundamental truth: in the 2010s it looked like the only direction for digital news was upwards.
"I think the gamble that didn't pay off in the long run was tying ourselves to a plan wherein we got all our readership and revenues from the big social media platforms," says Alex Campbell, a former colleague of mine at BuzzFeed investigations. "If that was our core bet then that bet lost, but the answer to that would have been to not take the bet, and we wouldn't have had a fantastic eight or nine-year run as an investigative team."
There isn't always a business case for investigative reporting. Sure, it can attract readers, or underpin membership drives. And the intellectual property can be packaged up and sold. But the reality is that in every newsroom, no matter how successful, investigative reporting is likely to be a loss leader.
In my view, BuzzFeed's leaders have received a raw deal in the press. For years, Peretti and the leaders of BuzzFeed supported our journalism to the hilt. Until the ax finally fell, we had support from our corporate bosses, who never shied away from lawsuits or took the easy option. It was journalistic maximalism every hour of the day. They also heavily invested in investigative reporting, which was supported across the company.
The problem at BuzzFeed News was simply that it didn't find a way to make the business sustainable. People often referred to BuzzFeed News as a rocket ship: doubtless it would burn brightly, but nobody quite knew if it would take you to the moon or blow up in a fiery inferno. Turns out, it was both.
Additional Resources
Interrogating China's "Google Maps" to Investigate the Xinjiang Detention Centers
Lessons in Transitioning from Legacy Media to Digital
Tips on Investigating Disinformation Networks from BuzzFeed's Craig Silverman
---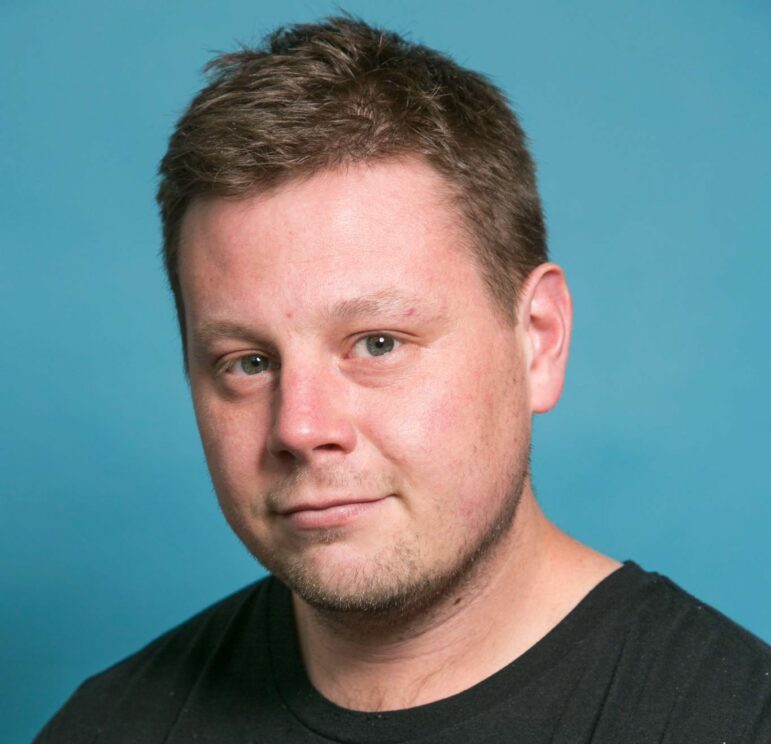 Tom Warren was an investigations correspondent at BuzzFeed News, and a two-time Pulitzer finalist. He reported on the FinCEN files, investigated Russian activities on British soil, dug into systemic failings at the National Crime Agency, and told the inside story of a rogue bank. Prior to joining BuzzFeed, he won New Journalist of the Year at the British Journalism Awards and worked at the Bureau of Investigative Journalism.