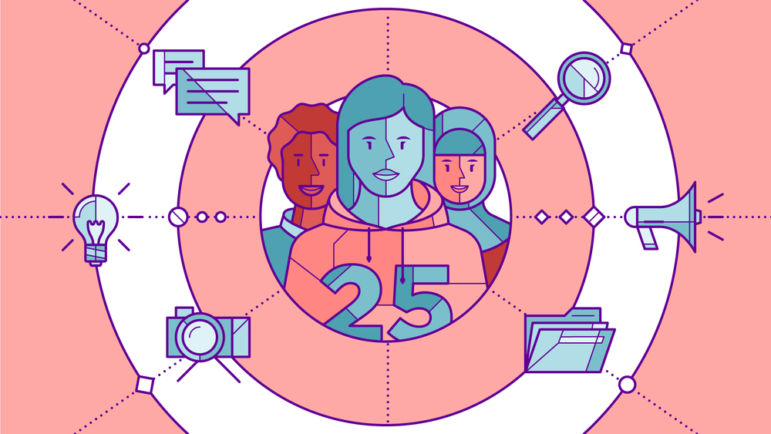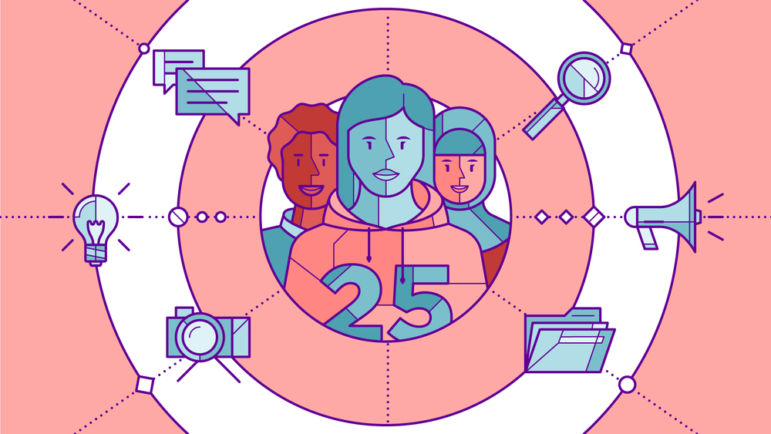 Illustration by Lukas Kouwets, Momkai.
Chicas Poderosas, a movement to train and connect women working in data and investigative journalism across Latin America, has a lot of jobs to be done. The five-year-old organization wants to foster communities of practice in 13 countries, teach practitioners through technical trainings in underserved regions of the world and manage a new ventures lab for independent media projects. It also manages collaborative investigations like this one about the decriminalization of Latin American abortion, which involved the work of 27 reporters in 18 countries.
Even with a 10-person board of directors, it's a major undertaking for a small crew: the four-person paid staff includes a community developer, communications expert, operations director and executive director. Mariana Santos, Chicas' founder, said, "We have 50 women working diligently on our projects [beyond their jobs in news organizations] in their countries and without pay." (Like many organizations, Chicas is working to fundraise for their volunteer contributors.)
When the Membership Puzzle Project asked, "What do you not have time to do that you would do if you had more people?" Santos responded with 27 separate tasks, including "mentor, motivate, train and prepare the community to run their local events, investigations and initiatives; redesign the website; make the website run and run safely; run events; and deliver digital media training."
This list of requests is long but not uncommon. As City Bureau news lab director Darryl Holiday told Heather Bryant for this project, "There is a circle that you can create by bringing people into the production of your work where it doesn't have to be a monetary exchange, there can be training involved, there can be a democratization of the skills that journalists have, there can be a sharing of power that journalists have. And you can, in some ways, co-create transparency and access."
The Membership Puzzle Project has been thinking a great deal about participation design and examples of successful practices for community members to be involved in news reporting, production and site growth. With a deep nod to Melody Kramer's 2015 Nieman Lab report in which she asked whether there is "an alternative vision of membership that relies on relationships more than money?," we've been interrogating what modern member participation looks like and who's doing it well. Here are 25 ways to invite members to create journalism with you, using examples of live and recent experiments.
Why People Want to "Pay in Participation"
After talking to hundreds of supporters of independent news sites about their desire to contribute, we can break down their motivations for contributing into six types:
 Listening to and acting on these motivations can be both revenue-generating and money-saving (in that in-kind contributions of time, energy and skills can allow sites to spend their resources elsewhere). You may have community members who can give their time and talent, but not their money. They deserve to enjoy the full benefits of what it means to belong to your site. Whether individuals currently contribute financially to your work or not, these requests can present participation opportunities that make good use of staffers' valuable time. We know you're busy and constrained. As Hearken writes, there are significant "logistical challenges to implementing listening and engagement workflows [that] are hard to overcome," and we'll keep sharing examples of resource-considerate and flexible ways to work with members.
Matching Motivations with Tasks
We're not the first people to promote the value of participatory approaches, and they've earned a name among marketers: "co-creation." The people who coined the term, Venkat Ramaswamy and Francis Gouillart, point to profitable examples like the platform MyStarbucksIdea.com and the Nike+ customer co-creation initiative. In their paper "Co-creation experiences: The next practice in value creation," the pair wrote that "informed, networked, empowered and active consumers are increasingly co-creating value with the firm … It is this dialogue, access, transparency and understanding of risk-benefits that is central to the next practice in value creation."
Co-creation yields different answers to questions about what to design and how because they have a different beginning. These more collaborative projects start with a focus on the experiences of community members. (Marketers have rarely focused on this dialogue, by the way. Social media and conversational marketing are changing this, but historically, the focus of their work has been broadcasting what they do and why you should buy it, not facilitating conversation. Sound like the news business at all?)
What This Looks Like in Practice
Real-world ways that people currently create value (i.e., contribute to news coverage and organizational revenue while also serving their own goals) are below. They're organized according to member motivation in the hopes that you'll approach your own participatory programs from what community members – not just news organizations – need. This list is far from complete, and we hope you'll share your own organization's attempts to involve what individuals know and can do for you.
I Want to Learn Something New: Curiosity/Learning
News organizations can offer opportunities for:
1. Training and apprenticeship: At The Bureau Local in the UK, community members learn as part of regular collaborative reporting days and have helped scrutinize local council budgets. Bristol Cable co-founder Alec Saelens has written about other newsrooms that host journalism instruction and peer learning.
In Chicago, City Bureau has gone further, creating "an open source community designed to standardize, scrape and share [public] meetings in a central database" through their Documenters training program. The City Scrapers guide is freely available. Writing for the Lenfest Institute, Joseph Lichterman wrote that it was an "important product for its newsroom, but it also provided training opportunities for Chicagoans and a non-monetary way for people to contribute to the non-profit organization."
MuckRock, a nonprofit collaborative news site, helps members learn how to request government documents. For its investigation into for-profit prisons, MuckRock listed five ways readers can help that don't include monetary contributions, such as researching lobbyists and exploring municipal divestment from private prison stock.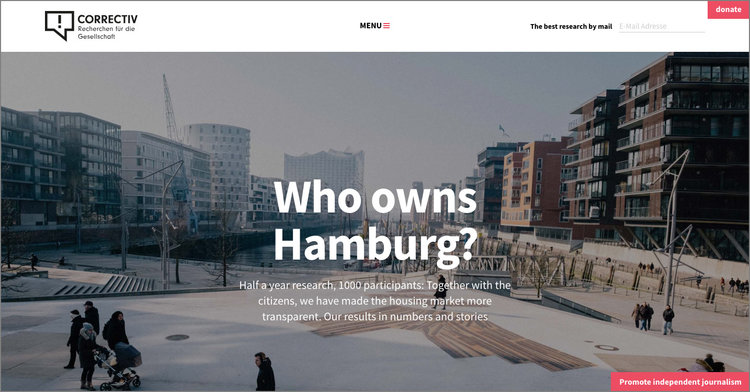 2. Data collection: In Germany, Correctiv convenes people beyond newsroom staff who have relevant knowledge to offer through its non-profit research platform CrowdNewsroom. Its most recent investigation into housing market trends for a "Who Owns Hamburg?" project featured contributions from 1,000 people. This photo below from Ivo Mayr shows contributors in a CrowdNewsroom meeting.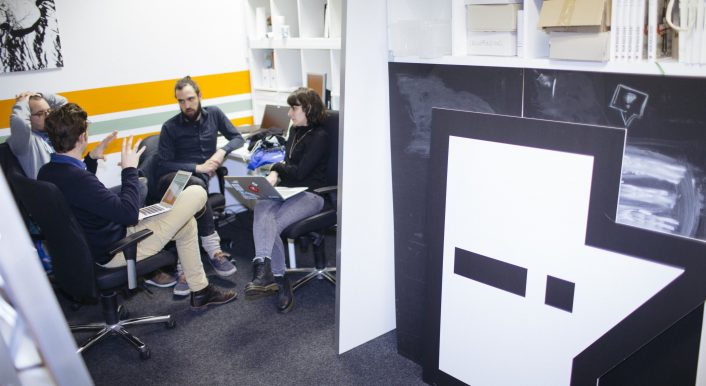 3. Data review: The New England Center for Investigative Reporting hosts quilting bee-style data records examinations and has gathered citizens to review large collections of public finance records. At Argentina's La Nación, dedicated volunteers helped with an investigation into public corruption by coding politicians' expense reports and helping to identify fraud.
The Lens in New Orleans offers public records workshops into criminal justice, education, elections and land use topics that regularly welcome involvement from dozens of community members.
I Want to Contribute Expertise: Show a Superpower!
4. Code contributions: At the Daily Maverick in South Africa, members ("Insiders") have offered technical advice to make the site run more efficiently. Trump News Today site WTF Just Happened Today's readers have contributed code (and much more) to the project, which is open source and hosted as a public GitHub repository.
5. Technical proofreading: Publications like Scalawag and East Lansing Info regularly solicit skilled volunteer editors. At De Correspondent, clean tech and mobility correspondent Thalia Verkade sought out the help of three readers with relevant expertise when researching battery technology capacities. She credited them at the end of the story: "In writing this piece, I was assisted by quite a few experts and members who proofread my work, and whose expertise exceeded my own. Yvo Hunink guided me back from a dead end involving diesel generators and pointed out the importance of peaks in energy demand, for which Luuk Veeken then provided a mathematical model. Jan Derk Stegeman alerted me to the work being done by Mark Jacobson. Many thanks to all of you for your time and effort. Any mistakes in logic or calculations are purely my own."
6. Language translation: In Hungary, investigative site Direkt36 asks for and receives regular translation help from members, including German translation for a story about Hungarian political ties to Russia that ran in the German site Krautreporter. In a combined translation and data review activity, Direkt36 supporters who speak Russian helped make sense of Russian documents concerning Hungary's planned new nuclear plant being built by Russia's state nuclear company Rosatom.
At the international community of journalists and activists Global Voices, contributors write, translate, edit, share ideas for stories and provide tech and safety support. Volunteer translators receive credit for their work translating written work into dozens of languages, and some use the experience to build translator portfolios.
7. Contributors of needed professional skills: As a small team working to create "a more participatory Southeast Asia," New Naratif's volunteers regularly offer administrative and accounting help. After The Colorado Sun's crowdfunding campaign, supporters with legal expertise reached out to offer pro bono help incorporating as an LLC and registering as a public benefit corporation.
In 2017, as part of a move away from advertising, the digital magazine A List Apart offered two main ways for supporters to join their "ecosystem of practitioners": make a monthly donation or join a team dedicated to specific areas of expertise including community service, editing and marketing. The call for volunteers received hundreds of responses and resulted in the creation of new groups focusing on community and education/outreach.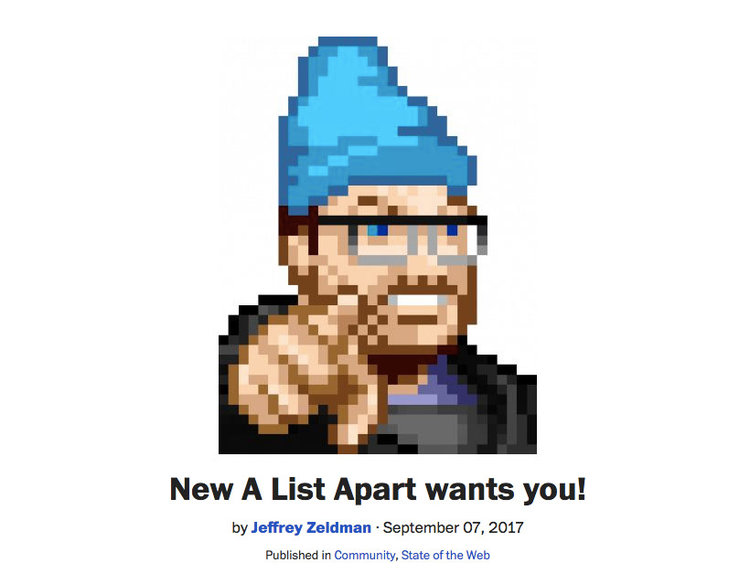 Jeffrey Zeldman from A List Apart wrote that "how these groups will work, and what they will do, is largely going to be determined by the volunteers themselves. By adding you to Basecamps a few at a time, and hopefully identifying leaders in each new group as it begins forming, we hope to provide a lightly structured environment where you can design your own adventures. It takes a little longer this way, but that's by design." (As more evidence of the importance of asking, the same callout also uncovered audience members who are strong in design and web development who wanted to support the magazine by volunteering their skills.)

I Want to Have a Say and Be Heard: Voice
8. As sources: Participants in KPCC's Public Insight Network from American Public Media sign up to become sources on stories and topics they know well, from public safety and housing to neighborhoods, culture and race. They're voluntarily tracked through a database that allows the station to send emails to individuals or groups and gives sources regular opportunities to report back on what they're seeing. (KPCC's commuting and mobility reporter Meghan McCarty Carino exemplified how the Public Insight Network can deepen interactions between listeners and journalists as part of our Join The Beat community of practice.)
9. As question "askers": There is no shortage of instances of news sites soliciting story input in the form of materials and questions from members of the public. At Brazilian fact-checking site Aos Fatos, users share an average of 50 tips daily with requests for checks into potential misinformation. During the country's recent presidential election, users shared 700 pieces of information for debunking via WhatsApp.
In Canada, members of Taproot Edmonton can help plant the seeds for story ideas in the newsroom's community "Story Garden" forum. Ideas that receive positive responses from other members are then assigned to Taproot reporters for investigation, such as how an increase in the number of high rises in Edmonton will affect the training of local firefighters and how Edmonton came to be known as a prairie city.

The Trace, a newsroom that covers gun violence and prevention efforts, uses engagement and listening services from Hearken to collect readers' questions. It then goes a step further by also asking people to vote on suggestions that other readers have submitted and indicate the questions they most want to see addressed.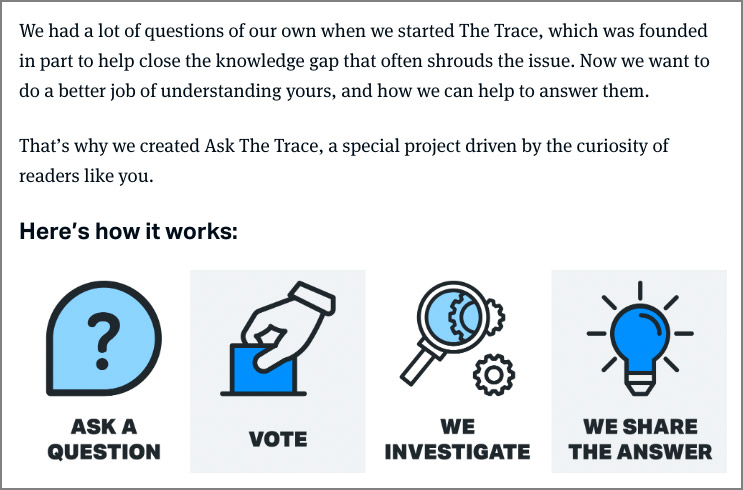 10. Product testers: At the BBC, audience members are asked to rate experiments through the site Taster. Reveal from the Center for Investigative Reporting in California hosts a group of "Reveal Insiders," a virtual user panel to which it sends work-in-progress digital presentations for feedback. About 30 percent of the 500 Insiders regularly respond with reactions, and this has helped the organization grow its capacities for regular audience listening. Routinely seeking out the guidance of relevant audience members can both identify user needs that you might meet with well-designed products and features — and help avoid costly mistakes in developing things people don't want (or even misrepresenting community members in coverage).
At Kinzen, testers of a new "personal app that empowers its users with a daily news experience that earns their trust" try the app, identify bugs and provide regular feedback via surveys. People who take part will earn six months of free service of the app when it launches next year.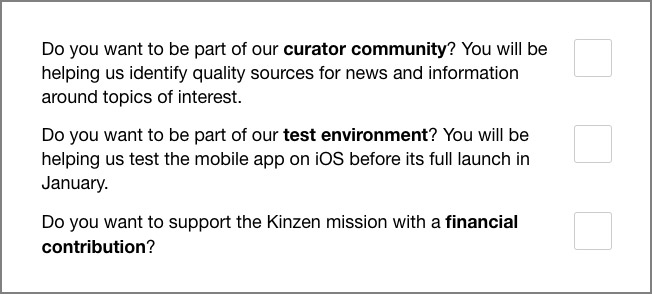 11. Providers of oral histories: Since it launched in 2003 and has collaborated with NPR and affiliate stations around the United States, StoryCorps has become a popular example of the power of recording and broadcasting unscripted personal conversations. Scalawag editor Rachel Garringer's Country Queers uses photography in its multimedia history project to document the experiences of rural, small town and country LGBTQ+ people. And In Miami, WLRN collaborates with HistoryMiami and The Miami Herald, among others, to share the #MiamiStory series of stories from people in the Magic City.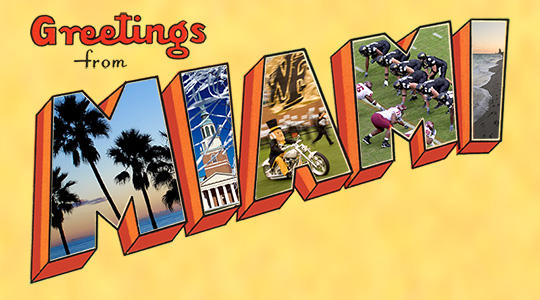 12. User advisory and community board members: Many stations and sites rely on community members as board members and directors, and individual projects like the Citizen's Religious Hate-Crime Watch from FactChecker.in have advisors.
At Global Voices, when the core team and board of directors was no longer able to manage the 6,000-person contributor community mentioned in #6, they put out a call for applications for a community council. The intention was for "a group of community members who will commit to considering and debating, in a thoughtful, structured fashion, the key issues that we need to decide as we craft our plans for the future." The 184 people who came forward debate issues around four topics: organizational structure, breadth of coverage, fundraising and level of inclusivity.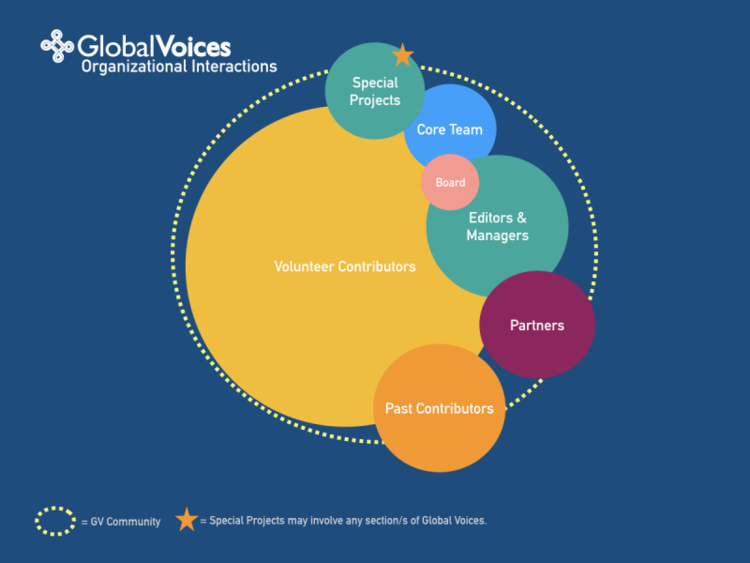 13. Contributors of original journalism: The OpEd Project works with community groups and universities to identify and media train underrepresented experts, especially women, to take thought leadership positions in their fields through opinion piece writing and recording. The New Tropic, WhereBy.Us' Miami publication (and former employer of our operations manager Ariel Zirulnick), accepts community member pitches for opinion pieces. Is "Your View" series has featured stories about local public transportation, treatment of black tourists and more.
14. Contributors of tips: At VTDigger in Vermont, community members can share tips and docs through Tipster, the site's forms and interactive feature set that uses DocumentCloud. Whistleblowers sharing information with sites including The Intercept, ProPublica, the New York Times and the Washington Post can use SecureDrop, encrypted email and Signal, among other means.
I Want the Inside Scoop and Learn About Your Process: Transparency
15. Co-creators of ethics policies: At Global Ground, a cross-Asian collaborative reporting project, readers provide feedback on code of conduct and code of ethics policies. As part of its mission to build a sustainable organizational structure, the Colorado Sun created a reader-driven ethics policy "as a guiding light for journalism and practices." Dozens of readers of the startup news organization named the terms by which they expect the newsroom to behave.
Writer John Ingold said, "I was really surprised — and encouraged! — that all the suggestions were constructive and made sincerely." He called it a faith-restoring experience: "A lot of people seemed to be fed up with both sides-ism and really encouraged us not to put ourselves in a bind by requiring everybody get equal say or their arguments be treated as equally valid," which led to creation of a "fairness and thoroughness" policy. Readers also helped generate policies about transparency in funding and restorative practices to use in the case of mistakes.
16. Voters in decisions: The Bristol Cable schedules regular checkpoints with their member owners through monthly cooperative meetings (pictured below) and an annual general meeting. During these sessions, members receive financial and organizational updates, discuss stories that may be reported and vote on the Cable's budget.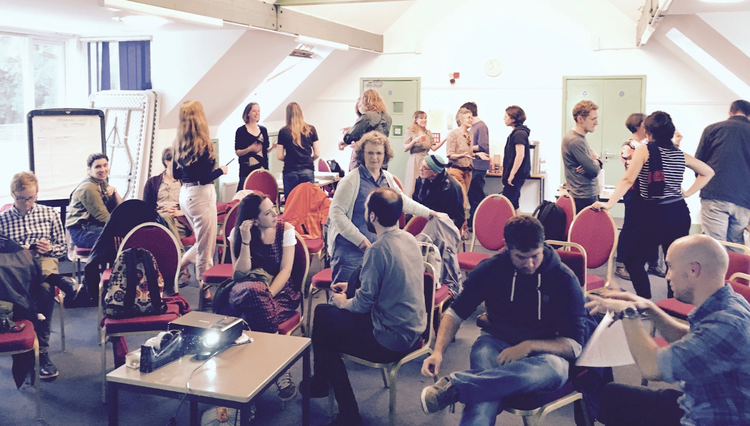 17. Funders: Whether helping to fund specific lines of coverage for The Guardian or Newslaundry, contributing to investigative operation costs or crowdfunding individual stories of interest, giving money is the most common way sites ask people to contribute. Backers in The Correspondent's current 30-day fundraising campaign choose what they pay and can contribute their expertise. At The Ken in India, patrons can underwrite subscriptions for other readers who might benefit from the site's tech, startup and healthcare coverage. And in Argentina, RED/ACCIÓN is experimenting with having brands that would buy ads if the company offered them underwrite memberships in bulk for students and worthy others.
The Dublin Inquirer wrote to their readers that they wanted to commission a survey of "150 people who are homeless to get their views on emergency accommodation and the freephone service in Dublin. But we're small and we can't afford to cover the cost of this project ourselves. So we've been crowdfunding the money to cover the cost." The resulting data resulted in this illustrated piece and additional coverage.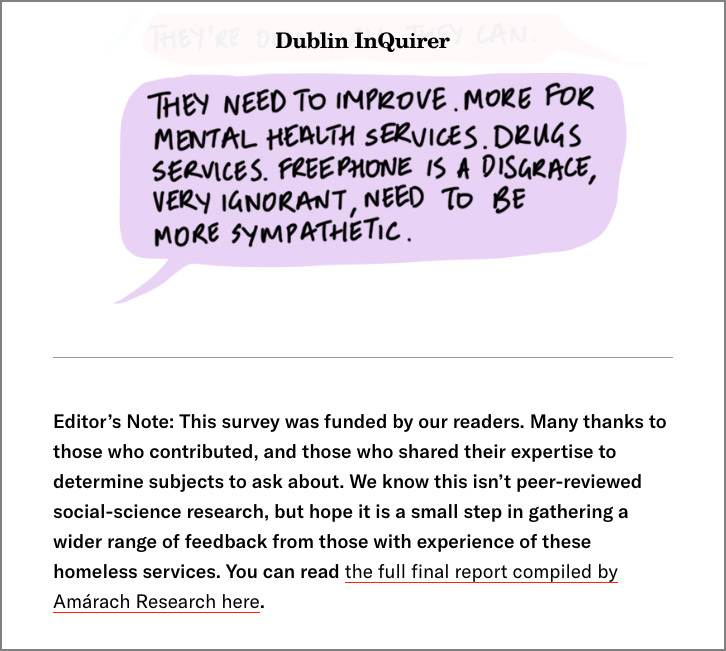 The sites represented in this article represent a range of funding models, including grant-funded projects and for-profit sites with advertising. All are resource-constrained. They've shifted money, staff and supporters toward audience engagement and fundraising. We'll be writing more on the shift that's required to involve more people in the ways that news organizations do business (and we want your ideas!).
I Want to Show Some Love Because This Topic/Your Public Service Mission Matters: Passion
18. Brand ambassadors: At North Carolina education site EdNC, educator "EdAmbassadors" share instructional practices and periodically select stories. Readers and superfans of TheSkimm can join as Skimm'bassadors to help spread the word about the site's conversational daily newsletter. Some participants give feedback and participate in brainstorms with TheSkimm's staff and co-founders. They receive benefits including invitations to private events and a dedicated community of TheSkimm readers, as well as extra content, early access content and physical products. Here, some of the Skimm'bassadors who helped register 70,000 people across 27 cities to vote in the 2016 US presidential election.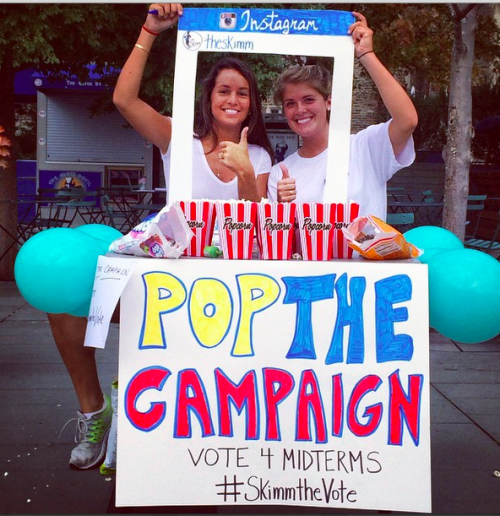 19. Tracking and reporting trends: In May 2018 Aaron Sankin and Will Carless, a pair of reporters from Reveal from the Center for Investigative Reporting, put out a call to readers of their Hate Report newsletter asking for help in tracking hate activity. They'd been producing a weekly newsletter about the alt-right for a year, were reaching 2,000 subscribers and saw potential to offer some its most engaged readers a way to "help us investigate hate." (If you're interested in this idea, see the projects featured in a set of recurring tweets from Jay Rosen that begin "three of the most powerful words in journalism: help us investigate…".)
Twenty-five people responded to the Hate Report call and the team crafted guidelines to set expectations for what they wanted their volunteers to do (and not do). To make sure their effort wasn't sabotaged, the reporters vetted and verified their volunteers' identities. They designated one volunteer as the coordinator of the project, which was part of the reporting pair's participation in our Join the Beat community of practice.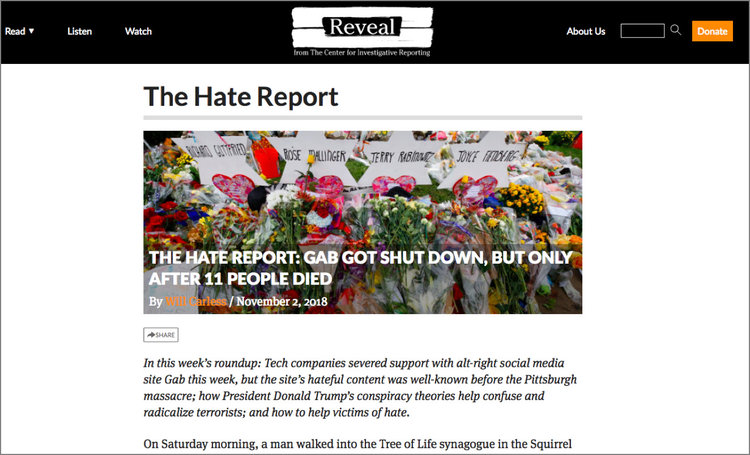 Aaron and Will asked the Hate Sleuths, as they call the volunteers, to listen to episodes of podcasts from alt-right groups or platforms and report items of note, which they then reported to followers of the project through the newsletter. Will said he sees potential for the Sleuths to help often and significantly to build both volunteers' experience and journalistic results. On a big project, he says, some research tasks could be divided up and handed off to the volunteers. The Sleuths might be trained on making public records requests, and even brought together for an in-person gathering sometimes. Overall, he said, "it's a research multiplier."
"I was a beat reporter for 10 years and had great sources who I could go out and ask for things, [but] I was always driving the line of inquiry," Aaron said. By drawing on the Hate Sleuth volunteers to search out information, he said, "We can kind of shine a bunch of torches into a corner and see what we find."
20. Guides and hosts: Like many US public radio stations, KQED offers a volunteer program for people to participate as pledge drive callers, tour guides and docents at the Northern California station. Community members have led neighborhood tours in Miami for The New Tropic. In an example of underwriting physical space, a podcast listener called PRX last year to offer his personal garage for a new Washington, DC-area podcast studio and training space after learning about the organization's Podcast Garage in Massachusetts, below.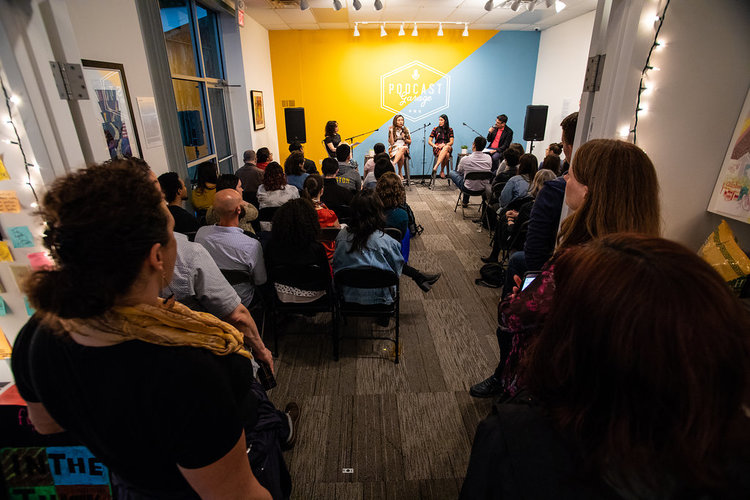 I Want to Be a Part of Something Bigger: Community
21. Comment moderators: Follow the Money, a Dutch investigative finance site that is funded by its members, benefits from professionals who share relevant subject matter expertise in the comments to improve others' understanding of the coverage. Top comments are highlighted on the front page of the site, something we rarely seen on publishers' sites in the interest of squeezing in more homepage stories.
MinnPost has trained five readers and a former staff member to regularly moderate user comments on the site. They told staff that they moderate because they wanted to strengthen the community:

22. Trainers: In India, Google is partnering with sites including BoomLive to train 200 working journalists about fact checking and fake news busting. The Tyee's Master Classes in Canada feature community members leading in-person instruction into organizing, media training and more.
23. Onboarders of new members: In partnership with the Dutch news organization De Correspondent, we'll soon be learning what current and prospective members of their highly collaborative member-backed approach might teach each other. We'll pilot a "meet a member" project to match members of the Dutch platform with people who are curious about The Correspondent, their planned English-language site. Questions we think they're likely to get answers to include "How can readers help improve De Correspondent's journalism?" and "How does De Correspondent build in room to include its readers?"
24. Event programmers and volunteers: We're encouraged by sites that invite members to gather one another. Sites with enviable in-person community involvement include the Korean Centre for Investigative Journalism-Newstapa, Republik in Switzerland and Positive News in the United Kingdom. In Uruguay, La Diaria's readers – not company staff – self-organize and lead events and workshops in the organization's space, as seen below in a live debate about "Feminism and the Future." Founder Damián Osta Mattos explained, "This isn't something that we offer as a service, but rather something that has happened organically. The events are mostly cultural (book clubs, live music) and gatherings with social and community-oriented goals. The only thing we don't allow are events by organizations affiliated with political parties."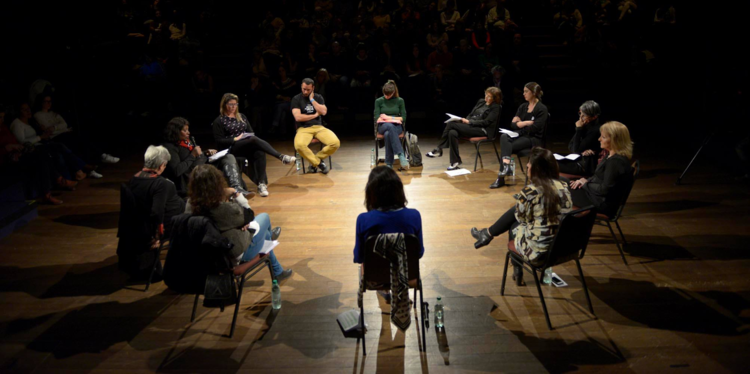 25. Social media account takeovers: The WhereBy.Us local brands regularly hand over the logins to their Instagram accounts to community members hosting events or doing projects of interest to their audience. Those community members take locals behind the scenes of events through Instagram Stories.
Another area where we're eager to see additional experimentation is as enforcers of community standards, and we're eager to hear what else you'd add to this list.
A Few Good Practices
These motivations aren't mutually exclusive, and you can research what your own stakeholders want through conversation and surveys with them. In considering these examples of what Tim O'Reilly called the "architecture of participation," you'll see that there are a range of ways to account for different individuals' abilities, lifestyles and limitations.
The Membership Puzzle Project cautions against treating contributors as free labor to be used and forgotten (that's a short-term and ill-advised strategy when it comes to community building!). There needs to be mutual benefit on both sides and meaningful acknowledgement of collaborators' efforts. The New Citizenship Project has an "everyday participation" toolkit that can be used with colleagues to come up with non-financial rewards and experiences to thank people for their contributions.
Mozilla, where Emily (one of this article's authors) used to work, has identified another principle of good practice in their research into open source contributors' experiences: contributors want recognition. Rina Jensen and her service design team write on the importance of contributors being authentically appreciated and made visible: "Something as small as a sticker can help welcome someone into the group, and for those that have been contributing a validating nod or reference speaks volumes. The form of recognition varies across geographies and stage within the contributor's maturity."
This isn't just about giving out feel-good participation trophies, though. In open source software, as Linux Foundation director of ecosystem David Boswell told our Gonzalo del Peon, "the currency is not money that we're dealing with, but the currency is recognition. If you show up and do good things and are recognized for it, your voice [in the project] grows accordingly."
If you're interested in making asks that don't take advantage of your supporters and what they know, you'll need easy ways for people to be in touch with you in person (by going to them, hosting regular casual gatherings and researching their needs) and online (through email, social media and virtual gatherings like office hours). You can also make outbound asks in these and other forums. A few questions worth asking regularly are:
What can we help you do?
How can we get you what you need (such as software, training, or a physical space to work)?
How can we be respectful of your time?
How do you want to be recognized?
How to Put Your Members to Work
Think about your audience members' needs: to learn, contribute expertise, be heard, be granted transparency, express support for a cause, meet people with shared values, and more. Plus your needs: to create high quality work, find people who benefit from that work, make money at it and identify more ideas for work the world wants. Likely there is overlap in those two sets of needs, and it is your job to identify what and how. You can get there by asking: What do we not know that the people we want to reach do? Another variation is: What do we not have bandwidth to do that others would get value out of learning to do and/or doing?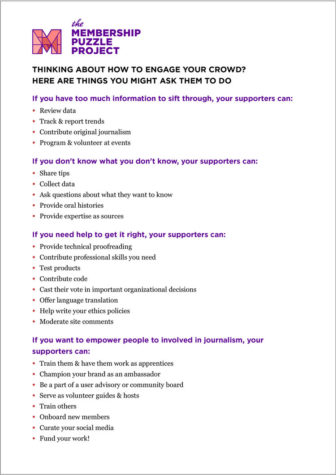 Journalism as an industry has long held that the actual making of journalism work, from story conception to headline writing, requires a degree or formal training of some kind. We have very strict designations of what it means to participate: you're an insider or an outsider.
But we're here to say that this often isn't true. There are myriad ways you can responsibly, enthusiastically allow your community past the gatekeeper, and you and your coverage will be better for it. This requires more flexible, less fixed roles.
We know this work requires (sometimes major) cultural shifts and resource re-allocations. We plan to talk about that next, including how to make this work less one-off and more routine. Got questions, thoughts, or real-life examples? E-mail us and share thoughts with @membershippzzle.
For more on this subject, see GIJN's Resource Center on Audience Engagement and Revenue: Essential Reading, More Reading and Case Studies.
---
This post first appeared on the Membership Puzzle Project site and is reproduced here with permission.

Emily Goligoski is research director for the Membership Puzzle Project. She was the first user experience research lead in The New York Times newsroom and brought design research to Mozilla Foundation. She is also a board member of the education non-profit Youth Radio.

Stephanie Ho assists with research for the Membership Puzzle Project. She is a user designer researcher at Dow Jones, and previously worked as a research fellow studying the AI tech industry for The Associated Press. 
Ariel Zirulnick, Gonzalo del Peon, Mary Walter-Brown, Corinne Osnos, David van Zeggeren, Jay Rosen, Melanie Sill and Lukas Kouwets contributed to this post.