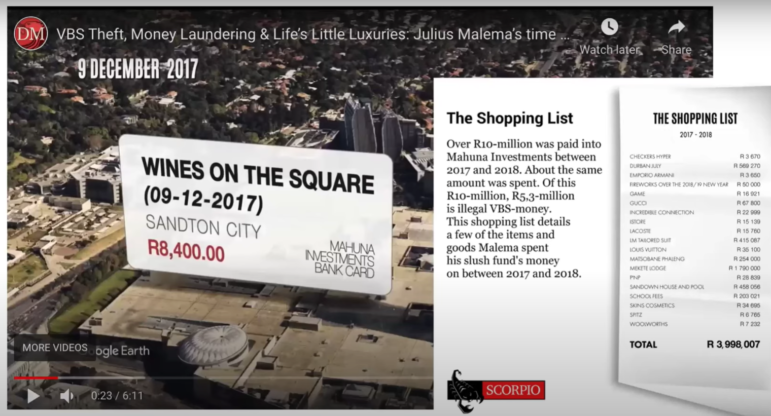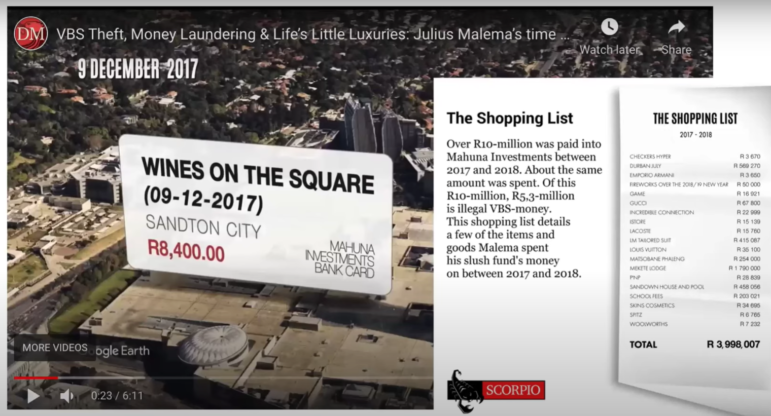 12 Tips on Reaching More People and Getting Bigger Impact on Investigative Stories
Read this article in
When journalists at South Africa's Daily Maverick realized they had a major corruption scoop in 2019, they decided they weren't going to let the story and its impact disappear after the 24-hour news cycle.
Instead, the newsroom team planned marketing, multimedia, and editorial campaigns around that scoop, including radio and TV interviews for the reporter; a Twitter thread promotion; Google Earth Studio animations for a video; and launch of the investigation to newsletter subscribers before they broke the story to the world.
The main story — which revealed that the leader of South Africa's third largest political party purchased luxury goods with funds looted from a community bank — didn't just attract new visitors and hundreds of thousands of page views. According to CEO Styli Charalambous, it spawned a dozen allied stories that dominated traffic for a month, and was directly used to boost membership conversions.
In a webinar on audience engagement presented by GIJN and the Media Development Investment Fund, Charalambous, digital media consultant Yasmin Namini, and GIJN digital outreach director Rossalyn Warren shared tips and resources on how to engage with audiences by maximizing stories.
"One of the great frustrations of investigative journalism today can be spending weeks, months, or years working on an important story, and then failing to reach many people with it, or see much recognizable impact as a result," said Emily Goligoski, senior director of audience research at The Atlantic, who served as moderator.
Namini neatly framed one primary solution to that frustration with this truism, widely attributed to Jonathan Perelman when he worked at BuzzFeed: "Content is king, but distribution is queen — and she wears the pants."
Previously the architect of The New York Times digital consumer revenue business, Namini says compelling, easy-to-use newsletters that habituate readers to return to the site are central to any good engagement strategy.
"The more highly engaged your readers are, that correlates very highly with more subscriptions, more memberships, higher donations," says Namini. "Allow people to become habituated to not only receiving your newsletters, but clicking on them and using them as a way to engage with your content. But direction is more important than speed — think about what your newsletter is going to do, which is more important than just getting it out there."
But Namini's overarching tip was that audience engagement should be part of the job of every person within a journalism organization — whether reporter, web designer, copy editor, or software engineer.
"Whatever your role is: Every day, think about what it is that I can do to encourage our visitors to do just one more thing — to click on one more page; to read one more story; to listen to one more podcast," she says. "If you're an engineer, you might ask, 'Well what can I do to do this 'plus-one' strategy?' Well, one obvious answer is page load times — if your pages load slowly on a smartphone, people jump off."
Namini's other engagement tips include:
Measure Your Audience Engagement.

Measure your audience's engagement by the recency, frequency, and volume of their visits to your site. "But if you can't measure all three of them, then pick one that you

can

measure," says Namini. "Generally, that's volume, and try to improve that metric over time." 

Sharpen Your Newsletter.

Improve your newsletter strategy and design by signing up for the

"Not a Newsletter" guide

, by Dan Oshinsky, former director of newsletters at The New Yorker and BuzzFeed. "Another fantastic resource is

newsletterguide.org

— lots of great resources, including some open source newsletter templates that'll make it really easy for you to launch newsletters if you haven't already," she says.

Employ a Plus-One Strategy.

A "plus-one" engagement strategy — designed to get each reader to take at least one more action on the site — can include smarter newsletters; breaking news alerts — especially around new investigations; easy-to-use sign-up newsletter procedures; listicle-type boxes; and reader feedback channels. And populate current stories with links to past articles.

Don't Share Your Email List.

Don't risk losing trust by sharing or exposing your newsletter email lists to third parties. "Trust is hard to win, and easy to lose," she says. "It's really important that when we get people to sign up for our newsletters we're not selling that list or using that list in some way that was not intended."

Experiment.

Test ideas and options for better engagement. "When you have an idea or thought about something that could improve engagement, think about it as a hypothesis and put it in this format: Because we observed A, changing B will cause C. We expect D effect," she says. "Start with very simple tests — 'What kind of headline drives more traffic?' You can test subject lines in your newsletters and emails — the day of the week and time of day that you deploy newsletters makes a big difference." Namini says even the color, placement, and wording of "call-to-action" buttons — of the 'Click here to donate or subscribe" variety — make a difference, and can be easily tested.

Use A/B Testing.

Get started on A/B testing with free versions of open source tools like

Google Analytics

and

Google Optimize

. For advanced A/B testing — including real-time headline testing — consider paid-for tools like

Chartbeat

. 
Charalambous says the Daily Maverick's corruption story triggered one of the organization's best months for converting readers and subscribers into members.
"What we did differently here was that we took the time to plan," he says. "To plan how were we going to maximize this work, and also to make sure the marketing around this article would ensure it's shelf life, and that it would dominate the news cycle for more than just one day, which is what was happening in the past."
To maximize the impact of stories like these, Charalambous says Daily Maverick adds a series of ancillary goals to the primary objective, which he defines as "defending truth and accountability." These additional goals were about using the story to build brand awareness with new audiences, boosting membership, maximizing audience reach, and delivering the story in the ways.
Daily Maverick's strategies for marketing the story include:
Send the Story to all Subscribers

. They sent the entire story to all newsletter subscribers — as an alert they call a "Scorpio Scoop" — a few hours before publishing online. "That really helped drum up some extra buzz around the story, and a lot of (external) journalists and media are on that list," he says. "It also gave our newsletter base a bit of a treat, knowing they got the content before anyone else did."

Set Up a Targeted Mainstream Media Campaign

. The newsroom planned a targeted PR campaign, including setting up radio and TV interviews for the reporter,

Pauli van Wyk

.

Promote the Story in Twitter Threads

. "One great example: ProPublica does a really great job creating Twitter threads around their investigative pieces, and sharing them on different channels," Charalambous adds.

Use SEO for Search and Social Media

. They used curated SEO (search engine optimization) headlines to help ensure pickup on search and social media. "Many of us use WordPress and plugins like

Yoast

to maximize the benefit that SEO can bring because often the headline used for the story doesn't fit in the little widgets or spaces available on search previews," he says.

Follow-Up Stories.

The team planned 11 follow-up stories and allied opinion pieces to the site over the next month.

Use Google Earth Studio.

This service allows animation of satellite imagery.  "That was our first experiment with using Google Earth Studio, and added a really rich layer to the story," he explains.
In one striking analysis, the team found that the dozen stories associated with the investigation dominated the site's total reader traffic across all three audience engagement segments for a full month — and particularly among the "most engaged" group, where they represented 12 of the 16 most-read stories on the site. All this in a daily online newspaper that features regular news, features, opinion, and sports.
On distribution on social media platforms, GIJN's Rossalyn Warren pointed to the detailed tipsheet she produced on maximizing social media for audience engagement earlier in March.
She gave a special caveat to media organizations which tend to jump at each new social media platform that comes along. 
"In terms of platforms, you don't need to be everywhere, and spread yourselves thin," she says. "Don't chase platforms: You don't need to chase the shiny new toy. Depending on where you are in the world, it could make sense just to have a Telegram channel, and your website." Her key tip: "The first step is finding out who your audience is, and where they live online."
She says that — given the "noise" and sheer quantity of content on the internet — newsrooms need to actively find ways to reach and engage audiences, and to think carefully, and creatively, about headlines, thumbnail images, and share-text in their social media distribution.
For instance, Warren cautions organizations to avoid repeating headlines on posts in the share-text. "It's a waste of space," she says. "You have an opportunity to add context or information in the share-text; why repeat the headline?"
Warren says it is useful to think about platforms in terms of the interactivity they offer including: one-way communication, such as newsletters or WhatsApp broadcasts; one-way conversation platforms with audience comments, such as YouTube; or two-way conversation social media platforms, such as Instagram Live, which require a staff member to quickly respond.
"I like to think about launching each story as if it's a book launch — put in the effort behind each, and think strategically about how best to distribute that piece of work," she says.
Warren also advocates looking at platforms in terms of what they can actually do, rather than what they're known for.
"Just because Twitter is great at sharing a lot of links doesn't mean you can't also use Twitter as a storytelling tool," she says. "Or, for example, just because Instagram is a visual platform doesn't mean you can't use it for audio — in fact, it's really effective for audio clips. In short: How are you going to make sure your work stops people scrolling past? We always joke that 'people just read the headlines' — well, sometimes that is the case, and headlines are such an important part of how people consume information in the modern age."
Additional Reading
Maximizing Social Media in Your Newsroom: A Tipsheet on Distribution and Engaging Audiences
GIJN Resources: Audience Engagement and Revenue 
More than Eyeballs: How Journalism Can Benefit from Audience Engagement
---


Rowan Philp is a reporter for GIJN. Rowan was formerly chief reporter for South Africa's Sunday Times. As a foreign correspondent, he has reported on news, politics, corruption, and conflict from more than two dozen countries around the world.