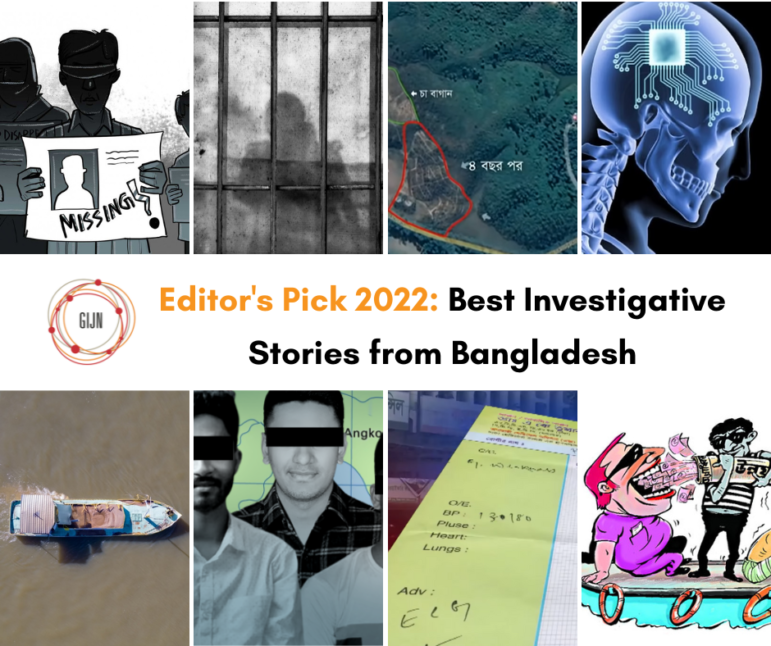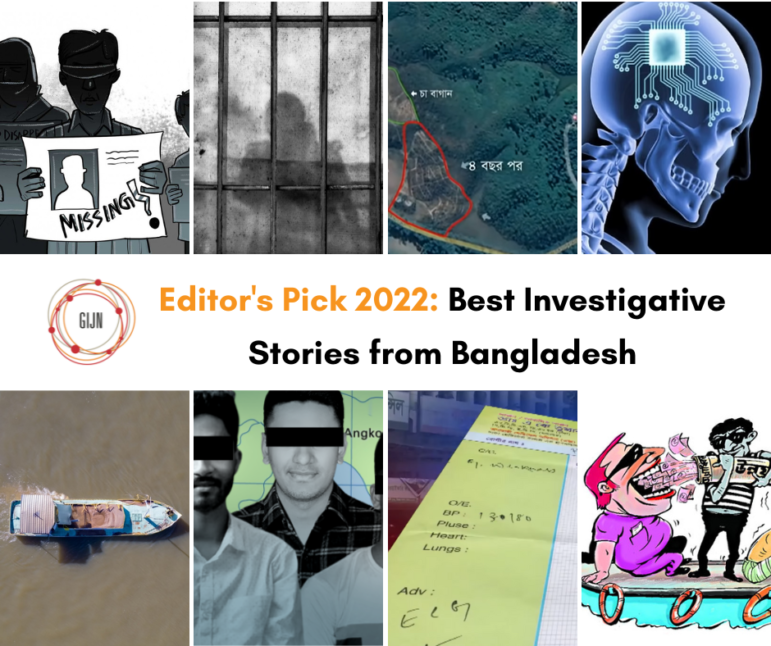 2022's Best Investigative Stories from Bangladesh
Read this article in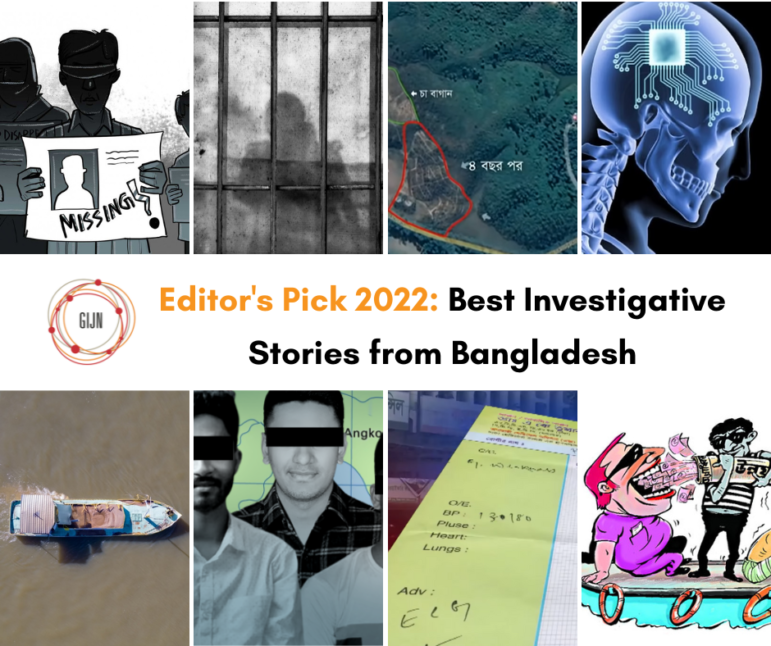 Although Bangladesh has steadily dropped in the rankings of the Reporters without Borders World Press Freedom Index, the steepest decline in recent years came in 2022. The Index — on which the country now sits near the bottom of the table, in 162nd place — ranks nations on their cumulative performance in five categories: political and economic contexts, legal framework, the socio-cultural environment, and security.
Of all those indicators, it is the final one where Bangladesh scored lowest. "Exposed to police violence, attacks by political activists and murders orchestrated by Jihadist or criminal organizations, Bangladeshi journalists are all the more vulnerable because this violence goes unpunished," RSF analysts wrote in their country summary.
While these challenges make investigative journalism in the country increasingly difficult, reporters continue to produce serious investigations on such issues as corruption, crime, and systemic injustice. The year 2022 was not an exception.
This list features some of the most important stories of the year from Bangladeshi reporters and media outlets, including reports that use public records to dig into shady corporate affairs and abuses of political power.
Other stories on the list exposed potential environmental crimes — thanks to data from satellite images — or challenged the narratives provided by powerful state agencies — using witness testimonies and shoe-leather reporting. While several other reports this year merit attention — some of which won national awards — we have curated a list of stories that showcase investigative rigor, depth, and impact, and which, above all, reveal the courage of those working in the public interest to hold power to account.

In Cambodia, their job was to create fake female Facebook profiles, flirt with older men, and lure them to invest $100 on an investment platform. But this investigation into the people behind the scam found a whole new raft of victims: migrant workers sold into criminal networks and told if they were unable to find any customers, they would not be paid. The story, by The Business Standard (TBS), suggests that more than 1,000 Bangladeshis have become victims of such cyber slavery in Cambodia, lured by agents with promises of a decent "desk job," only to be sold later to the scammers. Those who asked to return home were told they must pay US$3,600 — the price they were sold for — or be resold to another party. 
TBS traced a number of Bangladeshis stuck in Cambodia and interviewed roughly a dozen returnees. Reporters reached out to the agents but got no response. When they questioned government officials, they learned there are some real misunderstandings around such abuses: staff at one embassy called these victims "illegal migrants," questioning if they had obtained the appropriate work permit.
Would you like to be a doctor, hassle-free, without years of training and difficult exams? What if there was a way to pay BDT 500,000 (US$4,700) and get a certificate the next day? Or pay five times that figure for an even more valuable foreign certificate? The Independent Television reporter behind this exposé went undercover to obtain a Bachelor of Medicine and Bachelor of Surgery certificate (MBBS). The station printed business cards, rented an office for private practice, hung a personalized sign outside the chamber, and then set out to find real patients for consultation.
The report reveals how easy it is in Bangladesh to defraud the medical doctor registration system. It exposed the workings of one sham university — literally a room of two tables and a few chairs — that sells professional degrees in medicine and surgery as well as mandatory national certifications for just US$560. According to the report, there are more than 6,000 fake doctors in the country, and the program even showed phony physicians prescribing treatments and conducting surgeries. When confronted, one such doctor wasn't able to say what MBBS stands for, while the country's medical accreditation council admitted that its certification system has been abused in the past. 
Last December, the US enacted sanctions for human rights abuses on Bangladesh's Rapid Action Battalion (RAB), a joint police-military internal security force accused of hundreds of disappearances, extrajudicial killings, and torture. This investigation by The Daily Star digs into the tale of one family that the paper reports suffered at the hands of the RAB. According to the family, their eldest son disappeared four years ago — said to be an abduction by a plainclothes RAB unit. The incident would become one of 76 cases of enforced disappearances in Bangladesh listed by a United Nations working group, which called for a probe. This year, the missing man's younger brother was taken away for questioning, also reportedly by the same RAB unit, in relation to a narcotics case already dismissed by the court. But the reporters say there was yet another case: a 15-year-old and a 17-year-old from the same family were falsely implicated in an extortion case. The unit said to be responsible? The RAB.
Among the reporting techniques used: CCTV footage, digging into call records provided by the missing man's family, and interviewing witnesses and local sources. A commanding officer of the RAB unit said that "all allegations will be investigated."
Mining for sand is big business in South Asia. Demand by the construction industry for sand has led to a boom in illegal mining, as a reporter for the Daily Prothom Alo found  along Bangladesh's environmentally critical waterways.
The reporter first surveyed the scale of sand dredging from aboard a speedboat near Chandpur, south of the capital, Dhaka. A first count revealed 67 dredgers in operation — despite warnings that sand mining is causing river banks to collapse and impacting fish stocks. Ultimately, the investigation found more than 200 dredgers lifting sand from different parts of the Padma-Meghna rivers, which ultimately flow into the Bay of Bengal. According to their calculations, 24-hour operations to dredge sand here equate to almost 1.4 billion cubic feet of sand being lifted from Chandpur each year. The paper reported that the financial beneficiary of the operation is a local government chairman, who has amassed the equivalent of more than US$200 million in the past eight years, even as the local administration raised the alarm that reckless dredging was seriously harming the environment. 
The investigation also revealed alleged links between the head of the "sand-eating" scheme and a cabinet minister. The minister did not deny the relationship, but said letters in support of the chairman's project were in the "public interest." The chairman meanwhile, denied any wrongdoing. Alongside first-hand evidence, the investigation gathered a number of public documents to link the operations with people in power, and approached various sources to corroborate the findings.
This story by the Daily Prothom Alo exposed the grim reality of healthcare in Bangladeshi prisons, finding only four doctors to treat patients across 68 prison facilities, housing more than 83,000 inmates. The Dhaka Central Jail's only on-duty doctor sees 300 to 400 patients in a single day, and has neither a lab nor any diagnostic equipment to help with the job. In another jail, in Chattagram, the doctor sees a similarly stunning 250 patients a day. Amid a recruitment crisis, the report finds that while there are officially 141 posts for prison doctors, 137 of them are vacant. 
The journalist behind the story, the award-winning Rozina Islam, investigated 10 such jails, only to find no specialist for nearly 3,000 female prisoners, no physicians for the disabled, and no psychiatrist for mental health care or counseling. According to the report, a large number of prisoners have heart, kidney, and liver disease, others have diabetes, tuberculosis, or AIDS. While the medical crisis in Bangladeshi jails has been reported in local media for years, this in-depth investigation spurred immediate action: within a week of the story being published, the high court ordered the Home Ministry and the Health Ministry to appoint doctors in all prison facilities, ruling that prisoners have a constitutional right to medical treatment.
Bangladesh's first floating Liquid Natural Gas (LNG) terminal was launched in 2019, a facility where imported LNG was to be stored and later delivered through a pipeline for everyday use. Situated in coastal Maheshkhali, the terminal was to provide enough gas to produce 3,000 megawatts of electricity. Checking up on these promises, Daily Samakal, a popular Bangladeshi national daily, followed the money and reported finding a web of hidden corporate ownership, questionable financial practices, and official favoritism. Reporters claimed that the company behind the terminal won the job thanks to a no-bid contract, and that the company was itself owned by two US entities registered in Delaware, though the true ownership was shrouded in secrecy. The Daily Samakal team also reported what they say is an apparent multi-million dollar anomaly in the figures of the project's actual imported goods and import payments made, as well as a complaint about it from the central bank. The company said, in response, that millions of dollars were paid to a French firm for services related to consultancy and assembling machinery.
Lawachara National Park, in northeast Bangladesh, is a semi-evergreen, protected tropical forest. Home to critically endangered apes and more than 300 other species of mammals, amphibians, and reptiles, it also plays a role in helping mitigate climate change. This Jamuna TV investigation reported that politicians — including a senior official of the ruling party and a member of parliament — as well as other influential individuals were involved in misusing critical forest land to establish tea gardens (where tea leaves are grown), tree plantations, and even leisure resorts.
Though the two officials claimed they obtained their land for a tea garden legally, the reporter consulted the local land registry and compared four years of Google Earth imagery to find that the tea garden in question extends far beyond the claimed boundaries. For further research, he went undercover, posing as a resort builder, and found another group showing him forest land they had seized and were now trying to sell. The local forest authority told the reporter that they were unaware of such land grabs and they would look into the matter.
Harunur Rashid, a local government official, had long made the outlandish claim that someone else was controlling his brain. He managed to convince the local police to file a case against his own sister-in-law and her friend, accusing them of hacking his brain. He also got sympathetic stories published in a national daily — until the Searchlight team of Channel 24 began to investigate. Some of his more absurd claims: his brain was being controlled with a microchip (citing as proof an MRI scan of his head); a frequency scanner beeped when near his head; and someone had repeatedly hacked his email and phone by stealing passwords from his brain.
Searchlight, however, debunked these claims one by one. It went to the hospital to match the MRI scan and found the one presented by Rashid was doctored. That frequency scanner? It was a cheap model that beeped the same when the reporter moved it around his own head and those of others. As for the experts who he claimed helped him recover his online accounts after his passwords were stolen — they were reported to be made-up personas with fake Twitter handles and profile pictures. The investigation into Rashid's story was a hit: The Searchlight episode received more than 1.6 million views on YouTube.
Additional Resources
Editor's Pick: 2022's Best Investigative Stories in India
Organized Crime in the Golden Triangle
Editor's Pick: 2021's Best Investigative Stories from Bangladesh
---

Miraj Ahmed Chowdhury is the editor of GIJN in Bangla. He worked as the head of program and communications for the Management and Resources Development Initiative (MRDI), a leading media development organization and GIJN member in Bangladesh. He has more than a decade of experience in journalism, mainly in broadcast.