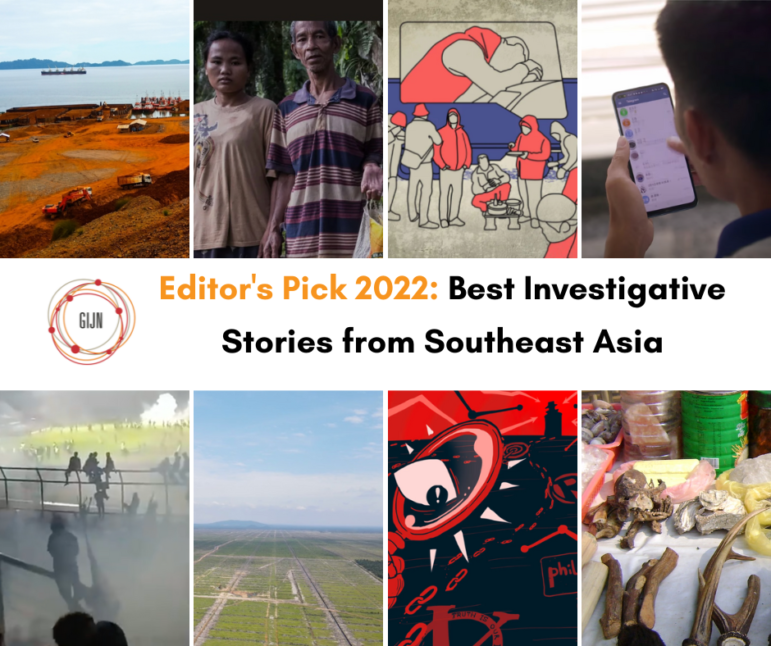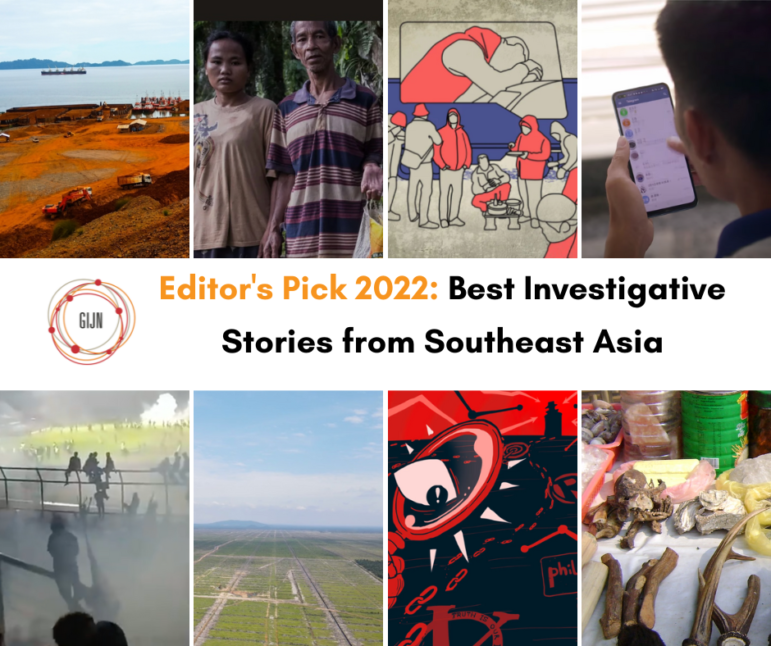 2022's Best Investigative Stories from Southeast Asia
Read this article in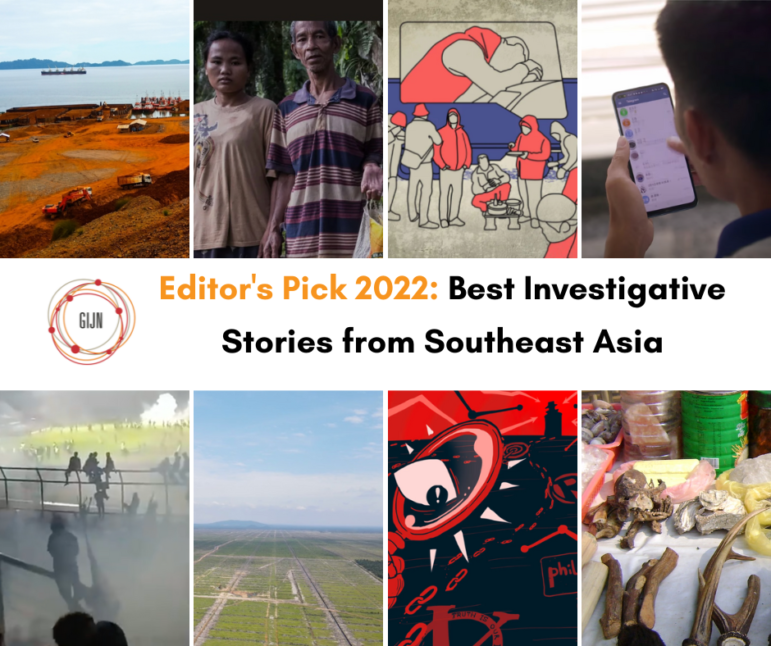 Press freedom in Southeast Asia continues to face many challenges. According to the 2022 Reporters Without Borders Press Freedom Index, only Timor-Leste and Papua New Guinea ranked in the top 100 countries in terms of press freedom this year.
Many factors are blamed for the difficult state of the Southeast Asian press, including self-censorship by journalists, government oppression, and financial precarity.
However, there is also good news. Determined local reporters teamed up with international media and with nonprofit newsrooms, who are providing grant funds for investigative coverage, especially for environmental issues. With this funding, Malaysian journalists uncovered forest data gaps; Indonesian journalists raised the issue of fraudulent practices behind nickel mining; and journalists in Myanmar covered the devastating environmental damage that has been a side effect of that country's 2021 military coup.
Apart from these notable efforts, journalists in the region broke other important investigative stories this year, on topics ranging from digital attacks on the media to cybercrime slavery to Indonesia's recent soccer tragedy.
Our list of the best investigative journalism from 2022 shows that reporters continue to reveal the truth despite pressure from so many directions. Equally important, these stories demonstrate that journalism in Southeast Asia still plays a crucial role in holding authorities to account and giving a voice to victims of abuses of power.
As part of Indonesia's ambition to become a world leader in electric vehicle battery production, many entrepreneurs are scrambling for nickel mining licenses. An investigation by Tempo Weekly News Magazine reported questionable deals behind this business. In two provinces with the largest nickel reserves in Indonesia, according to Tempo, mining licenses were obtained using forged documents — lacking both an auction process and forest clearing permits — and covered a vast amount of land, equivalent to nearly half the area of Jakarta, Indonesia's capital. Tempo also reported the involvement of various parties behind the license-winning companies, from government officials and politicians to former activists.
In recent years, the Philippines has served as an early warning beacon for digital attacks and disinformation against the media and individual journalists. In this two-part series, Rappler showcases the latest online harassment tactic to target journalism: backlink spamming.
Most website managers welcome backlinks because they can boost their site's reputation in search engines. However, for news sites, this practice has the potential to damage SEO because Google's algorithm is able to identify spammy and manipulative backlinks. To trace the origins of an attack on several Philippine news organizations, Rappler analyzed IP addresses to discover that this attack was allegedly coordinated from Sweden. Working with Qurium, a Swedish digital forensics agency, Rappler also estimated that the backlink attacks on three media outlets in the Philippines could cost nearly US$130,000 to remedy.
To minimize truck driver wages, European trucking companies routinely base their operations in Eastern Europe. And thanks to a shortage of truck drivers on the continent, European trucking companies are now recruiting from as far away as the Philippines. Rappler interviewed several Filipino truck drivers working for European firms and uncovered widespread wage theft as well as other forms of exploitation. Rappler also dug into why worker lawsuits against the companies — for human trafficking — were rejected by European courts.
In Indonesia, palm oil is big business, with the stuff used in countless consumer products around the world. Companies are legally required to share their plantation land with surrounding communities as a poverty prevention measure. To hold these companies accountable, Mongabay, BBC News, and The Gecko Project analyzed palm oil company reports, court records, and government data, and interviewed residents, officials, academics, activists, and company employees. According to their investigation, the companies failed to provide hundreds of thousands of hectares of land to communities , while government officials stood by. This potentially adds up to roughly US$100 million in lost funds every year. In addition, the team reported, a number of large Western consumer goods companies source palm oil from firms suspected of land sharing violations.
The officially reported size of the forest area in Peninsular Malaysia differs from the size of the forest area measured by independent satellite image analysis. Based on satellite imagery, 500,000 hectares of forest land was lost but not recorded in the official forest area count between 2000 and 2019. This forest data gap was investigated by Macaranga, a Malaysian environmental news portal, and Al Jazeera, with support from the Pulitzer Center's Rainforest Investigations Network. The seven-part investigation sheds light on the location and updates of forest loss in Peninsular Malaysia, as well as who is responsible for it.
Cyber fraud syndicates owned by Chinese companies operate across Cambodia. Committing various types of cyber fraud, these companies reap tens to hundreds of millions of dollars in profits every year.
In this industry, forced labor is rife, according to Al Jazeera. Reporters spoke to more than a dozen victims who managed to escape, revealing that many victims are foreign nationals who are tricked into working in Cambodia. To free themselves, victims are forced to pay off their large "debts" by working as cyber fraudsters. In addition, victims are often physically abused while working.
These cyber fraud syndicates operate in various physical locations in Cambodia — casinos, hotels, housing estates — that are guarded by tight security. Al Jazeera reported that most of these venues are controlled by Chinese investors and conglomerates with ties to Cambodian Prime Minister Hun Sen.
Saturday, October 1, 2022 marked a dark day in the history of Indonesian football. A classic duel between two clubs led to the deaths of 135 spectators and hundreds of injuries after a crowd-crush melee. Instead of relying on the government probe of the tragedy, Narasi TV conducted its own independent investigation. Using open source techniques such as scouring user-generated videos circulating on social media, and crowdsourcing for tips and other information, Narasi's team built a minute-by-minute reenactment of the incident. The reported narrative describes the details leading up to the moment police shot teargas into the crowd, the type and number of projectiles fired, and the location where the projectiles fell. Narasi's reporters also described the horror of this event from the perspectives of the victims.
Since the late 1990s, the Myanmar government has designated several areas in Kachin State as protected conservation areas. Frontier, a Myanmar journal, teamed up with online magazine Yale Environment 360 to show how environmental conditions in the region have worsened due to the regulatory vacuum that followed that country's military coup in 2021. One direct impact found by the reporting team was a 74%  jump in illegal wildlife trade through Facebook. The team also found that the coup has triggered rampant illegal gold mining, due to the military's increased need to fund its ongoing crackdown against political dissent. As a result, local communities in Kachin have suffered from the highly toxic mercury used for mining, which has leached into rivers and agricultural areas, while businessmen close to the military junta profit from the illicit practice.
Additional Resources
Guide to Investigating Organized Crime in the Golden Triangle
Data Journalism Pioneers at Work Across Southeast Asia
How GIJN Advisory Services Helped Newsrooms in Indonesia and India
---

Kholikul Alim is GIJN's Indonesian editor, and managing editor for Jaring.id, a non-profit media based in Jakarta, Indonesia, which is also a member of GIJN. In the last five years, Kholikul has provided training and mentoring to reporters in the areas of data journalism and digital security.