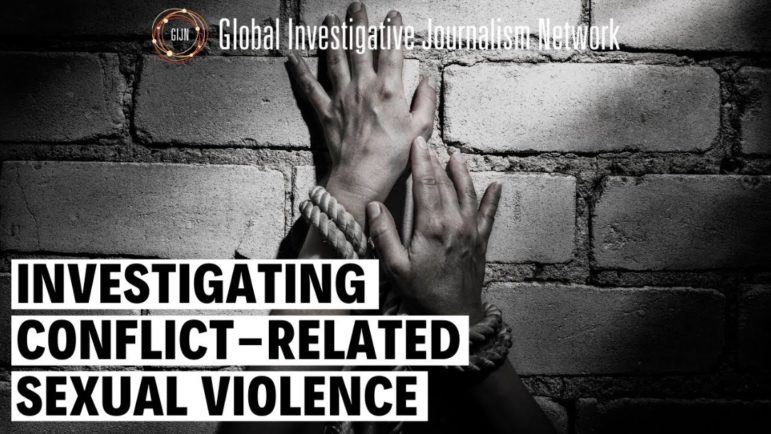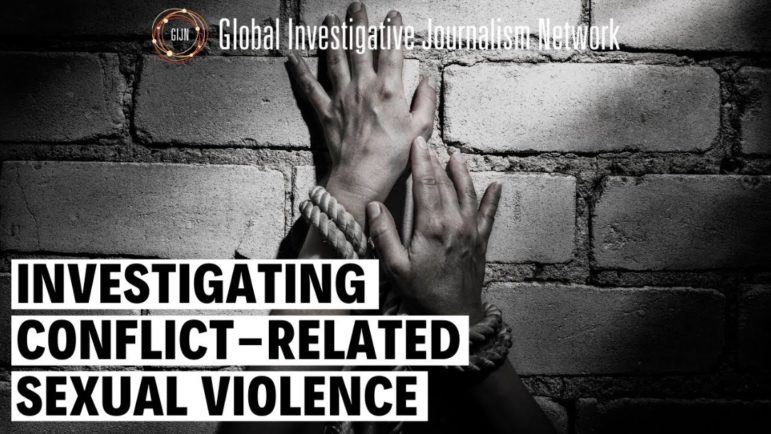 Best Practices for Journalists Covering Conflict-Related Sexual Violence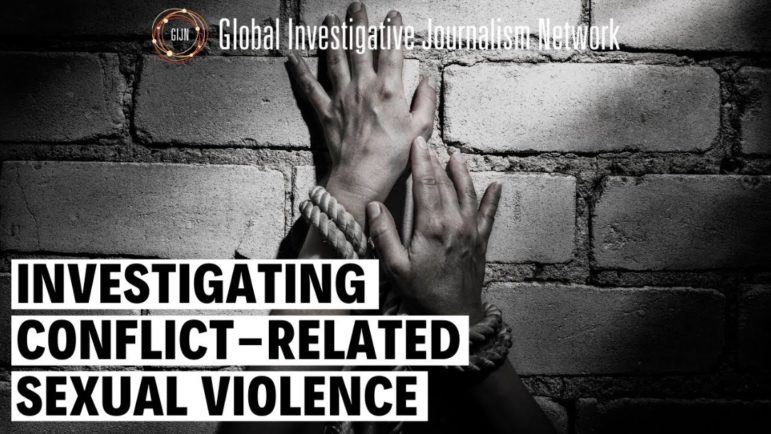 Sexual violence is a complex and taboo subject that continues to be misunderstood by journalists. Identifying it, protecting sources, and reporting ethically is especially challenging during times of war. As in the conflicts in Syria and the former Yugoslavia, reports of sexual violence during the ongoing Russian invasion of Ukraine are making headlines. How can journalists cover them responsibly?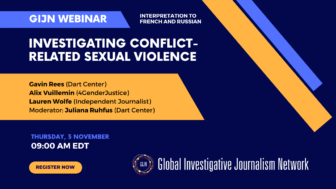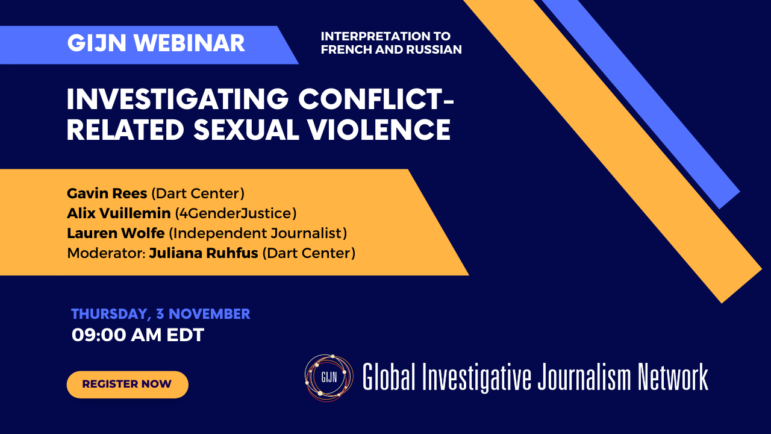 In order to share best practices, GIJN recently hosted a webinar on investigating and reporting on conflict-related sexual violence (CRSV). On November 3, 2022, speakers Alix Vuillemin, Lauren Wolfe, and Gavin Rees discussed the many aspects of this difficult topic, with interpretation in French, Spanish, and Russian.
Identifying Sexual or Sexualized Violence
First, a note about terminology. The term "sexualized violence" is increasingly used by experts instead of "sexual violence" in order to accurately describe the motive of the perpetrator, which is to exercise power and control rather than achieve sexual gratification. Some use the two terms interchangeably. 
Alix Vuillemin, senior advocacy advisor at Women's Initiatives for Gender Justice, discussed the basic principles of how these crimes manifest themselves in war and conflict zones.
"Where there is conflict, there will be sexual violence, always," said Vuillemin.
This type of violence is defined as "acts that are intentional, non-consensual, and of a sexual nature which occur during or related to a conflict, committed by or against any person regardless of age, sex or gender."
Vuillemin highlighted that sexualized violence is not synonymous with rape. Gential mutilation, forced nudity, recording or sharing intimate photos, sexual humiliation such as forcing someone to dress as a gender with which they don't identify, and sexual harassment are examples of sexualized violence.
There are external indicators that can predict sexualized violence, Vuillemin noted. Disappearances, evacuations, house raids, proliferation of weapons and small arms, detention at camps and checkpoints, movement of troops after victory or defeat, and looting are all "red flags" for sexualized violence in a conflict zone.
Journalists should familiarize themselves with The Hague Principles on Sexual Violence – a survivor-focused, culturally sensitive, and inclusive framework for anyone interacting with victims.
The key factor, Vuillemin says, in determining whether something is sexual in nature is the perception of the perpetrator, victim, or their respective communities.
Often, sexualized violence is used as a weapon of war because it targets entire communities. Journalists need to remember that in honor-based cultures, a woman is targeted for sexual violence because it can impact her entire family and community.
'Do No Harm' Principles and Trauma-Informed Interview Techniques
Because of the repercussions that sexual violence can have on whole communities, taking extra steps to protect the identities of survivors is crucial, said veteran journalist Lauren Wolfe, an adjunct professor at New York University.
"Would you rather get someone killed or tell the story with a pseudonym?" she said, to emphasize the stark choice facing journalists covering this subject matter.
Wolfe relayed the importance of being sensitive and discreet when dealing with victims of sexualized violence. Instead of scouring refugee camps, find local NGOs working with victims and ask to be introduced to someone who is willing to speak. Once you find a source, make sure they are protected, even if they agree to be identified. If there is a risk of digital surveillance from police or government, for example, don't communicate with sources using a phone.
When it comes to the actual interview, let the survivor lead the conversation, Wolfe said. Take care not to re-traumatize victims when corroborating details of sexualized violence. To avoid these mistakes, here are some key interviewing tips from Wolfe and Gavin Rees of the Dart Center for Journalism & Trauma:
Take it slow. Let the interviewee set the pace of the conversation. Give the interview the time and attention it deserves by not rushing.
Avoid "why" questions. Police and interrogators tend to use "why" questions – this can be jarring for victims.
Don't ask for gory or lurid details. Usually, it's not necessary for the story. It can lead to sensationalization of the event and further harm to the victim by pushing them to relive the experience.
Review and explain consent. Make sure whoever you speak to understands the audience who will see their story and whether it will be printed (limited sharing) or digital (worldwide circulation). Don't assume they understand how reporting or journalism is practiced.
Get context. Sexualized violence is a weapon of war. Asking questions like "What was the soldier wearing?" and "What did they say?" can help establish whether attacks are the result of individual actions or command-line decisions.
Talk to medical and support staff. Doctors and psychologists treating victims can give you information about the circumstances around an attack (such as where the victims were found, whether soldiers were present prior to the attack, or if invasions had taken place).
Follow the rule of thirds. First, ask sources about times they felt safe and stable, then about the time leading up to the violence, and then finish with a focus on the present and what they are currently doing and how they are functioning. This avoids leaving people in the middle of their trauma at the end of the interview. Allot more time for the final part of the interview.
The Dart Centre Europe offers a more detailed breakdown of best practices on covering conflict-related sexual violence.
Understanding How Trauma Affects Memory and Witnesses
Journalists are often under pressure to find sources, file breaking news stories, and take photos and video on tight deadlines. Doing this in a conflict zone while reporting on sexualized violence is even more challenging.
It's important to understand, Rees said, that trauma has biological, psychological, and social dimensions. For journalists, this can pose some challenges in reporting. Victims may have fragmented or non-linear memories as a result of what happens in the body when trauma occurs. There may be holes in their stories.
Rees highlighted that utilizing the tips mentioned above when interviewing sources and corroborating stories can help fill in the gaps.
"Questions like, 'What can you tell me about…' gives them the opportunity to volunteer information on things they feel secure talking about," said Rees.
Rechecking permissions, by asking if it's okay to talk about a certain subject, is a way to gently suggest lines of inquiry and avoid making the victim feel compelled to answer. Most importantly, Rees added, showing people in their complexity is crucial. Avoid words like "damaged" and "destroyed" that imply continued ruination.
Lastly, Rees discussed how reporters themselves often experience traumatic events while reporting in conflict zones. Sexualized trauma is disturbing to witness and hear about, he noted, so it's important not to underestimate your own sensitivity and the effects this kind of reporting can have on mental health. Seeking support is important to avoid compassion fatigue, over-identification with interviewees, and violating the boundaries of a journalist-source relationship.
Additional Resources
Investigating Sexual Abuse: Reporting Tips and Tools
15 Tips for Investigating War Crimes
Lessons Learned from Syrian Journalists Investigating Russian War Crimes
---

Katarina Sabados is a Vancouver-based multimedia journalist currently covering supply chains at the Global Reporting Centre. Her reporting and research has appeared in NBC News, Canada's National Observer, The Tyee, The Toronto Star, and OCCRP.