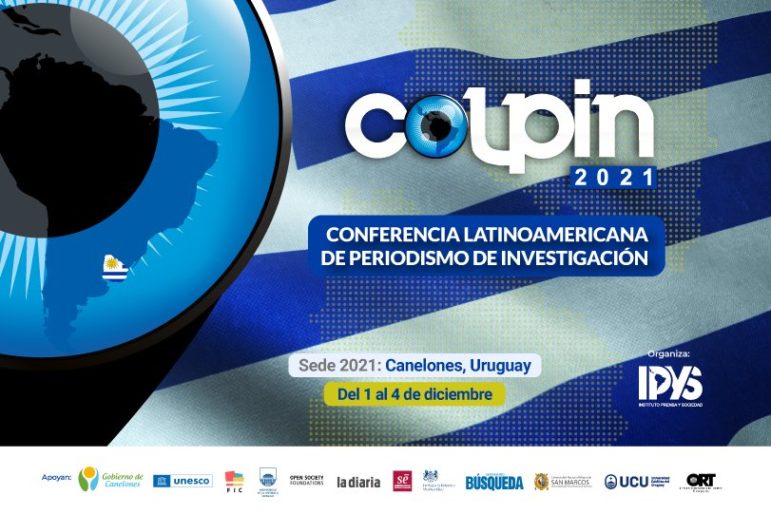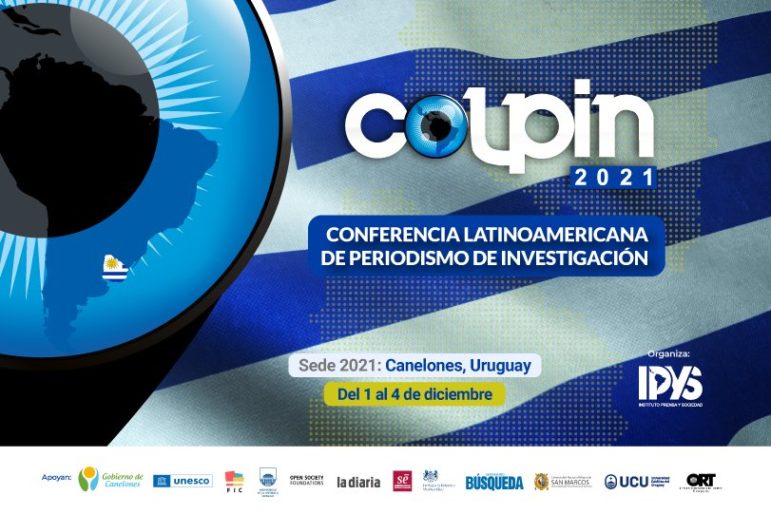 Latin America's Best Investigative Journalism Featured at COLPIN 2021
Investigations on the state of prisons, corruption, femicide, environmental crimes, and missing people were recognized at the 2021 Latin American Conference of Investigative Journalism (COLPIN), which took place in Canelones, Uruguay, in early December.
COLPIN is the largest, most long-standing investigative journalism gathering in Latin America, and is organized by the Institute for Press and Society (IPYS, for its acronym in Spanish). This year it also had the support of the local government of Canelones, UNESCO, Open Society Foundations, and allied media organizations.
On December 4, the last day of the conference, the winners of the Javier Valdez Latin American Prize for Investigative Journalism, named in honor of the Mexican journalist killed in 2017, were announced. More than 250 projects were nominated. The list below features the three winners and the 10 projects that received an honorary mention.
This video investigation, produced by the Fantástico program on Brazil's TV Globo, found that 83% of those unjustly detained from galleries of suspected criminals shown by the police are Black. "By displaying numbers and also real characters, journalists contributed to improving professional journalism and pointing out a profound injustice in Brazil, one of whose greatest social debts is with the Black population," said the jury.
The program was produced by James Alberti and Pedro Rockenbach, with journalist Renata Ceribelli and editor Janaína Araújo.
The Colombian media outlet Noticias Caracol obtained 200 hours of exclusive images from a violent riot that took place in the La Modelo prison in Bogotá, in which 24 inmates died.
Thanks to this footage, Noticias Caracol's report proved that multiple irregularities and human rights abuses were committed during the operation to quell the riot, including cold-blooded killings. The work, according to the jurors, "was able to shift the perception of public opinion about a serious fact that, otherwise, would have remained covered by the negligence and complicity of the authorities."
Ricardo Calderón, Johanna Álvarez Quintero, Jaime Flórez Suárez, Diego Hernández, Daniela Benavides, and Adrián Martínez participated.
This exhaustive Quinto Elemento investigation showed the flaws in the Forensic Medical Service in Mexico, an entity that plays a key role in investigating the identity of massacre victims found in clandestine graves throughout the country in recent years.
The report shows that officers do not have the resources or the capacity to face the problem of the disappeared in the country. "It is an exemplary journalistic work, with hard data, key interviews, information from both experts and families, and includes a database with information on unidentified bodies throughout Mexico, which will surely help clarify and resolve cases of unidentified," the jury said.
The Quinto Elemento report featured work by the project co-ordinator Marcela Turati, assisted by Efraín Tzuc Salinas. The editors were Thelma Gómez, Francesc Barata, and Alejandro Almazán, while Alejandra Xanic was the editorial consultant. Other members of the team worked on the illustrations and project design. 
Honorary Mentions
Carmelo, the Monopoly that Moved Millions (Bolivia)
David Rivera Matirayo, Mariana Torrez Vedia, and Guadalupe Castillo for El País and CONNECTAS.
The Undisclosed Allegations of Sexual Crimes of Samuel Klein, Founder of Casas Bahía (Brazil)
Ciro Barros, Clarissa Levy, Mariama Correia, Rute Pina, Thiago Domenici, and Andrea Dip for Agência Pública.
The Assassination of the President of Haiti, Jovenel Moïse (Colombia)
Ricardo Calderón, Johanna Álvarez Quintero, Jaime Flórez Suárez, and Camilo Sierra Salazar for Noticias Caracol TV.
Police Body Cameras Recorded Protocol Violations on the Use of Force (Chile)
Paulette Desormeaux, Catalina Gaete, Claudio Cifuentes, Camila Fox, Boris Bezama, Gabriel Carvo, Rebeca Peña, Hans Peralta, and Makarena Kramcsak for La Pública.
Honorary Ministers and Vice Ministers have Collected almost $500,000 (El Salvador)
Jaime Quintanilla for La Prensa Gráfica.
A Farm and a Road Worth Q 58 million ($7.5 million USD) for President Giammattei's family (Guatemala)
Sonny Figueroa and Marvin del Cid for Vox Populi and Article 35.
The Untouchable Military Leadership (Mexico)
Zorayda Gallegos for El País.
The Three Deaths of Marisela Escobedo (Mexico)
Karla Casillas Bermúdez, Alejandro Melgoza Rocha, and Carlos Pérez Osorio, for El Universal, with documentary production from Vice, Scopio, and Netflix
The Mexican Sanctions Bypass (Venezuela, Spain, and Mexico)
Roberto Deniz, Javier Lafuente, Valentina Lares, Zorayda Gallegos, Georgina Zerega, Elías Camhaji, and Ewald Scharfenberg for Armando.Info (Venezuela), and El País (Spain – Mexico)
Mercury: A Footprint in the Jungle (Brazil, Venezuela)
Gustavo Faleiros, Bram Ebus, Tom Laffay, Marcos Valverde, Wilfred Leuwin, Gaulbert Sutherland, and Sam Cowie for InfoAmazonía, Armando.Info, and Fantástico of TV Globo.
Additional Resources
Editor's Pick: 2021's Best Investigative Stories from Latin America
My Favorite Tools: Geo-Journalist Gustavo Faleiros
How Quinto Elemento Trains Mexico's New Generation of Muckrakers
---

Mariel Lozada is GIJN's Spanish Associate Editor and a Venezuelan freelance journalist. She has worked in digital journalism for five years, and has reported on health, gender, and human rights issues in Latin America. She is part of the La Tercera newsletter, and collaborates with Salud con Lupa, and Soy Arepita.