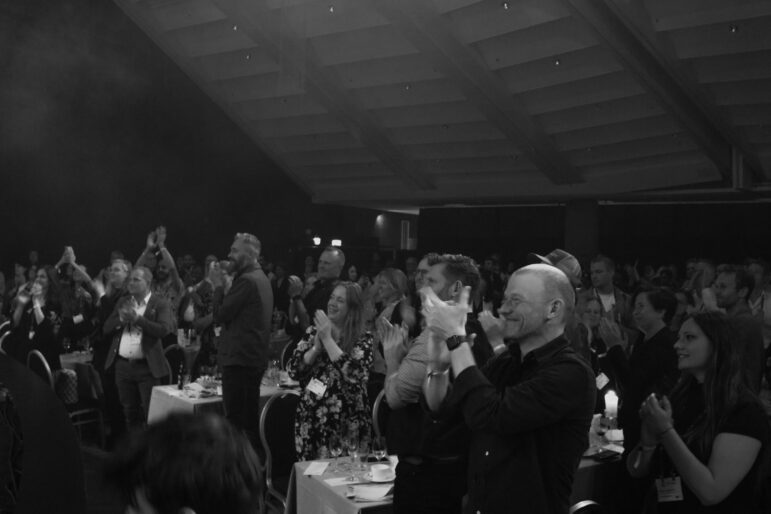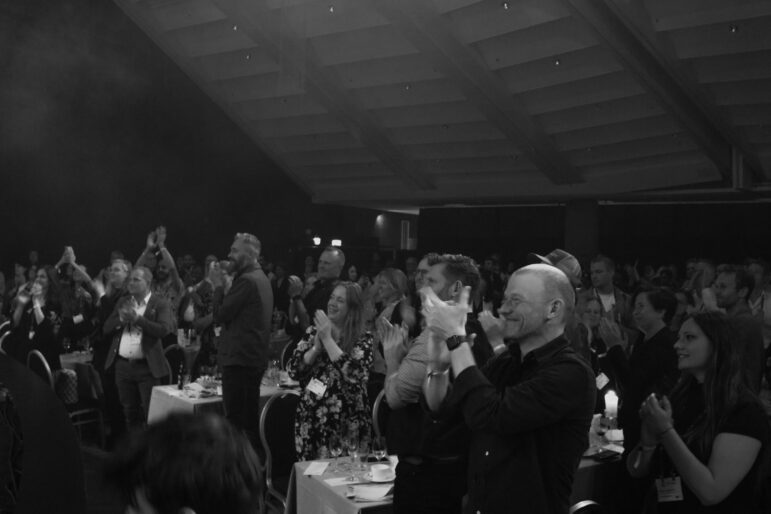 Image: Rocky Kistner for GIJN
Under Threat, but United: GIJC23 Highlights
Much has shaken the world, and as a result, journalism, since the last in-person Global Investigative Journalism Conference in 2019. A global pandemic, Russia's full-scale invasion of Ukraine, and seemingly-sudden and profound advancements in artificial intelligence, to name just a few.
Over the course of these four years, as the number and intensity of threats to press freedom have increased and taken on more insidious forms, there has also been a corresponding reaction — investigative journalism has grown stronger and more intelligent, and reporters have become more collaborative and united than ever before.
The 13th Global Investigative Journalism Conference (#GIJC23) served as a testament to this. A record-breaking number of journalists — more than 2,100 from over 130 countries — gathered at the Svenska Mässan conference center in Gothenburg, Sweden.
Many #GIJC23 attendees spent four days soaking in tips and techniques from industry experts and making new contacts for potential cross-border partnerships, gaining new courage and knowledge to push back against an array of press freedom attacks — from SLAPP cases to cyber espionage, propaganda campaigns to actual death threats.
GIJC23 keynote speaker Ron Deibert, director of Citizen Lab, offered a harrowing reality check about the pervasive and effectively unstoppable digital hacking threats. But rather than give up or give in, he encouraged the assembled reporters to work together, turn the tables, and investigate the industry that was targeting them. "Our collaborations are definitely something to celebrate," he said.
Here are some of the highlights from the jam-packed week:
Record Participants from Across the Globe
This conference saw 2,138 registered attendees from 132 countries, making it the largest investigative journalism conference in history. And beyond the sheer numbers, GIJC23 demonstrated the impressive diversity of the speakers as well as the attendees, which included hundreds of fellows from the Global South, and numerous Indigenous investigative outlets.
Threats, Threats, and more Threats
Apart from being the theme of GIJC23's keynote speech and plenary session, digital threats to journalism were also present throughout the conference and close to home. First, two conference participants from  @istories_media were ominously warned to not attend the conference —with precise, detailed information on their travel reservations used to ratchet up the intimidation factor.
Then, news emerged that French reporter @AriaLavrilleux was detained in France and her home raided by that country's security service, triggering a reaction from the journalism community present at the conference.
With Threats Come the Need for Care
To understand how newsroom leaders can better deal with stress and burnout from the increasingly fraught press environment, one popular session at the conference was the  "Coping with Stress, Trauma and Burnout (for Managers)" workshop by Elena Newman from the Dart Center. Additionally, Reporters Without Borders and Citizen Lab organized multiple digital security clinics, to check whether phones of the attendees were affected by spyware — and fix them.
…And a Little Bit of Humor and Grooving
Some relief and celebration was needed after days of deep-dive sessions about corruption, money-laundering, climate change, oligarchs, war crimes, and so on. This kicking back came in the form of funny Instagram stories, a performance of the GIJC's own in-house band, The Muckrakers, and plenty of dancing.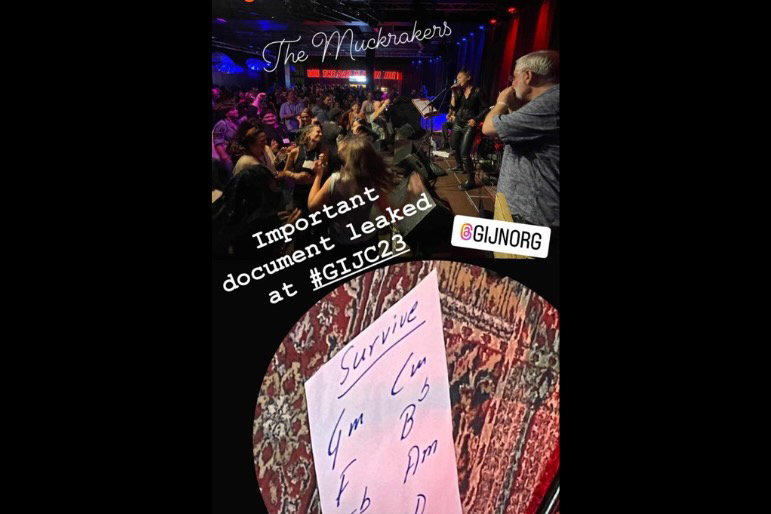 The Race Against Tech
As technology advances, so do journalists' creativity, tools, and techniques. Our program was filled with sessions from experts who are ahead of the game, be it with open source investigations, working with hackers, digital advertising, cryptocurrency, web archiving, data scraping, or social media searches.
(Cautiously) Ushering in the AI Era
It was evident that AI will have a significant impact on journalism, whether as a threat or as a promising tool. GIJC23's first day, held at the Lindholmen Science Park, was filled with talks on AI – its perils and promises, how it can help small newsrooms, and more!
Global Shining Light Awards
A huge highlight from the conference was the announcement of winners of the Global Shining Light Awards, which returned for the first time since 2019. This year's awards recognized exceptional work that exposed illegal mining in Venezuela, systemic banditry in northwestern Nigeria, secret prisons in Bangladesh, police brutality in South Africa, mass graves in Izium, Ukraine, and COVID-19 profiteering in North Macedonia. Congratulations to all the honorees!
Finally, the Passing of the Baton
Some tears were shed on Thursday evening as the GIJN community said farewell to outgoing Executive Director David Kaplan, who has led the organization since 2013 and was the first person to hold the post. David has been at every GIJC since 2001 and at the gala dinner event, he both literally and metaphorically passed the baton to GIJN's new executive director, Emilia Diaz-Struck.