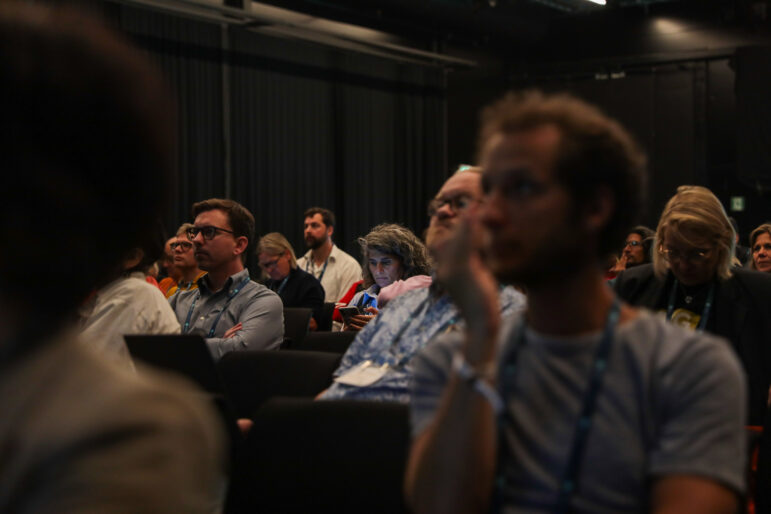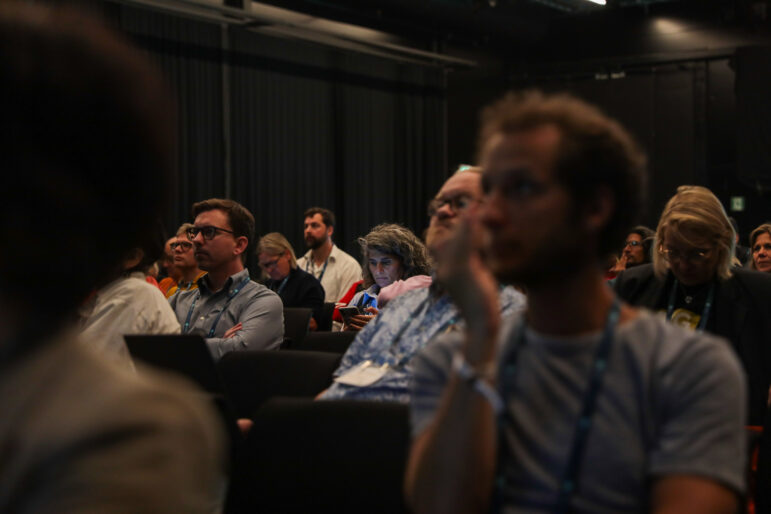 Photo: Smaranda Tolosano for GIJN
Global Collaborations and AI: Navigating the Future of Investigative Journalism
Read this article in
At a panel at the 13th Global Investigative Journalism Conference, Jenny Wiik, associate professor in media and communication studies at the University of Gothenburg, spoke to three experts about how understanding AI and working on international collaborations can help journalists confront and adapt to the dizzying pace of evolution in the digital world.
Getting Started on AI Reporting
In San Francisco, where GIJC23 panelist Garance Burke is based, she said AI companies are taking up space not only in laptops and mobile phones but also in outdoor billboard advertising.
Burke, who leads a team investigating the power and impacts of AI technologies for the Associated Press, said that now is an exciting time for investigative journalism to take a lead in examining AI.
"These (AI) models are not going to investigate themselves. In many of our countries, our journalism is actually is far more forward-thinking than some of the regulations around these tools," said Burke.
Many journalists may be hesitant to start AI-focused investigations, but Burke insisted that the same curiosity that underwrites any investigation is the same starting point to understanding the world of algorithms.
Tips on How to Start Reporting on AI
Burke shared some pointers and useful resources to start working on and with AI.
Jump in. Burke suggested considering incorporating AI tech tools like ChatGPT — in line with newsroom guidelines and policies — to ease workflows as a way to get to know AI. This familiarity with AI will help in thinking about how AI, as a subject for investigation, might be covered more aggressively later on.
Apply the same basic journalistic principles. When covering AI, reporters should apply the same questions they would for any story: How do these things work? How well do they perform? Who's benefiting? Who's making money?
Read the latest AP Stylebook. Investigating AI is difficult work that requires some level of comfort with data science, but according to Burke, "That does not mean you need to have a PhD in order to get started." The latest edition of the AP Stylebook includes guidance on AI and some basic terms to get started. Burke led the development of the guidance document after her 2020 John S. Knight Journalism fellowship centered on AI at Stanford University.
From Competing to Collaborating 
Journalists blurring borders through international collaborative investigations such as the Panama Papers have shown how sharing data, resources, and expertise can create an impact.
"There are definitely still massive challenges to the developing field of collaboration, but what I would say is it's not in its infancy anymore," said panelist Hazel Sheffield, who leads programs advancing expertise in collaborative cross-border journalism at the non-profit Arena for Journalism.
Before working at Arena, Sheffield coordinated Money to Burn, a transnational investigation across eight countries about the effects of Europe's renewable energy subsidies on forests in Estonia. The story series was published in partner radio, print, and online publications across 10 newsrooms, including the Guardian, Die Zeit Online, and Publico.
Sheffield stressed that the complexity of topics such as the environment require expertise across intersectional skills, disciplines, and knowledge. This presents an opportunity for journalists to work with scientists not just as sources, but also as collaborators on publications that can amplify findings such as academic papers.
"Collaboration as a way of communicating, a kind of soft skill in intercultural communication, is just as important to journalists as learning how to use AI to search data or your interview techniques," said Sheiffield.
Tips for Starting Collaborative Cross-Border Investigations
Sheffield shared other best practices for conducting reporting projects across multiple countries.
Joachim Dyfvermark, an investigative reporter and producer for the award-winning television show, "Uppdrag Granskning" (Mission Investigate) on Swedish Public Broadcasting (SVT) works with big leaks and mass data.
In 2017, Dyfvermark  was nominated for an Emmy for the Panama Papers story that led to the resignation of the Icelandic Prime minister.
He cautioned against the ongoing danger of mass production of disinformation and fake documents enabled by technology. He also warned against digital tools replacing the boots-on-the-ground field reporting.
"During my some 30 years [in journalism], it's always when you combine a good tool with classic journalism, with cultivating sources, that's when it becomes powerful," he said.
"You have to be out in the world. You have to create a big network in order to get human intelligence and combine it with good tech tools," Dyfvermark added.
Transparency to Counter Declining Public Trust in Journalism 
After the session, GIJN spoke to the panelists about other threats such as declining public trust in journalism.
According to Burke, letting the public in on what goes on behind the scenes in putting together an investigative story can help rebuild trust with audiences as journalism looks ahead to the future.
"I think transparency is really the key. Show rather than tell [audiences] more about our research, our reporting, our methodologies, the tools we use, how we did it. So they can feel that they have some ownership in understanding what we're revealing in our investigations," said Burke.