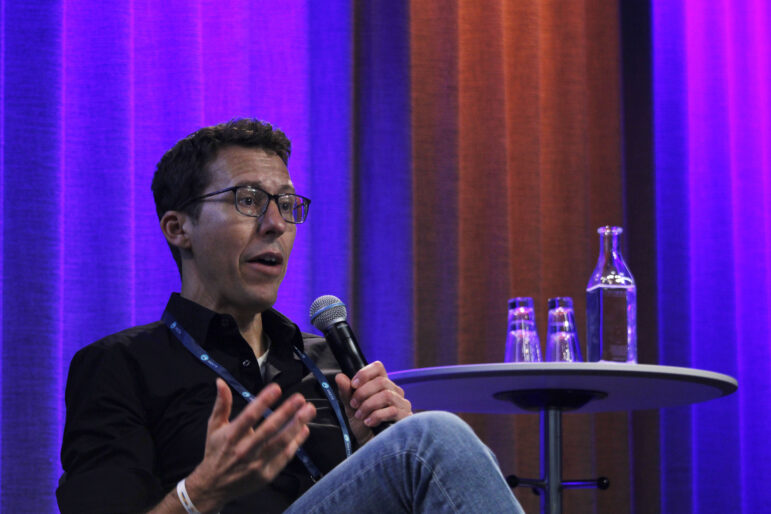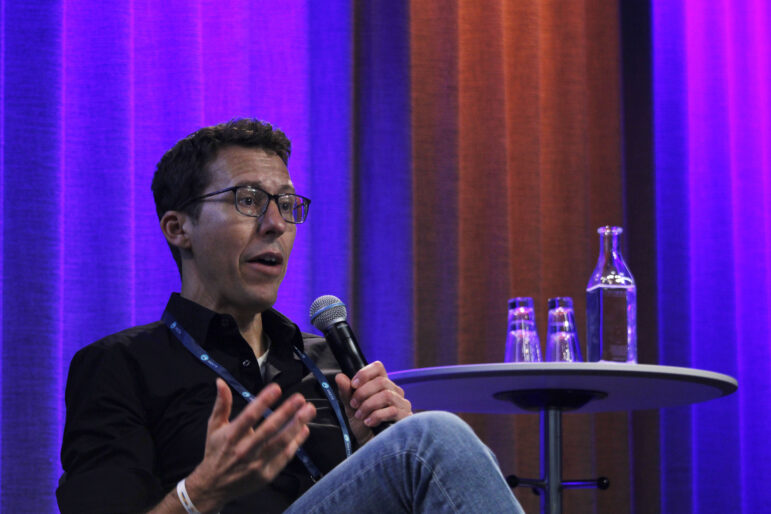 Bastian Obermayer, a German investigative reporter who worked on the Panama Papers, speaks about source protection at GIJC23. Image: Heino Ollin for GIJN
Recruiting Secret Sources: Where to Find Them, and How to Keep Them Safe
Read this article in
In the realm of investigative journalism, sources are the lifeblood of groundbreaking stories, and protecting them is paramount.
There are few reporters more experienced in the art of finding, using, and safeguarding sources than Bastian Obermayer, the award-winning German reporter who was given the treasure trove of documents that would go on to become the Panama Papers.
From being accessible to new sources so that leads don't slip through the cracks, to ensuring people understand the consequences of their actions, here are his best practices for investigative reporters working with sources.
The Power of Sources
The Panama Papers had at its heart a leak of 11.5 million documents that exposed the role of the offshore finance industry and how it enables crime and wrongdoing. It stands as one of the most impactful journalistic works in recent years and highlights the pivotal role of secret sources in uncovering massive global scandals.
But why do sources choose particular journalists over others? Why did these highly sensitive documents end up with Obermayer, and not someone else?
"For no special reason," Obermayer said at the 13th Global Investigative Journalism Conference (#GIJC23), while revealing that the story first came to him because journalists from The New York Times and The Washington Post didn't reply to their emails. "I was the third journalist to be contacted by the source," he explained.
His key takeaway is simple: "Always make time to respond to your emails and answer calls. They might be sources."
Build Up Your Profile
"To attract sources, you need to cultivate a strong online presence," said Obermayer, who was a reporter at Süddeutsche Zeitung before founding the investigative outlet Paper Trail Media with a colleague. Reporters can do this by making themselves more prominent online, maintaining an active presence on social media platforms, and ensuring that their journalistic work is easily available. Being easily discoverable is crucial, he said.
But Keep Your Personal Life Secret
Obermayer says it's important to keep your personal life private and to appear as boring as possible. The less any potential source knows about your personal life the better. "Once a source who felt he overshared information said, 'Be careful with the information I give you, because I know you have kids,'" Obermayer recalled. "This is something you don't want people to know about you."
Assure Source Protection
Ensure your sources feel secure from the first moment of contact all the way through to after publication. It is also the journalist's responsibility to inform sources about possible consequences of their acts. Obermayer suggests reporters talk with them about how to safeguard themselves and the information they are providing.
Understand Motives
CIA spies are reported to keep the acronym "MICE" in mind when recruiting sources, noted Swedish investigative reporter Axel Gordh Humlesjö, who was speaking in the same session. This stands for the various motivations people have for leaking or whistleblowing, which can range from financial gain (money) to personal beliefs (ideology), external pressures (coercion), or ego-driven desires (ego).
"It can be someone who hates his/her/their boss. Sometimes sources have their own agenda, but it can be that their motives are perfectly in line with the interest of public good," said Obermayer. While it's important to understand the driving factors that can cause a source to turn to a reporter, their motivations don't have to become part of your story. "It does not matter why people give you these documents, what matters is if they are true."
Identify Potential Sources
It's important to research a potential source to understand their background and interests, and where possible, find common ground to build rapport. "But sometimes you need to cold call people," Obermayer acknowledged. "Once, we had some information, but we needed it to be fact-checked from inside the company we were investigating. I cold-called someone from the company, and talking very fast, introduced myself, and gave names of his superiors, and asked him to quickly check the information in his system. He checked it and gave us the answers we were looking for."
Build Trust
Establishing a good connection with sources is essential for long-term relationships, Obermayer said. This is why it is important to follow these three steps.
Be Transparent: Clearly explain your intentions and processes. Assure sources that their information will be handled responsibly.
Prioritize Quality Over Speed: Emphasize your commitment to understanding the situation thoroughly rather than rushing for a sensational story.
Never Pressure Sources: Avoid pressuring insiders or whistleblowers and pushing them to break the law. Respect their boundaries and choices.
"We do not want a fast and splashy story. We want to understand the situation. We want to understand what is going on. It is important for our sources to know that our assessment of the story can be wrong, and they would be helping us to go in the right direction, potentially leading to the real story," Obermayer told the audience.
Be Cautious
When talking to secret sources, Obermayer advises journalist to assume that any meetings you hold with a source could be leaked.
Finding, using, and protecting sources is a delicate dance. Building trust, being clear, maintaining a professional profile, and thinking about the security of your sources are essential steps to building a profile as a journalist trusted by secret sources.
But as Obermayer points out, journalists shouldn't forget that source protection doesn't end when the story comes out, it's a long-term commitment.