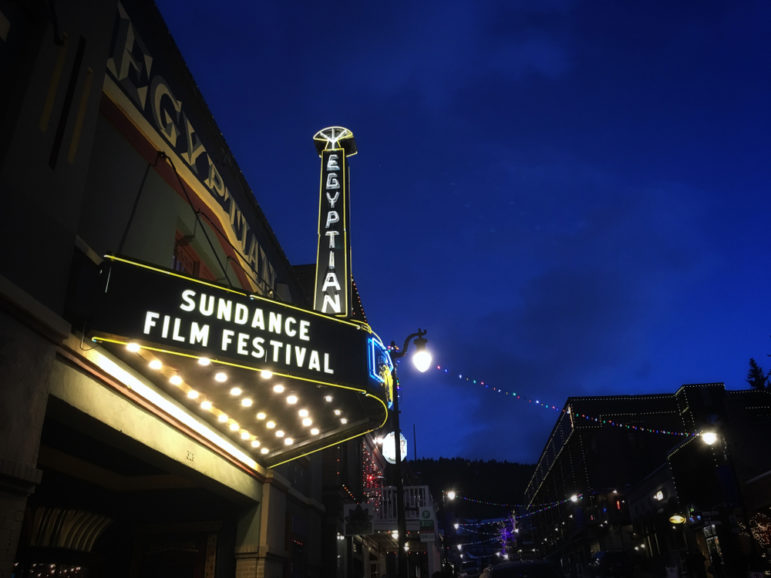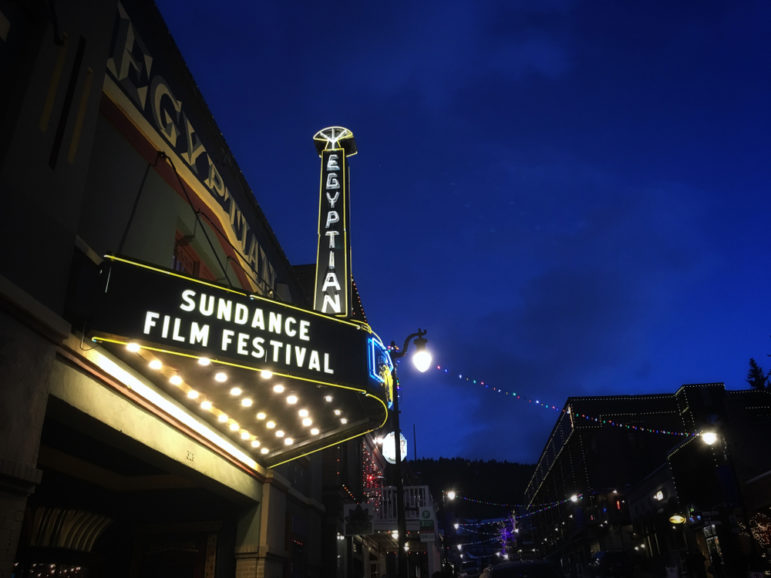 Festival du film de Sundance.
Q&A with Carrie Lozano: Sundance's New Head of Documentary Filmmaking
Read this article in
Carrie Lozano, the talented storyteller and award-winning documentary filmmaker, recently became the director of the Sundance Institute's Documentary Film Program. Lozano is the first person of Mexican descent to hold the position for the annual event, the largest independent film festival in the US. 
In her new role, which she assumed last September, Lozano supports nonfiction filmmakers worldwide with funding, direct artist assistance, and film development.
Lozano graduated with a degree in film studies from the University of California, Berkeley. But her first professional job was in the federal government, working for the Department of Health and Human Services. On paper, it was an unusual move. But Lozano says her job was much like being an investigative reporter, with tasks that included evaluating programs, analyzing big data, and diving deep into fraud and abuse of the nation's healthcare system. After that, she headed back to school, later studying at UC Berkeley's investigative reporting program. She went on to produce her own films, including "Reporter Zero" and "The Ballad of Fred Hersch," and led the International Documentary Association's Enterprise Documentary Fund.
GIJN's Spanish editor, Andrea Arzaba, talked to Lozano about her new role, her career, and the opportunities and challenges new technologies bring for investigative reporters who want to explore documentary filmmaking. 
GIJN: Let's start with the big question. How do you think the documentary market has changed in the past few years with companies like Netflix and Amazon?
Lozano: It has changed so much. And like all things technological, it's a double-edged sword. On one hand, it's incredible. There are great opportunities and more work for those who have access to it. The global reach is outstanding, [with Netflix alone] surpassing 190 million subscribers. But it's not so different from the rest of our capitalistic structures, where some people have entry to that, and then other people are left out. So I have deep concerns, too, about accountability, journalism, and the ways in which that is or is not part of those platforms, because they have concerns about their bottom line, litigiousness, and their kind of global partnerships and relationships.
I also worry about not leveling the playing field with public media. [Editor's note: Public media in the US refers to a system of independently owned and operated local public service radio and television stations.] Public media is so essential. And yet they can't compete. Many digital natives, of course, look at those platforms as the Holy Grail. But in my generation we looked at public media as the Holy Grail. You could reach so many viewers that way. It was free. It was accessible. And it held to the core values for many of us for our work. So there are real opportunities, but there are enormous tensions.
GIJN: And what about journalists creating documentaries without the backup of these big media companies?
Lozano: Right now it is awards season, and the deep pockets can do those awards campaigns in a way that the independents can't, so at Sundance, and in my career, I am concerned with supporting independent voices. In journalism, they are kind of the equivalent of a freelancer, right? And so how do we support individuals when they're up against these very big and wealthy entities? It's very difficult. Here we have some structural barriers. And I think that when things move as quickly as technology does, there are always unintended consequences. You know, the people who work at these entities are great people with deep roots, in documentaries often, but you become part of the system. And it's hard to engage that with independence and to have any leverage.
GIJN: You have been working in the industry for many years. What excites you the most about documentary filmmaking?
Lozano: There are so many stories that you can tell within the form. They can be linear or nonlinear, they can be interview-based, or TV-based, narrative-based or not. There are plenty of films that are much more like essays, or abstract, or even experimental and kind of visual in form and structure. What excites me is that there is a lot of diversity. There are endless possibilities, in terms of what you can do, you're not bound to a certain style or structure. So that, at its core, is what draws me to documentary.
GIJN: You are a woman in a leadership position. Before you arrived here, did you face any challenges because of your gender? 
Lozano: Things are different now. But there were many years where I would be the only woman in a room, or the only person of color, or sometimes both. I was often the youngest person in a room, and there were many occasions where I felt that I was not heard or not taken seriously. 
I remember being in a room — I won't say which room, it was a very established and esteemed journalism entity — and I was there to present, as was everybody else, and they literally forgot about me. I was the youngest person, I was the only person of color, there were very few women, and they literally just bypassed me. But you know what? I just kept showing up. I had to learn how to be incredibly vocal — and then go ahead and take that reputation of being the cranky brown woman. But I was not going to be made invisible. That said, I've also had a lot of advocates and mentors. And people that I deeply admire, that I'm so privileged to work with in any capacity. But I feel like journalism really thickened my skin. 
GIJN: What about in documentary filmmaking? 
Lozano: There are a lot of women in documentary filmmaking who are inspiring leaders. But when I started in the late '90s, we were not talking about gender in documentary making and we were not talking about race. We weren't even talking about the makeup of a team or any sort of positionality or unconscious bias. But it's different now. And it's exciting. 
GIJN: How has your identity as a Mexican American shaped your work?
Lozano: You are probably the first person to ever ask me that. And that's telling, right? That nobody really ever bothers to ask. I mean, our identity is kind of like everything. And I am proud! Proud to be part of such a rich culture and complicated history. As a fourth-generation Californian, this land is part of the Mexican narrative, the Indigenous narrative, and the narrative of colonization. I feel all those things very deeply — and storytelling is at the heart of my Mexican identity, it is core to my cultural experience and identity. 
To be honest, it's also complicated. My grandparents, growing up, were not allowed to speak Spanish. And they did not want us to learn. And, you know, I'm also a product of that, of that racism, and of their own experience. 
GIJN: How can journalists who work in digital and print step into the documentary industry. How can they succeed?
Lozano: I think that reporters are successful when they start working with people who are filmmakers already, who are already doing the work, who have access to the resources and the finances — and who can help shape the story visually. However, a lot of times, reporters start doing what they do in their newsrooms, grabbing footage, and that is a great way to start. There are plenty of newsrooms that are diving into film. But if you have a day job, I hesitate to tell anybody to get rid of it.
The International Documentary Association has great resources. It has a documentary magazine where there are many articles about this. And it also has a grants database so you can look and see what different types of funding are available in the philanthropic world. Some people have agents. So there's different ways to enter it. But just like journalism,  it's just not an easy road and it's dependent on the team, on the film, and the proposal itself. 
GIJN: And what about financial resources for reporters making their first documentary? 
Lozano: In the US, the budgets have gotten really large. In an ideal world, you'd finish your film in a year or two, but most take longer. And most filmmakers who are independent are pulling resources from a bunch of different pockets: philanthropy, sometimes investment, or maybe they have some money from a streaming platform or another sort of broadcaster. And so when you look at the financing, it really is all these different pockets. So this is not to be discouraging. That's part of what the producer does, is to help figure this stuff out. How are we going to finance this? How much is it going to cost us? 
GIJN: Has the market changed recently for investigative documentaries? 
Lozano: The market has changed for all documentaries in the last decade. This is very anecdotal, but there seems to be more of an appetite for investigative series on the platforms than for one-off investigative films. I hesitate to say anything across the board, except that independent filmmaking is incredibly challenging financially and the ecosystem relies heavily on philanthropic support. If we want independent media, if we want to hold the powerful to account, if we want to interrogate and investigate systemic injustices, we must support investigative films philanthropically. 
GIJN: Are there any specific tips you would recommend to investigative journalists with a great story that they want to develop as a documentary?
Lozano: The resources required to produce documentary films are significant. Journalists should initially approach stepping into a documentary much like they approach stepping into a story: research the documentary landscape, understand the business and marketplace, and identify why the story should be a film, pinpointing the film's narrative thrust and specifically what we the audience will see.
It sounds ridiculously basic, but the reason investigative films can be challenging is because you need things on camera. It can be difficult to capture things that are deliberately not visible on camera, it can be difficult to get key interviews, difficult to get access, especially if you don't have a broadcast, platform, or newsroom behind you. As a result, journalists should watch tons of films, immerse themselves in the creative possibilities, and then decide whether or not to pursue a visual path. The easier road might be to partner with an experienced filmmaker or production company. 
GIJN: There's a big difference between documentaries that are thrown together and deep-dive investigative films that break new ground. What is the role of investigative journalism in documentary production today? 
Lozano: Investigative documentary has long been a feature of the field, but really solidified as a genre in the US in the 1960s with the groundbreaking work of Edward R. Murrow. But like many things in our media landscape, there is less institutional support than there once was, mostly in the form of broadcast and distribution opportunities for high-risk films. Today, the trend is that independent filmmakers produce some of the most impactful, high profile investigative films each year. From the Oscar nominee "Collective" to films like "For Sama," "Welcome to Chechnya," "A Thousand Cuts," and "One Child Nation," filmmakers assume significant risk during development and production to tell essential stories.
GIJN: What are your thoughts on mobile filmmaking?
Lozano: Mobiles are handy for certain things. If you're capturing what just happened at the US Capitol, for example, in your crowdsourcing footage, or a situation like that, you see a lot of mobile footage. And there are certain moments that get captured that way, that are a part of our language, and where we can actually then see what happened. But many films still happen with professional cameras and cinematographers. I don't want to say all of them do, but I also want to be honest that, if you're trying to do a commercial film, or trying to get on a platform, most of those films are still done with high quality cameras and high-end, quality crew.
GIJN: I would also like to know more on the craft of documentary making. We see a lot of things changing. But what traditions continue?
Lozano: We have a cinematic language that we understand, whether that's interviews, or scenes, or character-driven approaches. So those approaches and techniques will always remain, with different forms. Like these incredible portraits of people, or the use of archival materials. 
Documentary making is a little over 100 years old. And in this last century we have seen phases. It is the same with filmmakers. But what you start to realize, as you go through your career, is that every film demands something different. And nothing should ever be off the table. And so, to me, the main question always is about what is going to best serve this story. 
GIJN: Have investigative documentary producers changed the techniques or approaches they use? 

Lozano: Investigative approaches are incredibly varied, from personal films, to explanatory films, to pure verité films, and even hybrids with narrative elements, which was exceptionally executed in "The Infiltrators." "Welcome to Chechnya" used a digital "deepfake" device to protect its sources and was the first documentary ever to make the Oscars' Visual Effects shortlist. 
GIJN: Finally, a question I cannot help asking. What are your favorite documentaries?
Lozano: My top two documentaries are: Lourdes Portillo's "The Devil Never Sleeps." I love that film. The director captures something about Mexican culture, about the people. It is fascinating. And Marlon Riggs' "Ethnic Notions." That is a critical one as well.
Additional Reading
What to Watch: Shortlisted Oscar-Nominated Documentaries in 2021
What To Watch: 5 Anti-Corruption Documentaries from Films for Transparency
Solving a Journalist's Murder — The Making of "Killing Pavel"
---

Andrea Arzaba is a journalist and GIJN's Spanish Editor. Arzaba has dedicated her professional life to documenting the stories of people in Latin America and Latinx communities in the US. She holds a Masters in Latin American Studies from Georgetown University, is an IWMF fellow, and part of Transparency International's Young Journalists Program.