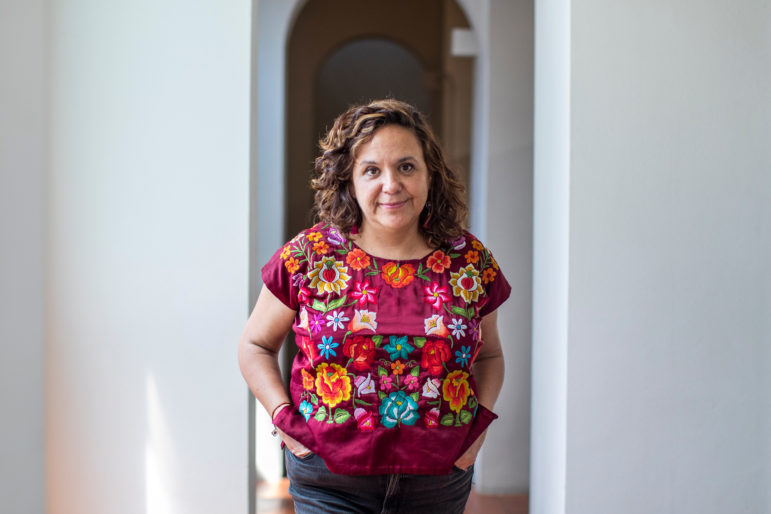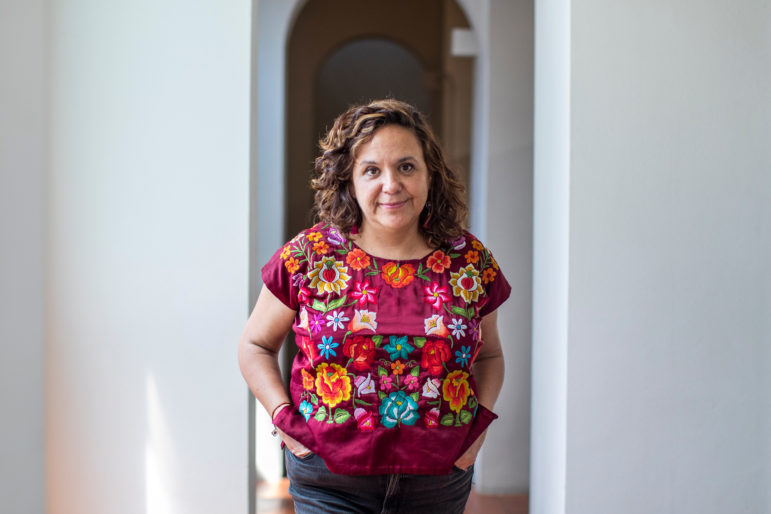 Marcela Turati on a Career Spent Investigating Mexico's Crisis of Missing People
Read this article in
"All you talk about is missing people."
It's the criticism leveled over and over again at Mexican journalist Marcela Turati, a reporter who is obsessed with memory and dignity, with truth and death. This endeavor led her to focus on the plight of the families of those who have disappeared. Her work reveals an impulse to heal wounds.
Since publication of her book "Crossfire" in 2011, Turati has continued to focus her energy on talking to survivors of drug violence, collecting their testimony and finding clandestine graves. Since 1964, more than 100,000 people have disappeared in Mexico: 100,000 stories remain undiscovered.
Her journalism combines investigative work with a collaborative spirit and a sense of duty. She was one of the founders of the Periodistas de a Pie network and won the Gabo Foundation Recognition of Excellence in 2014, among many other awards. Her latest project is Quinto Elemento Lab, where she continues to explore the frontiers of journalism: after spending years working to guarantee better conditions and safety for journalists, she now wants to weave a network where taking care of reporters sits center stage. 
The violence that Turati knows so well does not emanate only from the cartels. "Everyone is involved," she insists. The criminal groups, the authorities, the security forces, and those with economic power form a jumbled picture, a revolving masquerade of dark actors which in turn crush and bury the victims.
Revista 5W interviewed her the day that she gave a talk at the Center for Contemporary Culture of Barcelona (CCCB), together with the journalist Pere Ortín. The title of the session — "Not Giving In: Critical Journalism in Mexico" (in Spanish) — paraphrases Javier Valdez, the Mexican journalist murdered in 2017, who always said: "To type is to not surrender."
Q: Mexico is often said to be the most dangerous country in the world for journalists. Is this a cliché or reality?
Marcela Turati: It's the reality if we focus on the number of journalists killed. Seeing the situation in other countries — with journalists tortured or disappeared — one could also say that it is among the worst.
Q: What has been your personal experience? For years you have been investigating disappearances and receiving threats as a result.
MT: The war on drugs that President [Felipe] Calderón launched in 2006 changed my life and that of many journalists. It made us war correspondents in our own country. I went from being a reporter who covered issues of inequality, religion, and the environment… to covering massacres, missing and displaced people, and going to clandestine graves. The killing of journalists, whom they used to kill before, resumed and hasn't stopped since. We had to organize as journalists to protect ourselves, to learn how to take care of each other, to report what we didn't know how to cover, to sometimes get people out of the country and hold protests, to demand justice for our murdered colleagues. More than 15 years have passed since then, and what we have right now are constant threats against journalists. The vast majority are local journalists, poorly paid, who cover political corruption, or police issues. They are the ones getting killed most often, but there is more besides. I have been the target of espionage, at least twice.
Q: Of espionage through the Pegasus software and what else?
[Turati's name appears on a list of thousands of numbers registered by the software of the Israeli company NSO, allegedly at the request of the government of then-President Enrique Peña Nieto].
MT: The Pegasus affair came out [in 2021] but I also appeared in a dossier on some massacres that I was covering. They spent a year surveying my calls, where I went, who I talked to… They asked the telephone companies for information on a lawyer, a forensic anthropologist, and me, they also requested all our personal data from the Secretariat of Foreign Affairs, as being investigated for organized crime and kidnapping. We are in the same file alongside Los Zetas, who carried out those massacres, as if we were part of the cartel. That was the way they were able to obtain information about everything we did. This is something we just found out about, but it took place in 2016, the same year as Pegasus. I'm on both those lists. We made a complaint last November and the government has done nothing. I was included in the Federal Mechanism for the Protection of Journalists, but nothing happened, my name is still on those lists.
Q: Where does the danger come from for journalists like you? From the outside, it seems that it only comes from drug traffickers, but there is also the police, the state…
MT: The main problem is impunity. We don't know why they are investigating us. The organization Article 19 has documented that at least half of the threats come from public officials, the government, from politicians. Everyone thinks it's organized crime, but even when that's the case… Some journalists have told me that they have received threats or have been tortured by groups like the Zetas, and when they were released, after having been beaten, were told: 'That's for writing that piece about the mayor's corruption.' 
One awful example of this is taking place in the state of Guerrero. Barely a year and a half ago, the drug traffickers put all the journalists in the area into a WhatsApp group, giving them orders about what they had to publish. If they didn't, they would kill them. Now one has just been murdered. Those are the levels of violence being reached… After all these years of covering missing people, I can say that this cannot happen without collusion from the local government or the police. In each case you investigate, you see that the municipal police, the state police, the Mexican intelligence agency knew about it, that the army knew about it, or was nearby… Suddenly we're seeing that the governors that were in office at the time are on trial in the United States. It is very difficult to define what organized crime is. It's a mixture. The problem is that every time a journalist is killed, the government puts forward the assassin, but it's never the person who hired them, those behind the crime, the masterminds. That's why things stay the same.
Q: How much damage is caused by television series and movies glamorizing organized crime?
MT: Drug trafficking has been glamorized so much… First came all these series where they interviewed hitmen, who talked about why they killed and even gave recipes for how to dissolve corpses. I understand that this draws attention, but they are never confronted with what they do. Even when Chapo [Guzmán, a convicted narcotrafficker] and others are being tried, they are only asked about the drugs, never about where all the missing people are, about whom they ordered to be killed, about the human rights defenders, and the murdered journalists. Judgment is passed on where they have their properties, their houses. The same happens in the coverage. Their life is portrayed like in the series "Narcos." I liked "Narcos: Mexico" as a way to understand these people, but their victims are never depicted, nor is the damage shown. Every interview or documentary should include a part on the damage they did, instead of the glamorized characters they are depicted as.
Q: That is precisely what you do: reporting what happened to the victims and missing people. Over 100,000 people have gone missing since 1964, according to Mexico's National Registry of Missing People. You have done special investigations, and covered the subject in-depth. We talk about "missing" people, yet what is behind that phrase in Mexico?
MT: Our tragedy is magnified by the strategy of the war on drugs. The US has always put pressure on countries, but in this case, the then-president [Calderón] wanted to declare a war and since then the levels of violence have never dropped, which is reflected in all the clandestine graves, all the missing people, the homicides, the displaced people, and the murdered journalists… On the issue of missing people, there has even been a regression. Back in 2011, the Movement for Peace, a movement for and by the victims, traveled the country asking for justice for the murdered. A poet, Javier Sicilia, whose son had been murdered, created the movement, and they realized that wherever they went, people joined them, carrying posters of missing people. When it began to be televised, people realized the extent of the problem. It's then that the mass clandestine graves began to be discovered, like the one in San Fernando.
The disappearance of migrants is a subject that obsesses me, I've been reporting on it for 10 years. Suddenly, these clandestine graves are being found and the people caught say that bodies are being dissolved in acid. We began to see a change: before, bodies were dumped in the street, then suddenly the homicide figures drop, but it becomes apparent that many people are disappearing instead. In 2014, the families start a movement, they take to the streets and go to the hills to dig. In the cities they take up picks and shovels, they go into the safe houses where they know that organized crime groups work, where people are detained. It's then that we began to see that there are places where there are no bodies left, that they've begun to burn bodies, then later that acids are used for the same purpose, a trend right now. All the criminal groups have someone whose role is to make the bodies disappear. Mexico is subjected to a struggle for territories. What we saw in the war on drugs is that, if the army arrived somewhere, it cleared the way for a new cartel, which then clashed with the one that preceded it… When someone takes control of a territory, it's the trafficking routes that are being disputed. Many young people disappear, beautiful young girls or women are later put to work. People are forcibly being recruited.
Q: Migrants are one of the focuses of your journalistic work. Most of those who arrive in Mexico are from El Salvador, Honduras, and Guatemala. Why are there mass graves of murdered migrants?
MT: It happens when a rival group is the one controlling the crossing. It's a way to impact profits, so they don't receive the money the migrants were going to pay them to cross. You impact their business by killing migrants. Several things happen with migrants. The first is that some do die in the desert. Even if the body is found, there are then at least 55,000 unidentified corpses in Mexico's morgues. It is a forensic crisis ignited by that violence. Some were buried in mass graves by the government. The government itself also created its clandestine graves, as we found out in 2015, but we don't know the scale of that. A migrant can go missing on the journey because they fall off the train, they can get lost because the territories are increasingly controlled and crossings are all the more difficult.
There comes a time, from 2011 onwards, when the cartels control the routes and everything that passes through there. The migrant and drug routes are the same, and that makes everything much more difficult; in addition to the more stringent policies of the US, which force the migrant flows to shift and hide even more. A migrant can also be recruited. We began to see that with the massacre of the 72 migrants in 2010, in San Fernando. The Zetas stopped them and asked them if they wanted to work for them. They told them no — two seemed to say yes — and all were killed. We know it was a message to the rival group, the Gulf cartel. The bodies of migrants have often been used as messages for the other group. We know that at other times they are forcibly recruited and made to work as part of the group… Migrants have been paying for this war with their lives.
Q: According to the investigations you have done, who is behind most of these disappearances? The cartels, the government…?
MT: Among the 100,000 disappearances, there are only 36 sentences for forced disappearances which are those committed by the government, the Army, and the Navy. It isn't investigated. When the 43 students from Ayotzinapa went missing, the authorities first alleged that it was done by [criminal group] Guerreros Unidos, because the students inadvertently took a bus loaded with heroin, which was going to Chicago. Now we know that there were soldiers present, that there were federal police on the perimeter, stopping the cars so that no one could pass while the operation was being carried out, we see that the state police is present, as is the municipal police; we see that the government, through the Attorney General's Office, fabricates the story that they had been burned, then plants the evidence of bones that aren't the students, and there are also videos of the Navy starting a fire and emptying something. That's what you start to see when you reach the bottom: they are all in on it. The government itself follows criminal patterns. We cannot say that the disappearances are solely due to criminal groups. The same goes for the murders of journalists.
Q: What is the role of journalism in Mexico? Some journalists publish knowing that they are risking their lives but I don't know if collusion with organized crime also exists.
MT: Journalism is also infiltrated, and that's a big problem we are facing. We don't even know what to call them… because they're certainly not journalists. When journalists are killed, we always have to see who that person was, which complicates everything, we first must investigate whether the murder was related to their profession or not. The newsrooms are infiltrated. It's terrible, you are giving a workshop and suddenly notice a strange dynamic in the newsroom. Nobody speaks. At the end, people approach you to reveal that among those present are the people passing on the cartel's orders.
Q: They are inside the newsroom.
MT: Yes.
Q: So it's not even just in the public sphere anymore, they know things about you from the inside. It's not just what you publish.
MT: Exactly. You see that a lot in the north. Journalists who go to the crime scene often say: 'Even if you don't have a byline, they have another journalist spying to see who went to take the photo and who didn't.' There are journalists in Veracruz who say they are alive because they self-censored for many years. In six years, 17 journalists have been killed there. Some disguise themselves to do their work. Others have been silenced. Tamaulipas is perhaps the worst example. How can they do journalism if they can't publish anything? The owners of a media outlet told me that one day they did something very heroic: they published a photo of the Army on the front page. They risked their lives just for that. Simply republishing a column on drugs from the newspaper El País, that was already taking a risk. That's how far it has come. You can't post anything. They'll threaten you about anything, they'll come for you, and they'll torture you. For five years, local journalists were forbidden from going to the place where the 72 migrants from San Fernando were killed. They knew that it was prohibited and that they would be killed if they did.
Some freelance journalists go to crime scenes every day, to keep a record of what's happening. I believe those articles will be of use in the future, that even the most basic journalistic record is important. Another type of journalism is more investigative, there are local journalists passing information to others so that it gets carried out, sometimes to foreigners, so that things can be published. They risk their lives doing it. And something remarkable is happening: collectives of journalists have emerged in the places where respected and beloved investigative journalists have been killed, such as Javier Valdez, Miroslava Breach, Regina Martínez, or José Armando "el Choco" Rodríguez; to organize themselves to demand justice, to train others to take care of themselves; to protect others and to investigate. The killing of a journalist doesn't silence a place; it sparks new efforts to keep journalism alive. It's impressive what's happening in Mexico.
Q: Journalism is increasingly a collective work. You co-founded Periodistas de a Pie and then took part in other groups. The concept of memory is always key. Does it frustrate you that in the short term it may not have an impact, or, do you look to the future, does it bring hope that the truth can be found?
MT: I have been covering these massacres in San Fernando for 10 years. There were a lot of things I couldn't publish. I still can't fully explain it all because there are parts I still don't fully understand, but I can already put together pieces that help to explain how these massacres were possible. There are things we are starting to know. In the case of the murder of journalists in Veracruz, the Governor has been arrested; he was the one who allowed this to happen. He was arrested for corruption, among other things, not for the murders, yet we now know that his Secretary of Public Security had a death squad that made people disappear, and we also know that journalists received threats from government offices… Sometimes it is very frustrating, but we also have strategies to help each other. We have to take care of ourselves, we have to live, we have to do other things, and keep thinking about what the meaning of all this is, and why it's important. Many people abandoned journalism, got sick, and had to take breaks. After covering so many things, there comes a time when you are so involved in a war zone, and when you've been threatened once, twice, 10 times, that you are no longer able to distinguish the risk anymore. You've normalized it.
Q: And how are you? You've been talking to families for years, looking for the missing. Your safety has been threatened. How do you feel?
MT: There was a very tough period, during which I had to leave the country through a fellowship [Nieman, in the US] because I couldn't hear any more testimonies. Since 2008, I have dedicated myself to covering what we call victims of violence, survivors. While at Periodistas de a Pie we helped at-risk journalists, and it felt like the lights went out: journalists began to get killed indiscriminately, we had to get people out of the country, and we hid people. It was a shock when they killed journalist Rubén Espinosa. We thought that things were working, he trusted that he was protected, and they killed him in Mexico City, even though he was asking for help and said he was being followed… I returned from the fellowship in 2017, just when Javier Valdez and Miroslava Breach were killed. I had been threatened myself, I had had to leave the country for a month, and now a lot of things make sense to me from that period, about Pegasus and the file. I was not paranoid; many things happened to me then that I couldn't explain. My computer's hard drive was removed from the newsroom of the magazine where I worked. But I'm convinced that this collective work that I have always pushed for, and the networks that it creates, can save lives. I'm now in a moment in which I want more, I have new projects like setting up a place where journalists can rest. We have to be creative. How do we get through to society? People don't understand why so many are killed in Mexico. It's like speaking from the bottom of the sea; your voice doesn't travel. We have to think more about how we build these links with society.
Q: Do you feel that in Mexico there is an undeclared war? An unconventional war.
MT: What's happening in Mexico has yet to be defined. It isn't like Colombia, which was an internal armed conflict; it isn't a civil war or an invasion. Mexico is in limbo, it has been left undefined, and it's convenient for the government that there is no definition. Nobody understands it, and neither do we. Every time a journalist is killed you start to pull strings to see where they went, what happened, what they published… Suddenly you realize that a journalist was killed because the mayor was annoyed that they published that there were potholes in the street. The Mexican case has become entrenched; it's been too many years. This year 11 journalists have been killed [Editor's note: the latest figure is now 15], and others are not counted as part of that tally because they had spent time doing a different line of work. We are trying to explore new ways and demand different things, for example, that there be an international group to investigate the crimes, with independent experts. One idea is to create a Truth Commission. It's something I've hoped for for a long time: to understand, to explain, for things to be known.
Q: You're not going to give up now?
MT: No. Right now I'm thinking about how we can renew our strength, take care of ourselves, but also continue asking for justice. I'm thinking about the Truth Commission.
This interview was originally published by Revista 5W, a long-form journalism and photography magazine focusing on global affairs. Those interested in supporting the magazine can become a member here. It was republished in Spanish by GIJN en Español, and is republished here, in translation, with permission. The English version has been lightly edited. 
Additional Resources
My Favorite Tools with Quinto Elemento's Marcela Turati 
Organized Crime Guide: Political Kidnapping and Forced Disappearances 
Tips for Interviewing Victims of Tragedy, Witnesses, and Survivors
---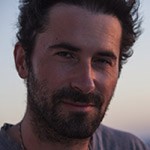 Agus Morales is the editor-in-chief of Revista 5W, and writes for The New York Times and The Washington Post. He has spent the last decade writing about victims of war and refugees and is the author of "We Are Not Refugees," a work of non-fiction. He spent over five years as a correspondent for Agencia EFE in both India and Pakistan, and has worked with Doctors Without Borders.