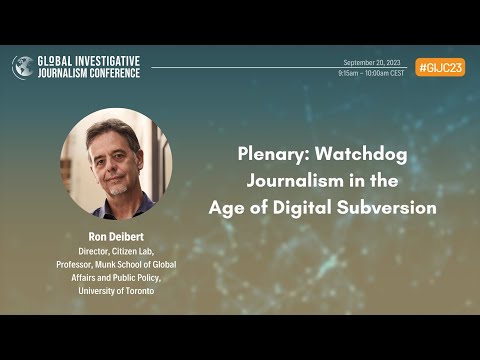 Our keynote speaker this year is Ron Deibert, director of the groundbreaking Citizen Lab at the University of Toronto. Deibert was among the first to sound the alarm about a global information security crisis — warning that the digital revolution would spark a new era of surveillance, censorship, and disinformation. Deibert's interdisciplinary team at Citizen Lab, based at the University of Toronto's Munk School of Global Affairs & Public Policy, is today a key player in the battle against widespread surveillance of journalists and dissidents, and against digital assaults on truth and the free press. Citizen Lab investigations have exposed information warfare and cyber espionage from Mexico and China to the UAE and Ukraine, and played a key role in revealing the global proliferation of privatized spyware like Pegasus.
Are you confident that you and your sources are well protected? You may no longer think so after listening to Ron Deibert. In his keynote, Deibert will warn that we've entered a new stage in cyber threats to independent journalism, and that the world now faces a perfect storm for democratic institutions.
Deibert has brought his team from Citizen Lab to do mobile phone security checks for GIJC23 attendees. Look for them — along with a team from RSF — at five Digital Security Clinics during the conference.
———————–
The Global Investigative Journalism Network is an international association of journalism organizations that support the training and sharing of information among investigative and data journalists—with special attention to those from repressive regimes and marginalized communities.
Our key activities include:
Providing resources and networking services to investigative journalists worldwide;
Publishing in multiple languages and on multiple platforms the latest tools, techniques and opportunities for those in the field;
Helping organize and promote regional and international training conferences and workshops;
Assisting in the formation and sustainability of journalism organizations involved in investigative reporting and data journalism around the world;
Supporting and promoting best practices in investigative and data journalism;
Supporting and promoting efforts to ensure free access to public documents and data worldwide.
Find more information on our website: https://gijn.org