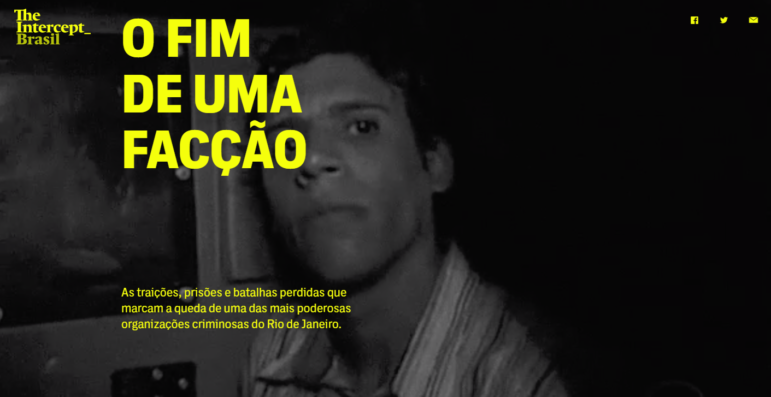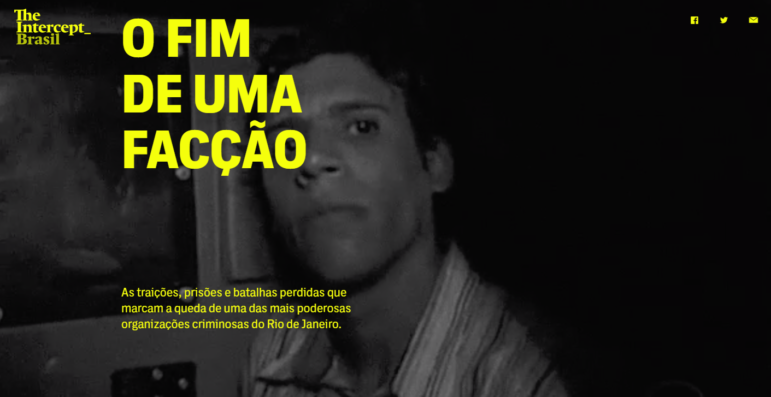 نشرت وكالة Intercept Brasil تحقيقا يتعقب سقوط عصابة مخدرات قوية في البرازيل.
'Like a Punk Rock Band': How The Intercept Built a Home for Investigative Journalism in Brazil
Since journalist Glenn Greenwald co-founded The Intercept five years ago, on the heels of his series of reports about the Edward Snowden case, the news site has grown rapidly. It has published numerous scoops in the United States, many of them centering on US intelligence agencies. But a less well-known development is that it launched a mirror site in Portuguese, The Intercept Brasil, based in Rio de Janeiro, where Greenwald has lived since 2005. He found that Brazil, with its political turmoil and human rights challenges, would be a good fit for a local branch of The Intercept.
When it launched in 2016, The Intercept Brasil had no difficulty in attracting interest thanks to Greenwald's popularity in the country, in particular among the left. But the operation gained steam when investigative journalist Leandro Demori came in as executive editor a year ago. In addition to heading up The Intercept Brasil, Demori is also one of the directors of Abraji, the Brazilian Investigative Journalism Association, and previously served as Medium's editor-in-chief for Brazil.
Under Demori's stewardship, The Intercept Brasil has become a major player in the field of investigative journalism in the country. It is rare for a week to go by without the site publishing a meaty investigation, exposing everything from corruption by political figures to conflicts of interest in the food industry or human rights violations. Some of the stories are also translated into English and published on The Intercept's main website.
During Brazil's elections in October 2018, The Intercept Brasil's team carried out a successful crowdfunding campaign, reaching 135% of their initial goal of 90,000 Brazilian reals (about $24,200). Since December, they have also launched a drive asking their readers for recurring donations. So far, they've secured more than 51,500 reals (about $13,800) in guaranteed donations per month from more than 1,900 readers. The Intercept Brasil is also growing quickly on social media platforms: Its Facebook page has more than 353,000 likes, not far behind The Intercept's 515,000. It also has more than 202,000 followers on Twitter and nearly 100,000 on Instagram.
In this Q&A, Demori spoke with GIJN Portuguese Editor Breno Costa about how The Intercept Brasil is trying to elevate investigative journalism in Brazil at a very sensitive moment in the country's history. (Full disclosure: Costa is an occasional contributor to The Intercept Brasil as a freelance journalist, and works for GIJN as part of a partnership with Abraji.)
What have been the main differences between The Intercept's coverage of Brazilian politics compared to that of traditional media?
We're like a punk rock band. The press in general is more like those big bands, or even a symphonic orchestra. We have 18 people on staff, including our editors, reporters, social media managers and administrative team. So that's not a lot. This affects how we do our job, because we have to carefully chose the issues we want to look into. We spend a fair amount of time on stories that are not hard news. We keep an eye on hot issues, on what's happening now, but we end up finding other stories, collateral ones. Or we look into stories that nobody else has tried to tell.
Your team doesn't have super senior journalists — they are young, and maybe don't have as many sources as more senior journalists would. How do you address this apparent handicap?
Actually, this was intentional. They don't have history with sources. Our reporters don't have a 20-year relationship with source A, B or C. We know how it works, right? Eventually you learn some information but you feel that you can't publish it because, otherwise, you will never get information from X or Y institution again. So we don't have this culture of polishing sources to the level of becoming uncomfortable [with displeasing them]. We are careful with sensitive sources, of course. But this kind of promiscuity with sources that we see in Brazil, especially in [the capital] Brasília, The Intercept has found a way around that. We've noticed that younger reporters build sources in other ways, and that it's also easy for them to work with open sources, databases, to insert data into a spreadsheet, to gather public records and to put all the pieces together.
Do you consider The Intercept Brasil to be an investigative journalism website?
I do believe we produce a lot of investigative journalism. Ryan Lizza, who was a reporter for The New Yorker, told me that after working all his career for print publications, when the magazine created the website, he started doing more work for the site and enjoyed that experience, because it was more immediate — you follow the reaction online; it's another vibe. They also did what they called "intellectual scoops." We have a lot of scoops at The Intercept Brasil — documented ones with sources, interviews and so on — but we also work on this other type of scoop. Sometimes there's this X issue of the day, and we want someone to help give our audience a different outlook on the matter, using an original approach. We have people who write about religion, racial prejudice and economic issues. And this is something that attracts a lot of readers as well.
What are the differences between the US version of The Intercept and The Intercept Brasil?
We're almost like The Intercept's bureau in Brazil. We produce content in Portuguese, with the intention of also publishing outside Brazil. We have a bit of this logic that exists within Reuters or the Associated Press: It's a website covering Brazil for the rest of the world. We want to develop more partnerships with other outlets from Portuguese-speaking countries in Africa or from Portugal. Regarding the similarities, The Intercept is more focused on spy networks within the US and on local politics, while we have this focus on human rights issues, police violence and politics.
The global image of The Intercept is very associated with Glenn Greenwald. What is his role in the Brazilian experience of the site and in defining its strategies?
Glenn is one of The Intercept's [three] co-founders, but The Intercept belongs to First Look Media [a company founded by eBay billionaire Pierre Omidyar]. As a co-founder, Glenn is a guy who has his story ideas, who writes a lot within his universe of expertise. He is like a special reporter. But he doesn't have any kind of influence on The Intercept Brasil's website; he doesn't edit the stories.  
During Brazil's October elections, you ran a successful crowdfunding drive, which helped stimulate reader engagement and build your community. What does engagement look like in practice? And how important is it to The Intercept's business model?
The crowdfunding campaign had two goals. One of them, obviously, was money. We have a fixed budget every year that is enough to run the site, but journalism is expensive and any money raised beyond the budget is never wasted. We received the money really quickly and achieved the goal earlier than we had predicted. We actually regretted not making higher goalposts for the campaign!
We also had this goal of bringing the community together, to be able to get to know our audience better — both the people who watch our videos and the people who spend more time on the site. It made us happy to learn about our audience profile. There are a lot of young people who have just started college. A lot of people are still in high school, as well. We value these people because they don't belong to an intellectual elite; they are from the outskirts of Rio de Janeiro, for example. There are also a lot of people from the interior of Brazil, outside of big cities. These are people we always wanted to have as an audience. We have this goal of training journalism readers — open-minded young people, who aren't attached to old dogmas. The crowdfunding also brought us closer to them through the creation of a private group on Facebook.
The 2018 presidential election in Brazil was highly anticipated, and carried a lot of expectations following former president Dilma Rousseff's impeachment. It was a unique opportunity to present readers with information about those who would become the new faces of Brazilian politics. In this context, how did you analyze the investigative journalism produced by traditional outlets in Brazil?
Traditional media still produce a lot of good reporting. They have these gigantic newsrooms, with more the 150 reporters, so they will produce both good and bad stuff. And there were a lot of good stories this year — even stories about Jair Bolsonaro. The newspaper Folha de S.Paulo was the major outlet that shined in stories about Bolsonaro. It took time for the press to take him seriously, but once it happened, Folha started doing exactly what the press should do: "You want to be president of Brazil? OK, we're going try to figure out who you are. We have that right, as citizens."
I believe there were a lot of things that were well done but, at the same time, and this is a recurrent criticism of mine, the Brazilian press still writes mostly for two audiences: the intellectual elite and journalists themselves. We are tired of seeing stories being written to please colleagues — stories that are nicely produced, that other journalists will praise and that will get some awards, but that don't bother anyone. Aimed at the intellectual elite, these stories use very complex language, a lot of words that could be replaced with simpler synonyms, a lot of enigmatic headlines and a lot of declaratory journalism that doesn't explain what is really going on. I don't have the pretension to tell other outlets how they should do their work but we try to do the opposite of this.
With Bolsonaro elected as president and fears of an authoritarian backlash, what are the challenges of executing critical journalism and, more specifically, investigative journalism in Brazil?
I lived in Italy for a few years, at the height of Silvio Berlusconi's regime. Berlusconi used the same scarecrows that Bolsonaro now uses. I believe the Italian scenario will be repeated here, perhaps with a little bit more of an aggressive tone because we are not a European country.
I also believe that this wave of populist nationalism, as it is being called by Steve Bannon, with Donald Trump and Viktor Orbán, at least partly began with Berlusconi. Berlusconi selected three enemies in Italy: the press, communism and the justice system. The justice system, to his eyes, was the "red justice," because judges and prosecutors were communists. The press were communists, too, because everyone who opposed him was a communist. Bolsonaro's rhetoric goes in the same direction. You choose a domestic enemy, an imaginary one, but that people recognize as the source of evil, and you keep fighting that windmill for four years.
What I believe can happen in Brazil is some kind of lawfare, meaning Bolsonaro's government using laws, regulatory and fiscal agencies to squeeze the press — including the foreign press. And meanwhile, they may let his supporters chase the press by saying that we are a factory of lies, that nothing published by the professional press is true and that everything that we do is with the aim to destroy Brazil. This would have consequences that we can't yet measure, but we're already exploring methods for protecting our journalists from digital and physical violence.
---

Breno Costa is editor of GIJN em Português, one of eight daily GIJN feeds, reaching over 2,000 people in the Portuguese-speaking world. He's the founder and head of development at BRIO, a journalism hub in Brazil which offers mentoring and consulting. Costa is a former investigative reporter for Brazil's Folha de S.Paulo and has published in The Intercept Brasil.