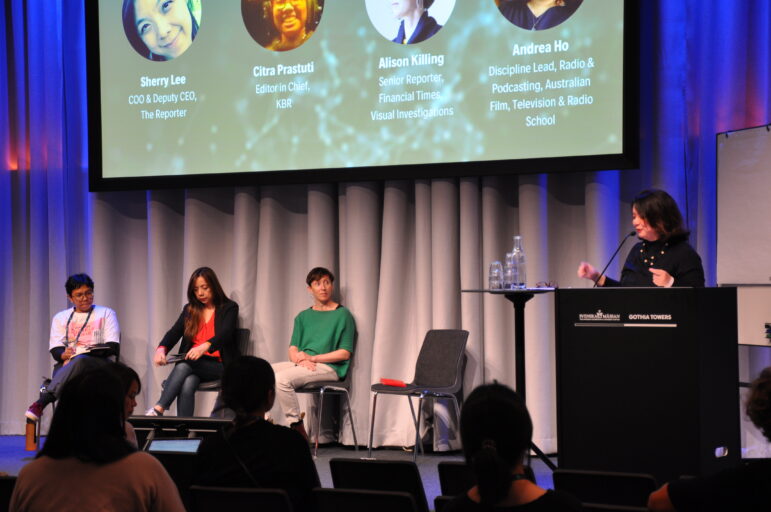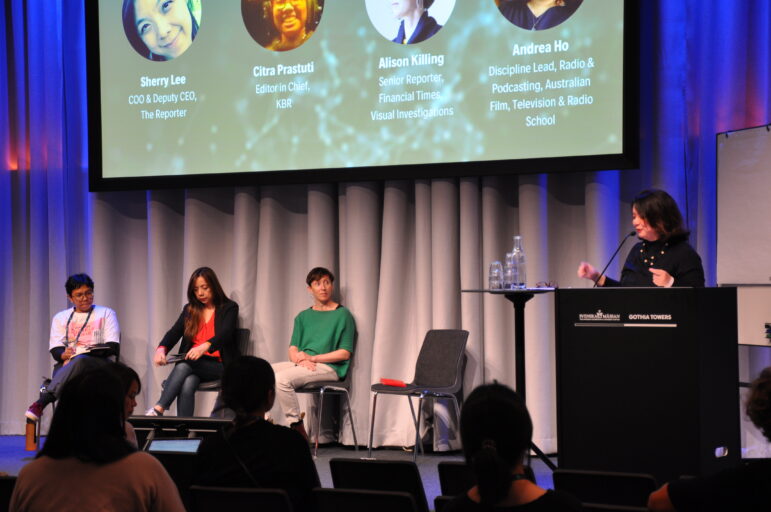 Broadcaster and educator Andrea Ho moderates the Investigating Asia session at GIJC23. Image: Wictoria Gruca for GIJN
'The Worst Crisis for Press Freedom': How to Report in Asia's Challenging Environment
Read this article in
In its latest report on the state of press freedom around the world, media watchdog Reporters Without Borders (RSF) described the environment for journalism as "bad" in seven out of 10 countries. The Asia Pacific region made it to the RSF global ranking for its "continued" representation of the worst crisis for press freedom, with more than half of the countries in the region given the worst rating.
At a panel at the 13th Global Investigative Journalism Conference, Andrea Ho, broadcaster and educator at the Australian Film, Television and Radio School, moderated a panel with three journalists who have turned out award-winning and groundbreaking investigations in Asia, subverting authoritarian governments who resort to anything from imprisonment to online smear campaigns to stop journalists from uncovering the truth.
Using Podcasts to Reach New Audiences
Citra Prastuti and her team at KBR, Indonesia's largest radio news agency, wanted to know why child marriages in Indonesia persist despite laws that prohibit it. To find some answers, KBR produced a six-part podcast series called 'Dipaksa Kawin' (Forced to Marry) on the epidemic of child brides in Indonesia.
The series was widely received by the Indonesian audience who usually listen to podcasts about horror stories or comedies. The investigative story as a podcast was something new to listeners, said Prastuti.
As a format, podcasts are an intimate medium that utilize the power of audio to capture listener imagination and emotion. This feature of a podcast also makes it ideal to experiment with it as a platform to talk about sensitive cultural taboo topics such as gender and sexuality.
Last year, Indonesia banned unmarried sex and cohabitation between unmarried couples.
Crossing 'Closed' Borders
Taiwan's geopolitical position and political significance make it a window into developments in China and how these movements ripple throughout the region, said Sherry Hsueh-Li Lee, chief editorial writer of The Reporter in Taiwan.
But China has been relentless in tightening the screws on the media environment. Journalists are watched. Documents, visas and access are blocked. And sources are intimidated.
Despite this, The Reporter has published groundbreaking investigations that have taken readers along transnational trails where anything from drugs, fishermen, and lobsters are smuggled and trafficked. Exposés dismantled the machinery behind disinformation networks and followed sea sand stolen from Taiwan's waters to build part of the Hong Kong International Airport.
"So many things are intertwined between countries in this region and… China is always a major factor in them. In other words, when we talk about investigations in Asia, we cannot sidestep China," said Lee.
Journalists have to be creative and collaborative to work across borders and through the "closed borders" that governments impose to muzzle free and independent reporting.
Tips for Investigating from Afar
Alison Killing, together with Megha Rajagopalan and Christo Buschek, won the 2021 Pulitzer Prize for their investigative report series that combined satellite imagery and interviews with former detainees to trace the vast internment camps the Chinese government built in Xinjiang for the mass detention of Uyghurs and other ethnic and religious minorities.
A licensed architect and the first in her profession to win a Pulitzer Prize, Killing analyzed thousands of gigabytes of satellite imagery that dated back to 2006 and combined it with other open source documents along with testimony of people who had been formerly detained in Xinjiang to digitally reconstruct the prison and understand its purpose and scale.
The exhaustive investigation contributed to the United Nations human rights report declaring China responsible for "serious human rights violations" against the Uyghur and other ethnic and religious minorities. Additionally, the US blocked all imports made in Xinjiang over the allegations of forced labor practices.
Both Lee and Killing shared remote investigation techniques, with latter also explaining how to use online open sources to "illustrate ways to investigate places that you can't actually go."
Start small. Small irregularities can lead to big findings. Australian lobsters crammed into cargo planes flying out from two small islands in Taiwan led to The Reporter blowing the lid off the US$60million lobster smuggling ring between Australia and China.
Visualize your story to engage audiences. The Reporter's investigation on sand theft in the Taiwan Shoal visually reconstructed the route of Chinese boats illegally dredging sea sand from Taiwan to be used for the third runway of the Hong Kong International Airport.
Read the fine print. Killing found that government tenders and advertisements calling for bids to build things like a central heating system contained addresses that helped her locate Xinjiang camp locations or corroborate other reports about their existence.
Multiply the power of combining open source documents. By using satellite imagery from Google Earth and the European Space Agency, Killingcross-checked it against blocked out images on Baidu (China's equivalent of Google Earth) to determine locations of internment camps in Xinjiang.
Explore satellite imagery as "independent" sources. For Killing's investigation, open source satellite images represented sources of information that the Chinese government couldn't control because the satellite imagery is owned by US and European organizations.
Set the Agenda — Keep to It
Ho, who moderated the panel, noted, in conclusion: "One story doesn't fix the problem. It fixes the problem for a little while, but the continued vigilance of investigative journalists is needed."
Lee agreed. "We say good journalists should do agenda setting. But I think a good journalist should also do agenda keeping," she said. "Follow the story so that people will know you have not forgotten."