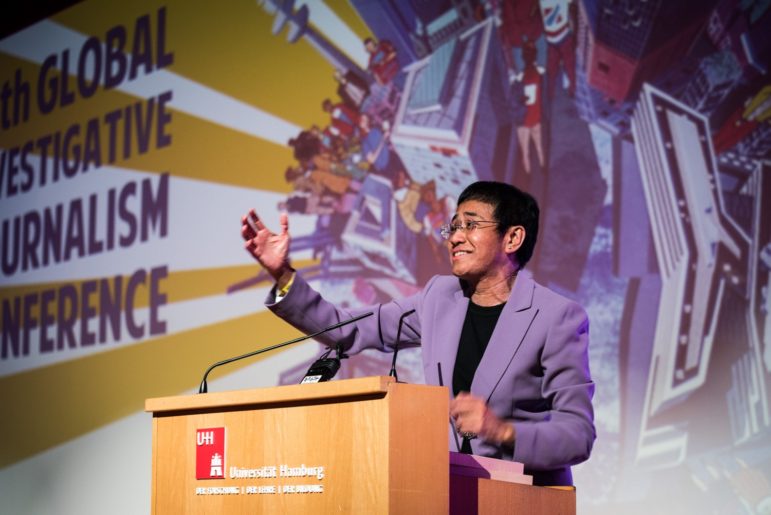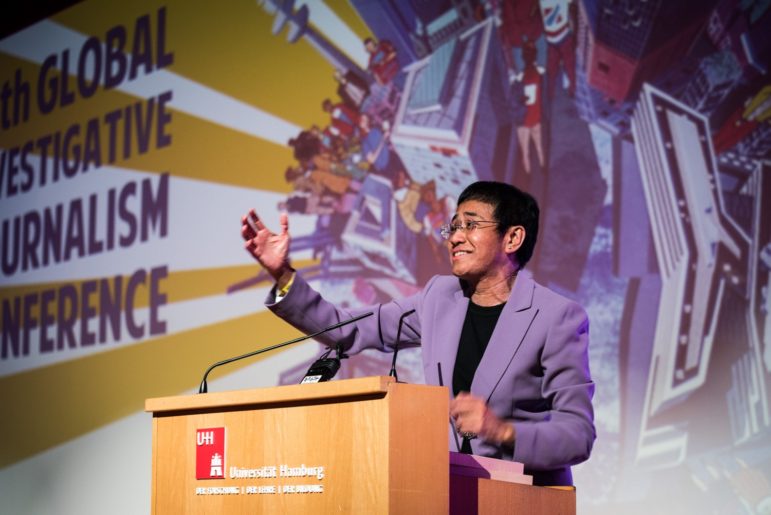 Maria Ressa, CEO of Rappler in the Philippines and Nobel Peace Prize laureate, was the keynote speaker GIJC19. Image: Nick Jaussi.
Investigative reporting is getting harder and harder as autocratic governments crack down on media and government-friendly oligarchs use the courts to silence independent voices. The Philippine online news organization Rappler and its CEO and Executive Editor Maria Ressa are experiencing this firsthand, as Ressa was convicted last week on baseless "cyber libel" charges.
In the highly collaborative world of modern investigative reporting, it hurts everyone when a publication can no longer report and write freely. Rappler has been a tireless voice against corruption and any restrictions on them are a problem for all of us.
"The politically motivated prosecution of Maria Ressa is deeply concerning to investigative reporters around the globe," noted Gerard Ryle, director of the International Consortium of Investigative Journalists (ICIJ). "The antidote to coercion is journalistic collaboration."
To meet this challenge, a group of investigative reporting networks and media outlets have partnered to help Rappler report on the issues they have followed and to amplify their findings.
"Journalists who expose corruption face both an incredible level of personal risk and responsibility to the public," said Paul Radu of the Organized Crime and Corruption Reporting Project (OCCRP). "Far and away, our greatest strength as investigative reporters comes from our collaborative models and partnerships with independent media around the world."
The group includes OCCRP, ICIJ, Arab Reporters for Investigative Journalism (ARIJ), Confluence Media, Finance Uncovered, Forbidden Stories, The Guardian, Knack, the Latin American Center for Investigative Journalism (CLIP), Le Monde, Süddeutsche Zeitung, and Swedish Television (SVT). We encourage other media organizations to join us in this effort.
Working with Rappler's reporters, the group will look into international angles of important stories originating from the Philippines. Rappler staff will have access to databases and analysts, journalists, researchers, and reporters from all these partner organizations to help them in their work.
The conviction of Ressa, along with researcher-writer Reynaldo Santos, is a grave concern for democracy and media worldwide. When journalists in one part of the world are under pressure, it is becoming increasingly clear that the most effective support during difficult times is from journalists in other parts of the world. As Ressa says, "An attack on one is an attack on all."
We have seen repeatedly how this model of collaborative, cross-border journalism works to support independent reporting and is the best way to help media under threat. The impact we have together as investigative reporters is much larger than any one organization.
---
If you are a news organization interested in joining this group, please contact Drew Sullivan at drew@occrp.org.
Participating Media
Arab Reporters for Investigative Journalism (ARIJ)
Centro Latinoamericano de Investigación Periodística (CLIP)
International Consortium of Investigative Journalists (ICIJ)
Organized Crime and Corruption Reporting Project (OCCRP)