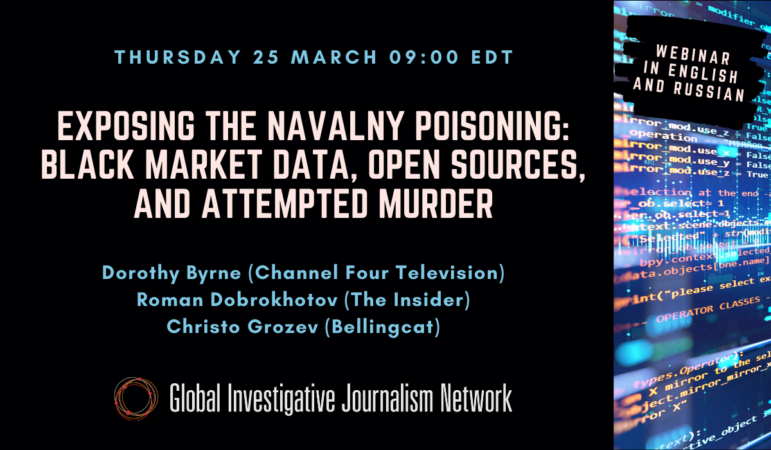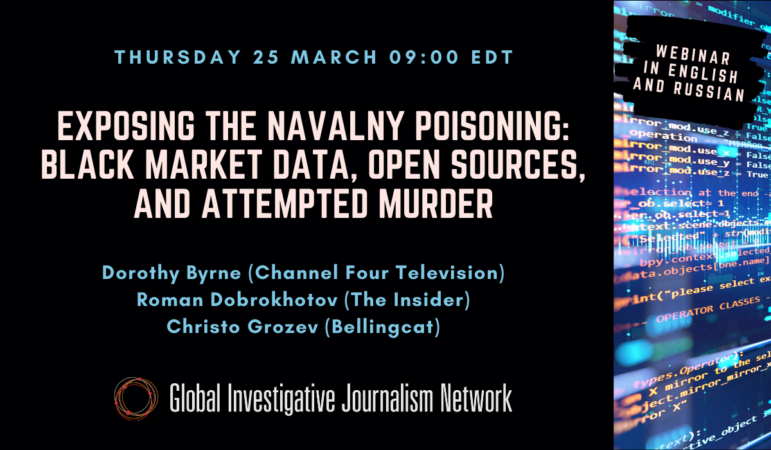 GIJN Webinar – Exposing the Navalny Poisoning: Black Market Data, Open Sources, and Attempted Murder
Read this article in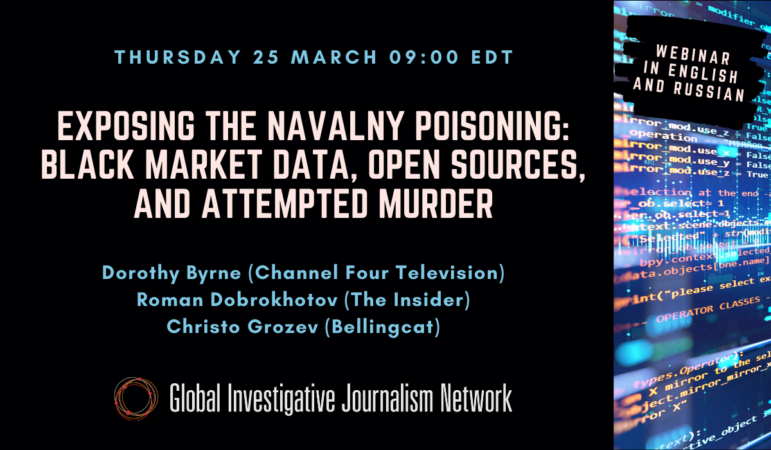 Editor's note: This webinar has now taken place. You can see the recording on GIJN's YouTube channel.
In December 2020, investigative outlets Bellingcat, The Insider (Russia), and Der Spiegel (Germany) jointly published a report revealing the names and ranks of officers in the Russian intelligence agency FSB who were allegedly involved in the poisoning of opposition figure Alexey Navalny.
The data that backs up the investigation – flight manifests, phone bills, and other documents – were obtained on the Russian black market. The research methodology, detailed by Bellingcat in Hunting the Hunters, has since sparked a public debate about the ethics of journalists buying personal information.
In this GIJN webinar, we bring together two of the authors of this investigation and an expert on media ethics who also has extensive experience overseeing investigative programs. They will discuss the way the investigation was carried out, and how far journalists should go when there is evidence suggesting a crime may have been instigated or committed by government authorities.
Dorothy Byrne

is editor-at-large at Channel Four Television. During her tenure as head of News and Current Affairs, the Channel's news and current affairs programs won numerous BAFTA's, RTS, Emmy awards, and others. She is a trustee of the Ethical Journalism Network, which supports the development of ethical codes in journalism organisations around the world. She is the author of "Trust Me I'm Not a Politician" and has contributed to various books on media ethics and regulation.

Roman Dobrokhotov

is founder and editor-in-chief of The Insider, an independent online magazine focusing on investigations and debunking misinformation in Russia. His work includes investigations of  Russian trolls and hackers, the invasion of Ukraine, operations of Russia's GRU military intelligence agency in Europe

, and Russian government corruption.

Dobrokhotov shared the 2019 European Press Prize for Unmasking the Salisbury Poisoning Suspects: A Four-Part Investigation.
Christo Grozev

is a lead researcher at

Bellingcat,

with a focus on Russia-related security threats and the weaponization of information. Based in Vienna, he authored many of the landmark investigations identifying two senior Russian officers linked to the shooting down of flight MH17 in 2014, GRU officers involved with a planned coup in Montenegro in 2016, and the three Skripal poisoning suspects in 2018.
The session will be moderated by GIJN's regional editor for Russian, Olga Simanovych.
Watch our Twitter feed @gijn and newsletter for details on future events.