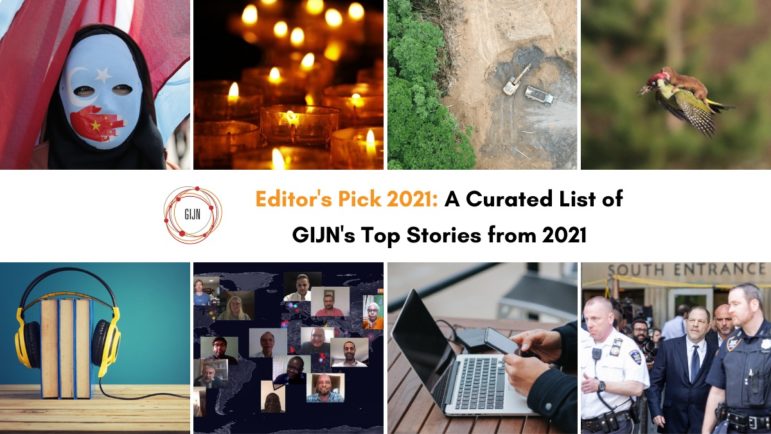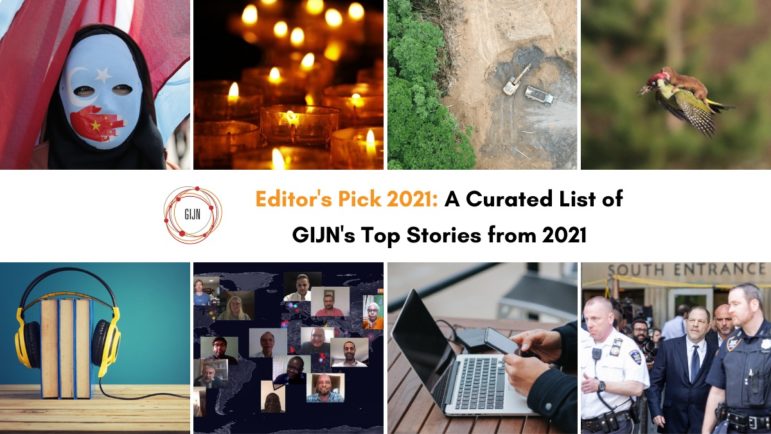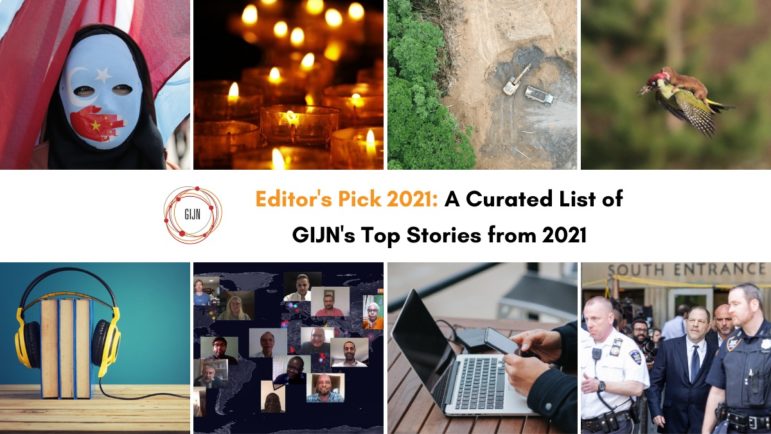 One of our core missions at GIJN is providing journalists in the field with the latest tools and techniques. To do that, we work hard to find original stories that will be of immediate, practical help for watchdog reporters around the world.
These stories — drawn from expert investigators and journalists with cutting-edge methodology — detail innovations that have already worked and are transferable to other topics and regions of the world.
These resources work in parallel with GIJN's topic-related guides and, increasingly, share practical solutions for digging into urgent or overlooked issues. For instance, in 2020, reporters used forensic techniques sourced from one GIJN story to track attacks by security forces, and from another story to count underreported COVID-19 deaths.
GIJN's original stories in 2021 were even more need-focused — seeking to address a stunning diversity of new threats and opportunities in a seismic year for journalism. Operating in a landscape of physical attacks, disinformation, censorship, COVID-19, digital surveillance, and declining newsroom revenue, we saw investigative reporters display remarkable resilience, pushing back with innovative techniques, collaborations, and personal courage to hold the powerful to account. We also saw unprecedented global recognition of the role of investigative journalism in protecting democratic accountability in the face of crumbling institutions, with the Nobel Peace Prize awarded to two watchdog editors.
This year, GIJN shared insights from a broad spectrum of sources: large-scale projects like the Pegasus Project, Vacunagate, and the Navalny poisoning investigation; critical coverage of systemic global issues, like inequality and climate change; persecuted newsrooms fighting for democratic principles in increasingly autocratic nations, like Serbia and India; and local watchdog reporting in remote regions, from Indigenous Amazon lands to South Pacific islands.
Several stories explained how newsrooms exposed the very threats deployed against them. For instance, one Indian journalist, who was a victim of secret digital hacking, subsequently joined the Pegasus Project collaboration, which revealed widespread government abuse of this same spyware. When Egypt's authoritarian government shut down the website of independent outlet Mada Masr, the team deepened their impact and audience relationship by publishing directly to the email inboxes of individual readers. And, in a brilliant bit of journalistic judo, an investigative team at BuzzFeed used China's own censorship patterns as the foundation for its Pulitzer Prize-winning exposé on Beijing's network of Muslim detention camps.
We've included many of these in what follows below — a curated list of notable GIJN stories from this year, reflecting our most popular articles, groundbreaking discoveries, topical issues, and stories you just shouldn't miss. Many are available in multiple languages, you'll see the links to the available translations at the top of each piece.
One last note: We need your help. If any of these stories were useful in your own work, please let us know. Being able to demonstrate our own impact on the investigative journalism community means GIJN can continue providing you with the latest tools and techniques. Thanks!
Months before she and two colleagues at BuzzFeed won a Pulitzer Prize for this investigation, UK architect Alison Killing told GIJN readers how a new approach to analyzing satellite imagery exposed China's vast network of Muslim detention camps (camps China claims are for education and vocational training.) Killing explained how the patterns behind censorship itself can be used to reveal structures that autocratic governments try to hide.
Several GIJN stories in 2021 sought practical insights from non-journalist investigators that could be applied to investigative reporting. In this story, the research team at Russia's anti-corruption nonprofit FBK — founded by dissident leader Alexey Navalny — shared the techniques they use to dig up hard-to-find facts inside an autocratic environment, and how their investigations attracted tens of millions of views on YouTube. The story also demonstrated how even novice online investigators can learn and wield open source tools on the fly.
For years, one of the most popular GIJN reads has been this how-to verification story by journalism trainer Raymond Joseph — a fact that underlines the challenge that misinformation presented for newsrooms this year. He's now updated this great guide, with the latest reverse image tools and fake detectors for images on a smartphone.
In the week before the publication of the Pegasus Project — which exposed how regimes around the world were using spyware to target thousands of people and numerous high-profile public figures — GIJN produced this guide on how reporters can unearth spyware surveillance technology acquired by their governments. The article was based on interviews with half a dozen expert sources — from investigative reporters to cybersecurity experts — as well as several research documents. As the Pegasus Project reminded us, digital surveillance has become an alarming and growing threat facing journalists and activists around the world.
Podcasts have not only emerged as an effective investigative storytelling medium, but also as a means to access new audiences and shine a spotlight on overlooked topics and regions. In this curated round-up, GIJN staff members in 12 countries described the practical takeaways from 14 powerful investigative podcasts from around the world. The podcasts — in five languages — featured topics ranging from disappeared people in Mexico and a cryptocurrency scam in Belgium to a series of unexplained deaths in rural Turkey and false medical claims by Western missionaries in Uganda.
The "open season" in spying on journalists these days is not only limited to digital surveillance. In this popular piece, a private investigator hired to track reporters provided detailed tips on how journalists should deal with physical surveillance, including detection, evasion, and safe places to conduct sensitive interviews. Bonus read: Don't miss What to do When Authorities Raid Your Home, written after Russian agents raided the homes and offices of staff from the investigative nonprofit IStories.
You don't always need advanced tools or coding skills to dig up elusive facts online. Henk van Ess — one of the world's most popular online search trainers — sets out a series of simple "tricks" any reporter can use to unearth the data, images, identities, and facts they need. They include excluding things you already know, and using images to find text, rather than the other way around.
In a great example of GIJN's "My Favorite Tools" series, GIJN Spanish associate editor Mariel Lozada interviewed Gustavo Faleiros — acclaimed geo-journalist and environment editor at the Rainforest Investigations Network — on the open source tools his team values in digging into corruption and abuses. Faleiros offered an impressive toolbox of resources for mapping, satellite imagery, and data visualization.
In one of our most compelling stories of the year, Marcela Turati, co-founder of Mexican investigative journalism nonprofit Quinto Elemento Lab and the website Where Do the Disappeared Go? laid out effective and ethical methods for interviewing victims of trauma and violent crime. She described techniques to avoid re-victimizing survivors, verify information from imperfect memories, and protect both interviewer and interviewee.
It is now possible to tell who did what, and when, at violent public events, using visual forensics skills and resources, and the global ubiquity of smartphone and CCTV video. This story laid out the most effective tools and approaches being used in this exciting field, based on a presentation by The New York Times' pioneering visual investigations team at the 12th Global Investigative Journalism Conference.
Additional Resources
Top 12 Guides & Tipsheets from GIJN's Resource Center in 2021
Editor's Pick: 2021's Best Investigative Stories from Latin America
Making Your Mark: Tips for Up-and-Coming Investigative Journalists
---

Rowan Philp is a reporter for GIJN. Philp was formerly chief reporter for South Africa's Sunday Times. As a foreign correspondent, he has reported on news, politics, corruption, and conflict from more than two dozen countries around the world.