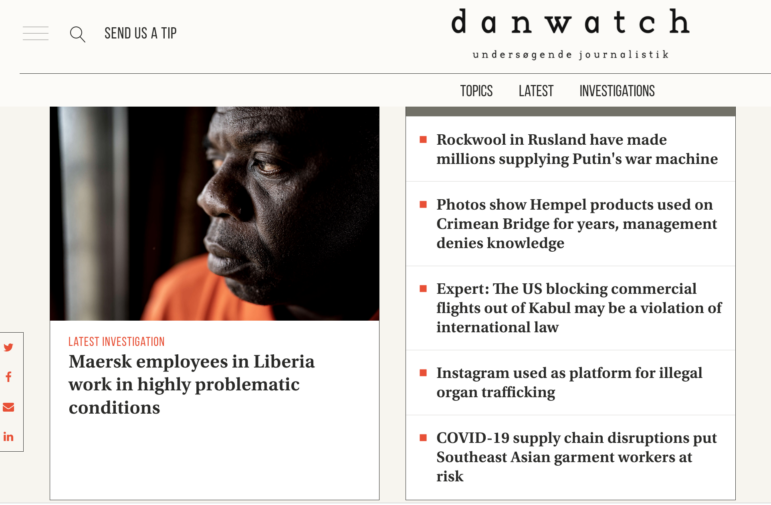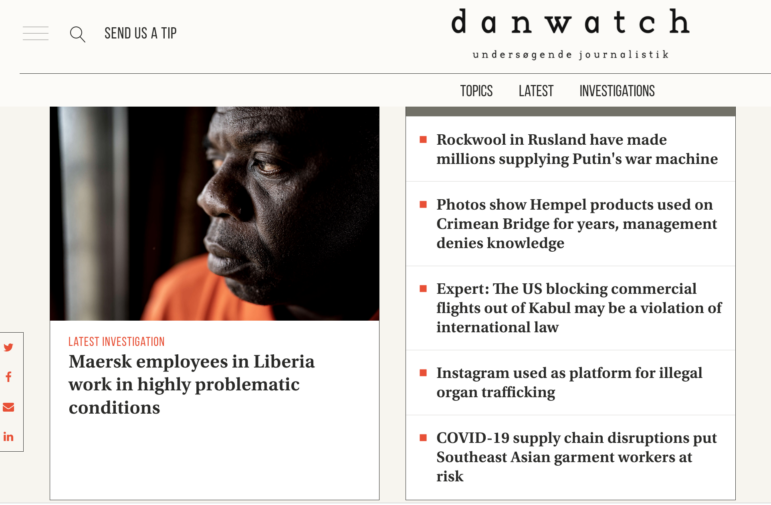 Danwatch: How a Danish Investigative Site Exerts Global Reach
Reporters from the Danish investigative journalism website Danwatch are based in Copenhagen. But you could also find them in Ecuador, or Myanmar, or Cambodia. They are not there to file and fly home, but to establish relationships. Collaboration is the key mission at the heart of Danwatch. And collaboration in particular with journalists in the Global South.
Jesper Nymark, Danwatch executive director and co-editor in chief, says this method leads to better, faster reporting. It is an approach that has seen the website work with small and large publishers around the world and force political action and corporate policy changes.
"We believe that we shouldn't look at local media as stringers — we should look at them as equal partners," he says. "And then we can see that we can do journalism faster and better with them."
Nymark joined Danwatch in 2014 and helped lead a shift in the site towards more reporting. He had previously worked from more than a decade as the CEO and executive editor of Denmark's most popular English-language website, the Copenhagen Post. Danwatch was launched in 2007 by civic groups in Denmark with a focus on both research and journalism. It has since grown to have one of the largest specialized investigative journalism teams in Denmark, with 13 reporters, one of them based in South America.
This site's budget was roughly 8 million Danish Krone (US$1.1 million) in 2022. This funding comes from private foundations and individual donors as well as the Danish state — which also acts as a benefactor for several of the largest media companies in the country. Nymark and other staff at the website say the state funds come without conditions or attempts to influence reporting, and frees them up to focus on impactful, labor-intensive reporting rather than chasing page views.
Quality, not quantity, is the watchword. While every reporter is responsible for producing one news item every two weeks, some stories take as long as six months. Every Danwatch journalist is also required to undertake two research projects each year.
Many of their stories are published in English as well as Danish, as most of the in-depth investigations are international in scope and scrutinize large companies — Nike for instance, or supermarket giant Aldi — with a global presence. And access to the site is free, with no paywall or subscription service, enabling those in poorer parts of the world to access their works.
These three points — long investigations, publishing in English, and free access — are central to Danwatch's focus on uncovering wrongdoing in a global context, particularly in the developing world.
Nymark explains: "In Denmark, the type of journalism we do no one else is doing. It's a kind of journalistic window to the globally-connected world."
"Media need to see themselves as a part of the society that surrounds them, and they need to conduct journalism that helps society take enlightened choices in regards to what is right and wrong." Nymark adds: "Right and wrong for me is not opinion. It's a matter of what does the law say and what have we agreed to internationally."
He gives the example of a Danwatch investigation that looked into EU-banned pesticides being used on bananas imported from Ecuador. The story had relevance in Ecuador due to pesticide-related illnesses suffered by agricultural workers, but it also resonated in Denmark given the breach of EU law. Another recent example investigated solar panels being installed across Denmark and showed how they may have been produced with forced labor in China.
Adam Dyrvig Tatt, co-editor-in-chief of Danwatch, said such reporting focuses on "the part of society that is most closed to the public, but where at the same time the strongest economic interests are found."
He adds: "We believe that our consumption and the way we all live have a great influence on the environment, human rights, social conditions, and the climate throughout the world, and therefore this area is the most important in the world to investigate and hold accountable."
To do this, Danwatch has built relationships with reporters across the Global South.
"A very large part of our work involves collaborating with local media and investigative newsrooms all over the world," Tatt says. As a result, Danwatch has built a kind of early warning system that can identify globally significant stories.
"In a very short time, we can uncover whether there is a story," Tatt says. "Our experience is that our local partners are skilled journalists who are brave, as they often work under far more difficult conditions than we do, and are passionate about doing investigative journalism. At the same time, it is also our experience that the local partners get a lot out of collaborating with us, as the stories often lead to real changes."
He gives as an example a story published last year on a Danish shipping group, which reported allegations of abuse of its employees in Liberia.
Much of the reporting was carried out by Voice of Liberia, says Tatt, and this led to the shipping company changing its policy and working conditions.
Emilie Ekeberg, an investigative journalist at Danwatch, explains in more detail how such stories are written.
She joined the site in 2017, having identified it as somewhere she could investigate "how Danish corporations and investments affect human rights and environment globally."
One such investigation looked at the business relationship between a Norwegian telecoms company and the military regime in Myanmar.
Danwatch had previously reported on the company's operations in Myanmar, and after the 2021 military coup the site began a new investigation on the assumption that the firm would be obliged to share user data with the regime.
Ekeberg partnered with local independent media site Frontier Myanmar, whom she'd worked with before. Together, they studied the company's annual reporting about official requests for lawful interception and user data. The team also got access to leaked government budgets from Myanmar about interception systems due to be installed by the company. They worked on the story for around five months, from February 2021 until publication in July 2021.
"Through Frontier Myanmar, [we] got access to sources that we would never have been able to reach ourselves, in the Myanmar police and the telecom industry," Ekeberg explains.
"The story published in Myanmar, by our local partner, helped inform the Myanmar population how their use of mobile phones was surveilled, she notes. "The story also attracted political attention and parliamentary hearings in Norway."
"We decided to use time and resources on this story because it was important in terms of the safety of activists and democratic opposition in Myanmar," Ekeberg says. "I doubt that a traditional media outlet would have decided likewise."
Ekeberg adds that Danwatch could not have reported the story alone due to travel and language barriers and a lack of local knowledge. "By partnering up with Frontier Myanmar, who we had built a relationship with during the past years, we were able to report the story from afar," she says.
As well as working with small local publishers, Danwatch collaborates with large legacy media. These partners have included The Guardian (UK), Der Spiegel in Germany, and national broadcaster DR in Denmark.
Nymark explains: "When it comes to global investigative journalism, it takes time and is expensive. It's to some extent also dangerous. So the Danish legacy media have been cutting… So we are now, in a Danish context, the ones that are doing that type of journalism."
Danish media analyst Søren Schultz Jørgensen agrees that Danwatch is a "rare bird" in the Danish media landscape.
Jørgensen, a senior associate professor at the Danish School of Media and Journalism in Copenhagen, says Danish legacy media do still conduct some in-depth research-based investigative stories. But he adds: "The only media specialized in having a global perspective on the dealings of Danish businesses and Danish companies is actually Danwatch. I couldn't find any other operation doing that."
He says that Danwatch is "punching above its weight" and praises their collaborations with large media outlets in Denmark, which allow complex investigations to reach wider audiences.
"I would say that Danwatch is in many ways an unconventional organization, and by unconventional I mean working in unconventional ways and new ways," Jørgensen explains. The challenge for a small site like theirs, he says, is "they may have problems dealing with how to organize this unconventional way of working."
As for the future of Danwatch, Tatt would like to increase Danwatch's reach "so that we can inform society and the next generations" about the faults with global corporations.
Nymark has similar goals and puts reporting on international consumerism at the heart of their work.
He says he has a 16-year-old daughter who does not care about complex investigations around things such as tax avoidance. But when he tells her about supply chain abuse, about workers who suffer so the developed world can have cheap clothes and tech, she reacts differently.
"Then she might think, 'OK, maybe I shouldn't buy as much. Maybe I should buy differently. Maybe I should ask the company that I'm buying clothes from, how is this produced?'" Nymark says. "And I think that's where investigative journalism can help for a better society. And a better world basically."
Additional Resources
From South Africa to Turkmenistan: Eight New Journalism Groups Join GIJN
Asian Journalism Collaborations Break New Ground
---

Daniel Harkins is a contributing editor at the Scottish Catholic magazine. Previously, he was a deputy Scotland editor at the UK news agency PA Media, and an editor at the Scottish Catholic Observer. He has had bylines in numerous Scottish national daily newspapers and on BBC Scotland and STV News.