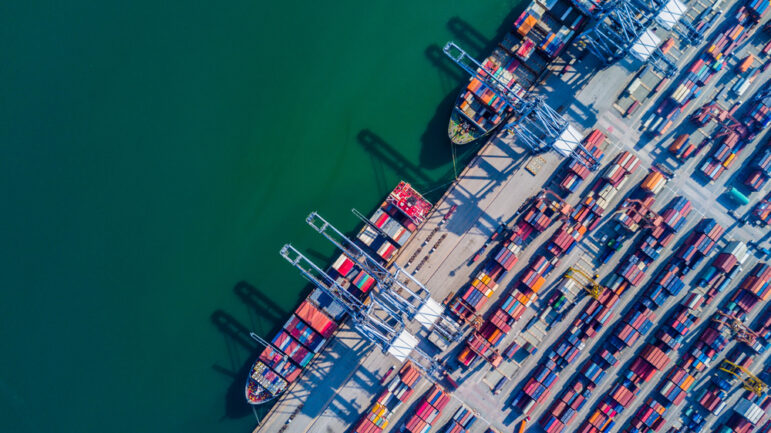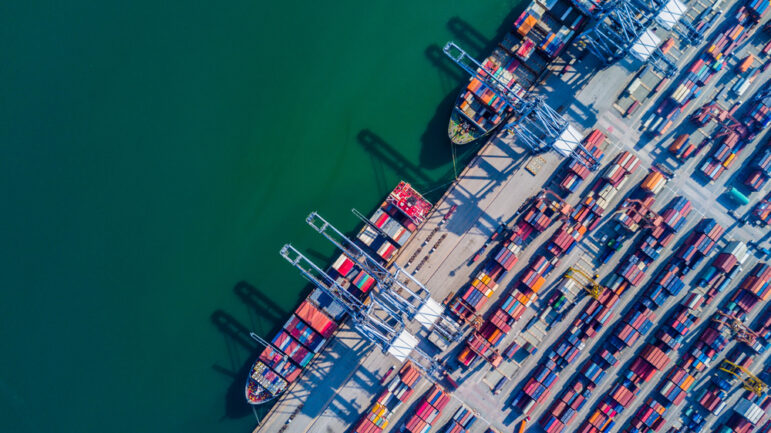 7 Tips for Reporting on the Local Impacts of International Trade
The Journalist's Resource, along with Tufts University's Econofact, recently hosted a webinar that explored the broad strokes of what journalists need to know about international trade, as well as ideas for turning global trade stories local.
Panelists were Tufts University international economist Michael Klein, who is also executive editor of Econofact; Kadee Russ, chair of the department of economics at the University of California, Davis; and two-time Pulitzer Prize winner Martha Mendoza, who also won the Shorenstein Center's Goldsmith Award for her reporting on the use of slave labor in the Thai seafood industry, which supplied products sold in major US supermarkets and restaurants.
Clark Merrefield moderated the conversation. Here are his seven favorite tips from the event, highlighted below, which focus on how local journalists can start to tell stories about the effects of trade in their communities.
1. Know that trade policy doesn't happen in a vacuum — there are other factors that affect jobs and wages.
It's difficult, and maybe impossible, to draw a direct line between a particular trade policy and resulting effects on jobs and wages. There are just too many other factors at play, explained Klein and Russ.
"Trade is only one of many sources of change in a dynamic economy, and it's often the case that trade is blamed for things that have nothing to do with trade," Klein said. "For example, automation is a really important part of what's going on in the economy. If you looked at a steel plant 50 or 60 years ago and you look at one today, you'd really be struck by how few people are working in steel plants today."
Tariffs on steel imports, although still touted by top US officials as a way to protect the domestic steel industry, have not amounted to job growth. Russ and incoming University of Wisconsin-Madison economics professor Lydia Cox estimated tariffs on steel imports have, if anything, cost US steel jobs.
Part of the reason is technological advancement: "Why hasn't there been more hiring? We just don't use as many workers when producing steel anymore," Russ said.
2. Begin telling local stories about international trade by looking at imports coming into your community — and pursuing reporting partnerships abroad.
Bike business is booming in the California community where Mendoza lives. Bike forks, cranks, frames, and e-bikes: If it's bike-related, it's probably being built there. In looking at the data, Mendoza has found that many bike parts come from China or Taiwan, with final assembly happening in her community. (Check out the next tip below for data sources.)
Mendoza recommends local reporters get to know the supply networks for products that are made in their region. Then, reach out to journalists in the country or countries where supplies originate and collaborate on a story or series. For example, a local investigation with an international angle could explore working conditions in factories abroad where parts are made to be used in finished goods aimed at US consumers.
"This is something the Global Investigative Journalism Network does a lot of," Mendoza said. "If you're like, 'Oh, I want to team up with somebody in another country,' they can help."
3. Take advantage of the free access to trade data that companies often provide journalists.
There are several data firms that compile information from bills of lading, documents importers and exporters fill out to record details of a shipment — where it came from, where it is going, what is being shipped, the amount being shipped, vessel tracking numbers, and so on.
Crucially, these data firms often give journalists free access behind their paywalls. You just have to ask and identify yourself as a working reporter. Mendoza said she usually uses ImportGenius to track and compile this data, but there are other tools available, including from S&P Global. Mendoza uses Marine Traffic to track specific vessels.
Here is a question that could generate story ideas: Did any local businesses, such as a gun store, import goods, such as ammunition, from Russia before its war with Ukraine? If so, how have they managed now that those imports are illegal?
"There's not necessarily a 'gotcha' at all," Mendoza said. "But it could be very interesting to even just say, 'Hey, our local company that was Russia-dependent has had to shift.'"
For information on government contracts, which may include purchases of goods produced and shipped from abroad, Mendoza uses the Federal Procurement Data System, a free US government database. Information such as contract numbers can be very useful for filing Freedom of Information Act requests, she adds.
4. Contextualize anecdotes with data.
Klein noted that a small proportion of US manufacturing firms export their goods. While there may be compelling and newsworthy anecdotal stories to be told involving those firms, they are unlikely to represent a huge share of economic activity.
"I think journalists have to contextualize with really good data," Mendoza said. "Just like if there is a murder in my community — what does that mean? If there's been a hundred, that means one thing. Is this the first one in 10 years? That means something else. So, I think all of these anecdotes definitely need good data to contextualize them. And constantly calling the experts to tell us, 'Is this even a thing that I've noticed?'"
5. Exercise caution when reporting on trade deficits — and ask experts for help understanding what the data mean and don't mean.
Klein noted that in recent years, particularly since the Trump-era tariffs of the late 2010s, national attention has focused on bilateral trade — trade between two countries.
More specifically, attention from the US news media and federal legislators has centered on the trade deficit the US has with China. A trade deficit is the amount which the value of a country's imports exceeds its exports.
Klein warned that the trade deficit can be "a very misleading statistic." As Klein and Harvard University economist Marc Melitz wrote in a 2017 piece for Econofact: "Trade statistics assign the full value of the finished good to the final country of production without taking into consideration where all the different components come from."
Klein pointed to the iPhone 7, which, a few years ago, retailed for $649. The import cost was $225 from China. But the value added from workers and firms in China, mostly related to assembly and testing, was $5, Klein and Melitz estimated. Most of the value came from parts built in other countries.
"Some of that $225 actually represented research and development expenditures from the United States, or screens from South Korea, or component parts from Vietnam," Klein said. He advised journalists to reach out to experts on international trade and cautioned journalists that "this stuff is actually very hard to unpack."
He also stressed that the existence of a trade deficit is not in itself a bad thing for the US economy. "The economy can be doing well, or it can be doing poorly when the trade account is in surplus or deficit," Klein said. "There's no one-to-one relationship."
6. Take a step-by-step approach to investigating trade topics.
Mendoza says that although there will be a lot of work involved, it is not such a daunting task to conceptualize ways to localize an international trade story. Some of these stories might be in your own backyard.
"I can go out in the strawberry fields, 10 miles from my house, and find a child working in the fields," she said. "I can look at the trucks that are sitting there, that the strawberries are going into, and I can follow that truck to the processing house, and I can walk in and very politely say, 'Can I see what labels are going on your strawberries?'"
Mendoza added: "Don't get your hair on fire. Just go step by step."
7. Examine trade barriers that have nothing to do with tariffs.
Tariffs can discourage trade. New standards and policies can, too.  The relationship between non-tariff barriers and trade outcomes is one area that is ripe for journalistic exploration, Russ said.  
"Think of, say, health standards or labeling standards, maximum pesticide residue levels, things like this," Russ said. "They're really well understood by private sector interests. They're a lot less understood by the general public."
This post was originally published by The Journalist's Resource and is reprinted here with permission.
Additional Resources
How They Did It: Using Trackers to Investigate Where Unwanted Clothing Ends Up
How to Track Chinese Business Around the World
---

Clark Merrefield joined The Journalist's Resource in 2019 after working as a reporter for Newsweek and The Daily Beast, as a researcher and editor on three books related to the Great Recession, and as a federal government communications strategist. He was a John Jay College Juvenile Justice Journalism Fellow and his work has been awarded by Investigative Reporters and Editors.