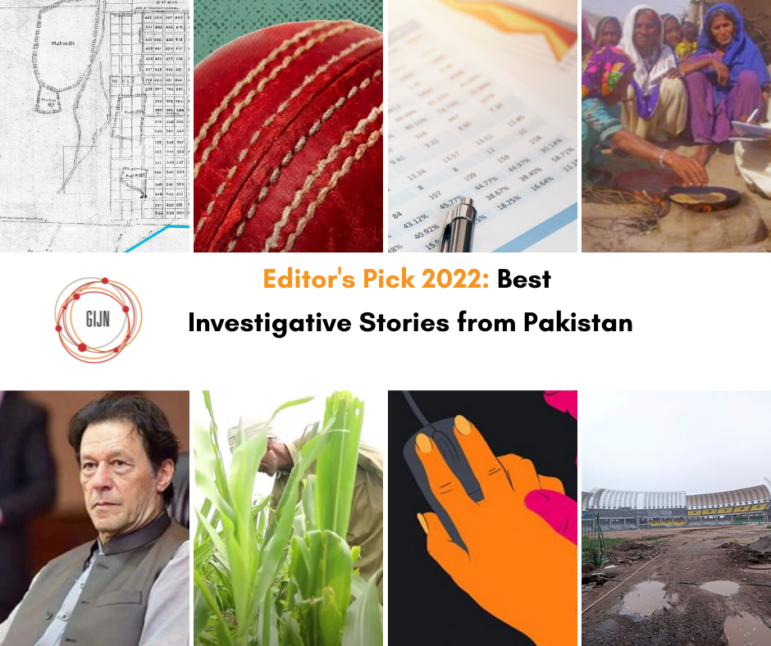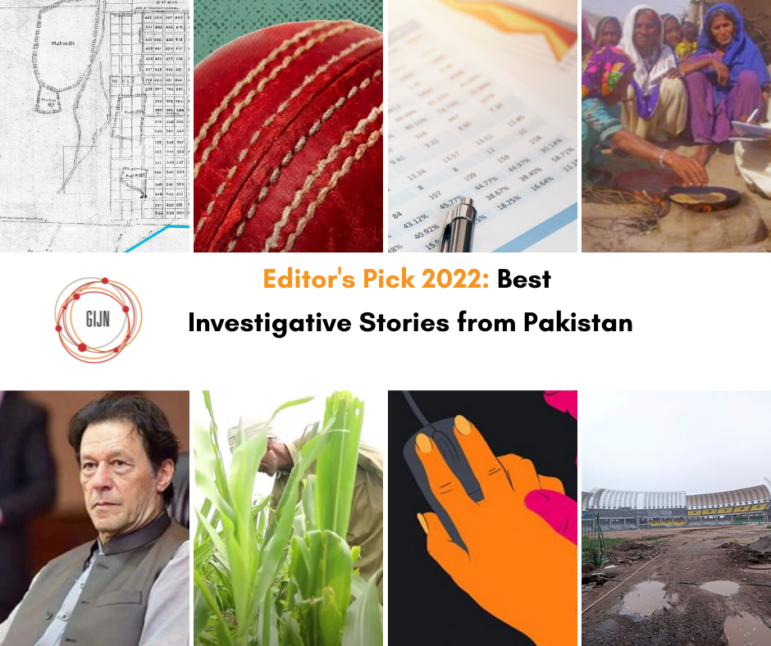 The past year was a good one for investigative journalism in Pakistan. Political stories made a big impact, as the country experienced political crises, including a change in leadership when Prime Minister Imran Khan stepped down in April after he lost a motion of no confidence. The turmoil in government and in Khan's party, Pakistan Tehreek-e-Insaf (PTI), created an environment ripe for journalists to dig into various aspects of its government.
There was also excellent coverage of some of Pakistan's biggest problems, such as urban flooding in Karachi and stalled development. This year's picks are a snapshot of the outstanding work that reporters have done — stories that stood out in how they used information, that had an impact on political discourse, or focused on sparsely covered and underreported people or areas. Independent news organizations such as Sujag, Voice.pk, and Fact Focus have also been doing excellent work.
There were several investigations into Karachi's collapsing infrastructure, which has become a central issue because the city suffers urban flooding every monsoon season. As policymakers and activists searched for answers to the problem, journalists did their part by showing how Karachi's unchecked development is, ultimately, the root of the problem.
A standout story on this topic is Oonib Azam's investigation, for the English language daily The News, of the encroachment into a park in Karachi that, he writes, was Asia's largest urban green space, larger than New York's Central Park. Azam establishes a pattern of illegal encroachments dating from 1989, using old maps to show where the park should have existed and archival documents to show how illegal construction gradually swallowed the park. Azam also writes that many holding political power in Karachi over the years were complicit in ruining land, which had once been used for cultivation.
Writing for environmental platform The Third Pole, another investigation by Azam looks into land reclamation across Karachi's coastline and the creation of private housing societies on this land, using satellite imagery to show how the coastline has changed and how development has destroyed Karachi's mangroves — a vital buffer between the sea and the city.
For cross-border newsroom Unbias the News, Zuha Siddiqui reveals how the government's longstanding neglect and its current policy of demolition impacts poor people. Siddiqui speaks to the residents in areas where the government razed their houses, failed to provide promised compensation, and left the demolition work half-finished, putting residents at risk. This story was part of a larger series about sinking cities throughout the world.
Fact Focus is a new independent media outlet run by journalists, and since its inception has produced multiple stories with a big impact. This year, two stories were published almost simultaneously — one by Usman Manzoor for Fact Focus and the other in The News by Umar Cheema — about gifts Imran Khan received from foreign leaders while he was prime minister. In Pakistan, these gifts are state property, declared to, and kept, by the Tosha Khana, a government-owned department. Officials can buy them back from the state at a reduced price after first declaring them. These two stories discuss the value of the gifts Khan received, the items he declared to the Tosha Khana, and the prices at which he bought them back. While the articles raise some interesting questions about the practice in general, a key revelation — as Manzoor writes — is that despite keeping 112 gifts at greatly reduced cost, Khan did not declare any in the tax returns he filed during his tenure as prime minister.
After the stories broke, the Election Commission of Pakistan (ECP) started official proceedings against Khan, and subsequently ruled that he had misled officials about the gifts. The ECP also disqualified Khan from holding political office for five years. Khan has denied that his handling of gifts was corrupt, and in October one of Khan's lawyers said they would challenge the ECP's decision in court.
Between July 2014 and June 2019, 590 people belonging to Scheduled Castes died by suicide in Pakistan's Sindh province. Scheduled Caste is a term used for the most economically disadvantaged groups, and in Pakistan, particularly in the context of interior, rural areas of Sindh province, it refers to those belonging to lower Hindu castes. VoicePK reporter Xari Jalil speaks to the men, women, and young people living in some of the poorest areas in the country, and discovers that while economic hardship is an important factor contributing to suicides in the area, another leading factor  —  especially among young people — is mental health. By centering the voices of people in this under-covered region, Jalil's reporting shines a light on the structural, social, and now, environmental problems, such as drought, that can lead to people to committing suicide.
In this story for The News, Fakhar Durrani digs through the tax records of a close friend of Prime Minister Imran Khan's wife and writes that their declared wealth increased four-fold during Imran Khan's tenure, and that they bought luxury properties in several cities and invested hundreds of millions in various business sectors. Durrani's story — along with other exposés by journalists about Khan's own assets — broke when the power of Khan's government was waning, and became a big topic of discussion on major news platforms. An article In The News by Umar Cheema about the individual's personal assets was also published.
After these stories broke, Pakistan's Anti-Corruption Establishment investigated the individual's acquisition of property, but the case was eventually dropped.
Political parties in Pakistan cannot accept funds from foreign companies or foreign nationals. For more than seven years, the Electoral Commission of Pakistan had been investigating whether PTI accepted foreign funds for its various activities.
In July, a Financial Times story claimed that funds from a charity cricket match in Wootton, England a decade ago — attended by Imran Khan — were eventually transferred to PTI's accounts in Pakistan. The investigation uses bank documents and emails to connect a vast network of businesses that were allegedly used to move funds from the UK to the Middle East and then Pakistan. The story made a large impact. When it broke, Imran Khan, PTI leader, was no longer prime minister but was already facing allegations of misappropriation of state gifts.
In August, the ECP ruled that PTI had accepted prohibited funds — citing among other incidents the Wootton cricket match. PTI said it would challenge the ruling in Islamabad's high court.
Violence in police custody is often discussed in Pakistani media, and there have been many reported cases over the years. Fatima Ali examines a specific case — Noor Hassan, who was convicted by a lower court for murdering his cousin over a land dispute — to show the impact the prison system has on peoples' lives. Noor Hassan was later released by a higher court due to lack of evidence, but only after he had been in jail for nine years. According to Noor Hassan, after being imprisoned by police he was tortured for 18 days and forced to confess to the crime. Ali uses data to show how police violence is a widespread problem, but she also reports on the wider costs of imprisonment. Because Hassan was the only one earning, his family also suffered — his elderly father had to sell a chunk of his land to pay legal fees, and his daughters were unable to go to school.
There aren't many stories in Pakistani media that investigate sexual harassment and abuse cases the way Rava's Fehmida Yousufi does for this story. She bases her reporting on court cases, and her reporting is guidied by a basic question — whether the Pakistani justice system is equipped to handle cases of sexual abuse and harassment. She shows how police, in most cases, don't know how to conduct an investigation, and that this not only leads to false accusations, but also, at times, the accused being let go despite evidence existing of their crime.
A secret government report about the renovation of Arbab Niaz Cricket Stadium in Peshawar reveals how, despite the government allocating ample funds for it, intended construction work was not completed in the four years since the project was approved. In the meantime, costs have doubled. Based on this report and leaked documents, Pakistan Today reporter Taimur Khan writes that one of the project's key problems was that the companies awarded the contracts were not equipped to handle the work. From the very start, designs were flawed — for instance, a hostel designed for players did not have any emergency exits. The story also discusses wider issues. For example, despite the government knowing that the proposed stadium design was below quality standards, it chose not to question the construction firm or to offer the contract to a more suitable alternative.
Additional Resources
Editor's Pick: 2021's Best Investigative Stories from Pakistan
Sujag: Investigative Journalism from the Margins of Power in Pakistan
Curbing Asia's Free Press: Propaganda Has Limits
---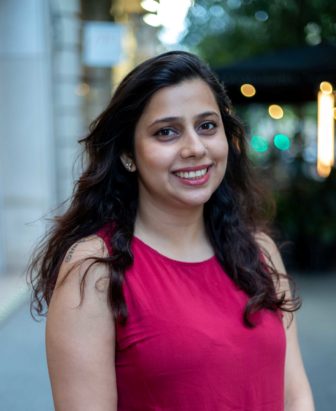 Amel Ghani is a journalist based in Pakistan. She has reported on various issues, from writing about the rise of the religious political parties in the country, the environment, labor rights, to covering tech and digital rights. She is a Fulbright Fellow and holds a Master's degree in journalism from Columbia University, where she specialized in investigative journalism.