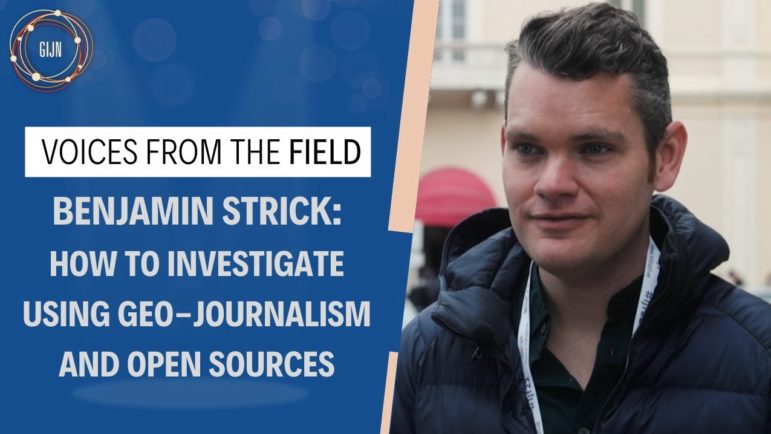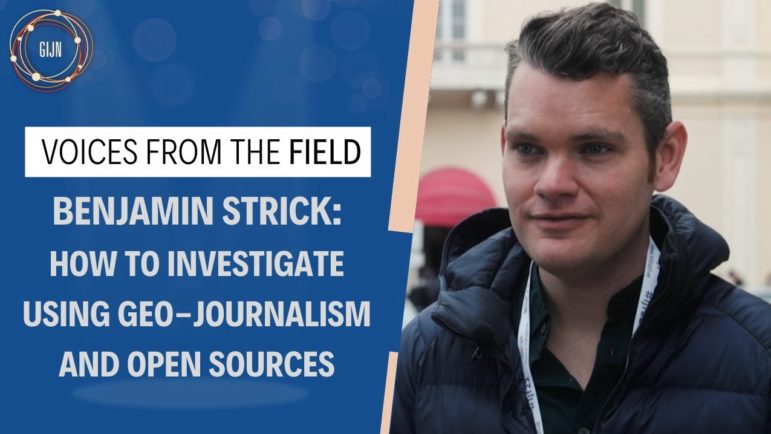 10 Tips for Using Geolocation and Open Source Data to Fuel Investigations
Read this article in
https://www.youtube.com/watch?v=9Gp1KnTOkuM
Parsing the Facebook page of a man suspected to be up to no good, a digital investigator spotted something unusual. The man he was researching had a habit of taking self-aggrandizing selfies, but this shot was different.
The man was staring into the camera on the deck of a boat off the coast of Libya, but zooming in on the background, he could see a number of military vehicles and details that identified where they were coming from.
It was that piece of the jigsaw puzzle which helped Benjamin Strick, director of investigations at the Centre for Information Resilience, and his team report a story about breaches of a Libyan arms embargo. Founded two years ago, the Centre is an independent nonprofit based in the UK, with a mission focused on "countering disinformation, exposing human rights abuses, and combating online behavior harmful to women and minorities." It now has a staff of nearly 60 and its advisors include the former president of Estonia, Toomas Hendrik Ilves, and veteran journalist and documentary filmmaker Simon Ostrovosky. Among its flagship projects are Myanmar Witness, an open source investigation into human rights abuses since the junta's takeover in 2021, and Eyes on Russia, a detailed, daily map update of the ongoing war in Ukraine.
The key lesson from those projects and the incident in Libya is far-reaching: The digital world offers a wealth of opportunities for those trying to investigate wrongdoing. And in the digital age, investigative journalists should always remember the power of the self-incriminatory selfie.
Ben Strick specializes in digital investigations using data, maps, and other tools of geolocation or geopositioning — the process of determining the geographic position of an object. Strick uses these techniques to expose wrongdoing, particularly human rights abuses. He has worked on investigations with BBC Africa Eye and Bellingcat, and on stories examining Cameroonian executions, documenting destroyed villages in Myanmar, and digging into a massacre in Sudan.
Speaking at the 2022 International Journalism Festival in Perugia, Italy, and with GIJN after the event, Strick offered the following tips for journalists on using geolocation and open source techniques in their work.
1. Check the Scene for Identifying Geography
Working on investigations related to human rights abuses means the content Strick works on is often complex and challenging. But one particularly gruesome story started with a video of women and children being marched down a dusty track in Cameroon. One woman had a baby tied to her back, another walked with her children beside her as she was slapped and castigated by soldiers. The video was horrifying and graphic and showed the victims being blindfolded and then shot – the entire execution captured on film.
"These sorts of chilling events do happen. Luckily this one was caught on camera," said Strick. "When this video came out, the Cameroonian government said it was fake news, fake footage, and it wasn't filmed in Cameroon. We thought… we are going to prove you wrong."
Working as part of a team for BBC AfricaEye, Strick and his fellow investigators deconstructed the video to try and find out where it took place and who was responsible. First, they analyzed the mountain range that could be seen in the background of the video, and used Google Earth to match the ridgeline. Then they managed to match a kink line in the dusty path and the buildings beside them with satellite imagery. The resulting video investigation, Anatomy of a Killing, won Peabody and DIG awards.
"Always, we're drilling down into minute detail," explained Strick. "We wanted to match up every single tree that we could find in the satellite image to say: 'Try and disprove that one.'"
On another occasion, investigating a video from the Russian invasion of Ukraine, they were able to identify train tracks and building patterns that helped reporters identify where the shelling took place.
For investigations like these, Strick recommends using Google Earth; the free satellite imagery from Sentinel Hub, based on satellite imagery that is updated every five days; and the high-resolution images occasionally provided by Maxar. Although the latter usually requires a paid fee, he says the press office can sometimes help. He points out that Maxar's high-resolution image of a bombed theater in Mariupol was "so good," you could read the Cyrillic word "children" written on the ground outside the building before it was hit. "That's the power of this, the power of that sort of satellite imagery," he said.
2. Use Satellite Images to Determine Dates
Once journalists have identified the location of a particular event, they need to find out when a particular event took place.
"It's like playing that kids game of 'Spot the difference,' but only a grown-up version for journalists," says Strick. In the Cameroon case, they could identify new buildings that weren't on the video at the time of the attack which helped them narrow down the window of when something took place. "This building wasn't there in 2014, but it was there in 2016… that gives us a window of time which is quite useful."
3. Identify Time of Year Through Sunlight and Shadows
"Sundials are usually these concrete objects in the park that cast a little shadow. A bit like this man," Strick said at the IJF event, pointing out one of the soldiers in the Cameroon video, who was casting a shadow on the sand. Popular tools for estimating date and time from solar position include SunCalc and the NOAA Solar Position Calculator.
Strick said it was possible to identify the direction of sunlight, and in this example, that particular angle of sunlight only occurred at specific times, and in certain years. With that information, the team was able to narrow down the video to having been filmed between March 20 and April 5 of 2015 – three years before the execution video was uploaded.
4. Scrutinize Small but Possibly Critical Details
Drilling down into social media posts or videos shared online can provide more incriminatory evidence, or pieces of information that can help investigators solve a puzzle. In the Cameroon video, a weapons ID was visible on one of the guns brandished by the soldiers. When the Cameroonian government said the uniforms were not those of their troops, investigators found pictures soldiers had themselves uploaded onto Facebook. What were they wearing? The same uniforms as the men in the video.
"Again, thank you Facebook and Snapchat, soldiers were uploading images of themselves within a five-kilometer radius of where it happened," said Strick. Once the team had identified an army combat post, they then started trying to identify who was at the base at the time of the attack.
5. Don't Overlook the Self-Incriminating Power of Vanity
In Cameroon, Strick and his fellow investigators were able to identify three specific men, largely through the videos and photographs the trio had posted on social media. "It was quite handy to independently document this."
In the case of the Libya selfie, the man's attempts to try and "chat up girls" online led to him telling an incriminating story about breaching an arms embargo.
6. Play the Long Game
After the team published their story about the Cameroon attack, there were a number of attempts to prosecute the soldiers featured in the video. "Eventually in 2020, four of these guys were sentenced for 10 years," Strick explained. "It's some level of justice and accountability. The power we have as investigative journalists is giving representation to victims. At the end of the day, those women and children are the ones we have to do this work for."
It might take a long time, but in many cases investigative journalists are recording human rights abuses that could one day be used to hold those committing these offenses to account.
7. Use Social Media to Investigate — and Cross-Reference — Your Findings
Crowdsourced footage can offer unrivaled insights, giving reporters a live account of what happened at the scene. When shots were fired at a protest that turned into a massacre in Sudan, Strick used Facebook Live footage to establish what was happening and used the timestamps on each video "to identify at exactly what time gunshots started, exactly what time attacks started."
But these on-the-ground videos can also sometimes be confusing, shaky, and often only show part of the story. In this case, Strick pulled three livestreams from the event and cross-referenced them so they were able to map the exact locations where attacks took place.
"This is a really nice way to make sense of chaotic footage – using satellite imagery, using pins on a map, allowing these stories to be told by location so we can make clear sense of it for an audience," Strick said.
He says that since December, when investigators started seeing tanks on the back of trains on the move in Russia, there has been a huge collaborative effort to investigate the footage through the Eyes on Russia project. Since the invasion, Centre investigators and their partners, collate, geolocate, and, as much as possible, verify photos and video footage appearing on social media in a sort of mass-mapping effort of the conflict.
In one example, the team used satellite imagery to verify footage shown on TikTok that appeared to show shelling near Kharkiv, "a place that was pounded towards the end of February." Working together, they identified where the shots may have been fired from while it was still unclear what was happening on the ground.
Being able to verify footage on social media by working with the whole community shows the power of "organizations coming together to get this information into newsrooms and archive this for justice and accountability purposes," he said.
8. Remember the Power of Collaboration
Another collaboration, the Russia Ukraine Monitor Map, brings together investigators from the Centre for Information Resilience and Bellingcat, open-source tracking groups like GeoConfirmed, Conflict Intelligence Team, and Advance Democracy, as well as other volunteers to map, document, archive, and investigate what is happening in Ukraine. And Strick says this cooperation can often be the key to a successful investigation when in-depth open source and geolocation research is needed.
One similar such database investigation was the Center for Advanced Studies' Ocelli Project, which Strick co-founded to look at evidence of the destruction of Rohingya villages in Myanmar's state of Rakhine.
"We had no funding and worked with a group of university students to do this," Strick explained. "Through Google Earth, we mapped out every single building that was burned down, and when, building a spreadsheet to find thousands of buildings." Ultimately, the team documented 38,000 destroyed buildings.
Investigating online, he says, means disparately located teams can work together. And it gives journalists the power to investigate what is happening in a country no matter where they are based. "Someone chilling on a couch in London looking at Google Earth is able to bear witness to human rights abuses," he said.
"These tools have really changed the way we look at things like war reporting," he told GIJN after the panel. "We don't have to hop on the phone, or call people and say: 'Where was this filmed? When was it filmed? Or what are we seeing?' We can cross-reference with satellite imagery and pick out new details and that allows us to independently prove things."
9. Cast a Wide Net of Data Sources
There is now a huge variety of online information sources for journalists, Strick said, whether it is flight radar and shipping and marine traffic data, Wikimapia and the NASA FIRMS heat map, or even CCTV camera footage.
He showed one example of video footage from rural Ukraine – a CCTV network once, presumably, set up by a farmer to keep an eye on his stock, but which was not password protected. When checked by open source investigators earlier this year, it seemed to show a Russian battalion trying – and struggling – to erect communication equipment.
While the footage didn't prove anything, "it adds to what you are able to get from the ground," he said.
10. How You Tell the Story Matters — and Reporting has Different Impacts on Different Audiences
Showing how your investigation came about, drilling down into the ways you managed to prove a theory, and detailing these methods to your audience are also powerful, noted Strick.
"I think when you're using these specific techniques and tools, it's quite useful because you're not only telling people but you're also showing people," he said. "So you're able to show audiences the facts."
"This whole concept of open source," he continued. "It's kind of like me giving you a cake but also giving you the recipe and the ingredients as well. If I was to give you a story and say 'Here's what we've got' but also to give you the tools that are publicly available to you so that you can follow this up and make the same findings or even find different findings? That's really important."
Stories based on visually verifiable information can also help to tell a story in a politically charged context. "The Russian public is one of the most important audiences… we can get the truth to the audiences that matter," Strick told journalists in Perugia. "Getting that information to them is important because it challenges the narratives of what they're seeing day to day on state-backed TV and it's important for us to make sure that audiences get both sides of the story."
Additional Resources
Bellingcat's Grozev on Investigating Russia's Invasion of Ukraine
9 Essential Mapping Tools for Journalists in 2022
Investigating Russia and the War in Ukraine
---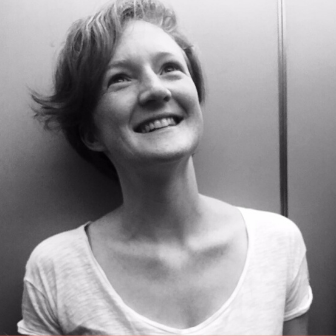 Laura Dixon is GIJN's associate editor and a freelance journalist from the UK. She has reported from Colombia, the US, and Mexico, and her work has been published by The Times, The Washington Post, and The Atlantic. She has received reporting fellowships from the International Women's Media Foundation and the Pulitzer Center for Crisis Reporting.