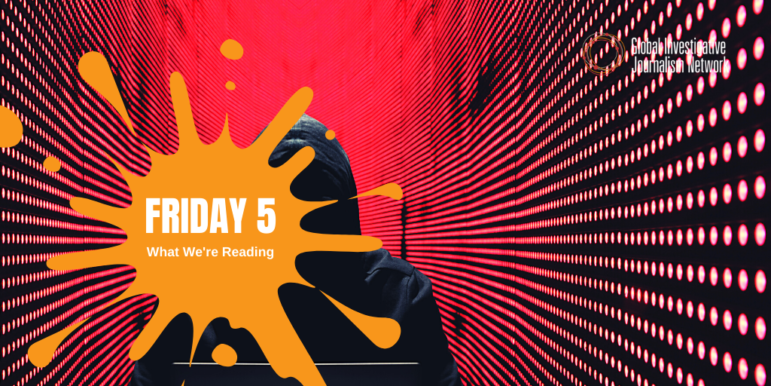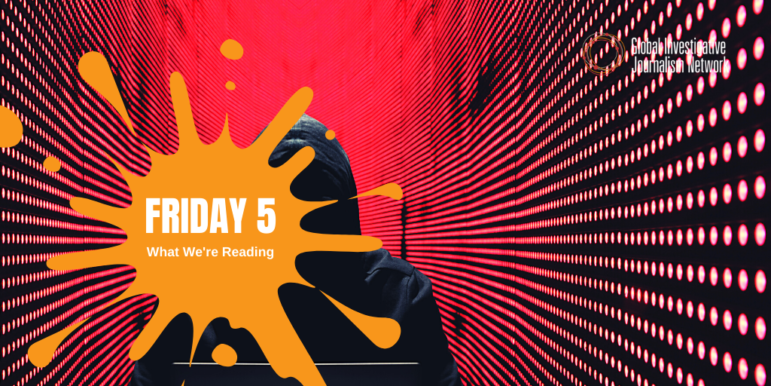 What We're Reading: Pegasus Spyware Targets Another Journalist, Cybersecurity Reading List, and Capitalizing Black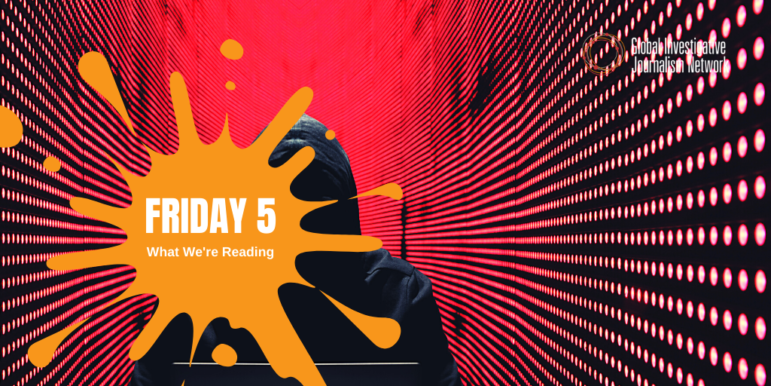 This week's Friday 5, where we round up our favorite reads from around the world, includes a report from The Guardian and GIJN member Forbidden Stories about a Moroccan journalist targeted by Pegasus spyware, five books on cybersecurity worth a read, and, in the midst of the global Black Lives Matter movement, the decision to capitalize Black in the Associated Press Stylebook.
According to a report published by the Guardian and GIJN member Forbidden Stories, Moroccan journalist Omar Radi is the latest in a string of journalists targeted with the Pegasus spyware, which is sold by the Israel-based firm NSO. A January 2020 Citizen Lab report showed how New York Times journalist Ben Hubbard was among a growing group of journalists targeted by the NSO software.
The latest report is based on an investigation by Amnesty International, which alleges that Radi's phone was infected with a "network injection attack" that apparently can be deployed even if the victim doesn't click an infected link. The new claim comes as NSO fights a lawsuit brought against it by WhatsApp, the Facebook-owned messaging app, which claims that Pegasus was used to target 1,400 users over a two-week period last year. NSO has denied the claims, saying that its government clients are responsible for the way its technology is used.
Corporate cybersecurity reporter James Rundle at The Wall Street Journal rounded up a list of the best of cybersecurity books for mere mortals — three of which are written by journalists. Check out "Countdown to Zero Day" by investigative journalist Kim Zetter, which shows how nation-states without conventional military might can project power using computer viruses as digital weapons. There's also Reuters journalist Joseph Menn's  "Cult of the Dead Cow" — named after the hacking supergroups which formed in the 1980s — while in "Sandworm" WIRED journalist Andy Greenberg follows a series of cyber incidents that began in 2014 and targeted the US and Estonia.
Meanwhile, Rundle writes that the 1989 book "The Cuckoo's Egg" by Clifford Stoll, a former systems administrator at Lawrence Berkeley National Laboratory in California, is a timeless hacker tracking story, and "The Fifth Domain" — written by former cyber officials in three presidential administrations, Richard Clarke and Robert Knake — helps make sense of current efforts to advance cyberwarfare and analyzes incidents from the past.
The AP Stylebook — used by editors and journalists worldwide — announced a major change last week: "AP's style is now to capitalize Black in a racial, ethnic, or cultural sense, conveying an essential and shared sense of history, identity, and community among people who identify as Black, including those in the African diaspora and within Africa." The lowercase black, the announcement read, is a color, not a person; the Stylebook also announced it would capitalize Indigenous in "reference to original inhabitants of a place."
While the statement underscored that these "revisions come after more than two years of in-depth research and discussion with colleagues and respected thinkers from a diversity of backgrounds, both within and from outside the cooperative," it isn't a coincidence that the announcement came on June 19 — aka Juneteenth, the commemoration of the ending of slavery in the US — as the Black Lives Matter movement continues to spread. AP's announcement also came on the heels of an open letter to AP by a past president of the National Association of Black Journalists, Sarah Glover, cited in this recent Columbia Journalism Review piece Why We Capitalize 'Black' (and Not 'White').
Trying to figure out what tech you need to manage memberships? Don't miss this piece by Emma Carew Grovum for the Membership Puzzle Project. While there is no "right" way to set up technology for an audience-centric newsroom, Carew Grovum does offer up elements that member-based groups should consider, with suggestions to help you get there.
On the list: Customer Relationship Management (CRM) software to track and manage members (think: Salesforce or Airtable); an email service provider to keep in touch with them (think: Mailchimp or Substack); a point of sale or payment processor for those membership dues (think PayPal or Square); a Content Management System (CMS) for your website (think: WordPress or Squarespace); audience analytics to count all those visits (think: Chartbeat or Google Analytics); and social media management tools to tell 'em all about it (think: Buffer or Hootsuite).
Laura Winter delved into how different governments around the globe are crunching numbers and spinning pandemic narratives — beginning with the basic numbers of cases per country. As a good governance expert told her: Authoritarian governments can't be expected to be transparent with their numbers. To test that, Winter used Transparency International's Corruption Perceptions Index and the Economist Intelligence Unit's Democracy Index as lenses through which to view the number of reported cases.
She found that Denmark, with a population of roughly 6 million, which ranked in the top 10 of the most transparent and democratic countries, reported on May 1 that it had 9,158 confirmed cases of COVID-19, a ratio of 1,581 confirmed cases per million. That was more than triple the world average for that day (412 cases per million people). Meanwhile, Turkmenistan, which consistently falls in the bottom ranking of these indexes, maintains that not one of its roughly 6 million citizens has been infected with COVID-19, even though it borders and has extensive trade with Iran, a regional epicenter of the pandemic.
An epidemiologist who specializes in the Middle East explained that authorities in some countries routinely obfuscate health emergencies by changing the names of outbreaks such as cholera to "endemic diarrhea" or Crimean-Congo hemorrhagic fever to "epidemic fever." But as a data scientist reminded Winter: like all good journalism, it comes down to interrogating your sources — whether that's a person or a number. For more on ideas on ways to investigate COVID-19 deaths, as well as digging into coronavirus data, check out GIJN's own Investigating the Pandemic webinar series.
---

Tanya Pampalone is GIJN's managing editor. Prior to GIJN, she was executive editor of Mail & Guardian, managing editor of Maverick (now Daily Maverick), and head of strategic partnerships and audience development for the African arm of The Conversation. Tanya is also co-editor of I Want To Go Home Forever, and a contributor to Southern African Muckraking  and Unbias the News.