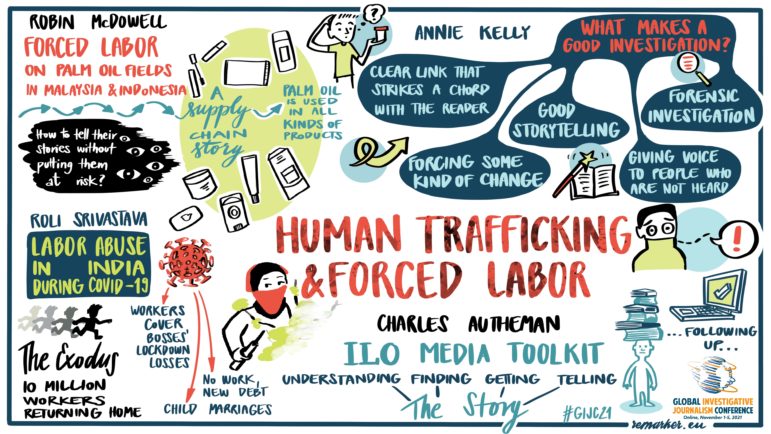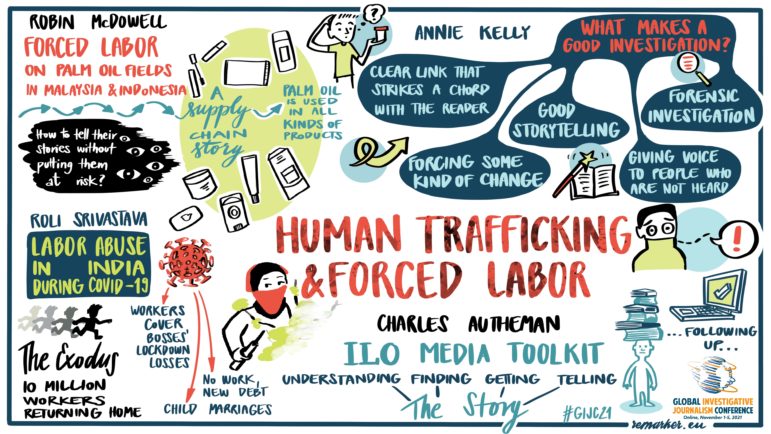 Tips for Reporting on Human Trafficking and Forced Labor
Read this article in
Slavery is not a vestige of the past, with an estimated 40 million women, men, and children victims of a modern-day trade in people, according to the International Labour Organization, a UN agency. Slavery, forced labor, and human trafficking are not only still practiced today, but highly profitable crimes and critical topics for journalists to investigate.
Martha Mendoza, a two-time Pulitzer-Prize-winner from the Associated Press, whose reporting helped free over 2,000 enslaved fishermen, moderated a session on "Human Trafficking and Forced Labor" during the 12th Global Investigative Journalism Conference (#GIJC21). 
She spoke with two prize-winning journalists and an editor specialized in covering forced labor, who shared tips on how to pitch and report stories, and with a consultant who shared a toolkit for journalists reporting on forced labor.
Robin McDowell, also with the AP, based in Southeast Asia, shared the Pulitzer in 2016 with Mendoza. McDowell spoke about her series of articles with Margie Mason about forced labor in the palm oil industry in Malaysia and Indonesia. a finalist for this year's Pulitzer Prize in investigative reporting. Globally, palm oil production is a multi-billion dollar industry that feeds a staggeringly wide range of supply chains, from deodorants to toothpaste and cosmetics, and processed food from some of the world's leading brands. 
A team of reporters working with McDowell interviewed more than 130 workers from 24 palm oil companies, many of whom said they were mistreated, cheated, threatened, forced to work to pay off enormous debts, and held against their will. Women alleged that they had been raped and subjected to sexual abuse.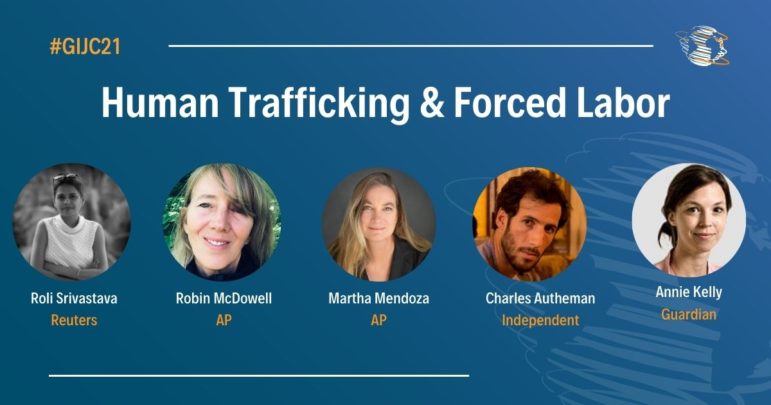 McDowell told the audience that the weight of the palm fruit, and the constant crouching involved in picking up and carrying the loads, also had a devastating impact on women's bodies. In other cases, work quotas were so high that laborers often had to bring their whole families, including their children, to work in the palm fields, she said.
Few consumers probably realize their daily hygiene products are the result of forced labor, McDowell said. "People have not really connected the dots: what is happening, why is it happening, where are these products going."
Other members of the panel pointed to the impact of the coronavirus pandemic on the most vulnerable communities and workers. Roli Srivastava, a Thomson Reuters Foundation correspondent in India who has done extensive reporting on migration and human trafficking, presented her in-depth reporting on the migrant worker crisis in India as the country implemented strict COVID-19 lockdowns. The exodus created when India shut down, and by the subsequent loss of millions of jobs, overwhelmed India's transportation system. Close to a million rural workers became homeless while they struggled to reach their native cities, towns, and villages.
The exodus also had a direct human cost, Srivastava said. Hundreds died in road accidents, migrants who slept on railroad tracks thinking trains were out of service were crushed, and many workers lost wages to pay off debts to their bosses, whose income was hit by the COVID-19 crisis. "None of us had predicted the exodus and the related stories that would emerge," said Srivastava. "None of us imagined that would happen" after the government announced the lockdown.
Annie Kelly is editor of a Guardian project focused on human rights abuses around the world. She has worked on topics such as human trafficking of Southeast Asian women, slavery at construction sites for the Qatar World Cup, and forced labor in the clothing industry. "These investigations are so important to give voice to people who are hidden or ignored," Kelly said. "Can you platform the voices of those people who are often deliberately obscured by our global supply chains and our governments?"
Tips on Pitching a Forced Labor Story
 Kelly shared useful pointers on how to pitch a forced labor story to editors:
Present a clear link or narrative that strikes a chord with the reader or relates to something readers use daily.

Include elements that bring to life the human cost of the exploitation uncovered.

Explain the unknown truth being revealed.

Give voice to people who are hidden or are ignored.

Consider how the story could hold power to account, or force some kind of change or impact.
Tips on Reporting a Forced Labor Story
Among the tips shared by McDowell and Srivastava on forced labor:  
Include data: tap all sources, including from parliamentary committees or portals, and contextualize anecdotal accounts.

Contact people staffing helplines and nonprofit organizations.

Interview academics to contextualize your story.

Work collaboratively with other journalists. Forced labor stories demand wide coverage, a high number of sources, and most likely reporting in several different places.

Consult editors early on, and if any problems come up, tell them as soon as possible. Never hide a problem that might blow up after publication.

Keep in touch with your sources, even after the story is published.
Charles Autheman, a French consultant who has facilitated training workshops for journalists and labor unions, shared a new toolkit for reporters covering forced labor stories. The toolkit, developed by Autheman and his team for the International Labour Organization, includes guidelines on understanding, finding, reporting, and following up on forced labor stories. Autheman said the kit is designed as a one-size-fits-all tool and to be global.
One further tip came from McDowell, who said that on this subject, in particular, getting out to the field is vital. 
"While every investigative reporter has their own way of working, some people are FOIA fanatics, others rely heavily on tips from sources, or have incredible databases," McDowell explained. "But I think when you are talking about labor abuses and trafficking, debt bondage, it is really something that is very difficult to do without boots on the ground and access to the workers." 
You can find more on this topic in GIJN's Investigating Organized Crime Guide, in which the chapter about human trafficking is written by Martha Mendoza. The GIJN Resource Center also has a number of research materials on human trafficking and forced labor. Reporters looking to investigate stories related to human trafficking and modern slavery may want to see the grants for journalists in Asia and Europe offered by Journalismfund.eu.