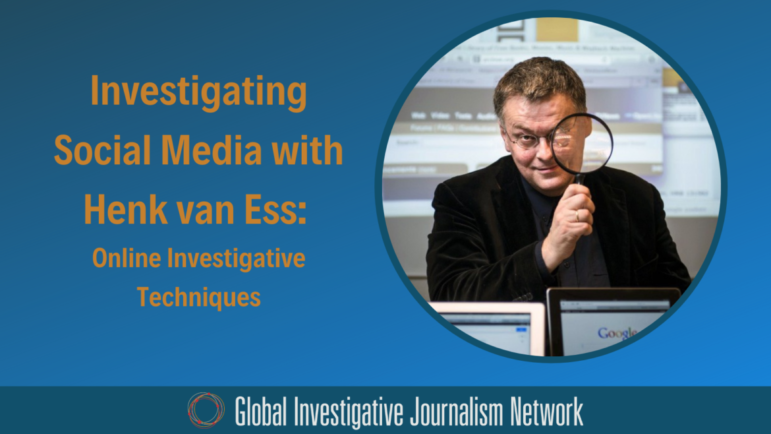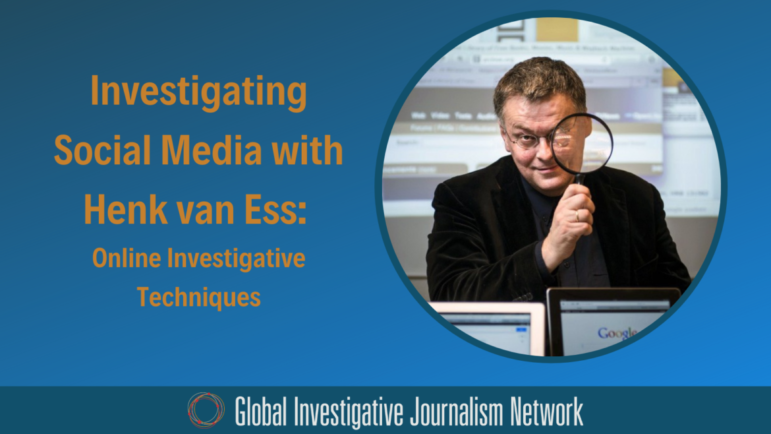 Tips for Mining Social Media Platforms with Henk van Ess
Read this article in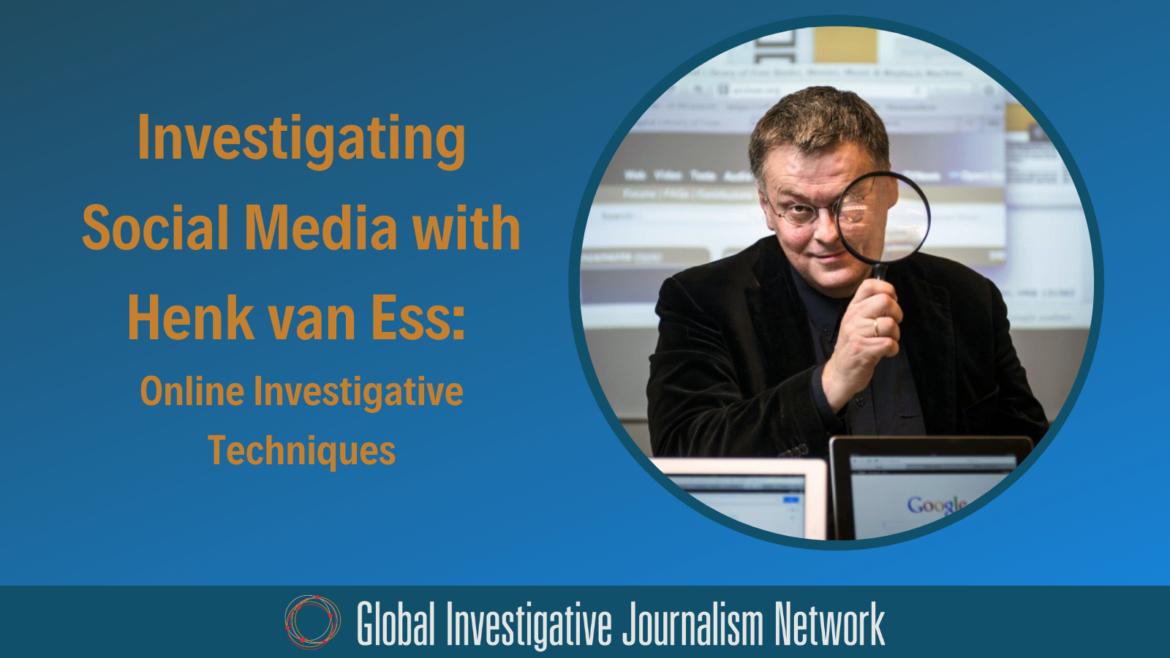 Social media platforms hold a wealth of hidden data treasure — sometimes treasure that the company itself has buried. So how do you find it?
Open source reporting expert Henk van Ess has developed dozens of tricks to find elusive social media information through indirect means, as well as through search apps that he has created.
In a recent GIJN webinar "Investigating Social Media," Van Ess shared several of these tips with an audience of 483 journalists from 88 countries. The event followed an earlier webinar in December, in which he explained how visual thinking can improve online searches, as well as tips to focus your searches.
His tips on social media data mining included:
Finding the "who" and the "where" on Facebook.

Try entering a place name on the new Facebook interface, click on "people" — which appears as one of the options below the search box — and then check that you have the correct place by clicking on Facebook's pre-formatted database entry under "city." Narrow that list with keywords.
Finding the "what" and the "when" in Facebook:

While Facebook does not allow users to search for specific dates,

Who Posted What?

 — a free tool co-developed by Van Ess — allows reporters to find posts and videos by searching for particular dates and subjects. The site lets you search for a keyword featured on the site on a specific date, month, or year. Van Ess says reporters can substitute the word "posts" in the link created on the Who Posted What? search with the word "videos" — or perhaps "images" — to find links in the appropriate medium.

How to do a rapid search on deadline.

As a case study, Van Ess shared the example of his search response to a breaking news event in 2020. A Belgian family had been found dead in the small village of Apples in the Swiss canton of Vaud. What had happened, and who was involved? In the first seconds of his search, Van Ess began with a simple three word combination — Apples, Vaud, and mort (the French word for "dead" likely used in that region of Switzerland). However, Google's algorithm simply deleted the word "Apples," and the search failed. So Van Ess fixed each of those three words with quotation marks to force Google to find all of those terms on the same page, and found one brief story on the tragedy that offered a few minor clues about the family.

Think about how you can narrow Facebook name searches.

To try to distinguish the Belgian family from Swiss families in the village, Van Ess experimented in Facebook with a common Belgian prefix surname, "van." In the webinar, he said reporters unfamiliar with particular name patterns in certain regions can find them with simple Google searches — like "Belgian surnames."

Don't be intimidated by URL code. You can manipulate Facebook so that your search will only show people from a town with a particular word within their full names — in this case, by replacing the word "apples" after the "q=" function with the word "van" in the long URL string.

This led Van Ess to a fellow Belgian villager who knew two more facts: the dead man's first name, and the fact that he "loved basketball." 
Van Ess noted that LinkedIn now offers more data search opportunities since Microsoft's purchase of the platform, so that simply typing that first name, "basketball," and "apples, vaud" was enough to find the dead man's profile, profession, and full name. He said these simple steps allowed him to find all of this new detail on the tragedy in just 15 minutes.
Finding small places in LinkedIn.

Make sure you type the place, followed by a space and the area in quotation marks — and at the end of your LinkedIn search string. (For example: Jane Smith "Paradise, California.") Van Ess warns that the formal "city" search feature on LinkedIn might become unavailable soon. 

Hopping out of LinkedIn — and then back in — to find full names

. If, for instance, an account uses "LinkedIn Member" rather than a name as its title, you might find the name by typing the company information in quotation marks, plus the city, and add the country LinkedIn address — such as site:in.linkedin.com, for the site in India.

How to find a LinkedIn account from a mysterious email address.

Using an Outlook email account, add the email address you have under "New Contacts" — and simply click on the LinkedIn icon on the Outlook page. This can bypass certain LinkedIn access barriers.

Speed search in Instagram.

If you need to find social media images from a news event, find the address in Google, use that address to find the geotags in Instagram, and then type that link into

Who Posted What?

 along with the date of the news event.

How to find deleted tweets.

While

archive.org

and Google cache can be useful, tweets deleted by public figures can be found on

Politwoops.com

, which now features a worldwide database of posts deleted by politicians.
Additional Reading
Henk van Ess on Visual Thinking for Online Investigations
GIJN Masterclass with Paul Myers: Online Research Tips for Digging into the Pandemic and Beyond
My Favorite Tools with BuzzFeed's Craig Silverman
---

Rowan Philp is a reporter for GIJN. Rowan was formerly chief reporter for South Africa's Sunday Times. As a foreign correspondent, he has reported on news, politics, corruption, and conflict from more than two dozen countries around the world.